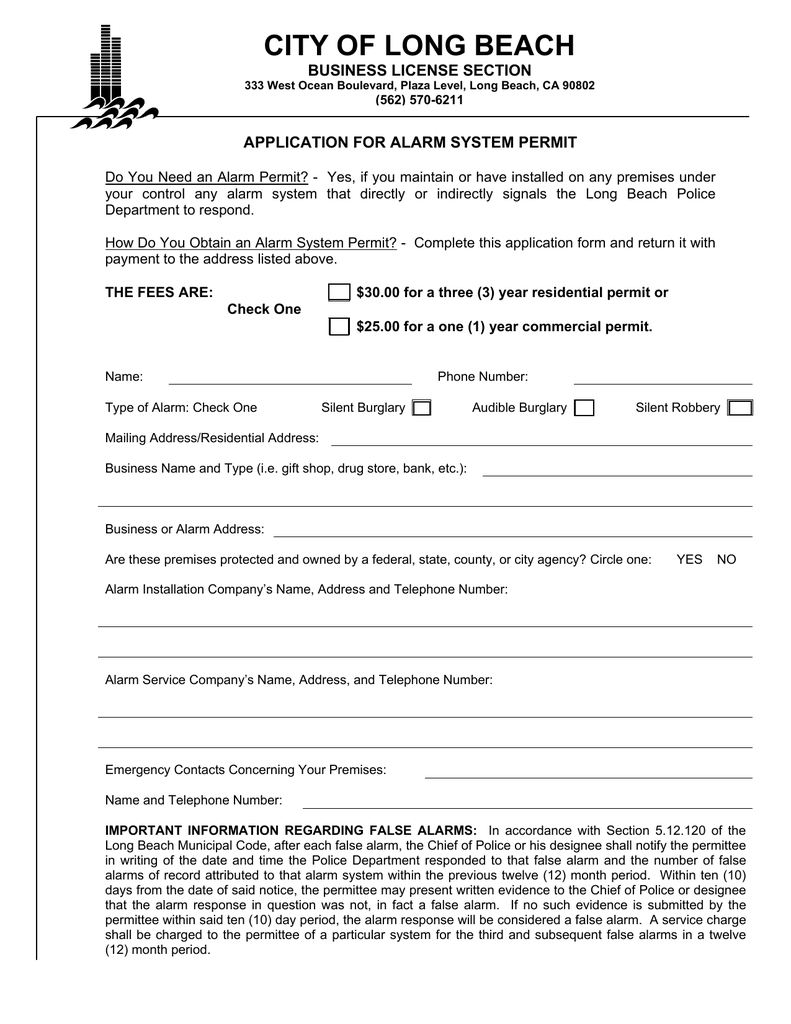 CITY OF LONG BEACH
BUSINESS LICENSE SECTION
333 West Ocean Boulevard, Plaza Level, Long Beach, CA 90802
(562) 570-6211
APPLICATION FOR ALARM SYSTEM PERMIT
Do You Need an Alarm Permit? - Yes, if you maintain or have installed on any premises under
your control any alarm system that directly or indirectly signals the Long Beach Police
Department to respond.
How Do You Obtain an Alarm System Permit? - Complete this application form and return it with
payment to the address listed above.
THE FEES ARE:
$30.00 for a three (3) year residential permit or
Check One
$25.00 for a one (1) year commercial permit.
Name:
Type of Alarm: Check One
Phone Number:
Silent Burglary
Audible Burglary
Silent Robbery
Mailing Address/Residential Address:
Business Name and Type (i.e. gift shop, drug store, bank, etc.):
Business or Alarm Address:
Are these premises protected and owned by a federal, state, county, or city agency? Circle one:
YES
NO
Alarm Installation Company's Name, Address and Telephone Number:
Alarm Service Company's Name, Address, and Telephone Number:
Emergency Contacts Concerning Your Premises:
Name and Telephone Number:
IMPORTANT INFORMATION REGARDING FALSE ALARMS: In accordance with Section 5.12.120 of the
Long Beach Municipal Code, after each false alarm, the Chief of Police or his designee shall notify the permittee
in writing of the date and time the Police Department responded to that false alarm and the number of false
alarms of record attributed to that alarm system within the previous twelve (12) month period. Within ten (10)
days from the date of said notice, the permittee may present written evidence to the Chief of Police or designee
that the alarm response in question was not, in fact a false alarm. If no such evidence is submitted by the
permittee within said ten (10) day period, the alarm response will be considered a false alarm. A service charge
shall be charged to the permittee of a particular system for the third and subsequent false alarms in a twelve
(12) month period.

* Your assessment is very important for improving the work of artificial intelligence, which forms the content of this project