Discrete Manufacturing Newsletter 5 (US Version)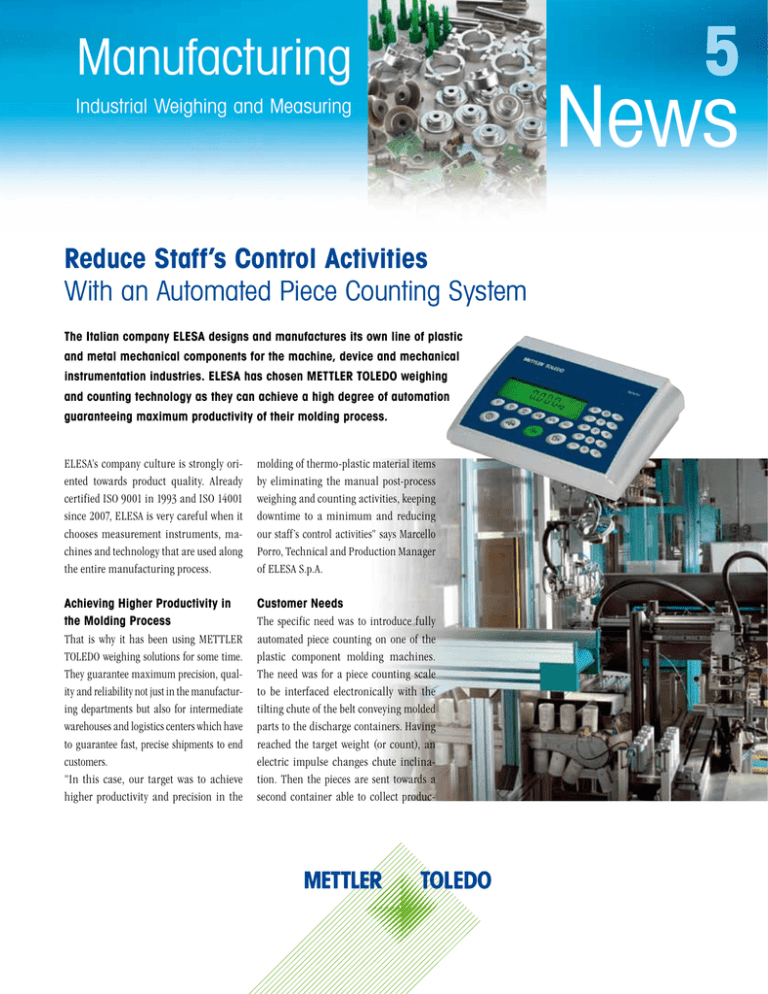 Manufacturing
Industrial Weighing and Measuring
Reduce Staff's Control Activities
With an Automated Piece Counting System
The Italian company ELESA designs and manufactures its own line of plastic and metal mechanical components for the machine, device and mechanical instrumentation industries. ELESA has chosen METTLER TOLEDO weighing and counting technology as they can achieve a high degree of automation guaranteeing maximum productivity of their molding process.
ELESA's company culture is strongly oriented towards product quality. Already certified ISO 9001 in 1993 and ISO 14001 since 2007, ELESA is very careful when it chooses measurement instruments, machines and technology that are used along the entire manufacturing process.
molding of thermo-plastic material items by eliminating the manual post-process weighing and counting activities, keeping downtime to a minimum and reducing our staff's control activities" says Marcello
Porro, Technical and Production Manager of ELESA S.p.A.
Achieving Higher Productivity in the Molding Process
That is why it has been using METTLER
TOLEDO weighing solutions for some time.
They guarantee maximum precision, quality and reliability not just in the manufacturing departments but also for intermediate warehouses and logistics centers which have to guarantee fast, precise shipments to end customers.
"In this case, our target was to achieve higher productivity and precision in the
Customer Needs
The specific need was to introduce fully automated piece counting on one of the plastic component molding machines.
The need was for a piece counting scale to be interfaced electronically with the tilting chute of the belt conveying molded parts to the discharge containers. Having reached the target weight (or count), an electric impulse changes chute inclination. Then the pieces are sent towards a second container able to collect produc-
5
News
tion until the staff in charge intervenes for recovery; the staff is also alerted by a sound and light alarm.
Customer Benefits
The advantages of this solution are absolute counting precision enabling direct storage in the warehouse of production avoiding further passages. However, the most important aspect is the chance to profitably manage filling discharge containers. Furthermore, ELESA benefits from easy recalling of memorized settings, avoiding material falling on the ground because the recipient has not been replaced, and especially prevention of continual production interruptions to replace full containers with empty ones.
More Than Just Counting
The solution proposed was the piece counting terminal IND445. The "count+" level of the METTLER TOLEDO 4-Series, offers everything in just one instrument.
Besides piece weighing and counting, the scale features direct entering and simple memorizing of tare, ID and target values thanks to the numerical keyboard and internal database with 100 memories.
The 4-Series has a resistant chassis in diecast aluminum and meets the most severe EMC (Electromagnetic Compatibility) standards, guaranteeing long instrumentation life and no breakdowns during daily operations. Based on the model chosen, the systems manage weights ranging from milligrams to tons.
To adapt to the customer's ever more demanding needs, the IND445 scale has several connection options such as RS232,
RS422/RS485, Ethernet, USB (Slave) and digital I/O (4 in / 4 out), making it possible to build an automated weighing systems reducing costly manual operations.
For more information:
www.mt.com/IND4xx
If the container is full, an electrical impulse changes chute inclination
Light
Alarm
The staff is alerted by a light and sound alarm
Publisher
Mettler-Toledo AG
Industrial
Heuwinkelstrasse
CH-8606 Nänikon
Switzerland
Production
MarCom Industrial
CH-8606 Nänikon
Switzerland
Subject to technical changes
© 01/2010 Mettler-Toledo AG
Printed in the USA
2
METTLER TOLEDO
Discrete Manufacturing News 5
Sound
Alarm
IND445
Weighing Terminal
• direct entering and
simple memorizing
of tare, ID, target values
• numeric keyboard
• internal database with
100 memories
• Wide range of connectivity
options such as RS232,
RS422, RS485, Ethernet,
USB/Slave) and digital I/0
Container 1
Container 2
Weighing
Platform 2
Weighing
Platform 1
Do You Want to Save Time in Logistics?
Not a Problem for Heavy-duty Scales.
Böllhoff, a leading provider of connection, installation and systems engineering puts its trust in robust heavy-duty scales from METTLER TOLEDO for incoming goods. The fact that up to 15 tons can be transferred across the floor scales means that they can be driven over by fork-lifts and time and travel processes can thus be saved.
Diversity is key at the German familyowned company, Böllhoff. Whether you require screws, joints or rivets – Böllhoff offers tailored solutions at the highest level of quality – even for particularly demanding tasks.
Continuous Improvement
With certification in accordance with ISO/
TS 16949:2002, Böllhoff is aiming to become a zero-defect organization by means of continuous improvement. Simplifying processes to increase efficiency and to ultimately improve the quality for the customer plays a central role in Böllhoff's day-to-day business.
No Problem for Fork-lifts
The Vertex heavy-duty scales withstand collisions with the heaviest of devices, can handle weights of up to 15 tons being transferred across them and are thus ideally suited to harsh conditions in the field of logistics. The floor scale has not only allowed the flow of goods to be processed more efficiently, but also minimizes the risk of injury to employees. It has also been possible to eliminate the need for protective equipment such as safety barriers and thereby reduce the risk of tripping.
Day in, day out, large quantities of materials are delivered at goods receipt. This is where the most resistant floor scale from
METTLER TOLEDO - the Vertex line - is called upon to check deliveries for completeness. Mr. Hayrettin Sariz, logistics manager, opted for the 2158 Vertex heavyduty scale so that pallets can be checked in a non-time-consuming and space-saving manner: "Thanks to the high-quality and robust design, our fork-lifts can drive over the scale without incurring any problems. This increases efficiency levels in the goods receipt area, as no time is wasted on maneuvering around the scale and space can also be saved".
Mr. Sariz confirms: "The heavy-duty scale meets our requirements in terms of its stable design and the process optimizations achieved through this. It requires less work by our employees, while driving down our costs. METTLER TOLEDO's installation, maintenance and calibration services maximize the availability of the scale and have been awarded calibration certification in accordance with ISO/
TS 16949".
For more information:
www.mt.com/floor-scales
Know-how
Save Time and Travel
Processes in Logistics
Contact us for an obligation-free analysis.
www.mt.com/contact
Or take part in one of our free web-based seminars – webinars.
www.mt.com/ ind-manufacturing-webinars
METTLER TOLEDO
Discrete Manufacturing News 5
3
Plug 'n' Weigh
Flexibility Through the Simplest of Installations
with Plug 'n' Weigh
Do you have to respond to changing ambient conditions? Do you long for a simple and uncomplicated installation? Do you need reliable production processes?
The digital interface from METTLER TOLEDO is always able to meet these requirements.
"Plug 'n' Weigh". Simply connect and that's it. In this case, up to 4 weighing platforms can be connected to and then disconnected from a display unit - even for legal for trade applications.
All table and floor scales from
METTLER TOLEDO are available with a digital IDNet interface between the scale and the weighing terminal. This enables the cable connection between the scale and display unit to be disconnected at any time. This is particularly advantageous, as no costs are incurred from additional calibration work following disconnection.
This digital interface ensures that the installation of and modifications to the scale or weighing terminal are simple and at no additional cost. By means of an extension cable, the cable length can subsequently be extended to up to 100 meters.
Replacing the weighing terminal in the case of modified requirements or when performing service work is also simple with no additional calibration work entailed. The cable connections are IP69k protected (water-resistant and dust-proof) and resistant to many of the most common chemicals.
So What's Behind the Digital
IDNet Interface?
The electronics, used for evaluating the measured data and converting the analog measuring signal into a digital signal, are located directly in the weighing platform.
The metrological parameters of the weighing platform are also saved in these electronics and are secured by an intelligent access system. This enables the disconnection and replacement of the display unit even for legal for trade applications. The digital transmission of the measurement signal from the weighing platform to the display unit is not susceptible to faults caused by electromagnetic influences. You can put your trust in the measured values shown on the display unit.
In the case of the digital IDNet system, there is no need to connect individual cable strands in the terminal, which tends to be time-consuming and costly. A screwed plug connection makes connecting the weighing platform very easy. There is no risk of mistakenly fitted cable glands - as is the case in analog systems - and the tightness of the plug connection at the terminal is always guaranteed.
Request more information:
www.mt.com/contact
4
METTLER TOLEDO
Discrete Manufacturing News 5
Heavily Loaded Floor Scales
in Reliable Operation Thanks to Sophisticated Design Details
Floor scales are heavily loaded measuring instruments. They are often subjected to shocks and impacts during loading and unloading procedures. A weak design combined with insufficient measurement technology results in unreliable measurement results and frequent requirements for repair work. However, this is not the case with robust weighing platforms from METTLER TOLEDO with their quality load cells and innovative rocker-pins.
The rocker-pins allow the weighing platform to be moved laterally to its safety stops. This securely prevents any damage to the load cell due to lateral forces which might occur when loads are processed at full speed. Commercially available floor scales are not protected against these forces. Floor scales, which can be driven over and have screwed-in feet and a level contact surface (standard in the case of simple scales), transfer the forces directly to the load cell. On the one hand, this generates fluctuating and unreliable measured values, while on the other hand, load cells are loaded above their safety limits.
This results in premature failure of the weighing platform. The rocker-pins from painted
Stainless steel
Extreme Duty Floor Scale
2158 Vertex
2158 Vertex customized sizes available
Scales with Rocker Pins
Low Profile Scale
2888 Deckmate
2888 Deckmate
Low Profile Scale portable
2888 Deckmate
2888 Deckmate
Easy to Lift Scale
PUA674
PUA679
U Scale
2158 Vertex U-Scale
2158 Vertex U-Scale customized sizes available
METTLER TOLEDO ensure optimum force transmission to the load cell at all times.
Any distortions, uneven floor conditions or lateral shearing forces are absorbed.
Sophisticated Mechanics
An intelligent design combined with robotsupported manufacturing are key to consistently high product quality. The highest level of dimensional accuracy and low levels of deflection have a direct effect on the measurement accuracy (repeatability, hysteresis, linearity etc.).
No Compromises at the Load Cells
For METTLER TOLEDO's floor scales, only load cells consisting of stainless steel are used. Corrosion is not an issue here. Shock loads are absorbed by the integrated overload stop, which leads to a long and trouble-free service life. Reliable and durable are just two characteristics of METTLER
TOLEDO's floor scales. The outstanding, metrological properties of the floor scales can be guaranteed on a permanent basis.
Nothing stands in the way of use in challenging, industrial environments.
Fast, Stable Measured Values
Thanks to the Rocker Pins
Each load cell has a rocker-pin suspension that automatically aligns load forces for accurate and repeatable weighing.
This type of suspension provides better performance and is more durable than threaded feet.
For more information:
www.mt.com/floor-scales
METTLER TOLEDO
Discrete Manufacturing News 5
5
Precise Counting of Bulk Material
with the Optimum Measuring System
Counting scales are the most efficient tool for counting bulk material.
With a suitable counting system, the production process runs in a fast and precise manner. Find out how this is achieved!
The advantages of speed, accuracy, flexibility and ease of operation are easily achieved when the piece count is performed using scales. They meet the requirements of a modern production process: Scales can minimize costly overfilling and customer complaints as a result of underfilling. At the same time, they can be operated quickly and easily. Counting scale systems adapt to modified production environments. They even make economic sense when it comes to small batch sizes. And, what's more: They can be fully integrated into a goods management or ERP system. Counting scale systems operate efficiently if all influencing factors are taken into consideration. This includes part variation errors, operator errors, ambient conditions and scale faults.
1. Monitoring the Standard
Deviation:
The standard deviation is the indicator of part variation. The greater the part variation, the greater the counting error. In order for the part variation to be determined, the weights of the parts to be counted must be determined through random sampling and the relative standard deviation must be calculated from this. This can be determined by means of a statistical quality control system (SQC).
Find out more about statistical quality control systems at:
Part Variation Errors
All Under Control
Part variation, along with inaccurate reference determination through miscounting, is the most frequently occurring source of error. The part variation can be determined, but it is rather difficult to influence. Dirt in the manufacturing pro-
LSL USL
Number:
The more parts used for reference detercedure contributes to the variation. Even irregular parts cause counting errors. The following measures can be performed to keep part variation errors under control and thus prevent customer complaints:
However, this also increases the possibility of errors caused by human counting. The function of automatic reference optimization, which is integrated into quality scales, provides a remedy here.
3. Reference Determination for each
Machine or Production Batch:
If several machines produce the same part, the weights of the parts may differ.
The weight is dependent on the machine settings and the ambient conditions. This is exactly the reason why a new reference should be determined for each production batch. If this is not possible, the parts must be well mixed. A mean value is then generated for all machines from the mixture of parts. However, this increases the variation, which is why the reference piece number must be selected at a higher rate.
4. Using a Scale with a Higher
Resolution:
Reference determination has the greatest effect on the counting accuracy. For this reason, it may be necessary to use a second high precision scale as a reference scale if the individual piece weight is particularly light in comparison to the maximum capacity. This high-resolution scale records the smallest of changes to
6
METTLER TOLEDO
Discrete Manufacturing News 5
the reference determination, thereby significantly increasing the accuracy of the counting result. result, the environment must be as free from vibrations as possible. Drafts, for example, caused by fans or air conditioning systems must be prevented, as should direct sunlight and fluctuations in temperature, while the scale itself should always be aligned horizontally (especially in the case of high-resolution scales with Monobloc technology). In each case, correct installation and operator training performed by qualified service engineers have a positive effect on the counting result.
Human Error and Environmental
Influences
All operations are prone to error. Human error should not be underestimated. If errors have already been made in the case of the reference determination, this can have a significant impact on the counting accuracy. In addition to this, errors can quickly creep in if non-tared or stable weighing results are not achieved. Here, it is the user-friendly devices and thorough operator training which provide a remedy. If the user, for example, is guided by instructions on the scale display through the counting procedure or the automatic taring function is used, operator errors can be substantially reduced.
Scale Errors All Under Control
Even the scale has a "variation" which can influence the counting result. In comparison with the aforementioned error, this is relatively small, but nevertheless must be taken into consideration. Various factors affect the accuracy of the weighing result either on an individual or cumulative basis. This includes the weighing cell technology used, the mechanical design, the electronics (analog-digital converter, processor performance etc.) as well as the software (computer resolution, software filter, signal processing).
Another important factor that influences the counting accuracy is the ambient conditions. To achieve an optimum
In industry today, two weighing cell technologies are predominantly used. Strain gauge technology and electromagnetic force compensation (Monobloc). A strain gauge quality scale provides a high level of measuring accuracy at a cost-effective price. A Monobloc quality scale, on the other hand, measures to the highest degree of accuracy (linearity, repeatability, cornerload, temperature stability, resolution and hysteresis). Generally, this means that Monobloc is ten times more precise than strain gauge technology.
The Best Possible Counting
System from the Specialists
An optimum counting system depends on the maximum capacity of the quantity to be counted, the weight of the smallest piece to be used, as well as the requirements with regard to documentation, traceability, data integration and finally the process tolerance specified by the customer. Armed with this information, the counting specialist is able to select the ideal counting system. Depending on the application, counting systems with either two, three or even four integrated bench or floor scales are offered.
Overfilling Can Cost
Dealing with complaints and follow-up checks is time-consuming and laborious.
It is therefore all the more important to gain appropriate advice when selecting a suitable measuring system. Counting errors can be prevented with expert advice and service from weighing specialists.
METTLER TOLEDO
Discrete Manufacturing News 5
7
Quality Assurance
Increases Savings
The plastic cups that we get at drinks machines in the workplace, on the train, on the airplane or at the kiosk are essentially mass products. Nevertheless when they are being manufactured they have to meet up to strict twelve quality standards. At the factory of the well-known manufacturer Bellaplast AG in Altstätten (Switzerland) the measuring parameters are intentionally set to a challenging level. The checks are carried out by a Statistical Quality Control system from METTLER TOLEDO.
"We want to ensure that the cup flows effortlessly through the machine. It must feel good when drinking and comfortable in the hands of the consumer. There should never be sharp edges or an unappetising odour, and optically the visual impression should also be good", says Harald
Metzler, Quality Tester at Bellaplast.
Such ambitious objectives can only be attained by means of a multi-layered checking system. The company has set up checking stations on four work benches in the production plant which are equipped with precision balances controlled by
METTLER TOLEDO FreeWeigh.Net
®
software as well as other measuring devices.
Up to twelve different quality criteria are investigated on samples and the values are stored with unprecedented efficiency.
Systematic Sample Checks
"This software solution gives us a tangible and significant benefit", IT Manager
Manfred Oertle told us when we visited him on site. "Each machine operator regularly takes samples from his current production which incidentally operates uninterrupted from Monday to Saturday mid-day. Immediately after entering the article number on his PC, a corres- ponding window appears on screen showing the test plan relating to this arti-
8
METTLER TOLEDO
Discrete Manufacturing News 5
Odor up to twelve different quality criteria are tested
Color
Quality monitoring screens
FreeWeigh.Net
®
Statistical Quality Control
System
Lip roll thickness
Quality monitoring screens
Lip roll thickness
Best Practice
cle. He can then spend around 10 to 15 minutes working through the individual test criteria: weight, wall thickness, lip roll thickness, color, odor etc.
All measurements and readings are then transferred into the same, electronically stored test record; we no longer use tick lists."
New: Graphic Image of the
Deep Draw Batch on Screen
Machine operator Alexander Ulm arrives at the control station with the latest sample series (54 cups). He lays cup after cup on the electronic precision balance which has a display accurate to one hundredth of a gram. He then measures the wall thickness with a micrometer which transfers his data via cable directly to FreeWeigh.Net
®
. Other criteria are entered numerically. The new feature that Alexander Ulm notices is the graphic image of the injection moulding batch on screen in front of him. Green indicator: cup weight correct; yellow indicator: too light; red indicator: too heavy (for each indicator the measured weight of the cup is also displayed, e.g. 4.25 g). The machine operator can therefore see not only whether there are deviations in this batch but also exactly where they have been caused by the form tool. Thanks to this graphic screen image it has now become possible to make specific adjustments on the injection molding machine.
With regard to weight, the graphic display of the form tool shows which stamp is producing precise cups (green), ones that are too heavy (red) or that are too light (yellow). The injection molding machine can now be specifically adjusted.
Wall thickness
Even the Tiniest Quantities
Can Be a Decisive Factor…
"The machines have a high hourly delivery rate of approx. 100 000 pieces per hour. This fine adjustment produces real savings in materials for us", says Manfred
Oertle. "If there are considerable weight deviations we do not only take action to prevent later malfunctions in drinks machines but also act to prevent materials wastage. Even a tenth of a gram overweight per cup would rapidly add up to high additional materials costs of 10 kg/hour."
Just the 54 cups included in this sample generate over 500 items of data. Manfred Oertle: "With such an abundance of data it is important to store all the information in our central database under a pre-defined term. If complaints arise we respond even quicker because we have achieved the level of trace- ability which we in fact always wanted to have for our production process. Furthermore we are certain that all checks are actually carried out."
For more information:
www.mt.com/sqc
Weight
Overfilling Costs
Even as small overfill can have a huge impact to your company's profit.
Statistical Quality Control
Return on Investment
Even a small overfill can have a huge impact to your company's profit.
Reduce overfill of your products and improve consistency and production yield!
Test it now with your own product!
Reset Form Print Form
Currency
Package sales price
Cost of raw materials per
Weight unit
Parameter
Nominal fill quantity
Number of packages produced per day
Number of production days per year
Production mean value
Overfill per package
Overfill per day
Overfill per year
or
Overfill cost (=loss) per year
Packages not produced
Missed revenue from unsold packages
METTLER TOLEDO System
Solutions help you optimize your production process without jeopardizing regulatory compliance!
Visit us now at www.mt.com/sqc and let us help you optimize your production process!
Test it now with your own product
www.mt.com/sqc-calculator
BBK462 high-precision bench scale for Statistical Quality Control
Capacities up to 35.1kg x 1g
METTLER TOLEDO
Discrete Manufacturing News 5
9
Use www.mt.com as a
Work Efficiency Resource
Webinars – Learn More with Little Time and Effort
Join a wide array of webinars to learn about various topics from choosing the right technology to process optimization.
We offer both Live Webinars where you can speak directly with our specialists and recorded On Demand Webcasts which are available at your convenience, 24 hours a day.
View the full range of webinars:
www.mt.com/ind-manufacturing-webinars
Free Guides and White/Technical Papers
METTLER TOLEDO has published a range of authoritative guides and white papers that cover focus areas which enable you to select the right solutions to improve your processes.
Lean Manufacturing White Paper
Learn how weighing solutions can help to continuously improve production processes and to avoid wastage.
www.mt.com/ind-lean-manufacturing
Piece Counting Guide
This guide will help you to understand how to overcome the various problems associated with piece counting.
It includes tips to help avoid errors and advice regarding the best equipment to help maximize your results.
www.mt.com/counting-guide
Statistical Quality Control (SQC) Guide
Day after day, thousands of millions of packages of all kinds are filled. This guidebook is a "must-have" for anyone engaged in filling operations!
www.mt.com/sqc-guide
10
METTLER TOLEDO
Discrete Manufacturing News 5
Optimize quality with integrated
Statistical Quality Control (SQC)
Quality monitoring screens
Weighing can make you lean!
Smart weighing solutions for lean production
In challenging times, lean manufacturing and lean management are of utmost importance, as they can help to minimize costs and maximize efficiency. Benefit from our diverse range of weighing solutions and continuously improve your production processes.
Wastage should be avoided at all costs, and this is lean manufacturing̓s main objective. The advantages of this production practice include high-quality products, punctual deliveries, a significant reduction in stock inventories, as well as relieving employees and reducing machining times and space requirements. So that̓s the theory. METTLER TOLEDO offers practical solutions that will allow you to optimize your production processes.
minal itself can withstand environments prone to dust, oil, moisture and severe vibrations and guarantees long operating periods without incurring problems.
eters is child's play with our modular PCbased quality control system. Thanks to integrated measuring stations such as scales or digital vernier calipers, data can be recorded online and then analyzed by the quality software. Should any deviations occur, production can be interrupted immediately.
www.mt.com/sqc
Avoid wastage
Precise, reliable and fast weighing is the key to avoiding wastage and keeping costs to a minimum.
Avoid overfilling...
… with accurate counting systems. Order pick parts from an individual piece weight of 0.001 g and select matching bulk
www.mt.com/ind-colorweightcalculator
Avoid errors...
…with user-prompted formulation sysweight scales up to a maximum capacity of 12 tons. Our counting specialists will be happy to show you how to avoid costly under and overfilling.
www.mt.com/counting
Use our online value calculator to discover how much time and money you could save with colorWeight ® tems. The generation of formulations and mixtures is prone to errors, which can have a costly impact on subsequent production steps. Our weighing systems guide the operator through the formulation process and can help to minimize mixing
Speed up manual processes...
…with the colorWeight colored weight display. Increase the efficiency of your production staff with the coloured tolerance display that quickly and clearly states whether or not the weight or quantity is within the permitted tolerance. In addition to this, colorWeight can also help to minimize errors. Thanks to its robust design with IP69k protection, the weighing tererrors. All process steps are simultaneously documented on the PC and/or in paper form and are therefore easily traceable.
www.mt.com/formulation
Optimize quality...
…with integrated Statistical Quality Control (SQC). Monitoring the piece weight, dimensional accuracy, surface structure, appearance, volumes and other param-
Increase the availability...
…of the scales thanks to their robust design and optimum service. Floor scales in particular are often exposed to harsh working conditions. It is for this reason that METTLER TOLEDO floor scales come equipped with special adjustable rocker feet, which ensure optimum force transmission to the load cell at all times and thereby prevent any damage to the load cell due to lateral shearing forces.
Furthermore, up to 15 tons can be transferred over heavy-duty scales, meaning that the scales themselves can be easily used by heavy-duty fork-lift trucks. The expert METTLER TOLEDO calibration and maintenance service also contributes to the high availability of the scales.
www.mt.com/service
Relieve employees…
…with our modular weighing systems.
With or without the colorWeight ® display,
METTLER TOLEDO offers the world̓s most extensive range of weighing terminals and platforms with the most diverse designs, sizes (including free size for floor scales)
4
METTLER TOLEDO
Manufacturing News 4
100% piece weight control
Volume
Piece weight
Texture
Dimension
Aspect and accessories. Our specialists are always on-hand to provide you with professional support, meaning you can provide your employees with an ergonomic workplace and thus reap the benefits of efficient operational procedures.
to be moved and the cable length to be extended by up to 100 metres at any time without the need for additional calibration work.
Continuously improve your processes...
…with flexible weighing solutions.
METTLER TOLEDO scales can be adapted to changing ambient conditions at any time thanks to their mobility, Plug'n weigh functionality, modularity and versatile accessories. The pallet scales and elevated floor scales, which are not secured to the floor, can be used at any location for a wide range of purposes, and thanks to the Plug'n Weigh functionality can be separated as often as required from the weighing terminal and then reconnected without the weighing data and calibration values being lost. This allows the scales
Versatility lies in METTLER TOLEDOs product range. Round off your weighing station with barcode readers, label printers, roller conveyors and stands available in various sizes, or develop your weighing stations into a networked quality control system that can be fully integrated into your production systems. What matters to us is that you are able to continuously improve your processes so that your products can be supplied on time, in the required quantity and to the highest quality, while keeping costs to a minimum.
For more information:
www.mt.com/ind-leanmanufacturing
Know-how
Learn more about lean production
Would you like to discover how you can avoid wastage with intelligent weighing solutions?
Visit one of our free web-based seminars - "webinars" - on lean production.
Register at
www.mt.com/ ind-manufacturing-webinars
METTLER TOLEDO
Manufacturing News 4 5
Lean
Manufacturing
White Paper
What really counts
in your processes?
Piece
Counting
Guide
SQC
Guide
SQC
Guide
Value Calculators – Find Out How to Save Money
Download our calculators and work out how much you could be saving.
Increase your profit with accurate piece counting:
www.mt.com/counting-calculator
Colored weight control system saves both time and money:
www.mt.com/ind-colorweight-calculator
Eliminate unnecessary costs during formulation and maximize your profitability:
www.mt.com/formulation-calculator
Overfilling Costs!
Increase Profits with Precise Counting
Your Advantages
• Reduce overfilling
• Improve consistency
• Increase production yield
Questionnaire
Analysis
Currency
Package sales price
Cost of raw materials
Number of pieces per package (or bag, box, container, etc.)
Number of packages produced per day
Number of production days per year
Average number of pieces overfilled per package
Overfill per day
Overfill per year
Overfilling cost (=loss) per year
or
Packages not produced
Missed revenue from unsold packages
Let us help you reduce overfilling cost!
www.mt.com/counting
Reset Form Print Form pieces per piece
0
0 pieces
pieces pieces
© 2009 Mettler-Toledo, BUSI Switzerland
Download Comprehensive Product Documentation
Industrial Weighing Catalog
Solutions for weighing and measuring needs in industrial production
www.mt.com/ind-catalog
Piece Counting Solutions
We provide counting solutions with all levels of accuracy and functionality to make parts counting solutions simple and cost effective.
wwwww.mt.com/counting
Know-how – Tips & Tricks for Daily Work Improvements
Australia
Mettler-Toledo AG
CH-8606 Greifensee, Switzerland
Tel +41-44-944 22 11, Fax +41-44-944 30 60
Mettler-Toledo Ltd., Port Melbourne, Victoria 3207
Belgium
Canada
Tel. (03) 9644 5700, Fax (03) 9645 3935
Mettler-Toledo s.a., B-1932 Zaventem As an industry leader, METTLER TOLEDO have a wealth of material
Mettler-Toledo Inc., Toronto, Kanada
Tel. (905) 612-9777, Fax (905) 612-8561 to help educate and inform you about product inspection and industrial weighing solutions.
China
Czech Republic
Denmark
France
Hong Kong
Mettler-Toledo (Changzhou) Ltd., Scale&System Ltd.
Changzhou City, Jiangsu 213001, Tel. (519) 664 2040, Fax (519) 664 1991
Mettler-Toledo, spol, s.r.o., CZ-100 00 Praha 10
Tel. 272 123 150, Fax 272 123 170
Mettler-Toledo A/S, DK-2600 Glostrup
Tel. (43) 270 800, Fax (43) 270 828
Mettler-Toledo s.a., F-78222 Viroflay
Tel. (01) 3097 17 17, Fax (01) 3097 16 16
Mettler-Toledo (HK) Ltd., Kowloon
Hungary
India
Tel. (852) 2744 1221, Fax (852) 2744 6878
Mettler-Toledo, Kft, H-1173 Budapest
Tel. (01) 288 40 40, Fax (01) 288 40 50
Mettler-Toledo India Pvt Ltd, Mumbai 400 072
Italy
Japan
Tel. (22) 2857 08 08, Fax (22) 2857 50 71
Mettler-Toledo S.p.A., I-20026 Novate Milanese
Tel. (02) 333 321, Fax (02) 356 29 73
Mettler-Toledo K.K., Chiyoda-ku, Tokyo 102-0075
Do You Comply to Automotive Standards?
Korea
Malaysia
Mexico
Netherlands
Norway
Poland
Tel. +81 (3) 3222 7106, Fax +81 (3) 3222 7122
Mettler-Toledo (Korea) Ltd., Seoul 137-130
Tel. 82-2-3498-3500, Fax 82-2-3498-3555
Mettler-Toledo (M) Sdn. Bhd., 40150 Selangor
Tel. (603) 7844 5888, Fax (603) 7845 8773
Mettler-Toledo S.A. de C.V., México C.P. 06430
Tel. (55) 5547 5700, Fax (55) 5547 2128
Mettler-Toledo B.V., NL-4000 HA Tiel
Find out how weighing solutions can help to comply to standards like
Russia
Tel. (22) 545 06 80, Fax (22) 545 06 88
Mettler-Toledo AG, 10 1000 Moskau
Tel. (095) 921 68 12, Fax (095) 921 63 53
ISO/TS16949, ISO9001, Odette, Galia, AIAG, etc.
S.E.A.
Singapore
Mettler-Toledo (SEA), Reg. Office 40150 Shah Alam
Tel. (03) 7845 5800, Fax (03) 7845 3478
Mettler-Toledo (S) Pte. Ltd., Singapore 139959
Tel. 65-6890 0011, Fax 65-6890 0012
www.mt.com/ind-automotive
Slovakia
Slovenia
Spain
Sweden
Mettler-Toledo s.r.o., SK-831 03 Bratislava
Tel. (2) 4444 1220-2, Fax (2) 4444 1223
Mettler-Toledo, d.o.o., SI-1236 Trzin
Tel. (01) 562 18 01, Fax (01) 562 17 89
Mettler-Toledo S.A.E., E-08908 Barcelona
Tel. (93) 223 76 00, Fax (93) 223 76 01
Mettler-Toledo AB, S-12008 Stockholm
Taiwan
Thailand
Tel. (08) 702 50 00, Fax (08) 642 45 62
Mettler-Toledo Pac Rim AG, Taipei
Tel. (2) 2657 8898, Fax (2) 2657 0776
Mettler-Toledo (Thailand) Ltd., Bangkok 10310
United Kingdom
USA
Increase Efficiency with Mobile Weighing Solutions
Tel. (02) 723 0300, Fax (02) 719 6479
Mettler-Toledo Ltd., Leicester, LE4 1AW
Tel. (0116) 235 0888, Fax (0116) 236 5500
Mettler-Toledo, Inc., Columbus, Ohio 43240
Tel. (614) 438 4511, Fax (614) 438 4900
Mettler-Toledo AG
PO Box VI-400, CH-8606 Greifensee
Tel. +41-44-944 22 11, Fax +41-44-944 31 70
Learn how mobile order picking and counting solutions can increase
www.mt.com
For more information productivity.
www.mt.com/ind-steps
Version 2.0
There's more to weighing than just measuring weight
Build your quality
on a solid foundation
METTLER TOLEDO
Discrete Manufacturing News 5
11
Calibrated
Trusted
It is common wisdom that any instrument and particularly a scale shall be calibrated before its first use.
But is this sufficient? Shall I recalibrate my scale?
How frequently? How? And why?
If you are working in a regulated industry, you may have asked yourself these questions a thousand times. You may have heard some of the usual answers. But do you really believe what you heard? Here is more information for a conscious user.
The Benefits of Calibration
When leaving the factory, a scale has been verified and adjusted for an immediate use in an optimal environment. However, it is impossible to anticipate the conditions in which the scale will operate. Think of a working environment with large temperature changes, wind draft, vibration from rotating equipment, etc. An initial calibration will document the effective performance of a scale within its effective operating environment. At that time a calibration certificate is issued. Sometimes, a Minimum Weight certificate is issued as well. This certificate will document for which weighing range (from minimum to maximum) the scale will deliver results in the accuracy corresponding to the tolerance required by your process and taking into account all the process risks.
The calibration certificate and the Minimum Weight Certificate are two important quality documents that will preserve you from rejected lots, customer complaints or failed ISO audits.
Recalibration and Verification
During operation, the scale will be exposed to dirt, rough operators and all sorts of disturbances that will affect its performance over time. So how will you know today that your production will meet all your quality standards? For this purpose you will perform a series of simple routine tests that will confirm you that the scale you are going to use will effectively perform to the level expected.
However, depending on the level of tolerance and risk of your process, you will need to recalibrate your scale at a regular basis. A trained technician will then verify that the scale fulfills its factory performance and proceed to any adjustment on an as need basis.
A combination of simple routine tests and regular recalibration will ensure that your daily production fulfills all your quality requirements.
For more information regarding the routine test and their frequency visit:
www.mt.com/gwp
and play the video on Good Weighing
Practice™
USA
Mettler-Toledo, Inc.
1900 Polaris Parkway
Columbus, OH, 43240
Tel. (1) 800 523 5123
Your METTLER TOLEDO contact:
For more information on calibration visit:
www.mt.com/ind-calibration
For more information on the Minimum
Weight Certificate visit:
www.mt.com/minweigh
Canada
Mettler-Toledo, Inc.
2915 Argentia Road, Unit 6
Mississauga, Ontario, L5N 8G6
Tel. (1) 905 821 4200
Mettler-Toledo AG
Sales International
CH-8606 Greifensee
Switzerland
Tel. + 41 44 944 22 11
www.mt.com/ind-discrete-manufacturing
For more information
* Your assessment is very important for improving the work of artificial intelligence, which forms the content of this project