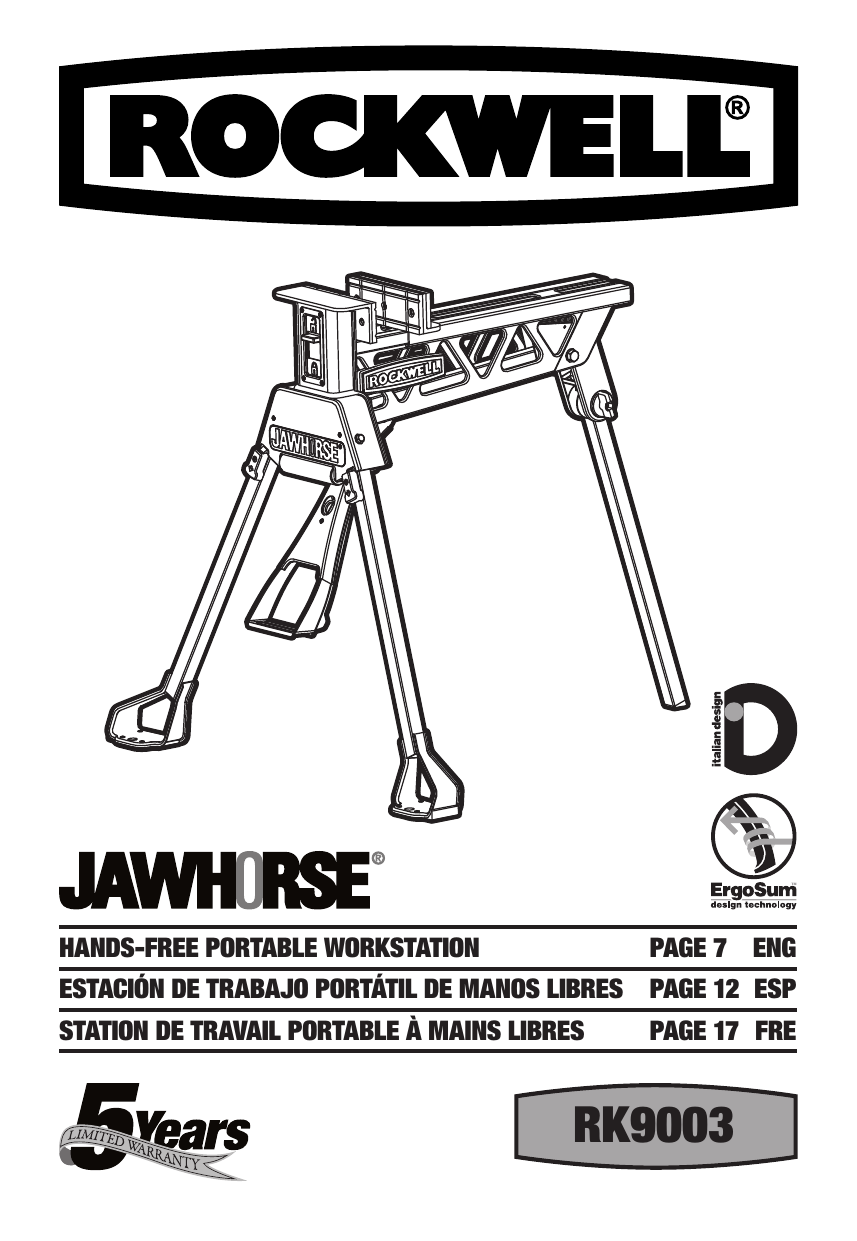 HANDS-FREE PORTABLE WORKSTATION PAGE 7 ENG
ESTACIÓN DE TRABAJO PORTÁTIL DE MANOS LIBRES PAGE 12 ESP
STATION DE TRAVAIL PORTABLE À MAINS LIBRES PAGE 17 FRE
RK9003
Thank you for purchasing a ROCKWELL® JawHorse. We are confident that you will appreciate
the quality of the product and you will be entirely satisfied with your purchase. Please read
carefully the user safety and operating instructions on how to operate this product correctly
within safety norms and regulations.
Gracias por su compra de un producto ROCKWELL®. Estamos seguros de que apreciará
la calidad del producto y de que estará completamente satisfecho con su compra. Lea
cuidadosamente las instrucciones de seguridad y de operación para obtener mayor información
acerca de cómo utilizar éste producto correctamente dentro de las normas y reglas de
seguridad.
Merci d'avoir choisi un produit de marque ROCKWELL®. Nous sommes certains que ous
apprécierez la qualité de ce produit et qu'il saura vous satisfaire. Pour être renseigné sur toutes
les méthodes de travail correctes et sécuritaires répondant aux normes et règlements de
sécurité, veuillez lire attentivement la notice de sécurité et de fonctionnement présentée.
Visit us on the web at www.rockwelltools.com
RK9003
13
14
1
2
14
1
2
3
4
13
35
15
12
46
5
11
15
10
12
6
11
9
10
9
8
8
7
7
A
B
A
B
A
RK9003
B
C
D
E
F
G
H
I
J
I
RK9003
J
G
K
L
M
N
O
P
Q
R
Q
RK9003
R
S
T
U
V
W
X
HANDS-FREE PORTABLE WORKSTATION
ENG
COMPONENT LIST
1
Moving jaw
2
Moving jaw facing (2 pieces)
3
Fixed
jaw facing
4
Main body
5
Rear leg locking knob
6
Rear leg
7
Rubber FOOT PAD
8
Foot
plate
9
Foot
pedal
10
Front
leg
11
Foot
pedal locking latch
12
Roller
13
Lock/release switch
14
Fixed
jaw
15
Front
leg locking latch
safety InstructionS
WARNING! When using this product, basic
safety precautions should always be followed.
Failure to follow all instructions listed below may result
in personal injury.
Read all these instructions before attempting to operate
this product and save these instructions.
1. Keep work area clear
- Cluttered areas and benches invite injuries.
2. Make sure all moving parts are free from
interference.
3. Ensure JAWHORSE® is set up on firm, level
ground in a stable manner.
4. Keep other persons away
- Do not let persons, especially children, not involved
in the work touch the tool and keep them away from
the work area.
5. Be aware of over-balancing. When a large
piece is cut from one end of a job, the remaining
piece may be heavy enough to tip the JAWHORSE®.
Always ensure the workpiece is well supported.
6. Check to make sure that all fixing screws and
knobs are tight and all legs are locked into
place before operating the JAWHORSE®.
7. The tool must be used only for its prescribed
7
HANDS-FREE PORTABLE WORKSTATION
purpose. Any use other than those mentioned
in these instructions will be considered a case of
misuse.
The manufacturer shall not be liable for any damage
or injury resulting from such cases of misuse.
8. Never stand on this product.
9. Dress properly
- Do not wear loose clothing or jewelry, they can be
caught in moving parts.
- Non-skid footwear is recommended when working
outdoors.
- Wear protective hair covering to contain long hair.
10.Use protective equipment
- Use safety glasses.
11.Save these instructions. Refer to them frequently
and use them to instruct others who may use
JAWHORSE® . If you loan someone JAWHORSE®,
loan them these instructions also to prevent misuse
of the product and possible injury.
12.Do not use tools in damp or wet locations.
A moist work piece or damp pad may prevent the
clamp from gripping firmly.
13.Ensure the work piece was clamped firmly
and the lock release switch is on proper state
before use.
14.Check damaged parts. Before using JawHorse,
make sure it is operating properly and can perform
intended function.
15.When not in use, tools should be stored in
a dry locked-up place, out of the reach of
children and do not allow use by persons
unfamiliar with it.
16.Have your JAWHORSE® serviced by a qualified
repair person.
17.Warning
- The use of any accessory or attachment other than
one recommended in this instruction manual may
present a risk of personal injury.
8
ENG
Symbols
Warning - To reduce the risk of injury, user
must read instruction manual
Warning
Wear ear protection
Wear eye protection
Pinch points
Wear gloves
HANDS-FREE PORTABLE WORKSTATION
Technical data
Clamping range:
Maximum clamping force:
Clamp method:
Maximum load:
Footprint (Standing):
Footprint (Folded):
Clamp travel:
Weight:
Construction:
0-37˝
1 Metric Ton
Foot step
600 lbs
39 1/2˝ x 39˝ x 34˝
29˝ x 14˝ x 13˝
1˝ per step
42.9 lbs
Solid steel
OPERATING INSTRUCTIONS
NOTE: Before using the tool, read the
instruction book carefully.
SET-UP INSTRUCTIONS
1. Put the JAWHORSE® upside down on the ground,
loosen the rear leg locking knob (5) and slide the
rear leg from its storage position. Pivot the leg to
position and slide it all the way upward then lift and
slide it fully into its housing at the rear. Tighten the
knob. (See Fig. A-C)
2. Raise the foot pedal (9) until it "clicks" into position.
(See Fig. D-E)
3. Rotate the front legs (10) all the way forward until
they "click" into position. The front leg locking latch
(15) will be open automatically. (See Fig. E)
4. Turn the JAWHORSE® upright and recheck that all
legs are locked firmly in position.
FOLDING INSTRUCTIONS
Folding is the reverse procedure of above. (See Fig. F-K)
1. Ensure that the lock / release switch is in the
"unlock position". (See Fig. F)
2. Turn the unit upside down. Slide the front leg latch
and fold the front legs into position. (See Fig. G)
3. Draw the foot pedal locking latch and place the foot
pedal in folding position. (See Fig. H)
4. Loosen the rear locking knob. Slide the rear leg from
housing and back into storage position. Make sure
the rear leg is engaged fully into storage position
and the rear leg locking knob is tightened firmly.
5. You can carry the rear leg as a carry handle when
the JAWHORSE® is fully folded in its position. (See
Fig. I)
6. You can also slide the rear leg to use as a handle.
With the roller on the front, transporting the
JAWHORSE® is easy and fast. Note that the roller is
not designed to withstand rigorous transport, such
ENG
as bouncing down stairways or traversing rough
terrain. (See Fig. J, K)
CLAMPING
1. Place the workpiece against the fixed jaw (14) and
slide the moving jaw (1) forward until it touches the
workpiece.
The foot pedal can be pressed repeatedly to make
the jaw move forward.
2. Slide the lock / release switch down to the "lock"
position. (See Fig. L)
3. Apply downward pressure on the foot pedal until
enough clamping force is applied. (See Fig. M)
Warning: Maximum allowable force on the
foot pedal is 220 lbs (maximum 100 kg). Do
not stand or jump on the unit, as you can cause
injury or damage the unit.
RELEASING
1. Slide the lock / release switch up to the "release"
position. (See Fig. F)
2. Push on the foot pedal, allow it to return up and
release the workpiece. (See Fig. M)
If you have clamped the object very tightly, you must
exert similar pressure on the foot pedal before it will
release.
Warning: Ensure you are supporting the
workpiece to avoid its falling when the jaw is
released.
3. Slide the moving jaw back and remove your
workpiece. (See Fig. N)
CLAMPING ON ONE SIDE OF THE JAW
Sometimes, large or awkward workpieces can only be
clamped on one side of the jaws. In this case, be sure to
avoid excessive clamping force.
CLAMPING SQUARE PIECES VERTICALLY (See Fig. O)
Sometimes, tubing or other square (steel, aluminum or
other) workpieces need to be clamped vertically on the
center of the jaws. The hole on the base plate under the
jaw accommodates pieces up to 2 3/8 in width.
CLAMPING LARGE OBJECTS [17 1/4˝ (450 mm) TO
37˝ (940 mm)
The move jaw can be reversed to accommodate large
workpieces.
1. Set the lock / release switch to the "release"
position and ensure that the foot pedal is released.
2. Slide the moving jaw (1) fully from its tracks. (See
Fig. N)
9
HANDS-FREE PORTABLE WORKSTATION
3. Rotate the jaw 180 degrees and re-insert it into the
track. (See Fig. P)
Warning: Whenever clamping objects
with the moving jaw reversed, ensure the
workpiece sits down onto the sliding jaw, and
is parallel to it. Avoid clamping workpieces at
the top of the jaws (with a gap between the
workpiece and the base of the moving jaw) as
excessive pedal pressure could damage the unit.
Note: Some operations such as hand sawing
or planing exert enough pressure to cause the
JAWHORSE® to slide. In these situations, it is
acceptable to hold the JAWHORSE® in place by
standing on the foot plate. (See Fig. R) When
clamping large or heavy materials, provide
outboard support. Never step on the footplate to
prevent JAWHORSE® from tipping over, especially
when using power tools. (See Fig. Q)
CLAMPING SQUARE TUBING
Clamp square tubing or similar material either on the
diagonal or flat side. Use the jaws to securely hold your
material. (See Fig. S)
REMOVING THE JAW FACINGS (See Fig. T)
The jaw facings can be removed to achieve a greater
clamping range, replace if worn or damaged, or when
fitting the optional jaws.
Remove the screws in the center of jaws, the jaw facing
(2, 3) can be pulled off from the jaw by hand.
OPTIONAL ACCESSORIES:
1) WELDING JAW (See Fig. U)
The welding jaw helps to hold items while welding. The
thick walled cast aluminum jaws can hold the larger
part. The holding arm clamps the second part that is to
be welded onto the larger part, and more importantly,
accurately positions it.
2) LOG AND CHAINSAW JAW (See Fig. V-X)
Suitable for gripping logs or poles, and holding the
chainsaw for sharpening. These steel jaws also bolt
onto the standard steel jaws and are zinc plated for
corrosion resistance.
Chain saw clamping blocks pivot back out of the way
when not in use and pivot forward when required.
Logs or poles up to 12˝ (300 mm) in diameter are
gripped firmly for chain sawing, drilling, rabbeting etc.
The chain saw clamping vice makes an ideal clamp to
10
ENG
hold a chainsaw while sharpening the teeth. Two pairs
of vices, either side of the bar, ensure the clamping jaws
are clear of the chain, which can then be rotated as
each tooth is filed.
3) SADDLEBAG
Saddlebag provides a convenient place to hold tools
and other bits and pieces.
HANDS-FREE PORTABLE WORKSTATION
5-Year WARRANTY STATEMENT
If your Rockwell tool becomes defective due to faulty
materials or workmanship within a period of 5 years
from the date of purchase, we guarantee to:
• Replace or repair all defective parts, free of charge,
or,
• Repair products free of charge, or,
• Replace the unit with a new or re-conditioned unit,
free of charge.
Your warranty is subject to the following conditions:
• Battery packs are guaranteed for a 12 month period
only.
• The tool has not been misused, abused, neglected,
altered, modified or repaired by anyone other than
an authorized service center.
• Only genuine Rockwell accessories and parts have
been used on or with the product
• The tool has been subjected to fair wear and tear.
• The tool has not been used for rental purposes.
• The tool has not sustained damage through foreign
objects, substances or accidents.
Your warranty does not cover;
• Components that are subject to natural wear and
tear caused by use in accordance with operating
instructions.
• Unauthorized/improper maintenance/handling or
overload are excluded from this warranty as are
accessories such as bulbs, blades and bits, etc.
ENG
For guarantee claims, please contact the Rockwell
Helpline and you will need to submit a proof of purchase
in the form of a valid receipt that displays date and place
of purchase.
We may require the tool be sent postage prepaid to
an authorized service center, along with all original
equipment.
Rockwell Helpline 866-514-ROCK(7625)
This guarantee statement does not replace but is in
addition to your statutory rights.
This warranty does not apply to accessories supplied
with the tool.
This warranty applies only to the original purchaser and
may not be transferred.
All repairs and replacement tools will be covered by the
limited warranty for the balance of the warranty period
from the date of the original purchase.
Limited 30-Day exchange policy
During the first 30 days after date of purchase, you may
exchange a tool which does not work properly due to
defects in materials or workmanship by returning the
power tool to the retailer where it was purchased. To
receive a replacement power tool, you must present
a dated proof of purchase and return all original
equipment packaged with the original product. The
replacement power tool will be covered by the limited
warranty for the balance of the two year period from the
date of the original purchase.
11
ESTACIÓN DE TRABAJO PORTÁTIL DE MANOS LIBRES
ESP
LISTA DE PARTES
1
Mordaza móvil
2
Accesorios
de la mordaza móvil (2 piezas)
3
Accesorios
de la mordaza fija
4
Bastidor
principal
5
Mando de bloqueo de la pata trasera
6
Pata trasera
7
Soporte
de goma
8
Placa del pedal
9
Pedal
10
Pata frontal
11
Seguro
de bloqueo del pedal
12
Rodillo
13
Interruptor
de bloqueo/liberación
14
Mordaza fija
15
Seguro
de la pata frontal
INSTRUCCIONES DE SEGURIDAD
¡CUIDADO! Durante el uso de este producto
deben respetarse siempre unas normas básicas
de seguridad. Si no se respetan todas las instrucciones
siguientes podrían producirse lesiones personales.
Lea todas estas instrucciones antes de intentar utilizar
este producto. Conserve las instrucciones.
1. Mantenga despejada el área de trabajo
- Las áreas con muchos obstáculos y bancos de
trabajo fomentan los accidentes.
2. Asegúrese de que todos los componentes
móviles no reciben ninguna interferencia.
12
3. Asegúrese de que el JAWHORSE® se encuentra
apoyado en el suelo de forma estable.
4. Mantenga alejados a los observadores
- No permita a otras personas, especialmente a
niños, que toquen la herramienta. Manténgalos
alejados del área de trabajo.
5. Tenga cuidado con el equilibrio. Si se corta una
pieza grande desde un extremo, la parte restante
podría tener el peso suficiente para volcar el
JAWHORSE®. Asegúrese siempre de que la pieza de
trabajo está bien sujeta.
6. Asegúrese de que los tornillos y mandos de
fijación están bien apretados, y que todas las
patas estén bloqueadas antes de utilizar el
JAWHORSE®.
ESTACIÓN DE TRABAJO PORTÁTIL DE MANOS LIBRES
7. La herramienta debe utilizarse únicamente
para la finalidad propuesta. Cualquier uso
ajeno al mencionado en estas instrucciones se
considerará una negligencia.
El fabricante no se hace responsable de los daños o
lesiones derivados de tales negligencias.
8. No se ponga de pie sobre este producto.
9.Utilice prendas adecuadas
- No vista ropas holgadas o joyas. Podrían quedar
atascados en las piezas móviles.
- Se recomienda utilizar calzado antideslizante
durante el trabajo en exteriores.
- Utilice una red protectora para el cabello si tiene el
pelo largo.
10.Utilice equipamiento protector
- Utilice gafas de seguridad.
11.Conserve estas instrucciones. Consúltelas con
frecuencia y úselas para enseñarles a las otras
personas que podrían usar esta herramienta. Si
presta el JAWHORSE® a alguien, préstele también
las instrucciones para evitar un mal uso del
producto y posibles lesiones.
12.No utilice las herramientas en ubicaciones
húmedas o mojadas. Las piezas de trabajo y
entornos húmedos podrían no proporcionar una
sujeción firme.
13.Asegúrese de que la pieza de trabajo esté
sujetada de forma firme y que el interruptor
de liberación de bloqueo esté en el estado
correcto antes de utilizar la herramienta.
14.Compruebe si existen piezas dañadas. Antes
de utilizar la herramienta, se la deberá inspeccionar
meticulosamente para determinar que funcionará de
forma correcta y realizará las operaciones para las
que fue diseñada.
15.Al no utilizar las herramientas, se las deberá
almacenar en un lugar seco y bajo llave, fuera
del alcance de los niños y que no permita
que personas no familiarizadas con las
herramientas se acerquen a éstas.
16.Solicite el servicio técnico de la herramienta
JAWHORSE® a un técnico calificado.
17.Advertencia
- La utilización de cualquier accesorio que no sean
los recomendados en este manual de instrucciones
podría representar un riesgo de lesiones personales.
ESP
SÍMBOLOS
Advertencia - Para reducir el riesgo de
lesiones, el usuario deberá leer el manual
de instrucciones
Advertencia
Use protección auditiva
Use lentes de seguridad
Puntos de fijación
Utilice guantes
13
ESTACIÓN DE TRABAJO PORTÁTIL DE MANOS LIBRES
DATOS TÉCNICOS
Rango de fijación:
Màxima fuerza de fijación:
Método de sujeción
Carga máxima:
Dimensiones (De pie):
Dimensiones (Plegado):
Recorrido de sujeción-pedal:
Peso:
Construcción:
0˝-37˝ (0-940 mm)
1 Ton (1000 kg)
Reposapiés
600 libras (272 kg)
39 1/2 x 39 x 34 pulg.
(1000 x 985 x 885 mm)
29 x 14 x 13 pulg.
(775 x 350 x 335 mm)
1˝ por nivel
42.9 libras (19.5 kg)
Acero sólido
INSTRUCCIONES DE USO
NOTA: Antes de usar la herramienta, lea
atentamente el manual de instrucciones.
––INSTRUCCIONES DE INSTALACIÓN
1. Coloque el JAWHORSE® bocabajo en el suelo.
Afloje el mando de bloqueo de la pata trasera (5)
y deslice la pata trasera desde su posición de
almacenamiento. Gire la pata hasta la posición
correcta y deslícela hacia arriba. Levántela después
y deslícela hasta el hueco de la parte posterior.
Apriete el mando. (Ver A-C)
2. Levante el pedal (9) hasta que encaje en su
posición. (Ver D-E)
3. Gire las patas frontales (10) hacia delante gasta que
encajen en su posición. El seguro de fijación de la
pata frontal (15) se abrirá automáticamente. (Ver E)
4. Gire el JAWHORSE® hacia arriba y compruebe de
nuevo que todas las patas se encuentren en su
posición.
––INSTRUCCIONES DE PLEGADO
El plegado es el procedimiento inverso al anterior. (Ver
F-K)
1. Asegúrese de que el interruptor de bloqueo
/ liberación se encuentra en "posición de
desbloqueo". (Ver F)
2. Deslice el seguro de la pata frontal y pliegue las
patas delanteras. (Ver G)
3. Tire del seguro de fijación del pedal y coloque el
pedal en posición de plegado. (Ver H)
4. Afloje el mando de bloqueo posterior. Deslice la
pata trasera desde el hueco y colóquela de nuevo
en la posición de almacenamiento. Asegúrese de
que la pata trasera ha encajado completamente en
14
ESP
la posición de almacenamiento, de que el mando de
bloqueo de la pata está bien apretado.
5. Puede utilizar la pata trasera para transportar el
JAWHORSE® mientras se encuentre completamente
plegado. (Ver I)
6. También puede deslizar la pata trasera para
utilizarla como asa. Gracias a sus ruedas delanteras,
el transporte del JAWHORSE® es fácil y rápido.
Recuerde que las ruedas no han sido diseñadas para
realizar un transporte duro, como bajar escaleras o
atravesar un terreno. (Ver J, K)
––FIJACIÓN
1. Coloque la pieza de trabajo en la mordaza fija (14) y
deslice la mordaza móvil (1) hacia delante hasta que
toque la pieza de trabajo.
Puede presionar repetidamente el pedal para hacer
avanzar la mordaza móvil.
2. Deslice el interruptor de bloqueo / liberación hasta
la posición de "bloqueo". (Ver L)
3. Aplique presión hacia abajo en el pedal hasta aplicar
la fuerza de fijación necesaria. (Ver M)
¡CUIDADO! La fuerza máxima permisible en el
pedal es de 220 libras (máximo 100 kg). No se
apoye ni salte sobre el dispositivo. Podría lesionarse y
causar daños sobre el equipo.
––LIBERACIÓN
1. Deslice el interruptor de bloqueo / liberación hasta
la posición de "liberación". (Ver F)
2. Presione el pedal, deje que vuelva a su posición
original y libere la pieza de trabajo. (Ver M)
Si ha fijado el objeto con mucha fuerza, deberá ejercer
una fuerza similar sobre el pedal para liberarlo.
¡CUIDADO! Asegúrese de que soporta la pieza
de trabajo para evitar que se caiga una vez
liberada.
3. Deslice la mordaza móvil y extraiga la pieza de
trabajo. (Ver N)
––FIJACIÓN EN UN LADO DE LA MORDAZA
En ocasiones, las piezas de trabajo grandes o
complicadas sólo se pueden sujetar con una de las
mordazas. En tal caso, asegúrese de evitar aplicar una
fuerza de fijación excesiva.
––FIJAR PIEZAS CUADRADAS VERTICALMENTE
(Ver O)
A veces, las piezas de trabajo tubulares o cuadradas
(de acero, aluminio u otro material) deben fijarse
verticalmente en el centro de las mordazas. El orificio
ESTACIÓN DE TRABAJO PORTÁTIL DE MANOS LIBRES
de la placa base bajo la mordaza permite fijar piezas de
hasta 2 3/8 de anchura.
—FIJAR OBJETOS GRANDES [17 1/4˝ (450 mm) 37˝ (940 mm)
La mordaza puede invertirse para sujetar piezas de
trabajo grandes.
1. Coloque el interruptor de bloqueo/liberación en la
posición de "liberación" y asegúrese de que el pedal
está liberado.
2. Deslice la mordaza móvil (1) completamente. (Ver N)
3. Gire la mordaza 180 grados y vuelva a insertarla en
la pista. (Ver P)
¡CUIDADO! Siempre que fije objetos con la
mordaza invertida, asegúrese de que la pieza
de trabajo se asienta en la mordaza deslizante y se
encuentra paralela a ella. Evite fijar piezas de trabajo en
la parte superior de las mordazas (con un espacio entre
la pieza de trabajo y la base de la mordaza móvil). Una
presión excesiva del pedal podría dañar la unidad.
Nota: Algunas operaciones, como el serrado
a mano o el lijado, ejercen presión suficiente
para causar que el JAWHORSE® se deslice. En
tales situaciones, es aceptable mantener el
JAWHORSE® en su lugar apoyándose sobre las
placas de base. (Ver R) Si está fijando materiales
grandes o pesados, utilice un apoyo exterior.
No pise la placa de base para evitar que el
JAWHORSE® se vuelque, especialmente durante el
uso de herramientas eléctricas. (Ver Q)
ESP
superficies gruesas pueden hacer la mayor parte. El
brazo de sujeción fija la segunda parte, que debe
soldarse a la parte más grande. Y lo más importante, la
coloca con precisión.
2) MORDAZA DE TRONCO Y SIERRA DE CADENA
(Ver V-X)
Adecuado para sujetar troncos o postes, y sujetar una
sierra de cadena para afilarla. Estas mordazas de acero
están también atornilladas a las mordazas de acero
estándar y están chapadas en zinc para resistir la
corrosión.
Los bloques de sujeción de la sierra de cadena giran
hacia atrás cuando no se encuentran en uso, o hacia
delante cuando son precisos.
Los troncos o postes de hasta 12˝ (300 mm) de
diámetro se pueden sujetar firmemente para serrarlos
con sierra mecánica, taladrarlos, encastrarlos, etc.
El tornillo de fijación de la sierra de cadena se convierte
en una sujeción ideal para sostener la sierra mientras se
afilan los dientes. Dos pares de tornillos a ambos lados
de la barra aseguran que las mordazas de fijación no
toquen la cadena, que puede girarse después de afilar
cada diente.
3) ALFORJA
La alforja es un lugar cómodo para guardar
herramientas y otras brocas y piezas.
––FIJAR PIEZAS TUBULARES
Puede fijar las piezas tubulares o materiales similares
sobre el lado diagonal o plano. Utilice las mordazas para
sostener el material. (Ver S)
––EXTRAER LOS ACCESORIOS DE LA MORDAZA
(Ver T)
Los accesorios de la mordaza pueden extraerse para
conseguir un mayor rango de sujeción, reemplazarla
si está deteriorada o dañada, o si se desean instalar
mordazas opcionales.
Extraiga los tornillos del centro de las mandíbulas. La
mandíbula contraria (2, 3) se puede quitar con la mano.
ACCESORIOS OPCIONALES:
1) MORDAZA DE SOLDAURA (Ver U)
La Mordaza de soldaura permite sostener las piezas
durante la soldadura. Las mordazas de aluminio con
15
ESTACIÓN DE TRABAJO PORTÁTIL DE MANOS LIBRES
DECLARACIÓN DE GARANTÍA DE
5 AÑOS
Si su herramienta Rockwell presenta algún problema
derivado de un defecto de materiales o mano de obra
durante un periodo de 5 años a partir de la fecha de
compra, se garantiza:
• La sustitución o reparación sin cargo de todas las
piezas defectuosas,
• La reparación de todos los productos sin cargo, o
• La sustitución de la unidad sin cargo por una nueva
o reacondicionada.
La garantía se encuentra sujeta a las siguientes
condiciones:
• Las baterías poseen una garantía de sólo 12 meses.
• El producto no debe haber sido sometido a mal
uso, abuso, negligencia, alteración, modificación o
reparación por parte de cualquier entidad ajena a la
red de centros de asistencia autorizados.
• Deben haberse utilizado únicamente piezas y
accesorios originales de Rockwell Shop Series en el
producto o en conjunto con el mismo.
• El problema no debe ser producto del desgaste y
deterioro naturales.
• No se utilizó la herramienta para fines de alquiler.
• El producto no debe haber recibido daños
provocados por objetos extraños, sustancias de
cualquier tipo o accidentes.
Su garantía no cubre:
• Aquellos componentes sometidos al desgaste y
deterioro naturales derivados de su funcionamiento
de acuerdo con las instrucciones de uso.
• Se excluyen de esta garantía la manipulación
o mantenimiento no autorizado o incorrecto de
16
ESP
la herramienta, así como los accesorios como
bombillas, hojas, brocas, etc.
Si desea realizar una reclamación, póngase en contacto
con la línea de asistencia de Rockwell. Deberá enviar
una prueba de compra en forma de recibo válido de
venta en el que figure la fecha y el lugar de compra.
Es posible que solicitemos que se envíe la herramienta
con un franqueo prepago al centro de asistencia
autorizado, junto con todos los accesorios originales.
Línea de asistencia de Rockwell 866-514-ROCK
(7625)
Esta declaración de garantía no sustituye sus derechos
legales, sino que los complementa. Esta garantía no
es aplicable a los accesorios suministrados con la
herramienta.
Esta garantía solo es aplicable al comprador original y
no puede ser transferida.
Todas las reparaciones y sustituciones de productos
quedarán cubiertas un periodo de garantía limitada
equivalente al periodo de garantía restante desde la
fecha de compra original
Garantía limitada de reemplazo por 30 Días
Durante los primeros 30 días luego de la fecha de
compra, podrá reemplazar una herramienta que no
funcione correctamente debido a defectos de material
o fabricación devolviéndola a la tienda donde la haya
comprado. Para recibir una herramienta de reemplazo,
deberá presentar un comprobante de compra fechado y
devolver todo el material de empaque original junto con
el producto.
La herramienta reemplazada seguíra cubierta por una
garantia limitada basada en el balance de el periodo de
dos años desde la fecha original de la compra.
STATION DE TRAVAIL PORTABLE À MAINS LIBRES FRE
LISTE DES ÉLÉMENTS
1
Mâchoire mobile
2
Protection de la mâchoire mobile (2 pièces)
3
Protection de la mâchoire fixe
4
Corps de l'outil
5
Bouton
de blocage du pied arrière
6
Pied arrière
7
Semelle
en caoutchouc
8
Palette d'appui
9
Pédale
10
Pied avant
11
Système
de blocage de la pédale
12
Rouleau
13
Interrupteur
de blocage/déblocage
14
Mâchoire fixe
15
Système
de blocage du pied avant
Consignes de Sécurité
AVERTISSEMENT! Lorsque vous utilisez cet outil,
veuillez toujours suivre les consignes de sécurité
de base. Vous risqueriez autrement de vous blesser.
Veuillez lire ces instructions avant de commencer à
utiliser cet outil. Veuillez également conserver ces
instructions.
1. Gardez la surface de travail toujours propre
- Les zones et les bancs de travail encombrés sont
des sources potentielles d'accidents.
2. Vérifiez que les pièces mobiles ne risquent pas
d'être coincées.
3. Assurez-vous d'installer l'JAWHORSE® sur un
sol ferme et à niveau de manière à ce qu'il soit
bien stable.
4. Demandez aux autres personnes de ne pas
rester à proximité
- Ne laissez aucune personne qui ne vous aide pas
dans votre travail, particulièrement les enfants,
toucher l'outil, et demandez-leurs de s'éloigner de la
zone de travail.
5. Attention au risque de déséquilibre. Lorsqu'une
planche de grande taille est coupée en deux, le
morceau restant peut être suffisamment lourd pour
faire basculer l'JAWHORSE®. Vérifiez donc que la
planche est supportée de façon adéquate.
6. Vérifiez que toutes les vis et boutons de
17
STATION DE TRAVAIL PORTABLE À MAINS LIBRES fixation sont bien serrés et que les pieds sont
verrouillés avant d'utiliser l'JAWHORSE®.
7. L'outil doit être uniquement utilisé pour
l'usage pour lequel il est conçu. Toute utilisation
autre que celles mentionnées dans ces instructions
est considérée comme un cas de mauvaise
utilisation.
Le fabricant n'est donc pas responsable des
dommages ou des blessures reliés à une telle
utilisation.
8. Ne vous mettez jamais debout sur l'outil.
9. Habillez-vous adéquatement
- Ne portez pas de vêtements amples ni de bijoux qui
risqueraient de se prendre dans les pièces mobiles.
- Portez des chaussures à semelles non dérapantes
lorsque vous travaillez à l'extérieur.
- Portez un filet pour retenir les cheveux longs.
10.Utilisez des équipements de protection
- Portez toujours des lunettes de sécurité.
11.Conservez ce mode d'emploi. Lisez-le
fréquemment et utilisez-le pour informer d'autres
personnes susceptibles d'utiliser cet outil. Si vous
prêtez l'JAWHORSE® à quelqu'un, laissez-leur
également ces instructions pour éviter toute mauvaise
utilisation de l'outil et tout risque de blessure.
12.N'utilisez pas l'appareil dans des endroits
humides ou mouillés. Les pièces humides à
traiter, ou les pièces à traiter dans un environnement
humide, ne peuvent pas être fixées fermement.
13.Assurez-vous que la pièce à traiter soit
fermement fixée et que le commutateur de
relâche du verrouillage se trouve à la bonne
position avant l'utilisation.
14.Vérifiez pour toute indication de pièces
endommagées. Avant d'utiliser de nouveau
l'appareil, vérifiez-le avec soin pour déterminer
qu'il fonctionnera correctement et remplira bien sa
fonction propre.
15.Lorsqu'il n'est pas utilisé, l'appareil devrait
être rangé dans un endroit sec verrouillé,
hors de l'atteinte des enfants. Ne laissez pas les
personnes qui ne sont familières avec l'appareil, s'en
servir.
16.Assurez-vous que l'entretien de votre
JAWHORSE® soit effectué par un technicien
qualifié.
17.Avertissement
L'utilisation de tout accessoire ou appareil de fixation
autres que ceux recommandés dans ce manuel de
l'utilisateur peut créer des risques de blessures
corporelles.
18
FRE
SYMBOLES
Avertissement-Afin de réduire les risques
de blessure, l'utilisateur doit lire ce mode
d'emploi
Avertissement
Portez une protection auditive
Portez un protecteur oculaire
Risques de pincement
Portez des gants
STATION DE TRAVAIL PORTABLE À MAINS LIBRES DONNÉES TECHNIQUES
Ouverture de serrage:
Max force de verrouillage:
Méthode de serrage:
Charge maximale:
Encombrement (Debout):
Encombrement (Plié):
Course de serrage-Pédale:
Poids:
Construction:
0-940 mm (0 -37 po)
1000 kg (1 Ton)
Marche
272 kg (600 lb)
1000 x 985 x 885 mm
(39 1/2 x 39 x 34 po)
775 x 350 x 335 mm
(29 x 14 x 13 po)
1 pouce par étape
19.5 kg (42.9 lb)
Acier solide
INSTRUCTIONS D'UTILISATION
REMARQUE: Avant d'utiliser cet outil, assurezvous de lire attentivement le manuel d'utilisation.
—INSTRUCTIONS DE MONTAGE
1. Placez l'étau à l'envers sur le sol, desserrez le
bouton de blocage du pied arrière (5) puis tirez
sur le pied arrière pour le sortir de sa position
de rangement. Faites pivoter le pied et glissez-le
jusqu'en haut, puis soulevez-le et enfoncez-le
complètement dans son emplacement. Serrez le
bouton. (Voir A-C)
2. Soulevez la pédale (9) jusqu'à ce qu'elle bloque. (Voir
D-E)
3. Tournez les pieds avant (10) et poussez-le en place
jusqu'à ce qu'ils bloquent. Le système de blocage
des pieds avant (15) s'ouvre automatiquement. (Voir
E)
4. Remettez l'étau à l'endroit et revérifiez que les pieds
sont en place et qu'ils sont bien verrouillés.
—INSTRUCTIONS DE DÉMONTAGE
Le démontage se fait en suivant la procédure inverse
des explications données ci-dessus. (Voir F-K)
1. Vérifiez que l'interrupteur de blocage/déblocage est
en position "débloquée". (Voir F)
2. Glissez le système de blocage du pied avant et pliez
les pieds. (Voir G)
3. Tirez le système de blocage de la pédale puis pliez la
pédale. (Voir H)
4. Desserrez le bouton de blocage arrière. Faites
glisser le pied arrière de son emplacement et repliezle. Vérifiez que le pied arrière est complètement plié
dans sa position de rangement et que le bouton de
blocage du pied arrière est bien serré.
FRE
5. Vous pouvez transporter l'étau en utilisant le pied
arrière comme poignée lorsqu'il est plié. (Voir I)
6. Vous pouvez également glisser le pied et l'utiliser
comme poignée avec le rouleau placé à l'avant, vous
pouvez donc facilement transporter l' JAWHORSE®.
Veuillez noter que le rouleau n'est pas conçu pour
supporter des conditions trop rigoureuses, comme le
fait de descendre un escalier sur le rouleau ou de le
rouler sur un terrain inégal. (Voir J, K)
—SERRAGE DE LA PIÈCE
1. Placez la pièce à travailler contre la mâchoire fixe
(14) et glissez la mâchoire mobile (1) vers l'avant
jusqu'à ce qu'elle touche la pièce à travailler.
Vous pouvez enfoncer la pédale de façon répétée
pour déplacer la mâchoire vers l'avant.
2. Glissez l'interrupteur de blocage/déblocage vers le
bas en position de "blocage". (Voir L)
3. Appliquez une pressure vers le bas sur la pédale
pour appliquer une force de serrage suffisante. (Voir
M)
AVERTISSEMENT: La force maximale applicable
sur la pédale est de 220 lb (100 kg max). Ne
vous mettez pas debout sur la pédale et ne sautez
pas dessus, car vous risqueriez de vous blesser ou
d'endommager l'outil.
—DESSERRAGE
1. Glissez l'interrupteur de blocage/déblocage vers le
haut en position de "déblocage". (Voir F)
2. Poussez sur la pédale pour la remonter et pour
desserrer la pièce à travailler. (Voir M)
Si vous avez serré la pièce très fort, vous devez exercer
une pression similaire sur la pédale pour la desserrer.
AVERTISSEMENT: Assurez-vous de tenir la pièce
lorsque vous desserrez l'étau pour que la pièce ne
tombe pas au moment où l'étau relâche la pression.
3. Glissez la mâchoire mobile vers l'arrière et retirez la
pièce à travailler. (Voir N)
—SERRAGE D'UN CÔTÉ DE LA MÂCHOIRE
Parfois, des pièces à travailler trop larges ou de formes
différentes ne peuvent être fixées que d'un côté des
mâchoires. Dans ce cas, n'exercez pas une force de
serrage trop forte.
—SERRAGE DE PIÈCES CARRÉES À LA VERTICALE
(Voir O)
Parfois, les pièces à travailler de forme tubulaire ou
carrée (en acier, en aluminium ou autre) doivent être
placées à la verticale au centre des mâchoires. Le trou
19
STATION DE TRAVAIL PORTABLE À MAINS LIBRES situé dans le plateau sous les mâchoires permettent
d'enfiler des pièces d'une largeur maximale de 2 3/8 po.
—SERRAGE D'OBJETS DE GRANDE TAILLE
[17 1/4 po (450 mm) – 37 po (940 mm)]
La mâchoire mobile peut être inversée pour
accommoder des objets de grande taille.
1. Placez l'interrupteur de blocage/déblocage en
position de "déblocage" et vérifiez que la pédale est
desserrée.
2. Sortez complètement la mâchoire mobile (1) de son
rail. (Voir N)
3. Tournez la mâchoire à 180 degrés et réinsérez-la sur
le rail. (Voir P)
AVERTISSEMENT: Lorsque vous serrez des
objets en utilisant la mâchoire mobile retournée,
vérifiez que la pièce repose sur la mâchoire mobile en
étant bien parallèle à elle. Évitez de serrer la pièce avec
la partie supérieure des mâchoires (avec un espace
entre la pièce à travailler et la base de la mâchoire
mobile) car une pression excessive sur la pédale pourrait
endommager l'outil ou la pièce.
REMARQUE: Certaines utilisations comme
le sciage à main ou le rabotage exercent
suffisamment de pression sur l'étau pour qu'il
se déplace sur le sol. Dans ces cas, vous pouvez
tenir l'JAWHORSE® en vous mettant debout sur la
palette d'appui. (Voir R) Lorsque vous travaillez
avec des matériaux lourds ou de grande taille,
prévoyez un support supplémentaire pour la
pièce. Ne vous mettez jamais debout sur la
palette d'appui pour éviter que l' JAWHORSE®
ne bascule pas, particulièrement lorsque vous
utilisez des outils électriques. (Voir Q)
—SERRAGE D'UN TUBE CARRÉ
Serrez le tube carré (ou toute pièce similaire) soit sur la
diagonale, soit sur le côté. Utilisez les mâchoires pour
fixer la pièce. (Voir S)
—RETRAIT DE LA PROTECTION DES MÂCHOIRES
(Voir T)
La protection des mâchoires peut être retirée pour
obtenir une ouverture de serrage supérieure, pour les
remplacer lorsqu'elles sont usées ou endommagées, ou
pour installer des mâchoires optionnelles.
Retirez les vis situées au centre des machoîres, et vous
pourrez alors faire sortir le parement de la machoîre (2,
3) en le tirantà la main.
20
FRE
ACCESSOIRES OPTIONNELS:
1) MORS À SOUDAGE (Voir U)
Le mors à soudage permet de tenir des pièces durant la
soudure. Les épaisses mâchoires en aluminium peuvent
tenir la pièce la plus grande. Le bras de soutien retient
la seconde pièce qui doit être soudée sur la pièce la
plus grande et peut également le placer de façon très
précise.
2) BUCHE ET MORS A TRONÇONNER (Voir V-X)
Ces mâchoires sont parfaites pour tenir des bûches
ou des poteaux et pour tenir une tronçonneuse afin
d'en affûter la chaîne. Ces mâchoires en acier sont
boulonnées sur les mâchoires standard en acier et sont
galvanisées pour mieux résister à la corrosion.
Les blocs de serrage de la tronçonneuse pivotent vers
l'arrière lorsqu'ils ne sont pas utilisés et ils pivotent vers
l'avant lorsqu'ils sont nécessaires.
Les bûches ou les poteaux d'un diamètre maximal de 12
po (300 mm) sont fermement serrés pour permettre la
coupe à la tronçonneuse, le perçage, le rabotage, etc.
La mâchoire pour tronçonneuse est parfaite pour tenir
une tronçonneuse afin d'en affûter la chaîne. Deux
paires d'étaux, d'un côté et de l'autre, permettent
d'éloigner les mâchoires de serrage de la chaîne qui
peut ainsi tourner librement durant l'affûtage des dents.
3) GIBECIÈRE
Le gibecière vous offre un espace de rangement
pratique pour vos outils et autres pièces.
STATION DE TRAVAIL PORTABLE À MAINS LIBRES DÉCLARATION DE GARANTIE DE
5 ANS
Si votre outil Rockwell devient défectueux suite à un
défaut de matériaux ou de fabrication dans un délai de
5 ans à compter de la date d'achat, nous garantissons
que nous:
• Remplacerons ou réparerons toutes les pièces
défectueuses, sans aucun frais, ou,
• Réparerons les produits gratuitement, ou
• Remplacerons l'appareil avec un neuf ou une
nouvelle unité reconditionnée, gratuitement.
La garantie est soumise aux conditions suivantes:
• Les batteries sont garanties pour une période de 12
mois seulement.
• Le produit n'a pas été mal utilisé, maltraités, négligé,
altéré, modifié ou réparé par quelqu'un d'autre qu'un
centre de service agréé.
• Seulement des accessoires et pièces Rockwell
d'origine ont été utilisés sur ou avec le produit
• Le produit a été soumis à une usure normale.
• Le produit n'a pas été utilisé pour des locations.
• Le produit n'a pas subi de dommages par des objets
étrangers, des substances ou accidents.
La garantie ne couvre pas;
• Les composants qui sont soumis à l'usure
naturelle causée par l'utilisation conformément aux
instructions de fonctionnement.
• Un mauvais entretien, une mauvaise manipulation,
des manipulations non autorisées ou une surcharge;
de plus, les accessoires tels que les ampoules, les
FRE
lames et les mèches, etc. ne sont pas couverts pas
la garantie.
Pour des réclamations, contacter la ligne téléphonique
de Rockwell. Vous devrez présenter une preuve d'achat
sous la forme d'un reçu valide qui affiche la date et le
lieu d'achat.
Nous pouvons exiger l'envoi en port payé de l'outil à un
centre de service autorisé, avec tous les équipements
d'origine.
Ligne téléphonique de Rockwell 866-514-ROCK
(7625)
Cette déclaration de garantie ne se substitue pas mais
s'ajoute à vos droits statutaires.
Cette garantie ne s'applique pas aux accessoires fournis
avec l'outil.
Cette garantie ne s'applique qu'à l'acheteur d'origine et
peut ne pas être transférer.
Toutes les réparations et tous les remplacements de
produit seront couverts par la garantie limitée pour le
reste de la période de garantie à partir de la date d'achat
initial.
Politique d'échange limitée de soixante (30) jours
Un outil qui ne fonctionne pas correctement à
cause d'un défaut de pièce ou de main-d'œuvre est
échangeable durant les soixante (30) premiers jours
après la date d'achat en rapportant l'outil au détaillant
où il a été acheté. Pour obtenir un outil de remplacement
vous devez présenter une preuve d'achat datée et
retourner l'outil dans son emballage original. L'outil
remplacé sera couvert par la balance de la garantie
limitée de deus ans.
21
Copyright © 2012, Positec. All Rights Reserved.