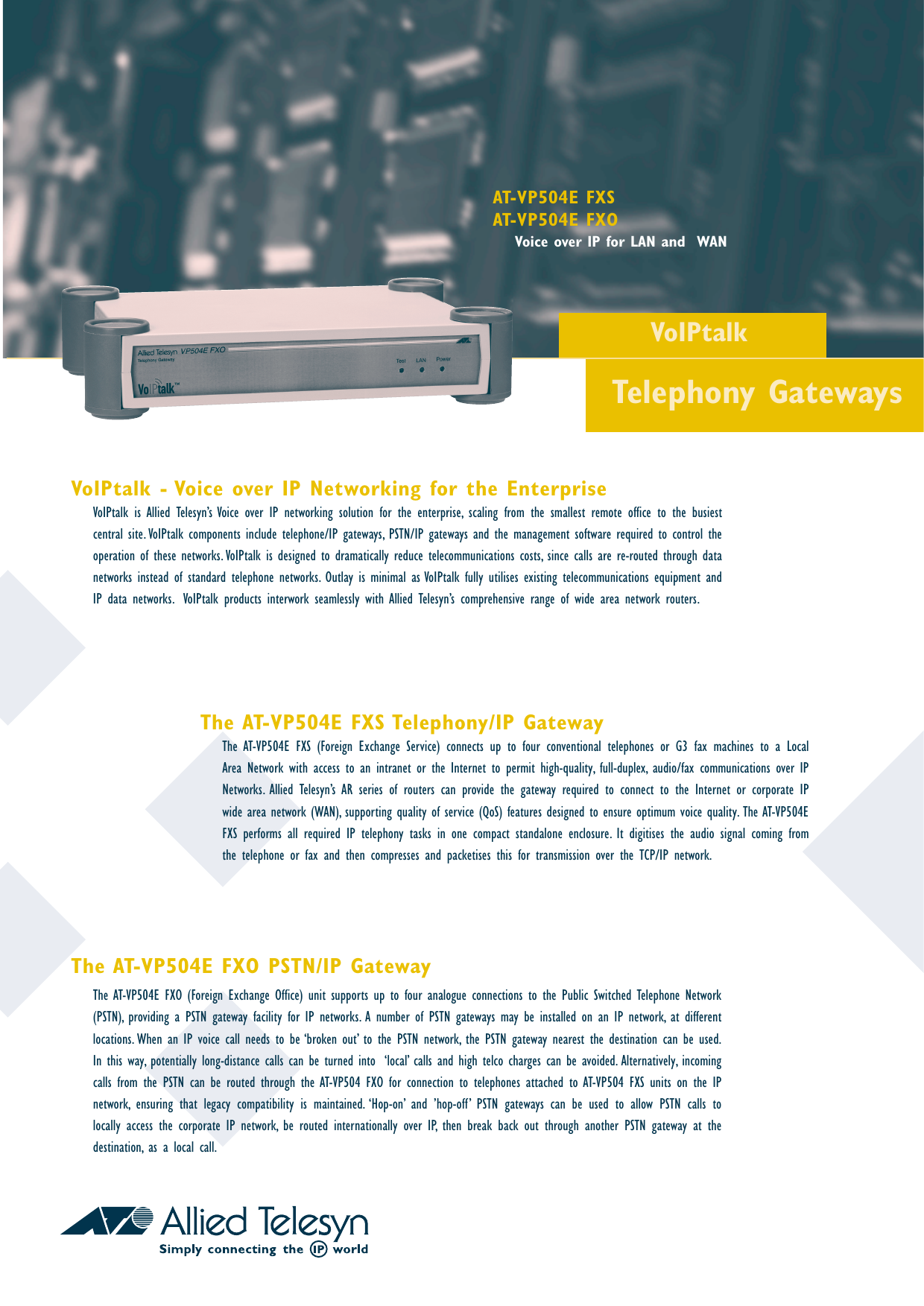 AT-VP504E FXS
AT-VP504E FXO
Voice over IP for LAN and WAN
VoIPtalk
Telephony Gateways
VoIPtalk - Voice over IP Networking for the Enterprise
VoIPtalk is Allied Telesyn's Voice over IP networking solution for the enterprise, scaling from the smallest remote office to the busiest
central site. VoIPtalk components include telephone/IP gateways, PSTN/IP gateways and the management software required to control the
operation of these networks. VoIPtalk is designed to dramatically reduce telecommunications costs, since calls are re-routed through data
networks instead of standard telephone networks. Outlay is minimal as VoIPtalk fully utilises existing telecommunications equipment and
IP data networks. VoIPtalk products interwork seamlessly with Allied Telesyn's comprehensive range of wide area network routers.
The AT-VP504E FXS Telephony/IP Gateway
The AT-VP504E FXS (Foreign Exchange Service) connects up to four conventional telephones or G3 fax machines to a Local
Area Network with access to an intranet or the Internet to permit high-quality, full-duplex, audio/fax communications over IP
Networks. Allied Telesyn's AR series of routers can provide the gateway required to connect to the Internet or corporate IP
wide area network (WAN), supporting quality of service (QoS) features designed to ensure optimum voice quality. The AT-VP504E
FXS performs all required IP telephony tasks in one compact standalone enclosure. It digitises the audio signal coming from
the telephone or fax and then compresses and packetises this for transmission over the TCP/IP network.
The AT-VP504E FXO PSTN/IP Gateway
The AT-VP504E FXO (Foreign Exchange Office) unit supports up to four analogue connections to the Public Switched Telephone Network
(PSTN), providing a PSTN gateway facility for IP networks. A number of PSTN gateways may be installed on an IP network, at different
locations. When an IP voice call needs to be 'broken out' to the PSTN network, the PSTN gateway nearest the destination can be used.
In this way, potentially long-distance calls can be turned into 'local' calls and high telco charges can be avoided. Alternatively, incoming
calls from the PSTN can be routed through the AT-VP504 FXO for connection to telephones attached to AT-VP504 FXS units on the IP
network, ensuring that legacy compatibility is maintained. 'Hop-on' and 'hop-off' PSTN gateways can be used to allow PSTN calls to
locally access the corporate IP network, be routed internationally over IP, then break back out through another PSTN gateway at the
destination, as a local call.
Fully Configurable 'PSTN-Like' Experience
The AT-VP504E FXS provides all the usual tones normally heard on the standard telephone network. For example, a
dial tone will be heard as soon as the handset is lifted. Call progress tones such as ring-back, busy and error are
programmable by country. In addition, the AT-VP504E FXS can be configured to accept virtually any format of
telephone number, for example, a series of three digit 'extensions' numbers could be set up to make calls, as used
on a PBX, or it can be configured to look like the PSTN with users dialing a full 'national' number to make a
connection.
Choice of SIP or H.323 Operation
The AT-VP504 units support both Session Initiation Protocol (SIP) as well as the older H.323 protocol for VoIP networks. Newer
installations will favour SIP due to its optimisation for IP networking and better response times, while legacy networks may
require H.323 operation for interworking and compatibility reasons. SIP or H.323 protocol is an order option.
Easy to Set-up
The AT-VP504E units can be integrated seamlessly into an existing management environment. SNMP support for SIP
units and an integral HTTP server for H.323 operation allows remote management and configuration to be carried
out simply and quickly. The units are designed to be desktop stackable. With the optional mounting kit, they can
also be wall-mounted or rackmounted. They can be upgraded simply and quickly by loading new firmware into Flash
memory using the Trivial File Transfer Protocol (TFTP), new enhancements can be emailed to site then loaded into
the unit in a matter of seconds.
Application showing long line PBX Extension
REMOTE OFFICE
CENTRAL OFFICE
AT-VP500 SIP Server
IP WAN
PBX
Router
AT-VP504E FXS
Router
AT-VP504E FXS
PSTN
In this SIP example, central PBX connectivity is extended to remote offices and teleworkers over the IP data network, resulting in PSTN call charge savings. The IP
data network can be local or world-wide. All AT-VP504E phone/fax/PBX connections are analogue. The AT-VP500 SIP Server provides call address mapping, user
registration and AT-VP504E device configuration.
Application showing addition of AT-VP504E FXO PSTN Gateway
REMOTE OFFICE
CENTRAL OFFICE
AT-VP500 SIP Server
IP WAN
Router
Router
PBX
PSTN
AT-VP504E FXO
AT-VP504E FXS
AT-VP504E FXS
PSTN
In this diagram, the remote office site now has a directly attached AT-VP504E FXO unit providing IP telephony gateway services to the PSTN. IP voice calls are converted
into analogue form for transmission across standard telephone lines; similarly, incoming calls from the normal telephone network are converted into IP calls for onward
transmission across the corporate IP network. This allows local PSTN callers to 'hop onto' the corporate IP network and make free long distance calls to corporate or
other destinations.
Application showing 'hop-on' and 'hop-off ' PSTN Gateways
LONDON
NEW YORK
FREE INTERNATIONAL CALL
AT-VP500 SIP Server
CORPORATE
IP NETWORK
Router
Router
AT-VP504E FXS
AT-VP504E FXS
AT-VP504E FXO
PSTN
PHONE A
LOCAL CALL
AT-VP504E FXO
PSTN
LOCAL CALL
PHONE B
In the above diagram, Phone A makes a local call to its nearest PSTN Gateway in London to 'hop-on' to the corporate IP network. The IP voice call is then routed,
free of charge, across the IP network to New York, where it accesses a second PSTN gateway and 'hops-off', making a second local call to Phone B.
"VoIPtalk offers toll-quality, fully standards based, voice/fax over IP
networking for both the small offfice and the enterprise, including gateway
services to the public telephone network."
Analogue Modem and Fax Interface
The AT-VP504E FXS can be used with 9.6kbps to 33.6kbps analogue modems (V.34 support over clear channel). All
four ports of the AT-VP504E FXS are capable of handling G3 fax transmissions at speeds up to 14.4kbps. Automatic
fax mode detection is standard on all ports, so the unit automatically detects if a call originates from a voice or
fax transmission and acts accordingly.
Full Integration with Allied Telesyn's AT-VP500 SIP Server
The AT-VP500 SIP Server is a set of software tools that helps manage a network of AT-VP500 products and SIP users to provide
end-to-end IP Telephony solutions. In particular, the AT-VP500 SIP Server helps to translate standard telephone numbers into
their corresponding IP addresses, looks for available gateways to place calls onto the PSTN and keeps records of all available
AT-VP500 devices on the network. The SIP Server runs under Windows NT and is required to make effective use of a network
of AT-VP504E FXS/FXO units.
H.323 Gatekeeper
When operating the H.323 protocol, the AT-VP504E FXS/FXO units require a H.323 Gatekeeper to provide a broad
range of network services, including configuring, monitoring and managing registered network users. Policies can be
set to control network resources such as bandwidth. The H.323 Gatekeeper also provides address translation, network
topology and zone control functions. The H.323 Gatekeeper software runs under Windows NT.
Quality of Service (QoS) Support
Differentiated Services Code Point tagging (DSCP), or 'DiffServ', is supported, this allows a number of different QoS values to be
assigned to the voice packets, for example, the default setting is 'low delay, high throughput and normal reliability'. Corresponding
policy filters can then be defined in Allied Telesyn routers to provide for priority voice transmission across the wide area IP
network. 802.1q VLAN tagging is supported by the AT-VP504E FXS/FXO in H.323 mode, for Ethernet frame prioritisation.
Supplementary Telephony Services
The AT-VP504E FXS operating in SIP mode, offers telephone services that a user can use directly on their telephone:• Call forward on unconditional, busy and no answer
• Call waiting
• Call transfer
• Caller ID on call waiting
Emergency Bypass
In addition to the four phone/fax ports, the AT-VP504E FXS has a fifth RJ11 connector used to connect to a standard PSTN
line. During normal operation, this line is not used, however, if mains power should fail, or if the IP network is down, the PSTN
line will automatically be switched in and can be used as an emergency bypass line. The bypass line can also be triggered by
a software control signal.
Feature Summary
Switching LED Indicators
Vocoders
G.711 (A-law, µ-law)
G.723.1
G.729 a, b
IP Telephony Protocols
SIP
H.323v2 (Option at order)
Fax protocols
T.30 and T.38
Transport Protocols
RTP/RTCP RFC1889, RFC1890
Network Management Protocols
SNMP version 2 (SIP)
DHCP – RFC2131, RFC2132
TFTP – RFC1350, RFC2347, RFC2348, RFC2349
Syslog
HTTP version 1.0 (H.323)
PSTN (FXO) Line Interface
Direct connect to PSTN line
RJ-11 connector
Trunk type: Loop start with support for polarity reversal detection
Ring detection: 15Vrms min, 13 to 68Hz (configurable)
Nominal Impedance: BellCore compliant 600/900 ohms default setting. International options
available
• Ringer Equivalence: 0.8 REN
•
•
•
•
•
Display
• Power LED
• Network activity LED
• Test/Bypass LED indication
Connectors
• 4 RJ-11 connectors acting as traditional analogue phone/fax (FXS) interface
• 1 RJ-11 connector used for PSTN Bypass connectivity
• 1 RJ45 connector for 10/100BaseT Ethernet access (Auto-sense: up to 100Mbps)
Analogue (FXS) Line Interface
Powe r
•
•
•
•
•
Direct connect to a fax machine or telephone
RJ-11 connector
DC feeding of the access line protected for over voltage
Loop current detection and hook flash detection capable
Generation of Selective Ring
AT-VP504E FXS
• Unregulated 12 Volts/24 Watts external tabletop power pack. Country-specific models
AT-VP504E FXO
• 85 - 265 VAC, 50 - 60 Hz, 24 Watt. Auto-sensing internal supply
Switching Interface Connections
Trunk type
Ring Source
Nominal Impedance
Ring Drive capacity
Loop current range
Ring trip value
On Hook Voltage
Freq. Response
Return Loss
Loop Start: capable of Wink and Immediate signalisation
70 VRMS @ 20 up to 50 Hz (selectable) sine signal
BellCore compliant 600/900 Ohms default setting. International options available
Up to 3 ringer equivalents (3 RENs) per port
15 to 50mA factory set. Default 30 mA regulated
25 ms
-36 VDC
200 Hz to 3400 Hz ±3 dB (Tx/Rx)
600-3400 Hz: 30 dB
Audio Specifications
•
•
•
•
Software input and output level adjustable within the range -36 dB to +12 dB
Software-adjustable dynamic and static jitter buffer protection
Automatic gain control: Application can enable/disable
Programmable by country: Call progress tone generation including dial tone, busy tone, ring-back and
error tones
• Silence detection/suppression level software adjustable
Physical Characteristics
Dimensions (W/D/H)
55mm x 260mm x 180mm
(2.2in x 10.4in x 7.2in)
Weight
580g (1.3 lbs) excl PSU
Temperature
Operating
Non-operating
Humidity
0˚C to 40˚C
-10˚C to 70˚C
5 to 80% non-condensing
A p p rova l s
•
•
•
•
•
•
CE
EN 60950
EN55022 Class B
FCC Part 15 Class B, Part 68
UL 1950
JATE
European Offices
European Headquarters & The Netherlands (Sales)
Allied Telesyn International BV. Kon. Wilhelminaplein 13/2.10.03, 1062 HH Amsterdam
Tel: (+31) 20-346.07.00, Fax: (+31) 20-346.07.10
Austria & Eastern Europe
Allied Telesyn Vertriebsgesellschaft m.b.H. Fleschgasse 32/6 - 1130, Vienna, Austria
Tel: (+43) 1 8762441, Fax: (+43) 1 8762572
Belgium
Allied Telesyn International Office Nr 1.11, Innovatie en Incubatiecentrum Brussel NV,
Researchpark, Kranenberg 6, 1731 Zellik
Tel: (+32) 2 481 60 68, Fax: (+32) 2 463 17 06
Hardware Ordering Information:
Item
AT-VP504E
AT-VP504E
AT-VP504E
AT-VP504E
FXS/H.323
FXS/SIP
FXO/H.323
FXO/SIP
xx =
France
Allied Telesyn International S.A. 6, Avenue des Andes, Bâtiment 5,
Z.A. de Courtaboeuf, 91952 Les Ulis Cedex
Tel: (+33) 01 60 92 15 25, Fax: (+33) 01 69 28 37 49
Germany
Allied Telesyn International GmbH. Wittestrasse 3ON, 13509 Berlin
Tel: (+49) 30 435 9000, Fax: (+49) 30 435 706 50, Toll Free: 00 800 255 43310
Germany - South
Allied Telesyn International GmbH. Geschäftsstelle Süd, Gute Änger 13, 85356 Freising
Tel: (+49) 8161 99 060, Fax: (+49) 8161 99 0622
Italy
Allied Telesyn International s.r.l. Via Anna Kuliscioff 37, 20152 Milano
Tel: (+39) 02 41304.1, Fax: (+39) 02 41304.200
Allied Telesyn International s.r.l. Via Troilo il Grande 3, 00131 Roma
Tel & Fax: (+39) 06 20631069
Poland
Allied Telesyn International Vertriebsgesellschaft m.b.H Sp. z o.o. Oddzial w Polsce,
00-137 Warszawa, ul. Elektoralna 13
Tel: (+48) 22 696 01 04, Fax: (+48) 22 654 48 56
Spain
Allied Telesyn International Srl. Representative Office, Plaza de España, 18-4˚-Offic. 3, 28008 Madrid
Tel: (+34) 91 559 1055, Fax: (+34) 91 559 2644
United Kingdom
Allied Telesyn International Ltd. 7-8 Milton Park, Abingdon, Oxon, OX14 4RT
Tel: (+44) 1235 442500, Fax: (+44) 1235 442590, Freephone: 0800 204040
www.alliedtelesyn.com
Description
AT-VP504E FXS using H.323 protocol
AT-VP504E FXS using SIP protocol
AT-VP504E FXO using H.323 protocol
AT-VP504E FXSO using SIP protocol
Part No.
990-11590-xx
990-11591-xx
990-11592-xx
990-11593-xx
10 US power cord
30 UK power cord
40 Australian power cord
50 European power cord
Software Ordering Information:
Item
Description
Part No.
AT-VPSIP SERVER020-00
AT-VPSIP SERVER040-00
AT-VPSIP SERVER120-00
AT-VPSIP SERVERMAX-00
AT-VPH323GK60-00
AT-VPH323GK200-00
SIP Server 1-20 users
SIP Server 21-40 users
SIP Server 41-120 users
SIP Server Unlimited
H.323 Gatekeeper 1-60 users
H.323 Gatekeeper 60-200 users
990-11594-00
990-11595-00
990-11596-00
990-11597-00
990-11601-00
990-11602-00
Either SIP Server software or H.323 Gatekeeper software must be ordered with AT-VP504E FXS/FXO units,
unless equivalent third party software is being used. Requires Windows NT platform.
Product Range
Allied Telesyn's long-term focus on price/performance networking has made it a market-leading
provider of LAN, WAN and MAN network systems. Advanced Layer 3 switch and router
technology perfectly complements its traditional Layer 2 switch, hub, adapter card and media
conversion capabilities.
617-00384-05
© 2001 Allied Telesyn International Corp. All rights reserved. Information in this document is subject to change without notice.
Visit www.alliedtelesyn.com to view the latest version of this datasheet. AT-View is a trademark of Allied Telesyn International Corp. All company names,
logos, and product designs that are trademarks or registered trademarks are the property of their respective owners.