No category
LER900 Series Extruded Aluminum Exit Sign FEATURES TYPICAL SPECIFICATIONS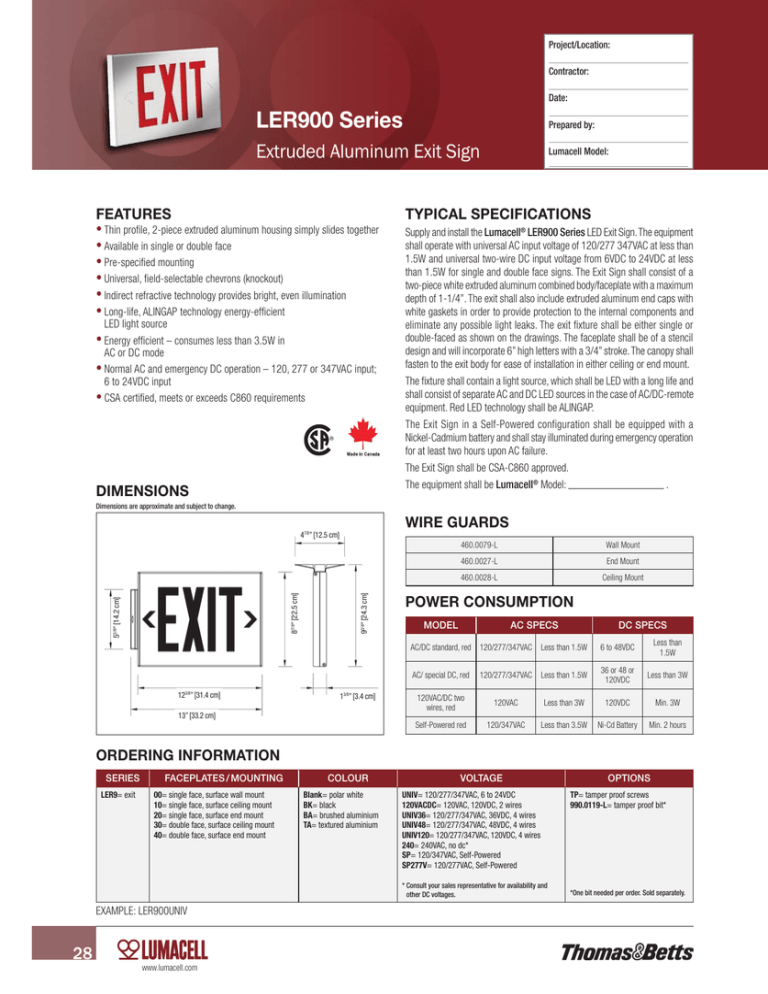 Project/Location:
Contractor:
Date:
LER900 Series
Prepared by:
Extruded Aluminum Exit Sign
FEATURES
•Thin profile, 2-piece extruded aluminum housing simply slides together
•Available in single or double face
•Pre-specified mounting
•Universal, field-selectable chevrons (knockout)
•Indirect refractive technology provides bright, even illumination
•Long-life, ALINGAP technology energy-efficient
LED light source
•Energy efficient – consumes less than 3.5W in
AC or DC mode
•Normal AC and emergency DC operation – 120, 277 or 347VAC input;
6 to 24VDC input
•CSA certified, meets or exceeds C860 requirements
DIMENSIONS
Lumacell Model:
TYPICAL SPECIFICATIONS
Supply and install the Lumacell® LER900 Series LED Exit Sign. The equipment
shall operate with universal AC input voltage of 120/277 347VAC at less than
1.5W and universal two-wire DC input voltage from 6VDC to 24VDC at less
than 1.5W for single and double face signs. The Exit Sign shall consist of a
two-piece white extruded aluminum combined body/faceplate with a maximum
depth of 1-1/4". The exit shall also include extruded aluminum end caps with
white gaskets in order to provide protection to the internal components and
eliminate any possible light leaks. The exit fixture shall be either single or
double-faced as shown on the drawings. The faceplate shall be of a stencil
design and will incorporate 6" high letters with a 3/4" stroke. The canopy shall
fasten to the exit body for ease of installation in either ceiling or end mount.
The fixture shall contain a light source, which shall be LED with a long life and
shall consist of separate AC and DC LED sources in the case of AC/DC-remote
equipment. Red LED technology shall be ALINGAP.
The Exit Sign in a Self-Powered configuration shall be equipped with a
Nickel-Cadmium battery and shall stay illuminated during emergency operation
for at least two hours upon AC failure.
The Exit Sign shall be CSA-C860 approved.
.
The equipment shall be Lumacell® Model:
Dimensions are approximate and subject to change.
WIRE GUARDS
47/8" [12.5 cm]
12 " [31.4 cm]
3/8
95/8" [24.3 cm]
55/8" [14.2 cm]
87/8" [22.5 cm]
460.0079-L
1 " [3.4 cm]
3/8
13" [33.2 cm]
Wall Mount
460.0027-L
End Mount
460.0028-L
Ceiling Mount
POWER CONSUMPTION
MODEL
AC SPECS
DC SPECS
AC/DC standard, red
120/277/347VAC
Less than 1.5W
6 to 48VDC
Less than
1.5W
AC/ special DC, red
120/277/347VAC
Less than 1.5W
36 or 48 or
120VDC
Less than 3W
120VAC/DC two
wires, red
120VAC
Less than 3W
120VDC
Min. 3W
Self-Powered red
120/347VAC
Less than 3.5W
Ni-Cd Battery
Min. 2 hours
ORDERING INFORMATION
SERIES
LER9= exit
FACEPLATES / MOUNTING
00= single face, surface wall mount
10= single face, surface ceiling mount
20= single face, surface end mount
30= double face, surface ceiling mount
40= double face, surface end mount
COLOUR
Blank= polar white
BK= black
BA= brushed aluminium
TA= textured aluminium
VOLTAGE
UNIV= 120/277/347VAC, 6 to 24VDC
120VACDC= 120VAC, 120VDC, 2 wires
UNIV36= 120/277/347VAC, 36VDC, 4 wires
UNIV48= 120/277/347VAC, 48VDC, 4 wires
UNIV120= 120/277/347VAC, 120VDC, 4 wires
240= 240VAC, no dc*
SP= 120/347VAC, Self-Powered
SP277V= 120/277VAC, Self-Powered
* Consult your sales representative for availability and
other DC voltages.
EXAMPLE: LER900UNIV
28
www.lumacell.com
OPTIONS
TP= tamper proof screws
990.0119-L= tamper proof bit*
*One bit needed per order. Sold separately.

* Your assessment is very important for improving the work of artificial intelligence, which forms the content of this project