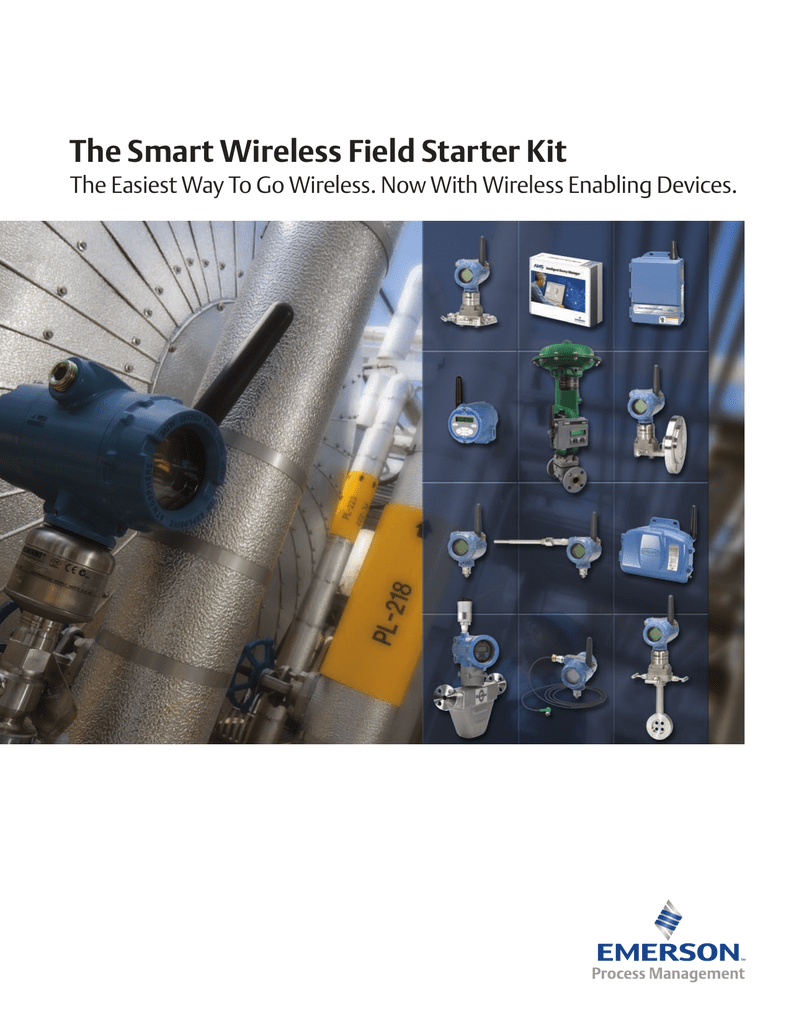 The Smart Wireless Field Starter Kit
The Easiest Way To Go Wireless. Now With Wireless Enabling Devices.
The Right Place to Start?
Anywhere.
With Emerson's Smart Wireless
automation solutions backed by the
easy, reliable Smart Wireless Field
Starter Kit, you can be up and
running in no time, no risk, with ease.
Emerson's Smart Wireless solutions
help you touch more of your plant
with predictive intelligence than
ever before. You can eliminate "blind
spots" in your plant where it was
previously too difficult or expensive
to install wired instruments.
Self-organizing to provide near
perfect reliability, Emerson Smart
Wireless offers unparalleled ease of
use. Installing and commissioning its
open WirelessHART standard-based
wireless technologies can be a snap...
going from box to fully commissioned
The Smart Wireless Field Starter Kit is the risk free
and easy way to experience the benefits of wireless
that so many users are enjoying today.
in minutes.
The Smart Wireless approach gives
you the freedom to choose your
path. You can have as much or as
little wireless as you want, where
you want. With little to no up-front
Where would you start?
Users from various industries have shared some of their favorite applications and
reasons to install Emerson's Smart Wireless technologies:
Asset Protection
• Monitor bearing and lube temperature, filter differential pressure
• Trend asset performance
• Reduce "surprise shutdowns"
• Perform proactive maintenance as needed
• Monitor the vibration for critical rotating equipment
• Ensure critical pH measurements are not lost, by tracking the device
health wirelessly
Process Monitoring
• Find cold spots in steam lines
• Eliminate clipboard rounds
• Prevent spills by using alerts
• Gain valuable insight into process
Health, Safety, and Environment
• Monitor safety showers
• Accurately measure emissions
• Pressure relief and safety valves
• Environmental compliance
engineering and design required,
scalable architecture and easy
deployment.
Infinitely configurable, and successfully
implemented with hundreds of
manufacturers, Emerson's Smart
Wireless approach and Smart Wireless
Field Starter Kit have proven in a
variety of applications to be the most
robust, reliable, and easy-to-use
wireless technology platform available.
And you can order yours today...
Get Started Today
Getting started with Smart Wireless is easy!
Smart Wireless Field Starter Kit
Easy. Robust. Flexible.
Ordering
Simply go online to:
EmersonSmartWireless.com/FieldKit
You can specify how many and what
Getting started with wireless technology has never been easier. Emerson has developed a complete
combination of devices comprise your
wireless automation kit you can order today. The Smart Wireless Field Starter Kit starts with:
Smart Wireless Field Starter Kit.
Field Instruments
You can choose any combination of wireless pressure, temperature, DP level, DP flow, vibration,
Installation
discrete switches, or pH.
The Emerson Wireless Smart Wireless
Field Starter Kit will automatically create
a secure, robust Smart Wireless network
right out of the box.
Emerson makes it easy with:
• No site surveys
• No special tools
• Familiar instrument practices
• Seamless integration with wired network
Wireless Enabling Devices
• Automatic scalability
Wireless enabling devices can help to free up stranded
• Installation services
diagnostics from your wired devices. Choose from the
Smart Wireless THUM™ Adapter or wireless valve
position monitors.
Emerson's Smart Wireless Field Starter
Kit is a risk-free, easy way to experience
the benefits of wireless so many
Gateway
customers are realizing. Order yours
A secure, robust Smart Wireless Gateway.
today!
Configuration and Asset Health
AMS Device Manager predictive maintenance software
delivers powerful diagnostics from your wireless devices.
Easily manage your wired and wireless networks from a
single application.
Services
Smart Start™ Services help you with your first startup,
including full network health assessment to ensure
robust communications plus verification of device
functionality through your chosen output (Modbus,
OPC, Ethernet, etc.).
Emerson's technician will not leave the site until the
wireless network is successfully communicating with
your control system – connectivity of your network
guaranteed!
WirelessHART™ encompasses evolutionary enhancements
that build on the solid foundation of HART technology used
in more than 24 million installed devices worldwide.
EmersonSmartWireless.com/FieldKit
Stay in touch with the latest Emerson Smart Wireless developments
www.EmersonProcess.com/SmartWireless
©2009 Emerson Process Management. All rights reserved.
The Emerson logo is a trademark and service mark of Emerson Electric Co. Smart Start and THUM are marks
of one of the Emerson Process Management family of companies. All other marks are the property of their
respective owners.
Emerson Process Management
12301 Research Blvd.
Research Park Plaza, Building III
Austin, Texas 78759
www.EmersonProcess.com
12-09
The contents of this publication are presented for information purposes only, and while effort has been made
to ensure their accuracy, they are not to be construed as warranties or guarantees, express or implied, regarding
the products or services described herein or their use or applicability. All sales are governed by our terms and
conditions, which are available on request. We reserve the right to modify or improve the designs or specifications
of our products at any time without notice.

* Your assessment is very important for improving the work of artificial intelligence, which forms the content of this project