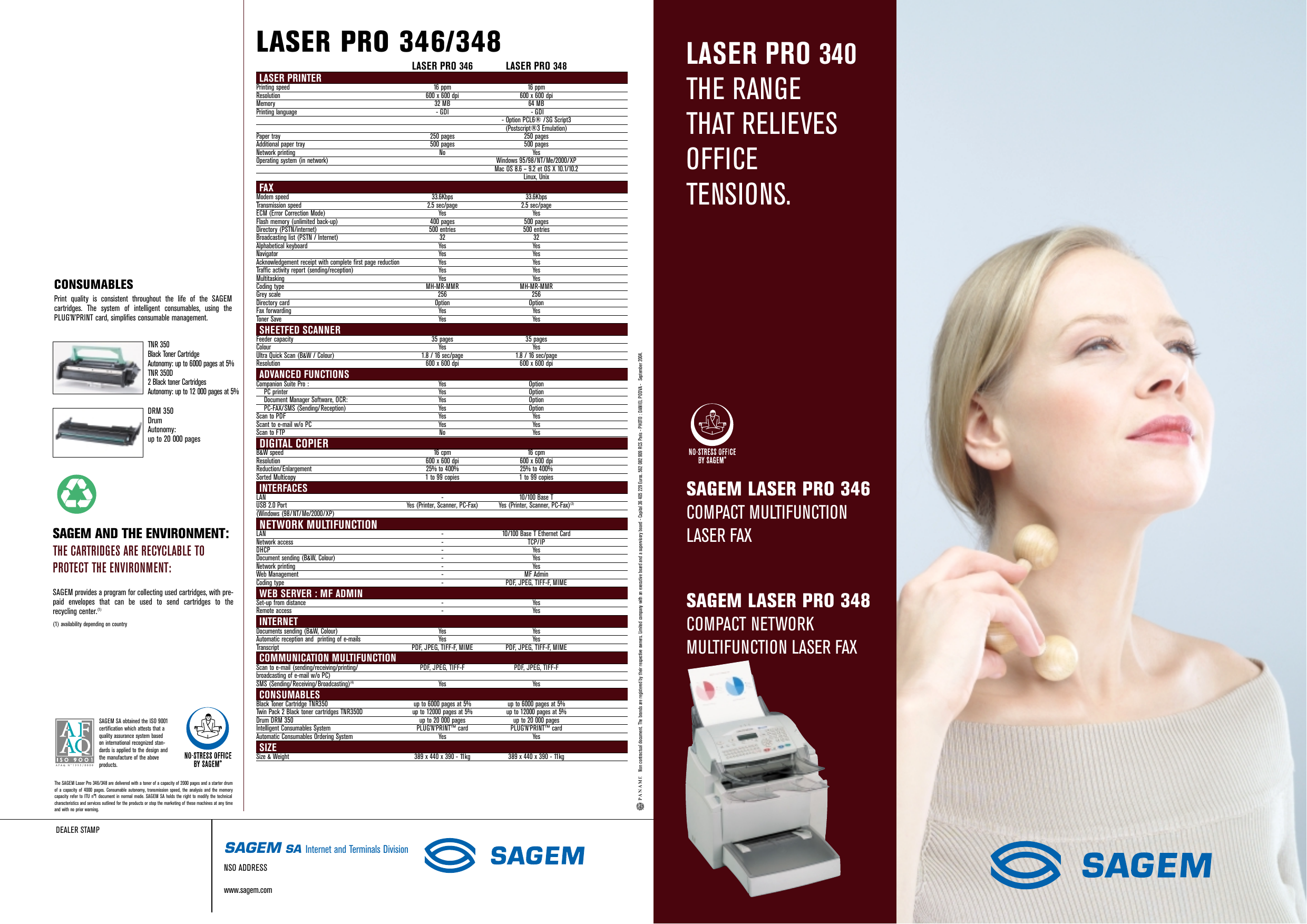 LASER PRO 346/348
LASER PRO 346
LASER PRO 348
16 ppm
600 x 600 dpi
32 MB
- GDI
16 ppm
600 x 600 dpi
64 MB
- GDI
- Option PCL6® /SG Script3
(Postscript®3 Emulation)
250 pages
500 pages
Yes
Windows 95/98/NT/Me/2000/XP
Mac OS 8.6 – 9.2 et OS X 10.1/10.2
Linux, Unix
LASER PRO 340
THE RANGE
THAT RELIEVES
OFFICE
TENSIONS.
LASER PRINTER
Printing speed
Resolution
Memory
Printing language
Paper tray
Additional paper tray
Network printing
Operating system (in network)
250 pages
500 pages
No
FAX
CONSUMABLES
Print quality is consistent throughout the life of the SAGEM
cartridges. The system of intelligent consumables, using the
PLUG'N'PRINT card, simplifies consumable management.
Modem speed
Transmission speed
ECM (Error Correction Mode)
Flash memory (unlimited back-up)
Directory (PSTN/internet)
Broadcasting list (PSTN / Internet)
Alphabetical keyboard
Navigator
Acknowledgement receipt with complete first page reduction
Traffic activity report (sending/reception)
Multitasking
Coding type
Grey scale
Directory card
Fax forwarding
Toner Save
33.6Kbps
2.5 sec/page
Yes
400 pages
500 entries
32
Yes
Yes
Yes
Yes
Yes
MH-MR-MMR
256
Option
Yes
Yes
33.6Kbps
2.5 sec/page
Yes
500 pages
500 entries
32
Yes
Yes
Yes
Yes
Yes
MH-MR-MMR
256
Option
Yes
Yes
35 pages
Yes
1.8 / 16 sec/page
600 x 600 dpi
35 pages
Yes
1.8 / 16 sec/page
600 x 600 dpi
Yes
Yes
Yes
Yes
Yes
Yes
No
Option
Option
Option
Option
Yes
Yes
Yes
16 cpm
600 x 600 dpi
25% to 400%
1 to 99 copies
16 cpm
600 x 600 dpi
25% to 400%
1 to 99 copies
Yes (Printer, Scanner, PC-Fax)
10/100 Base T
Yes (Printer, Scanner, PC-Fax)(3)
-
10/100 Base T Ethernet Card
TCP/IP
Yes
Yes
Yes
MF Admin
PDF, JPEG, TIFF-F, MIME
-
Yes
Yes
Yes
Yes
PDF, JPEG, TIFF-F, MIME
Yes
Yes
PDF, JPEG, TIFF-F, MIME
PDF, JPEG, TIFF-F
PDF, JPEG, TIFF-F
Yes
Yes
up to 6000 pages at 5%
up to 12000 pages at 5%
up to 20 000 pages
PLUG'N'PRINT™ card
Yes
up to 6000 pages at 5%
up to 12000 pages at 5%
up to 20 000 pages
PLUG'N'PRINT™ card
Yes
389 x 440 x 390 - 11kg
389 x 440 x 390 - 11kg
TNR 350
Black Toner Cartridge
Autonomy: up to 6000 pages at 5%
TNR 350D
2 Black toner Cartridges
Autonomy: up to 12 000 pages at 5%
DRM 350
Drum
Autonomy:
up to 20 000 pages
ADVANCED FUNCTIONS
Companion Suite Pro :
PC printer
Document Manager Software, OCR:
PC-FAX/SMS (Sending/Reception)
Scan to PDF
Scant to e-mail w/o PC
Scan to FTP
DIGITAL COPIER
B&W speed
Resolution
Reduction/Enlargement
Sorted Multicopy
INTERFACES
LAN
USB 2.0 Port
(Windows (98/NT/Me/2000/XP)
SAGEM AND THE ENVIRONMENT:
THE CARTRIDGES ARE RECYCLABLE TO
PROTECT THE ENVIRONMENT:
SAGEM provides a program for collecting used cartridges, with prepaid envelopes that can be used to send cartridges to the
recycling center.(1)
NETWORK MULTIFUNCTION
LAN
Network access
DHCP
Document sending (B&W, Colour)
Network printing
Web Management
Coding type
WEB SERVER : MF ADMIN
Set-up from distance
Remote access
INTERNET
(1) availability depending on country
Documents sending (B&W, Colour)
Automatic reception and printing of e-mails
Transcript
COMMUNICATION MULTIFUNCTION
Scan to e-mail (sending/receiving/printing/
broadcasting of e-mail w/o PC)
SMS (Sending/Receiving/Broadcasting)(4)
CONSUMABLES
Black Toner Cartridge TNR350
Twin Pack 2 Black toner cartridges TNR350D
Drum DRM 350
Intelligent Consumables System
Automatic Consumables Ordering System
SAGEM SA obtained the ISO 9001
certification which attests that a
quality assurance system based
on international recognized standards is applied to the design and
the manufacture of the above
products.
SIZE
Size & Weight
The SAGEM Laser Pro 346/348 are delivered with a toner of a capacity of 2000 pages and a starter drum
of a capacity of 4000 pages. Consumable autonomy, transmission speed, the analysis and the memory
capacity refer to ITU n°1 document in normal mode. SAGEM SA holds the right to modify the technical
characteristics and services outlined for the products or stop the marketing of these machines at any time
and with no prior warning.
DEALER STAMP
SAGEM
NSO ADDRESS
www.sagem.com
SA Internet and Terminals Division
Non contractual document. The brands are registered by their respective owners. Limited company with an executive board and a supervisory board - Capital 36 405 229 Euros. 562 082 909 RCS Paris - PHOTO : DANIEL PODVA - September 2004.
SHEETFED SCANNER
Feeder capacity
Colour
Ultra Quick Scan (B&W / Colour)
Resolution
SAGEM LASER PRO 346
COMPACT MULTIFUNCTION
LASER FAX
SAGEM LASER PRO 348
COMPACT NETWORK
MULTIFUNCTION LASER FAX
> SUPER G3 HIGH-SPEED FAX
> LAN FAX ADSL(1)
> UNLIMITED BACKUP FLASH MEMORY: UP TO 500 PAGES
> LASER PRINTER: 16 PPM
> NETWORK MULTIFUNCTION(2)
> DIGITAL COPIER
> COLOUR SCANNER
> SCAN TO E-MAIL W/O PC
> SENDING/RECEPTION OF SMS(4)
> TONER SAVE (UP TO 40% OF TONER)
TONER SAVE
A PROFESSIONNAL
FAX MACHINE
Fast and economic (analysis in 1,8 sec/page, transmission in 2,5 sec/page, Super G3 33,6Kbps modem, Eco
menu with timer option), the SAGEM Laser Pro 346 and
348 also offer great convenience : transmission report
with complete first page reduction, a navigator, last ten
numbers redial and Directory Card (option)...
The address book of 500 entries and 32 distribution lists
simplifies the day to day use enabling you to search
alphabetically for correspondents.
Equipped with an Unlimited Backup Flash Memory (up to
500 pages) and a large paper capacity (up to 750
sheets), it will absorb your fax traffic in total security.
Moreover, with the fax forwarding function your received
faxes will follow you everywhere you go ! This function
forwards your received faxes to another fax machine. It
is especially useful when you are away on a business trip.
You can keep up with all your received faxes in real time.
Thanks to the Toner Save function, save up to 40% of
toner !
SEND YOUR COLOUR
DOCUMENTS ALL OVER
THE WORLD FOR THE
COST OF A LOCAL CALL
Send all your B&W and colour documents at high speed to any
PC in PDF format for free thanks to the LAN Fax ADSL(1). The
Sagem Laser Pro 346 and 348 are the highest ranked in their
category for distributing colour or B&W scanned documents
through a compatible SMTP/POP3 server. Thanks to their
"Scan to e-mail w/o PC" function and its 56K modem or
network Ethernet 10/100 Base T(2) connection, the Sagem Laser
Pro 346 and 348 send out your colour or B&W paper
documents to any PC with an e-mail address in PDF, JPEG and
TIFF-F format.
PRINT IN LASER QUALITY
PC MULTIFUNCTION(3)
The Sagem Laser Pro 346 and 348 are also powerful laser
printers enabling you to print all types of high quality documents
quickly, at a speed of 16 pages per minute. The large printing
memory of up to 64 MB enables you to handle all your print jobs.
This way you instantly free up your computer resources.
The 250-sheet paper tray adapts itself to numerous kinds of
paper and with the additonal tray of 500 sheets, you will avoid
repetitive paper reloads.
Connected to the LAN, the SAGEM Laser Pro 348 is a network
printer ideal for small workgroups. Thanks to the latest printing
standards that are the PCL6® and SG-Script 3 (Postcript®
emulation level 3) the Laser Pro 348 can be adapted to any type
of environment and can be used in a network with most
well-known Operating Systems such as Windows, Mac or UNIX(3).
With the addition of the USB 2.0 port and the new Sagem
Companion Suite Pro software, your Laser Pro 346 and 348
become a complete PC Windows multifunction product
(98/ Me/2000/XP).
This way, you can print your documents in laser quality, scan
in colour or in B&W for OCR treatment in Word format.
With the Document Manager Paperport SE, archiving and organising all your digital documents become the easiest thing
to do.
Manage your fax and SMS traffic through Windows thanks to
the Companion Manager: sending, receiving and archiving of
faxes and SMS, address book and group list management.
The Companion Suite Pro simplifies parameters and consumables management of the Laser Pro 346 and 348. Thanks to
management of the level of consumables, you can optimise and
anticipate their replacement.
Finally, you can make your Sagem Companion Suite Pro more
user-friendly by customizing its shape and colour.
A PROFESSIONAL
FAX MACHINE
TERMINAL
INTERNET
SMS
BROADCASTING(4)
USER
FRIENDLY
NETWORK
MULTIFUNCTION(2)
PC
MULTIFUNCTION(3)
A GENUINE NETWORK
MULTIFUNCTION(2)
Archive, send, and pilot your Laser Pro 348 from a distance via
your network thanks to its Ethernet 10/100 Base T connection.
With the Scan to FTP function, it is now possible to archive
directly paper documents in a common folder of your network.
Your archives are then secured, directly accessible from your PC
and don't waste space anymore!
Thanks to its Web management MF Admin function, you can
configure (parameters, directories, access protection) and
visualize the state of consumables, counters, print queue and the
statistics of your Laser Pro 348 from a distance and from any
PC connected to the local network for more efficiency and
peace of mind.
SMS BROADCASTING(4)
The SAGEM Laser Pro 346 and 348 enable everybody to
receive and send short messages to mobile phones (SMS) or
any other compatible terminal:
Writing is simple
– complete alphabetical keyboard and control screen
Sending is simple
– dedicated keys, address book, multi-sending, automatic
sending procedure.
Ready to use
– without any mobile phone subscription nor internet account,
the cost of the message is directly added to the phone bill.
The high-performance Sagem Laser Pro 346 and 348 combine: laser printing, a fax, copying
and colour digitalisation in a single compact device.
It is also a high-performance communication device as it is a genuine Internet Terminal
without PC (sending/receiving of e-mails, colour documents sent through the LAN(2)
document archiving...) and a ready-to-use SMS Terminal (SMS multi-sending). Communication
becomes so easy !
The LAN 10/100 base T connection(2), its network B&W laser printer (compatible as an option
with PCL6®, SG Script3) and its administration software (MF Admin) will enable you to
benefit fully from all of its resources through your computer network.
(1) Laser Pro 348 only under reserve of a high stream Internet access via an ADSL router
(2) Laser Pro 348 only
(3) In option for the Laser Pro 348
(4) Depending on service availability with the telephone operator in the country of use.