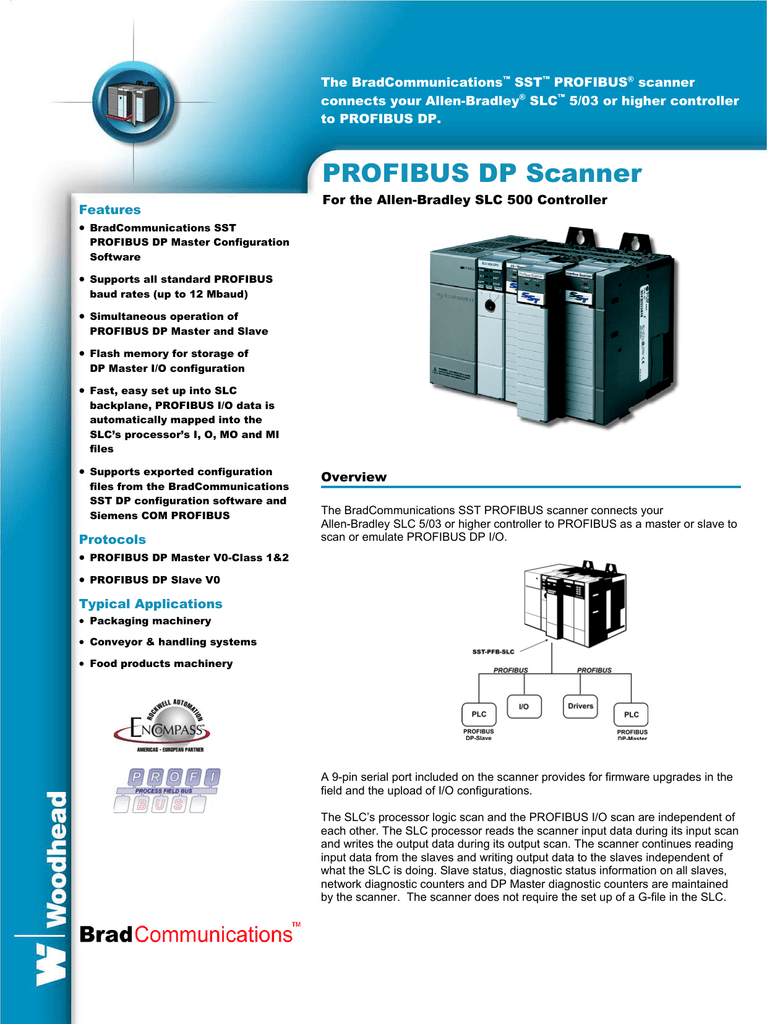 The BradCommunications™ SST™ PROFIBUS® scanner
connects your Allen-Bradley® SLC™ 5/03 or higher controller
to PROFIBUS DP.
PROFIBUS DP Scanner
Features
• BradCommunications SST
For the Allen-Bradley SLC 500 Controller
PROFIBUS DP Master Configuration
Software
•
Supports all standard PROFIBUS
baud rates (up to 12 Mbaud)
•
Simultaneous operation of
PROFIBUS DP Master and Slave
•
Flash memory for storage of
DP Master I/O configuration
•
Fast, easy set up into SLC
backplane, PROFIBUS I/O data is
automatically mapped into the
SLC's processor's I, O, MO and MI
files
•
Supports exported configuration
files from the BradCommunications
SST DP configuration software and
Siemens COM PROFIBUS
Protocols
• PROFIBUS DP Master V0-Class 1&2
•
Overview
The BradCommunications SST PROFIBUS scanner connects your
Allen-Bradley SLC 5/03 or higher controller to PROFIBUS as a master or slave to
scan or emulate PROFIBUS DP I/O.
PROFIBUS DP Slave V0
Typical Applications
• Packaging machinery
• Conveyor & handling systems
• Food products machinery
A 9-pin serial port included on the scanner provides for firmware upgrades in the
field and the upload of I/O configurations.
The SLC's processor logic scan and the PROFIBUS I/O scan are independent of
each other. The SLC processor reads the scanner input data during its input scan
and writes the output data during its output scan. The scanner continues reading
input data from the slaves and writing output data to the slaves independent of
what the SLC is doing. Slave status, diagnostic status information on all slaves,
network diagnostic counters and DP Master diagnostic counters are maintained
by the scanner. The scanner does not require the set up of a G-file in the SLC.
PROFIBUS® DP Scanner
Diagnostic & Software Tools
BradCommunications™ SST™
Configuration Software
• Browse your DP network for slave
devices you want to include in your
DP Master configuration using the
DPView component
Scanner Software
•
•
Maintains slave status, diagnostic
status information on all slaves,
network diagnostic counters, and
DP Master diagnostic counters
Maintains network and I/O module
status information including:
• DP Master Slave status table
• Network diagnostic counters
• DP Master diagnostic counters
Diagnostic LEDs
•
COMM and SYS LEDs provide
immediate notification of network
and system errors
Other PROFIBUS Products
•
PROFIBUS modules for
Allen-Bradley® ControlLogix® and
PLC-5®
•
PROFIBUS network interface cards
(PCI, C-PCI, PC/104, ISA, VME64,
PCMCIA) with many user interfaces
(DLL, OPC, ActiveX…)
•
PROFIBUS gateways to ASi, Serial
and Ethernet networks
•
IP67 PROFIBUS I/O modules
(M8/M12 connectors)
•
Full metal PROFIBUS connector
•
•
•
IDC-technique provides quick
and error-free connection
Optional diagnostic LED
reduces downtime
PROFIBUS media
•
Network Specifications
Protocol
LAN Controller
Slaves Supported
I/O per Slave
I/O Mapping
™
(for SLC )
•
•
•
•
•
•
•
•
Cable
•
•
•
Connector
•
Data Rate
PROFIBUS DP Master V0, class 1&2
PROFIBUS DP Slave V0
Siemens ASPC2
Maximum of 96
Maximum of 244 bytes in/out
I and O files: 32 words in, 32 words out
M1 and M0 files: 500 words in / out
(128 words in / out if configuring with COM
PROFIBUS)
Slave data is mapped into I, O, M0, M1 files in the
SLC. Mapping depends on addresses assigned in
the configuration created
All standard PROFIBUS data rates up to 12 Mbps
Belden 3079A
™
®
BradConnectivity Brad Harrison 85-0001
PVR2 conductor with shield, UL-listed
DB9 female connector
Hardware Specifications
Bus Interface
Processor
Memory
Diagnostics
Backplane
Current Consumption
Operating Temperature
Storage Temperature
Relative Humidity
®
™
Allen-Bradley SLC 5/03 or higher
Intel i960
• 512 KB of local i960 RAM
• 288 KB of onboard shared memory
• 512 KB of sectored flash memory
for storage of program and configuration data
Two LEDs indicate:
1. health of the PROFIBUS network (COMM)
2. communication status with PROFIBUS slaves (SYS)
700mA @ 5V from a supply delivering Separated Extra
Low Voltage (SELV)
0ºC (32ºF) up to +50ºC (122ºF)
-40ºC (-40°F) up to +85ºC (185°F)
5% to 95% non-condensing
Ordering Information
Part Number
Description
SST-PFB-SLC
PROFIBUS Scanner for SLC 500 Series
SST-PFB-PLC5
PROFIBUS Scanner for Allen-Bradley PLC-5
SST-PFB-CLX-RLL
PROFIBUS Scanner for Allen-Bradley ControlLogix ,
includes Remote Link Library
APP-ESP-GTW
Gateway for PROFIBUS to serial/Ethernet
SST-PB3-PCU
PROFIBUS PCI interface card
TBDPB-4xxx-B8U
IP67 PROFIBUS I/O compact block 4 ports, 8 channels
®
®
Cable, cordsets, receptacles
PA9D01-42
PA9S01-42
PROFIBUS connector with integrated diagnostics, vertical
PROFIBUS connector, vertical
MA9D00-42
PROFIBUS connector with integrated diagnostics,
horizontal
PBSTRIP
Cable stripping tool for use with PROFIBUS connector
To contact us: www.woodhead.com
Reference Number: DW2006134
Date Published: April 2006
North America: US + 1 800 225 7724 -Canada, +1 519 725 5136
Europe:
France, +33 2 32 96 04 20 – Germany, +49 711 782 3740 – Italy, +39 010 59 30 77 –
United Kingdom, +44 1495 356300
Asia:
China, +86 21 50328080 – Singapore, +65 261 6533 – Japan, +81 45 224 3560
Brad Harrison is a registered trademark and BradConnectivity, BradCommunications and SST are trademarks of
Woodhead Industries, Inc. © 2006 Woodhead Industries, Inc.