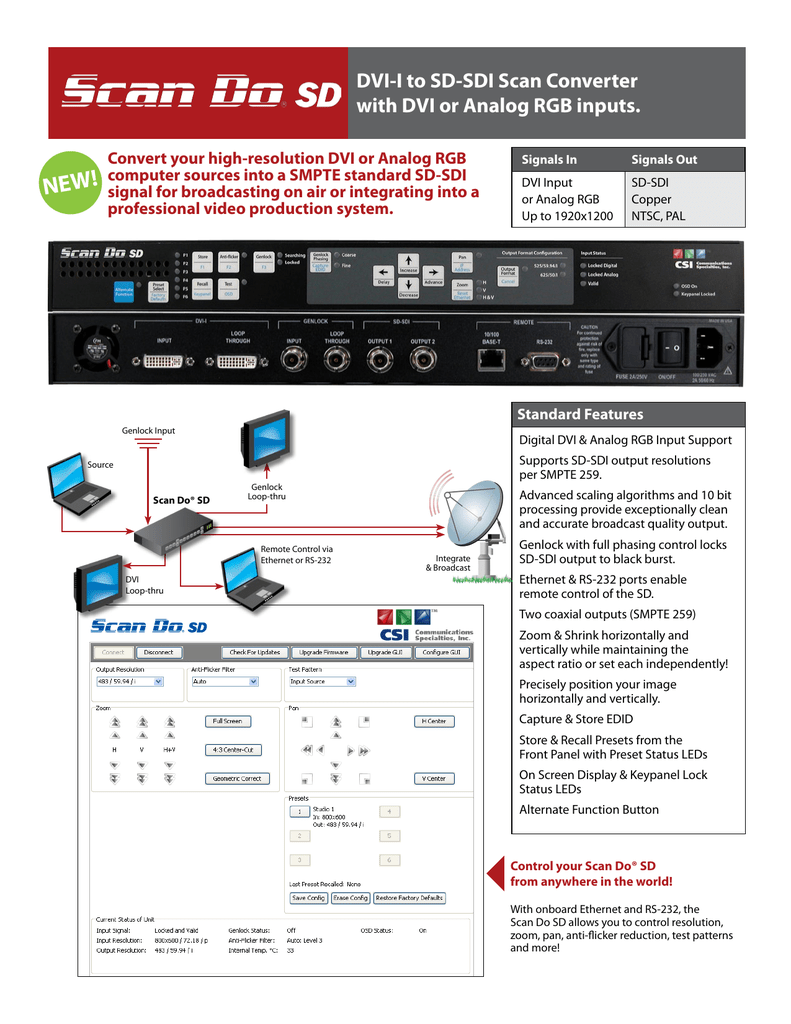 DVI-I to SD-SDI Scan Converter
with DVI or Analog RGB inputs.
NEW!
Convert your high-resolution DVI or Analog RGB
computer sources into a SMPTE standard SD-SDI
signal for broadcasting on air or integrating into a
professional video production system.
Signals In
Signals Out
DVI Input
or Analog RGB
Up to 1920x1200
SD-SDI
Copper
NTSC, PAL
Standard Features
Genlock Input
Digital DVI & Analog RGB Input Support
Supports SD-SDI output resolutions
per SMPTE 259.
Source
Scan Do® SD
Genlock
Loop-thru
Remote Control via
Ethernet or RS-232
DVI
Loop-thru
Advanced scaling algorithms and 10 bit
processing provide exceptionally clean
and accurate broadcast quality output.
Integrate
& Broadcast
Genlock with full phasing control locks
SD-SDI output to black burst.
Ethernet & RS-232 ports enable
remote control of the SD.
Two coaxial outputs (SMPTE 259)
Blue
White
Black
Zoom & Shrink horizontally and
vertically while maintaining the
aspect ratio or set each independently!
Precisely position your image
horizontally and vertically.
Capture & Store EDID
Store & Recall Presets from the
Front Panel with Preset Status LEDs
On Screen Display & Keypanel Lock
Status LEDs
Alternate Function Button
Control your Scan Do® SD
from anywhere in the world!
With onboard Ethernet and RS-232, the
Scan Do SD allows you to control resolution,
zoom, pan, anti-flicker reduction, test patterns
and more!
Input Resolutions
DVI-I single link resolutions:
Up to 1920x1200 @ 60 Hz
Pixel Clock Frequency 25 to 165 MHz (Input Pixel Clock Frequency cannot exceed 165 MHz)
Output Resolutions
10-bit SD-SDI per SMPTE 259:
525/59.9/I (NTSC)
DVI or Analog RGB
Computer Video
to SD-SDI Scan Converter
625/50/I (PAL)
Input/Output
Single link DVI-I with active loop-thru support;
includes 15 pin adapter for Analog RGBHV support
Two coaxial outputs; SMPTE 259M-C
Only one output format is available on all outputs at one time.
Video Processing
10 bit, all digital
Genlock
NTSC/PAL black burst
Coarse & fine phasing with a range of one output vertical period
Ordering Information
Part Number
1295-pp Description
Scan Do® SD
Power Supply Suffix Codes (pp)
for AC Line Cord:
NA - North America AU - Australia
JP - Japan
UK - United Kingdom
EU - Europe
Image Size & Positioning
Separate H & V positioning
Zoom and Shrink; H & V or together
Control Interfaces
RS-232 & 10/100 Base-T ethernet LAN port with internal HTML host
Front panel push button
Field upgradeable via Ethernet
Need 1080p?
Log on to scandohd.tv and learn about the
Scan Do® HD DVI-I to 3G/HD/SD-SDI
Scan Converter today!
Additional Features
• Variable flicker reduction
• On Screen Display (OSD) & LED
• Factory defaults reset
• Rack mount kit included
• RoHS compliant
• Test pattern generator: color bars at 100% and 75% Saturation
• Multiple preset storage and recall settings through remote control
• interfaces or front panel
Dimensions
16.75 W (without rackmount ears) x 1.75 H x 10 D (inches)
425 W x 44 H x 254 D (mm)
Weight: 5.5 pounds; 2.49 kg
Backed by a 30-day satisfaction
guarantee and a three-year limited
warranty on parts and labor.
See website for terms and conditions.
Sales
Power
Internal universal input AC power supply
95 - 250 volts AC, 47 - 63 Hz, 20 watts, 68.24 BTU/Hr
631-273-0404 | commspecial.com
info@commspecial.com
UPDATED 01/27/2010
All specifications subject to change without notice. ©2010
Fiberlink, the starburst logo and Scan Do are registered trademarks of
Communications Specialties, Inc. CSI and the triangle designs
are trademarks of Communications Specialties, Inc.

* Your assessment is very important for improving the work of artificial intelligence, which forms the content of this project