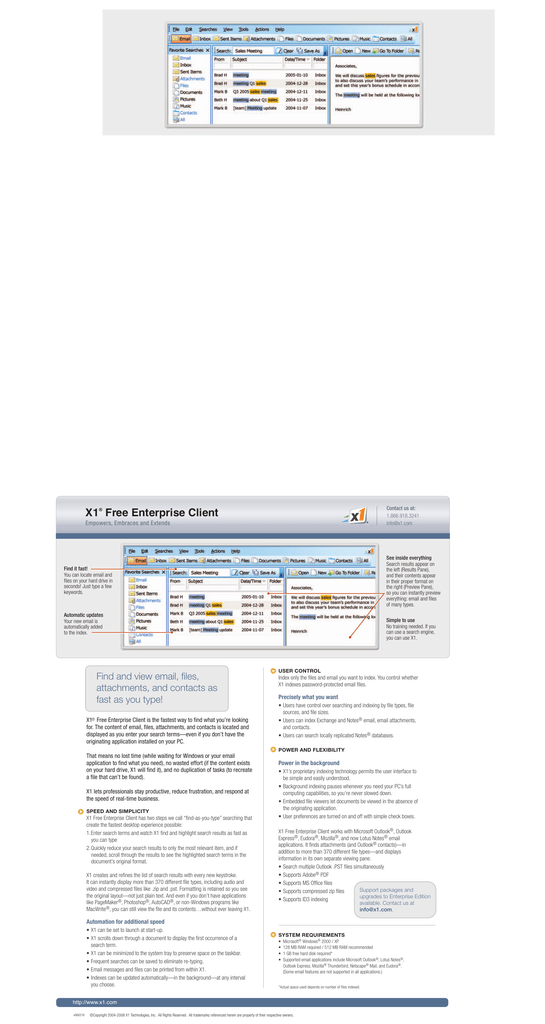 X1® Free Enterprise Client
Contact us at:
1.866.918.3241
info@x1.com
Empowers, Embraces and Extends
See inside everything
Search results appear on
the left (Results Pane),
and their contents appear
in their proper format on
the right (Preview Pane),
so you can instantly preview
everything: email and files
of many types.
Find it fast!
You can locate email and
files on your hard drive in
seconds! Just type a few
keywords.
Automatic updates
Your new email is
automatically added
to the index.
Find and view email, files,
attachments, and contacts as
fast as you type!
X1® Free Enterprise Client is the fastest way to find what you're looking
for. The content of email, files, attachments, and contacts is located and
displayed as you enter your search terms—even if you don't have the
originating application installed on your PC.
That means no lost time (while waiting for Windows or your email
application to find what you need), no wasted effort (if the content exists
on your hard drive, X1 will find it), and no duplication of tasks (to recreate
a file that can't be found).
X1 lets professionals stay productive, reduce frustration, and respond at
the speed of real-time business.
SPEED AND SIMPLICITY
X1 Free Enterprise Client has two steps we call "find-as-you-type" searching that
create the fastest desktop experience possible:
1. Enter search terms and watch X1 find and highlight search results as fast as
you can type
2. Quickly reduce your search results to only the most relevant item, and if
needed, scroll through the results to see the highlighted search terms in the
document's original format.
X1 creates and refines the list of search results with every new keystroke.
It can instantly display more than 370 different file types, including audio and
video and compressed files like .zip and .pst. Formatting is retained so you see
the original layout—not just plain text. And even if you don't have applications
like PageMaker®, Photoshop®, AutoCAD®, or non-Windows programs like
MacWrite®, you can still view the file and its contents…without ever leaving X1.
Simple to use
No training needed. If you
can use a search engine,
you can use X1.
USER CONTROL
Index only the files and email you want to index. You control whether
X1 indexes password-protected email files.
Precisely what you want
• Users have control over searching and indexing by file types, file
sources, and file sizes.
• Users can index Exchange and Notes® email, email attachments,
and contacts.
• Users can search locally replicated Notes® databases.
POWER AND FLEXIBILITY
Power in the background
• X1's proprietary indexing technology permits the user interface to
be simple and easily understood.
• Background indexing pauses whenever you need your PC's full
computing capabilities, so you're never slowed down.
• Embedded file viewers let documents be viewed in the absence of
the originating application.
• User preferences are turned on and off with simple check boxes.
X1 Free Enterprise Client works with Microsoft Outlook®, Outlook
Express®, Eudora®, Mozilla®, and now Lotus Notes® email
applications. It finds attachments (and Outlook® contacts)—in
addition to more than 370 different file types—and displays
information in its own separate viewing pane.
• Search multiple Outlook .PST files simultaneously
• Supports Adobe® PDF
• Supports MS Office files
Support packages and
• Supports compressed zip files
upgrades to Enterprise Edition
• Supports ID3 indexing
available. Contact us at
info@x1.com.
Automation for additional speed
• X1 can be set to launch at start-up.
• X1 scrolls down through a document to display the first occurrence of a
search term.
• X1 can be minimized to the system tray to preserve space on the taskbar.
• Frequent searches can be saved to eliminate re-typing.
• Email messages and files can be printed from within X1.
• Indexes can be updated automatically—in the background—at any interval
you choose.
SYSTEM REQUIREMENTS
•
•
•
•
Microsoft® Windows® 2000 / XP
128 MB RAM required / 512 MB RAM recommended
1 GB free hard disk required*
Supported email applications include Microsoft Outlook®, Lotus Notes®,
Outlook Express, Mozilla® Thunderbird, Netscape® Mail, and Eudora®.
(Some email features are not supported in all applications.)
*Actual space used depends on number of files indexed.
http://www.x1.com
v060216
©Copyright 2004-2006 X1 Technologies, Inc. All Rights Reserved. All trademarks referenced herein are property of their respective owners.

* Your assessment is very important for improving the work of artificial intelligence, which forms the content of this project