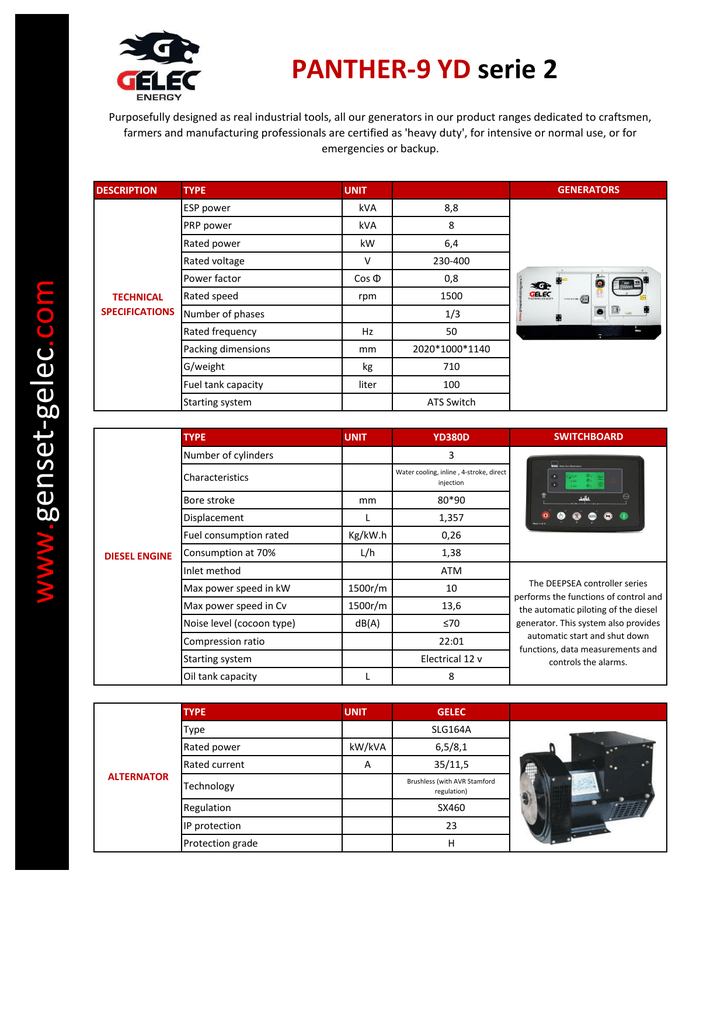 PANTHER-9 YD serie 2
Purposefully designed as real industrial tools, all our generators in our product ranges dedicated to craftsmen,
farmers and manufacturing professionals are certified as 'heavy duty', for intensive or normal use, or for
emergencies or backup.
www.genset-gelec.com
DESCRIPTION
TYPE
ESP power
kVA
PRP power
kVA
8
Rated power
kW
6,4
Rated voltage
V
230-400
Power factor
Cos Φ
0,8
rpm
1500
Rated speed
TECHNICAL
SPECIFICATIONS Number of phases
1/3
Hz
50
Packing dimensions
mm
2020*1000*1140
kg
710
liter
100
Fuel tank capacity
Starting system
TYPE
ATS Switch
UNIT
Number of cylinders
Bore stroke
Displacement
Fuel consumption rated
Consumption at 70%
YD380D
3
mm
80*90
L
1,357
Kg/kW.h
0,26
L/h
1,38
Inlet method
ATM
Max power speed in kW
1500r/m
10
Max power speed in Cv
1500r/m
13,6
dB(A)
≤70
Noise level (cocoon type)
Compression ratio
22:01
Starting system
Oil tank capacity
TYPE
SWITCHBOARD
Water cooling, inline , 4-stroke, direct
injection
Characteristics
Electrical 12 v
L
UNIT
Type
ALTERNATOR
8,8
Rated frequency
G/weight
DIESEL ENGINE
GENERATORS
UNIT
8
GELEC
SLG164A
Rated power
kW/kVA
Rated current
A
6,5/8,1
35/11,5
Technology
Brushless (with AVR Stamford
regulation)
Regulation
SX460
IP protection
23
Protection grade
H
The DEEPSEA controller series
performs the functions of control and
the automatic piloting of the diesel
generator. This system also provides
automatic start and shut down
functions, data measurements and
controls the alarms.

* Your assessment is very important for improving the work of artificial intelligence, which forms the content of this project