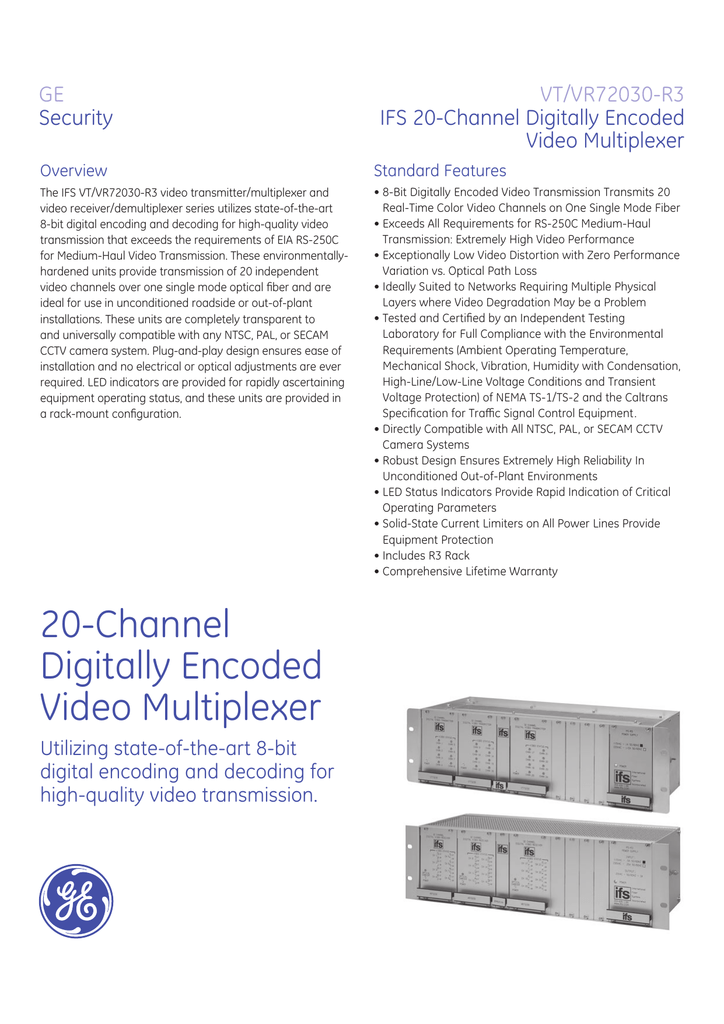 GE
Security
VT/VR72030-R3
IFS 20-Channel Digitally Encoded
Video Multiplexer
Overview
Standard Features
The IFS VT/VR72030-R3 video transmitter/multiplexer and
video receiver/demultiplexer series utilizes state-of-the-art
8-bit digital encoding and decoding for high-quality video
transmission that exceeds the requirements of EIA RS-250C
for Medium-Haul Video Transmission. These environmentallyhardened units provide transmission of 20 independent
video channels over one single mode optical fiber and are
ideal for use in unconditioned roadside or out-of-plant
installations. These units are completely transparent to
and universally compatible with any NTSC, PAL, or SECAM
CCTV camera system. Plug-and-play design ensures ease of
installation and no electrical or optical adjustments are ever
required. LED indicators are provided for rapidly ascertaining
equipment operating status, and these units are provided in
a rack-mount configuration.
• 8-Bit Digitally Encoded Video Transmission Transmits 20
Real-Time Color Video Channels on One Single Mode Fiber
• Exceeds All Requirements for RS-250C Medium-Haul
Transmission: Extremely High Video Performance
• Exceptionally Low Video Distortion with Zero Performance
Variation vs. Optical Path Loss
• Ideally Suited to Networks Requiring Multiple Physical
Layers where Video Degradation May be a Problem
• Tested and Certified by an Independent Testing
Laboratory for Full Compliance with the Environmental
Requirements (Ambient Operating Temperature,
Mechanical Shock, Vibration, Humidity with Condensation,
High-Line/Low-Line Voltage Conditions and Transient
Voltage Protection) of NEMA TS-1/TS-2 and the Caltrans
Specification for Traffic Signal Control Equipment.
• Directly Compatible with All NTSC, PAL, or SECAM CCTV
Camera Systems
• Robust Design Ensures Extremely High Reliability In
Unconditioned Out-of-Plant Environments
• LED Status Indicators Provide Rapid Indication of Critical
Operating Parameters
• Solid-State Current Limiters on All Power Lines Provide
Equipment Protection
• Includes R3 Rack
• Comprehensive Lifetime Warranty
20-Channel
Digitally Encoded
Video Multiplexer
Utilizing state-of-the-art 8-bit
digital encoding and decoding for
high-quality video transmission.
Specifications
GE
Security
North America
T 888-GE-SECURITY
888-437-3287
F 503-691-7566
E sales@ifs.com
Asia
T 852-2907-8108
F 852-2142-5063
Australia and New Zealand
T 613-9239-1200
F 613-9239-1299
Europe
T 32-2-719-9847
F 32-2-719-9846
Video
Video Input:
Input/Output Channels:
Bandwidth:
Differential Gain:
Differential Phase:
Tilt:
Signal-to-Noise Ratio (SNR):
1 volt pk-pk (75 ohms)
20
10 Hz - 6.5 MHz
<2%
<0.7°
<1%
60 dB @ Maximum Optical Loss Budget
Wavelength
1510/1530/1550 nm, Single Mode
Opticalemitter
Laser Diode
Numberoffibers
1
Connectors
Optical:
Video:
ST, SC or FC (see ordering information)
BNC (Gold Plated Center-Pin)
Electrical&Mechanical
Power:
Number of Rack Slots:
Current Protection:
Circuit Board:
Size (in./cm.) (LxWxH)
Rack Mount:
Shipping Weight:
Latin America
T 305-593-4301
F 305-593-4300
gesecurity.com/ifs
Specifications subject to
change without notice
© 2008 General Electric Company
All Rights Reserved
Environmental
MTBF:
Operating Temp:
Storage Temp:
Relative Humidity:
115/230 VAC
9
Automatic Resettable Solid-State Current Limiters
Meets IPC Standard
19.0 x 7.0 x 5.3 in., 48.3 x 17.8 x 13.3 cm
< 12 lbs./5.4 kg
> 100,000 hours
-40° C to +74° C
-40° C to +85° C
0% to 95% (non-condensing)†
†May be extended to condensation conditions by adding suffix '–C' to model number for conformal coating.
Agency compliance
System Design
Made in the USA
Complies with FDA Performance
Standard for Laser Products, Title 21,
Code of Federal Regulations, Subchapter J
20 Video Inputs
(Coax)
VT72030
up to 22 miles
(36 km)
VR72030
20 Video Outputs (Coax)
to monitors or switches
1 Fiber
9/125µm SM
Ordering Information
PartNumber
Description
FibersRequired
OpticalPwr.Budget
Max.Distance*
Single Mode
9/125μm
VT72030-R3
VR72030-R3
20 Channel Video Transmitter/Multiplexer
20 Channel Video Receiver/Demultiplexer
1
12 dB
22 miles (36 km)
Options
Add '-C' to Model Number for Conformally Coated Printed Circuit Boards (Extra charge, consult factory)
Add '-SC" to Model Number for SC Connector
Add '-FC' to Model Number for FC Optical Connector
* Optical transmission distance is limited to optical loss of the fiber and any additional loss introduced by connectors, splices and patch panels. Distance can also be limited by fiber bandwidth.

* Your assessment is very important for improving the work of artificial intelligence, which forms the content of this project