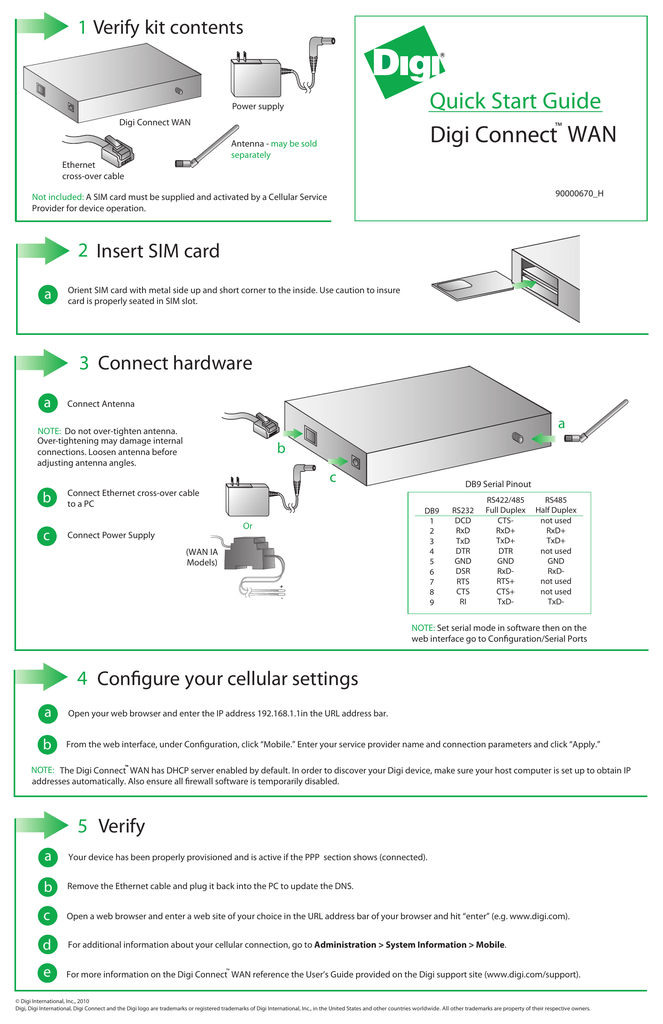 1 Verify kit contents
Quick Start Guide
™
Digi Connect WAN
Power supply
Digi Connect WAN
Antenna - may be sold
separately
Ethernet
cross-over cable
90000670_H
Not included: A SIM card must be supplied and activated by a Cellular Service
Provider for device operation.
2 Insert SIM card
a
Orient SIM card with metal side up and short corner to the inside. Use caution to insure
card is properly seated in SIM slot.
3 Connect hardware
a
Connect Antenna
a
NOTE: Do not over-tighten antenna.
Over-tightening may damage internal
connections. Loosen antenna before
adjusting antenna angles.
b
c
b
Connect Ethernet cross-over cable
to a PC
c
Connect Power Supply
Or
(WAN IA
Models)
DB9 Serial Pinout
DB9
1
2
3
4
5
6
7
8
9
RS232
DCD
RxD
TxD
DTR
GND
DSR
RTS
CTS
RI
RS422/485
Full Duplex
CTSRxD+
TxD+
DTR
GND
RxDRTS+
CTS+
TxD-
RS485
Half Duplex
not used
RxD+
TxD+
not used
GND
RxDnot used
not used
TxD-
+
-
NOTE: Set serial mode in software then on the
web interface go to Configuration/Serial Ports
4 Configure your cellular settings
a
Open your web browser and enter the IP address 192.168.1.1in the URL address bar.
b
From the web interface, under Configuration, click "Mobile." Enter your service provider name and connection parameters and click "Apply."
NOTE: The Digi Connect™ WAN has DHCP server enabled by default. In order to discover your Digi device, make sure your host computer is set up to obtain IP
addresses automatically. Also ensure all firewall software is temporarily disabled.
5 Verify
a
Your device has been properly provisioned and is active if the PPP section shows (connected).
b
Remove the Ethernet cable and plug it back into the PC to update the DNS.
c
Open a web browser and enter a web site of your choice in the URL address bar of your browser and hit "enter" (e.g. www.digi.com).
d
For additional information about your cellular connection, go to Administration > System Information > Mobile.
e
For more information on the Digi Connect WAN reference the User's Guide provided on the Digi support site (www.digi.com/support).
™
© Digi International, Inc., 2010
Digi, Digi International, Digi Connect and the Digi logo are trademarks or registered trademarks of Digi International, Inc., in the United States and other countries worldwide. All other trademarks are property of their respective owners.

* Your assessment is very important for improving the work of artificial intelligence, which forms the content of this project