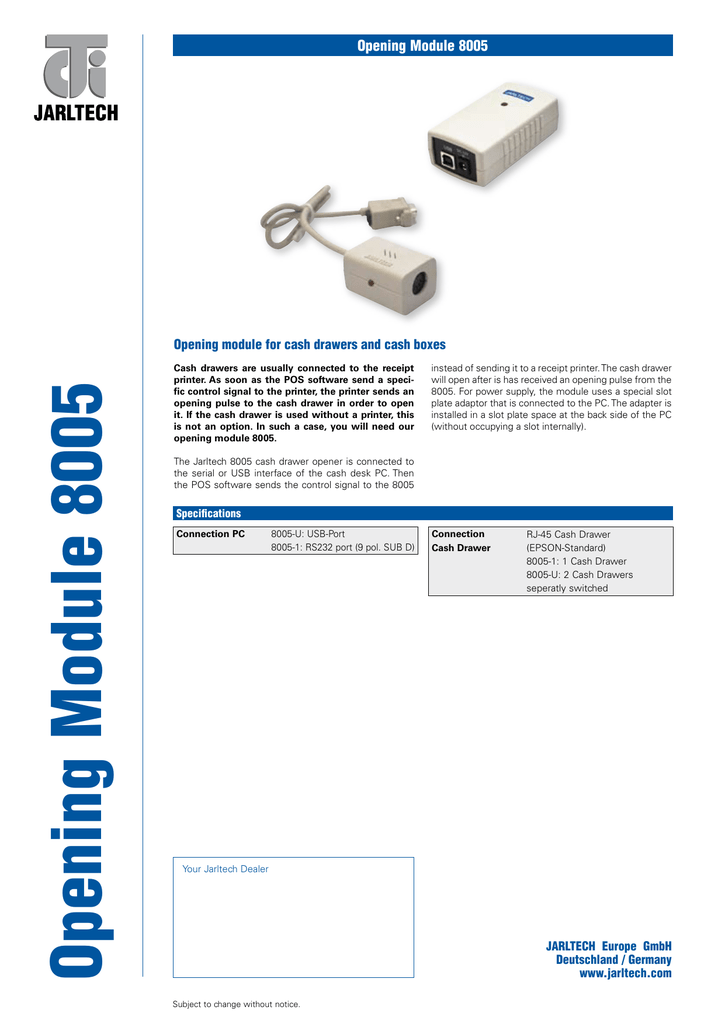 Opening Module 8005
Opening Module 8005
Opening module for cash drawers and cash boxes
Cash drawers are usually connected to the receipt
printer. As soon as the POS software send a specific control signal to the printer, the printer sends an
opening pulse to the cash drawer in order to open
it. If the cash drawer is used without a printer, this
is not an option. In such a case, you will need our
opening module 8005.
instead of sending it to a receipt printer. The cash drawer
will open after is has received an opening pulse from the
8005. For power supply, the module uses a special slot
plate adaptor that is connected to the PC. The adapter is
installed in a slot plate space at the back side of the PC
(without occupying a slot internally).
The Jarltech 8005 cash drawer opener is connected to
the serial or USB interface of the cash desk PC. Then
the POS software sends the control signal to the 8005
Specifications
Connection PC
8005-U: USB-Port
8005-1: RS232 port (9 pol. SUB D)
Connection
Cash Drawer
RJ-45 Cash Drawer
(EPSON-Standard)
8005-1: 1 Cash Drawer
8005-U: 2 Cash Drawers
seperatly switched
Your Jarltech Dealer
JARLTECH Europe GmbH
Deutschland / Germany
www.jarltech.com
Subject to change without notice.

* Your assessment is very important for improving the work of artificial intelligence, which forms the content of this project