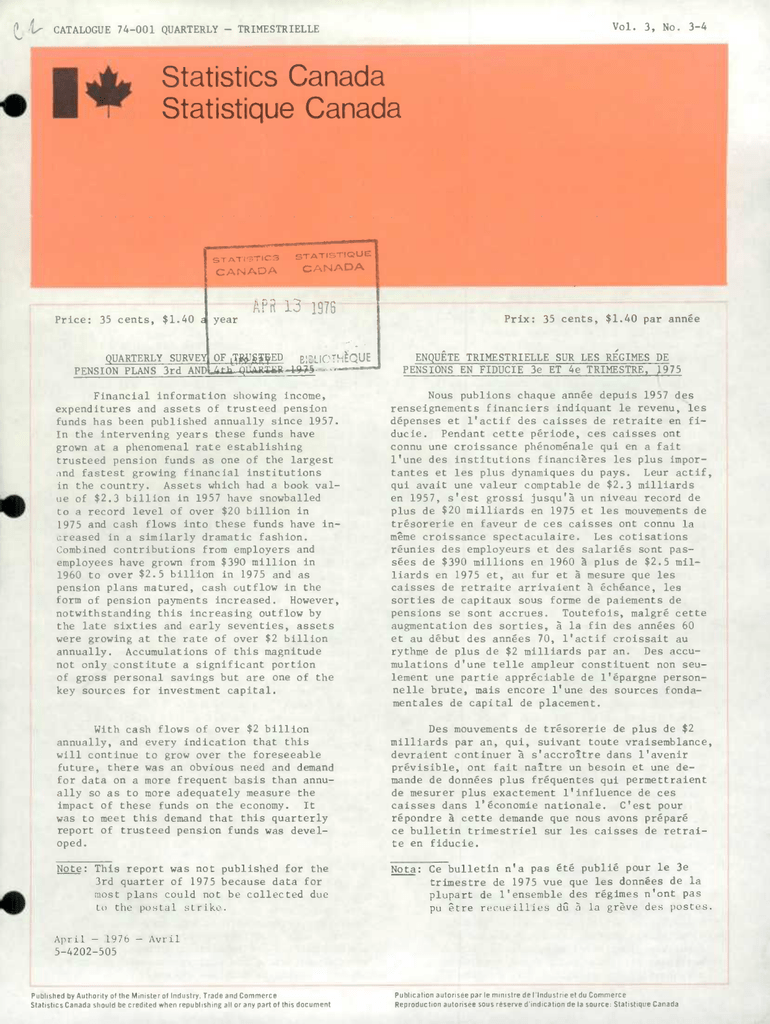 Q 1,-
CATALOGUE 74-001 QUARTERLY - TRIMESTRIELLE
.1*
Vol. 3, No. 3-4
Statistics Canada
Statistique Canada
STATITIC3 mTATI5T!QU
CANADA CANADA
Price: 35 cents, $1.40
ION PLANS 3rd
year
APR 13 1976
OF
S nil
LIcTHQUE
Prix: 35 cents, $1.40 par année
ENQUETE TRIMESTRIELLE SUR LES REGIMES DE
PENSIONS EN FIDUCIE 3e ET 4e TRIMESTRE, 975
Financial information showing income,
expenditures and assets of trusteed pension
funds has been published annually since 1957.
In the intervening years these funds have
grown at a phenomenal rate establishing
trusteed pension funds as one of the largest
and fastest growing financial institutions
in the country. Assets which had a book value of $2.3 billion in 1957 have snowballed
to a record level of over $20 billion in
1975 and cash flows into these funds have increased in a similarly dramatic fashion.
Combined contributions from employers and
employees have grown from $390 million in
1960 to over $2.5 billion in 1975 and as
pension plans matured, cash outflow in the
form of pension payments increased. However,
notwithstanding this increasing outflow by
the late sixties and early seventies, assets
were growing at the rate of over $2 billion
annually. Accumulations of this magnitude
not only constitute a significant portion
of gross personal savings but are one of the
key sources for investment capital.
Nous publions chaque annêe depuis 1957 des
renseignesnents financiers indiquant le revenu, les
dépenses et l'actif des caisses de retraite en fidude. Pendant cette période, ces caisses ont
connu une croissance phénoménale qui en a fait
l'une des institutions financires les plus importantes et les plus dynamiques du pays. Leur actif,
qui avait une valeur comptable de $2.3 milliards
en 1957, s'est grossi jusqu'à un niveau record de
plus de $20 milliards en 1975 et les mouvements de
trésorerie en faveur de ces caisses ont connu la
mrne croissance spectaculaire. Les cotisations
rêunies des employeurs et des salaries sont passees de $390 millions en 1960 A plus de $2.5 nilliards en 1975 et, at fur et A mesure que les
caisses de retraite arrivaient
échéance, lea
sorties de capitaux sous fortne de paiements de
pensions se sont accrues. Toutefois, malgré cette
augmentation des sorties,
la fin des années 60
et au debut des années 70, l'actif croissait au
rythme de plus de $2 milliards par an. Des accumulations d'une telle ampleur constituent non seulement une partie appreciable de l'épargne personnelle brute, mais encore l'une des sources fondainentales de capital de placement.
With cash flows of over $2 billion
annually, and every indication that this
will continue to grow over the foreseeable
future, there was an obvious need and demand
for data on a more frequent basis than annually so as to more adequately measure the
impact of these funds on the economy. It
was to meet this demand that this quarterly
report of trusteed pension funds was developed.
Des mouvements de trésorerie de plus de $2
milliards par an, qul, suivant toute vraisemblance,
devraient continuer
s'accroltre dans l'avenir
prévisible, ont fait maître un besoin et one demande de données plus fréquentes qui permettraient
de mesurer plus exactement l'influence de ces
caisses dams l'économie nationale. C'est pour
répondre
cette demande que nous avons préparé
ce bulletin trimestriel sur les caisses de retralte en fiducie.
S
This report was not published for the
3rd quarter of 1975 because data for
.most plans could not be collected due
Lu the postal sLrik.
a
a
a
a
Nota: Ce bulletin n'a pas été publié pour le 3e
trliinestre de 1975 vue que les données de la
plupart de l'ensemble des regimes n'ont pas
Pu tre rucueillios dG 5 la grève des postes.
April - 1976 - Avril
5-4202-505
Publication autorisee par Ic ministre de lIndustrie et du Commerce
Published by Authority 01 the Minister of Industry. Trade and Commerce Statistics Canada should be credited when republishing all or any part of this document Reproduction aulorisèe sous reserve dindication de la source: Statistique Canada
-2-
This "Quarterly Survey of Trusteed Pension Plans" introduces a new statistical series showing estimates of income, expenditures
and total portfolio holdings in broad categories. To provide some historical background
on quarterly patterns and trends, included in
this report are quarterly data from 1971 onward. The survey covers a group of funds selected from the annual survey and provides the
basis for producing universe estimates to give
advance information on the trends in the f 1nancial activities of this large pool of funds
Ce numéro de "Enqute trimestrielle sur les
regimes de pensions en fiducie" constitue le lancement d'une nouvelle série statistique donnant des
estimations du revenu, des dépenses et de l'avoir
total en portefeuille, par grande catégorie. Nous
présentons ici les données trimestrielles remontant
1971 de manire a faire ressortir les tendances
trimestrielles passées. L'enqute porte sur un
groupe de caisses choisies a partir de l'enqute
annuelle et forine la base des estimations qul constituent des renseignenients préliminaires sur les
tendances générales de Vactivit6 financiare de ce
grand nombre de caisses.
Scope and Description of Survey
Portée et méthodologie de l'enqute
According to the annual survey the distribution of trusteed pension funds is sharply skewed both in terms of members and
assets held. Characteristically, most pension funds, indeed over 90% of them, have
relatively few members and relatively small
portfolio holdings. Although there are only
a few large funds most of the financial activity is centered in these and because of
and directly related to the size of their
membership, a major portion of contributions
are channelled into them so that as a group
they have the greatest concentration of
accumulated assets. For example in 1971, out
of just under 4,000 funds that were in operation in that year 272 funds - only 7% of the
total - accounted for most of the portfolio
holdings with aggregate assets valued at
$10.9 billion compared with $12.5 billion for
the entire universe. In other words 85% of
the assets were held by these 272 plans accounting for 85% of the contributions and 81%
of the expenditures.
Suivant l'enqute annuelle, la distribution
des caisses de retraite en fiducie est tras asyniétrique, tant en ce qui concerne le nombre de participants qu'en ce qui concerne l'avoir détenu.
Chose caractéristique, la plupart des caisses de
retraite, voire plus de 90 % d'entre elles, comptent relativement peu de membres et ont un portefeuille relativement mince. Bien qu'il y alt peu
de grandes caisses, la majeure partie de l'activité financiare y est concentrde; en raison du nombre
de leurs membres (et en proportion directe de ce
nonbre) elles sont les bénéficiaires d'une grande
partie des cotisations, et, de ce fait, c'est l
que se trouve la plus forte concentration des
avoirs accumulés. Ainsi, en 1971, sur un peu mains
de 4,000 caisses en activité, 272, soit seulement
7 % du total, détenalent la plus grande partie du
portefeuille total, avec un actif global de $10.9
milliards contre $12.5 nilliards pour l'ensemble
de l'univers. En d'autres termes, ces 272 regImes
détenaient 85 7. de l'actif, recevalent 85 % des
cotisations et faisalent 81 % des dépenses.
With this heavy concentration in a
small segment of the total universe it is
possible to limit the survey to a small group
of respondents and yet provide an adequate
data base for developing reliable universe
estimates. This new statistical series is
therefore based on a survey of the large
pension funds defined as those funds having
assets of $5 million or over. On this basis
the survey is limited to a manageable group
so that data can be collected, processed and
analysed within very tight time constraints.
Two weeks after the close of each quarter
questionnaires are mailed out; collection,
editing and tabulation takes about another
six weeks, so that estimates are produced
and released by the end of the following
quarter.
En raison de cette forte concentration dans
un petit segment de l'univers, 11 est possible de
limiter l'enqute a un petit groupe d'enqutés,
tout en constituant une base de données suffisantes
pour établir des estimations fiables pour l'ensemble de l'univers. Cette nouvelle série statistique
eat donc fondée sur une enquëte auprès des grandes
caisses de retraite, c'est-dire celles dont
l'actif est de $5 millions ou plus. Ainsi,
l'enqute se unite a un groupe maniable, de sorte
qu'il y a moyen de collecter, d'exploiter et d'analyser les données dans de tras courts délais.
Deux semaines apras la fin de chaque trimestre, lea
questionnaires sont expédiés par la poste; la collecte, le contr6le et l'exploitation prennent environ six autres semaines, de sorte que les estimations sont publiées a la fin du trimestre suivant.
Universe estimates are developed by
using the survey results as the base, supplemented with adjustments to reflect the widely divergent investment pattern of the small
funds whose portfolios are valued at under
$5 million. Whereas assets in the larger
funds are distributed among stocks, bonds,
mortgages etc., the small funds tend to be
more heavily invested in pooled pension
Pour établir les estimations pour l'univers,
on utilise les résultats de l'enqute, auxquels on
apporte certains ajustements pour tenir compte de
divergences considérables dans les regimes de placement des petites caisses dont le portefeuille
vaut moms de $5 millions. Alors que l'actif des
grandes caisses est réparti en actions, obligations,
hypothaques, etc., les petites caisses tendent a
investir davantage dans les caisses
S
.
-3.funds in a proportion closely related to
size - the smaller the fund the higher the
proportion in pooled funds. Those whose
holdings are under $100,000 in aggregate
have two thirds of their portfolio in pooled
funds; those with holdings averaging around
$500,000 have about half in pooled funds; and
for those with assets averaging around $3
million the proportion drops to about one
quarter.
couaes dans une proportion étroitement proportionnelle a leur taille: plus la caisse eat petite et plus elle place une forte proportion de ses
avoirs dans des caisses communes. Celles dont
l'avoir total est de moms de $100,000 ont les
deux tiers de leur portefeuille dans des caisses
communes; celles dont l'avoir moyen se situe
autour de $500,000 ont a peu près la moitid de leur
avoir dana des caisses communes; pour celles dont
l'actif se situe autour de $3 millions la proportion tombe a environ un quart.
Data for these smaller groups cannot
be obtained via a survey since few, if any,
maintain quarterly records. Consequently,
for quarterly estimates the smaller funds
are divided into three size groups by value
of assets held as shown in the last annual
survey, namely under $100,000; $100,000 $999,999; and $1 million - $5 million. It
is assumed that the growth rate for each of
these size groups will be the same as in the
previous year and therefore the difference
between the projected income and expenditures
in each category is taken to be the estimated current year cash flow available for
investment. For the quarterly estimates one
fourth of the projected cash flow in each
size group is then added to the portfolio
components in the same ratio as recorded in
the last annual survey, these figures are
then combined with the data compiled through
the quarterly survey to produce the universe
estimates.
Ii es impossible d'obtenir des donnëes
pour ces petits groupes par le moyen d'une enquête,
vu que trbs peu de ces caisses ont des dossiers
trimestriels. Par consequent, pour lea estimations
trinestrielles, les petites caisses sont divisëes
en trois groupes de taille en fonction de la valeur
de leur actif tel qu'il ressort de la dernière
enquête annuelle, A savoir: moms de $100,000,
$100,000 - $999,999 et $1 million - $5 millions.
On suppose que le taux de croissance de chacun de
ces groupes de taille sera le mtne que l'année
précédente; par consequent, la difference entre
le revenu et les ddpenses projetés dans chaque
catégorie constitue l'estimation des mouvenents
de trdsorerie de l'annde courante qui sont disponibles pour les placements. Pour les estimatioma trimestrielles, un quart du mouvenient de
trdsorerie projeté dams chaque groupe de taille
est ensuite ajouté aux divers éléments du portefeuille suivant la même repartition que lors de la
dernibre enquête annuelle. Ensuite on combine ces
chiffres avec les donndes réunies lors de l'enquête trimestrielle, ce qul donne les estimations
de l'univers.
•
Cooperation in this survey has been
very good indeed. A few respondents reported that management statements for their
funds were not available on a quarterly basis.
Generally speaking, the response rate has
been exceptionally high and certainly all of
the large funds - these include two or three
with assets at or near $1 billion - consistently reply, with the non-response limited
to the comparatively smaller funds. Adjustments for the non-response are based either
on previous quarterly returns or on the annual report.
The benchmark for the quarterly estimates is the annual survey "Trusteed Pension
Plans, Financial Statistics". Each year the
estimates based on the quarterly survey are
compared with the benchmark to evaluate
discrepancies, if any, from the universe.
Also when new funds reach the $5 million level as recorded in the annual survey these
are added to the quarterly selection so that
the level of coverage will remain high.
When compared with the benchmark the quarter•ly estimates have consistently been accurate
to within 1% of the annual figures.
La collaboration des enqutés a été excellente. Certains ont signalé que lea états de gestion
de leur caisse n'étaient pas disponibles truestriellement. De façon générale, le taux de réponse a étd exceptionnellement fort et toutes les
grandes caisses - notamment deux ou trois ayant un
actif de prés de $1 milliard - ont touj ours répondu, la non-réponse se limitant aux caisses comparativement plus petites. Les rectifications pour
tenir compte de la non-réponse sont fondées soit
sur les declarations trimestrielles précédentes,
soit sur la declaration annuelle.
Les données de référence pour les estimations trimestrielles sont tirées de l'enquête
annuelle "Regimes de pensions en fiducie, statistique financiare". Chaque annde, lea estimations
fondées sur l'enquête trimestrielle sont mises en
comparaison avec les données de référence, ce qui
permet d'éviter les écarts importants par rapport
a l'univers. De même, quand de nouvelles caisses
atteignent le cap des $5 millions dans l'enquête
annuelle, on les ajoute a l'échantillon trimestriel de maniare que le champ d'observation deineure dlevd. Compares avec les données de ref érence, les chiffres trimestriels se sont toujours
révélés précis, ne s'élolgnant pas de plus de 1 Z
des chiffres annuels.
-4-
QiitrNrIv itinaNs of Tncomv and Expenditurs o f rrut€d PUTISinn Fun, Is, 197:-1975
1973
1972
Income and expenditures
Annual
Annual
IIIIIIv-IIIIIIIVAnnuel
Annuel
thousands of dollars
Income
Employer contributions ........
252,886
183,922
185,553
260,086
882,447
270,116
214,403
218,188
437,625
1,140,332
Employee contributions ........
117,782
124,661
129,557
151,926
523,926
134,360
137,099
140,428
189,698
601,585
Total .......................
370,668
308,583
315,110
412,012
1,406,373
404,476
351,502
358,616
627,323
1,741,917
Investment income .............
148,892
191,447
148,751
239,379
728,469
174,379
264,112
188,071
285,310
911,872
23,752
20,267
18,339
32,112
94,470
37,339
19,405
23,487
33,640
113,871
Miscellaneous .................
1,972
1,354
1.625
1,767
6,718
4,818
3,770
2,406
6,250
Total.......................
174,616
213,068
168,715
273,258
829,657
216,536
287,287
213,964
325,200
1,042, 9i
Total income ..............
545,284
521,651
463,825
685,270
2,236,030
621,012
638,789
572,580
952,523
2,784,904
135,949
136,905
142,018
146,361
561,233
147,027
150,831
160,281
173,764
631,903
5,892
5,703
6,258
6,193
24,073
19,289
6,500
5,066
4,899
35,754
Cash withdrawals ..............
27,686
28,711
29,180
31,667
117,244
30,759
33,662
36,516
50,915
151,852
Administration costs ..........
3,921
4,292
4,327
5,163
17,703
4,527
4,322
4,749
5,030
18,628
Net loss on sale of securities
13,256
10,358
10,860
18,629
53,103
7,741
15,298
7,517
11,037
41,593
Other expenditures ............
4,213
5,215
13,815
5,531
28,774
23,350
4,572
4,139
1,899
Total expenditures ..........
190,917
191,211
206,458
213,544
802,130
232,693
215,185
218,268
247,544
Net profit on sale of securities.
is
17,:
Expenditures
Penaion payments out of funds
Coat of pensions purchased
P Preliminary figures.
r Revised figures.
33,9d)
913,690
•
-Usr_';_:s:,_
5!
1975
1974
Revenu St dépenses
,nnua1r
iiiiiiv'-1ruriii
r
Annuel
milliers de dollars
Revenu
272,206
300,893
331,024
539,646 1,443,769
406,438
363,973
347,302
598,181
Cotisations des employeurs
147,753
163,525
155,966
231,660 698,904
180,060
198,937
193,418
263,170
Cotisations des employés
419,959
464,418
486,990
771,306 2,142,673
586,498
562,910
540,720
861,351
214,979
278,112
231,768
362,986 L,087,845
237,524
358,283
272,981
376,750
23,552
12,333
16,754
14,147 66,786
15,120
14,779
11,821
9,901
Bénéf ice net sur la vents de
titres.
.,504
2,832
7,514
3,83218,682
3,641
3,944
2,166
4,377
Divers
d,035
293,277
256,036
380,965 [,173,313
256,285
377,006
286,968
391,028
662,994
757,695
743,026
L,152,271 ,315,986
842,783
939,916
827,688 L,2S2,379
Total
Revenu de p1acnents
Total
Revenu total
Dépenses
•
171,803
187,838
183,342
203,483
746,466
200,441
209,427
220,694
221,454
5,685
4,873
5,447
9,807
25,812
3,798
3,575
4,285
6,068
45,287
48,154
48,850
52,708
194,999
37,431
39,993
41,738
47,490
5,132
5,309
4,836
6,180
21,457
5,185
6,786
5,262
6,607
16,229
24,353
21,087
39,589
101,258
39,471
29,198
19,550
25,498
51,460
7,943
4,868
70,103
14,493
2,241
2,849
8,571
321,987
271,505
316,635
160, 095
300,819
291,220
294,378
315,688
P Nombreg provisoires.
Nombres rectifiés.
Versements de pensions puisés dans
Is caisse.
CoOt des pensions achetées
Retraits en espces
Frais d 'administration
Perte nette sur Is vente de
titres.
Autres dépenses
Total des dépenses
-6-
Quarterly Estimates of Assets held by Trusteed Pension Funds 1972-1)
1972
Assets (book value)
I
II
19 73
IVIii:
III
Iv
usands of dollars
Pooled funds
904,428
921,005
931,030
54,854 990,096999,691
1,025,442
1,053,676
60,380
60,441
61,832
54,129 67,31957,921
57,775
52,910
Bonds .......................
6,668,859
6,788,231
6,875,169
16,8357,219,1187,376,218
7,456,667
7,795,740
Stocks......................
3,327,643
3,467,850
3,602,956
9,7064,013,1074,120,372
4,239,177
4,405,594
Mortgages...................
1,212,496
1,242,945
1,266,374
)7,7961,371,2871,400,136
1,461,162
1,542,289
47,848
48,023
48,430
8,65648,08246,939
48,937
49,494
577,420
594,631
617,520
p9,794797,772856,239
923,758
12, 799,074
13,123, 126
13,403,311
el,770 14,506,781 14,857,516
15,212,918
Mutual funds ................
Segregated funds of insurance
Companies.
Real estate and leasebacks
Miscellaneous ...............
Total...................
Figures not available.
P Preliminary figures.
r Revised figures.
1,084,
15,984, •
Is stipiations trimestrielles de l'actif des caisses de pensions 1972-1975
1975
1974
II
•
I
Ili
I
IVr1r
milliers d
dollars
J
11r
J
l6ments d'actif
(valeur comptable)
1,074,595
1,094,906
1,121,631
1,192,820
1,238,5
1,285,714
1,290,222
1,418,374
54,018
52,216
51,121
40,185
37,6
33,935
30,156
32,295
161,355
172,906
162,640
203,570
210,3
214,905
228,394
227,861
7,919,217
8,126,291
8,317,278
8,728,222
9,029,6
9,375,895
9,589,578
10,058,550
4,481,742
4,569,481
4,679,045
4,785,334
4,855,6
4,961 ,373
5,087,851
5,231,880
Actions
1,621,679
1,724,145
1,799,350
1,926,100
2,016,1
2,099,891
2,200,965
2,372,714
liypothques
51,375
52,136
52,713
53,601
94,256
100,268
98,670
1,192,320
1,267,425
1,403,602
1,488,846
1,498,354
1,513,743
16,984,401
17,451,203
18,333,434
19,554,815
20,025,788
20,954,087
II
-. Nombres 6 disponibles
p Nombres p oviso tres,
r Nombres r sctifi6s.
54,
1,445,E
l8,887,
Placements dans des caisses
communes.
Placements dans lea fonda
mutuels.
Caisses s6par8es ou communes
des compagnies d'assurance
Obligations
Immeubles et rétrolocations
Divers
Actif total
STATSTCS CANADA LIBRARY
BIBLIOTHEQUE STATISTIQUE CANADA
III11010507352
1 1 1, 111II IIIll 111,
.