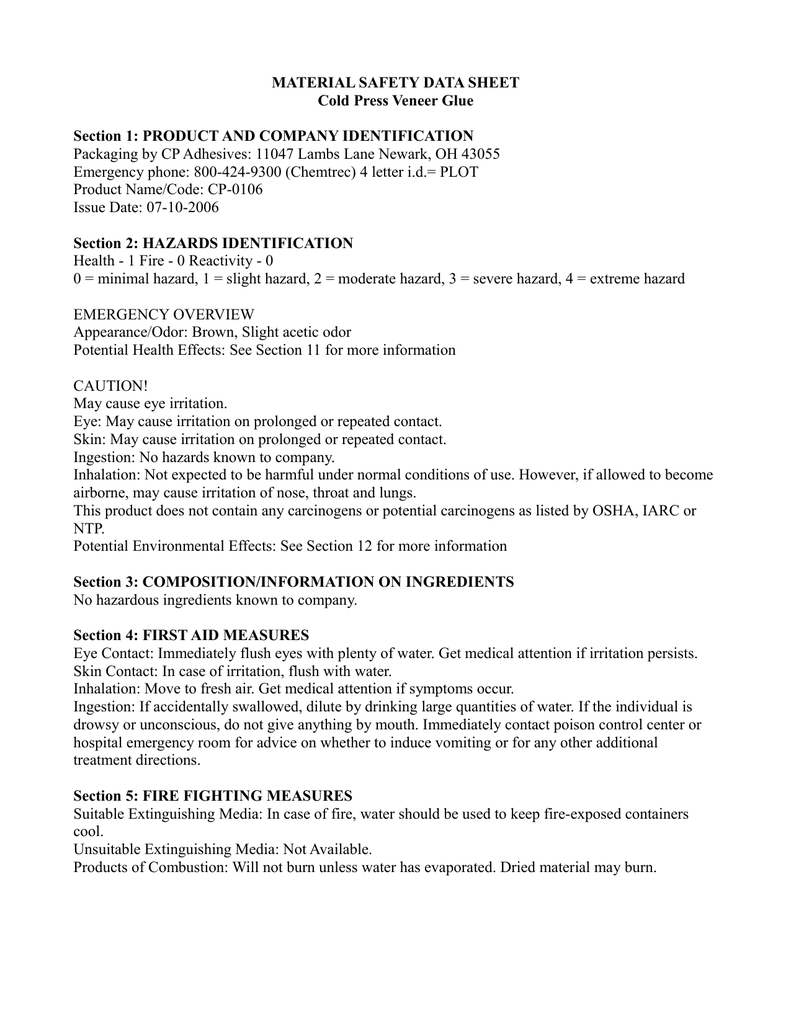 MATERIAL SAFETY DATA SHEET
Cold Press Veneer Glue
Section 1: PRODUCT AND COMPANY IDENTIFICATION
Packaging by CP Adhesives: 11047 Lambs Lane Newark, OH 43055
Emergency phone: 800-424-9300 (Chemtrec) 4 letter i.d.= PLOT
Product Name/Code: CP-0106
Issue Date: 07-10-2006
Section 2: HAZARDS IDENTIFICATION
Health - 1 Fire - 0 Reactivity - 0
0 = minimal hazard, 1 = slight hazard, 2 = moderate hazard, 3 = severe hazard, 4 = extreme hazard
EMERGENCY OVERVIEW
Appearance/Odor: Brown, Slight acetic odor
Potential Health Effects: See Section 11 for more information
CAUTION!
May cause eye irritation.
Eye: May cause irritation on prolonged or repeated contact.
Skin: May cause irritation on prolonged or repeated contact.
Ingestion: No hazards known to company.
Inhalation: Not expected to be harmful under normal conditions of use. However, if allowed to become
airborne, may cause irritation of nose, throat and lungs.
This product does not contain any carcinogens or potential carcinogens as listed by OSHA, IARC or
NTP.
Potential Environmental Effects: See Section 12 for more information
Section 3: COMPOSITION/INFORMATION ON INGREDIENTS
No hazardous ingredients known to company.
Section 4: FIRST AID MEASURES
Eye Contact: Immediately flush eyes with plenty of water. Get medical attention if irritation persists.
Skin Contact: In case of irritation, flush with water.
Inhalation: Move to fresh air. Get medical attention if symptoms occur.
Ingestion: If accidentally swallowed, dilute by drinking large quantities of water. If the individual is
drowsy or unconscious, do not give anything by mouth. Immediately contact poison control center or
hospital emergency room for advice on whether to induce vomiting or for any other additional
treatment directions.
Section 5: FIRE FIGHTING MEASURES
Suitable Extinguishing Media: In case of fire, water should be used to keep fire-exposed containers
cool.
Unsuitable Extinguishing Media: Not Available.
Products of Combustion: Will not burn unless water has evaporated. Dried material may burn.
Section 6: ACCIDENTAL RELEASE MEASURES
Personal Precautions: Use personal protection recommended in Section 8.
Contain and/or absorb spill with inert material (e.g. sand, vermiculite), then place in a suitable
container. For large spills, use water spray to disperse vapors and flush spill area. Prevent runoff from
entering waterways or sewers. Small quantities, soak up with absorbent material and remove to
chemical disposal area.
Section 7: HANDLING AND STORAGE
Handling
Handle in accordance with good industrial hygiene and safety practices. Always use appropriate
Personal Protective Equipment (PPE).
Storage
Harmed by freezing. Cannot be made usable after freezing.
Do not store in bare metal containers.
Do not use brass fittings. Resulting contamination with iron or copper may result in discolored
gluelines or subnormal performance.
Store in well ventilated area. Keep container closed when not in use. Product residue may remain in
empty containers. Observe all label precautions until container is cleaned, reconditioned or destroyed.
Section 8: EXPOSURE CONTROLS/PERSONAL PROTECTION
Exposure Guidelines
None established
Engineering Controls: The following exposure control techniques may be used to effectively minimize
employee exposure: local exhaust ventilation, enclosed system design, process isolation and remote
control in combination with appropriate use of personal protective equipment and prudent work
practices. These techniques may not necessarily address all issues pertaining to your operations. We,
therefore, recommend that you consult with experts of your choice to determine whether or not your
programs are adequate. If airborne contaminants are generated when the material is heated or handled,
sufficient ventilation in volume and air flow patterns should be provided to keep air contaminant
concentration levels below acceptable criteria.
Personal Protection: Where air contaminants can exceed acceptable criteria, use NIOSH (42 CFR Part
84) approved respiratory protection equipment. Respirators should be selected based on the form and
concentration of contaminants in air in accordance with OSHA laws and regulations or other applicable
standards or guidelines, including ANSI standards regarding respiratory protection. Use goggles if
contact is likely. Wear impervious gloves as required to prevent skin contact.
Section 9: PHYSICAL AND CHEMICAL PROPERTIES
Color: Brown Liquid
Odor: Slight acetic odor
Odor Threshold: Not available.
Physical State: Liquid.
Storage Life: 6 months @ 25C (77F)
pH: @ 25C: 4.5-5.5
Freezing Point: <0C
Boiling Point: 100C(212)F
Flash Point: Not Available
Evaporation Rate: As water, <1
Flammability (solid, gas): Not available
Upper Flammability Limit: Not available
Lower Flammability Limit: Not available
Vapor Pressure: 17.5 MM HG @ 20C
Vapor Density: .62 (water) air=1
Specific Gravity: ~1.1
Solubility (water): Miscible
Partition Coefficient (n-octanol/water): Not Available
Material Safety Data Sheet 3 of 3
Auto-ignition Temperature: Not available.
Percent Volatile, wt. %: 50% @ 105C
Volatile Organic Compound (VOC) content, wt. %: Not available
Section 10: STABILITY AND REACTIVITY
Stability: Stable.
Conditions to Avoid: Keep away from heat, sparks and flames.
Incompatible Materials: Strong acids and bases. Strong oxidizing and reducing agents.
Hazardous Decomposition Products: Oxides of carbon.
Possibility of Hazardous Reactions: Hazardous polymerization is not expected to occur.
Section 11: TOXICOLOGY INFORMATION
Not Available
Section 12: ECOLOGICAL INFORMATION
Not Available.
Section 13: DISPOSAL CONSIDERATIONS
Disposal: Dispose of in accordance with federal, state and local regulations.
Section 14: TRANSPORTATION INFORMATION
The data provided in this section is for information only and may not be specific to your package size.
You will need to apply the appropriate regulations to properly classify your shipment for transportation.
US DOT (ground): Not Regulated
Canadian TDG (ground)
Proper Shipping Description: Not Regulated
ICAO (air)
Proper Shipping Description: Not Regulated
IMDG (water)
Proper Shipping Description: Not Regulated
Section 15: REGULATORY INFORMATION
TSCA: All reportable chemical substances are listed on the TSCA Inventory. We rely on certifications
of compliance from our suppliers for chemical substances not manufactured by us.
SARA 313 Information
None required per SARA TITLE III SECTION 313.
California Safe Drinking Water and Toxic Enforcement Act of 1986 (Proposition 65)
This material is not known to contain any chemicals currently listed as carcinogens or reproductive
toxins under California Proposition 65 at levels which would be subject to the proposition.
WHMIS: Canadian Workplace Hazardous Material Information System
Not a controlled product
Section 16: OTHER INFORMATION
DISCLAIMER
The information contained in this document applies to this specific material as supplied. It may not be
valid for this material if it is used in combination with any other materials. It is the user's responsibility
to satisfy oneself as to the suitability and completeness of this information for his own particular use.
SELLER MAKES NO WARRANTY, EXPRESS OR IMPLIED, CONCERNING THE PRODUCT OR
THE MERCHANTABILITY OR FITNESS THEREOF FOR ANY PURPOSE, except that the product
shall conform to contracted specifications, and that the product does not infringe any valid United
States or Canadian patent. No claim of any kind shall be greater in amount than the purchase price of
the quantity of product in respect of which damages are claimed. In no event shall Seller be liable for
incidental or consequential damages, whether Buyer's claim is based on contract, breach of warranty,
negligence or otherwise.

* Your assessment is very important for improving the work of artificial intelligence, which forms the content of this project