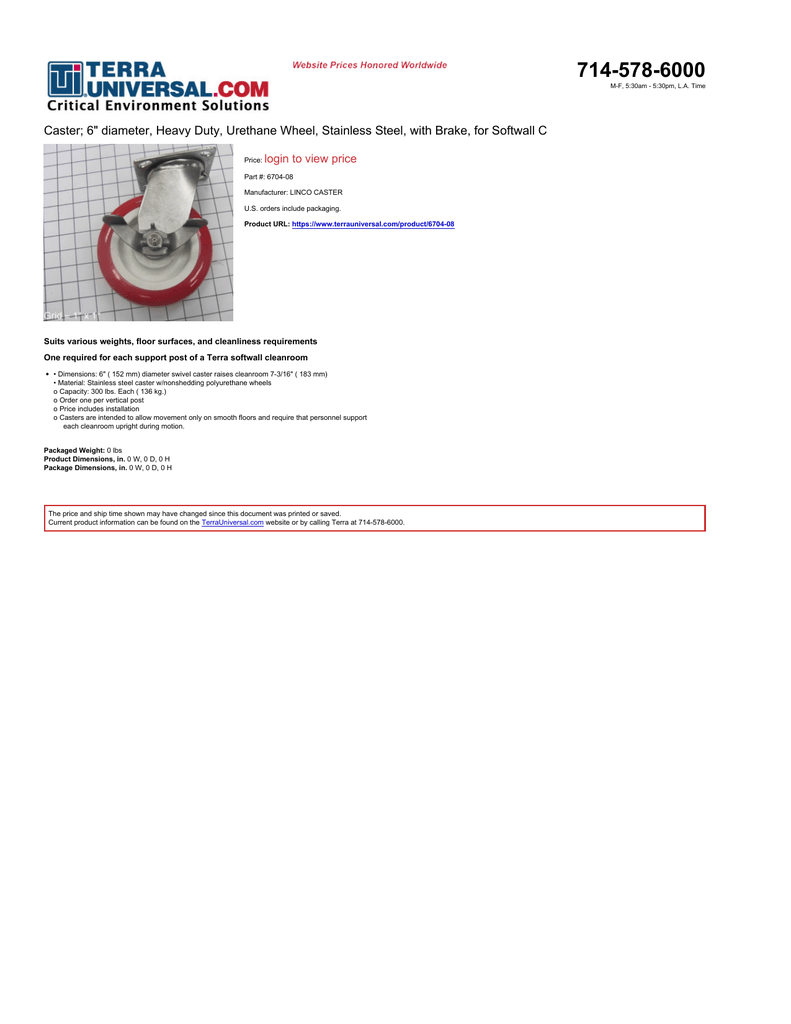 714-578-6000
M-F, 5:30am - 5:30pm, L.A. Time
Caster; 6" diameter, Heavy Duty, Urethane Wheel, Stainless Steel, with Brake, for Softwall C
Price:
login to view price
Part #: 6704-08
Manufacturer: LINCO CASTER
U.S. orders include packaging.
Product URL: https://www.terrauniversal.com/product/6704-08
Suits various weights, floor surfaces, and cleanliness requirements
One required for each support post of a Terra softwall cleanroom
• Dimensions: 6" ( 152 mm) diameter swivel caster raises cleanroom 7-3/16" ( 183 mm)
• Material: Stainless steel caster w/nonshedding polyurethane wheels
o Capacity: 300 lbs. Each ( 136 kg.)
o Order one per vertical post
o Price includes installation
o Casters are intended to allow movement only on smooth floors and require that personnel support
each cleanroom upright during motion.
Packaged Weight: 0 lbs
Product Dimensions, in. 0 W, 0 D, 0 H
Package Dimensions, in. 0 W, 0 D, 0 H
The price and ship time shown may have changed since this document was printed or saved.
Current product information can be found on the TerraUniversal.com website or by calling Terra at 714-578-6000.

* Your assessment is very important for improving the work of artificial intelligence, which forms the content of this project