No category
Ferraz Shawmut Quick Range Overview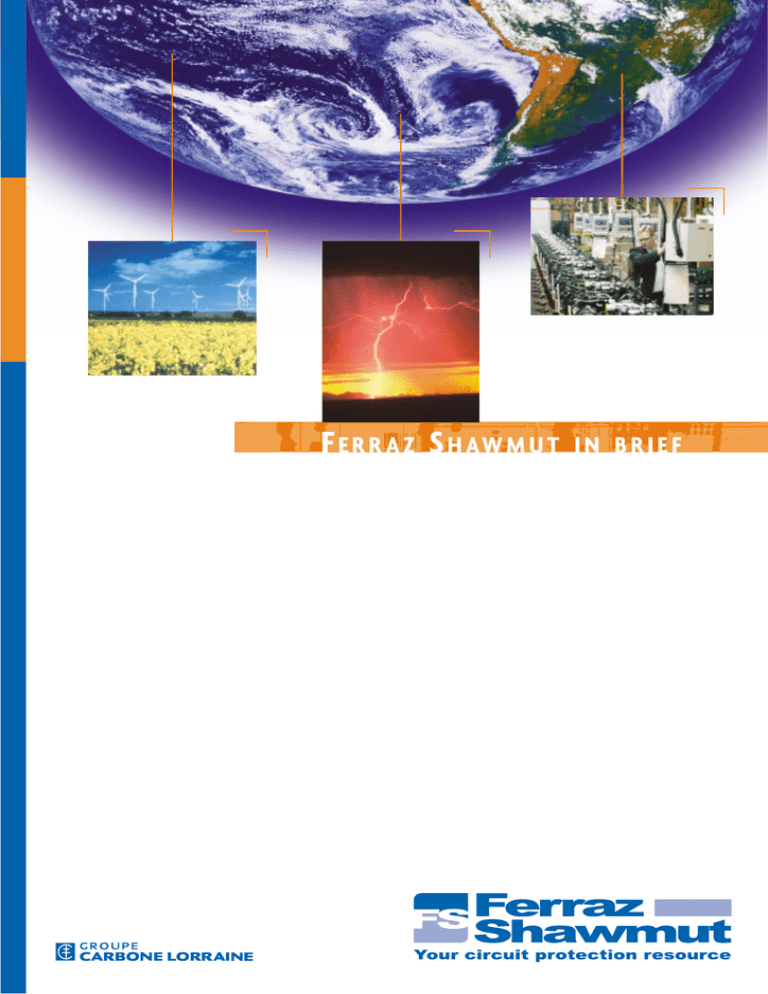 F
E R R A Z
S
H A W M U T I N B R I E F
G
L O B A L D Y N A M I C S
" A global presence to help our customers succeed, close to them wherever they are."
2
Number
2 worldwide for fuses used in industry
Carbone Lorraine: a group of global standing
Carbone Lorraine, the world's specialist in carbon and graphite applications for over a century, has focused its long experience on protection for motors and electrical equipment.
Today the group is active in two major fields:
- components for motors and electrical or electronic equipment;
- applications of graphite and other sophisticated materials.
With its worldwide network, Carbone Lorraine can offer high performance, custom designed products and systems to all its customers, predominantly high tech companies.
Ferraz Shawmut: the world's leader on the circuit protection market
Ferraz Shawmut, Carbone Lorraine's Electrical Protection division, offers novel solutions to enhance the safety of low and medium voltage installations and equipment. Ferraz Shawmut's clients may be global firms or purely local players, manufacturers of control equipment for industrial assembly and process, telecommunications, traction or power distribution markets. A wide network of electrical equipment distributors carries the brand all over the global market of final users.
La Mure Facility
France
Newburyport Facility
USA
Production facilities on every continent to optimize the offering
Since Ferraz and Gould Shawmut fused in 1999, our strategy of streamlining industrial operations has resulted in a consistent industrial set-up around our processes:
- In North America, the Newburyport, Toronto and Juarez locations are focused on manufacturing fuses and gear to UL and CSA standards.
- In Europe and around the Mediterranean, the Saint Bonnet de Mure and El Fahs locations build fuses and gear to European and other international standards, while the Provins and La
Mure locations bring synergies with the high power switch, bogie protection and thermal management activities.
- In Asia, plants at Bangalore, Shanghai and Nagahama serve the major markets of that continent.
All of those locations are united around a global quality, safety and environment policy.
A targeted international sales organization
It's important to be close to best serve each individual customer, so Ferraz Shawmut has set up a strong international network bringing together the sales teams of all the Ferraz Shawmut and Carbone Lorraine subsidiaries internationally, and also many sales representatives, local agents and conveniently located distributors to professionals.
All around the world, Ferraz Shawmut remains close to the customer to offer all the services of a true professional in electrical protection in compliance with local standards. The Ferraz Shawmut brand is also available directly to users through the 4500 points of sale of our distributors.
3
Y
O U R G U A R A N T E E O F T H E U T M O S T I N S A F E T Y
4
" Our day-to-day mission is to ensure the integrity of the equipment our devices protect and the safety of the people working around them. That can only be accomplished by tried and proven solutions based on the right technical and industrial decisions and a world-class organization."
Electrical and thermal protection solutions… to cut short any risk of accident!
Ferraz Shawmut has developed appropriate solutions to any situation that may arise in circuit protection:
- current breaking in equipment at low or medium voltages as soon as an overload or short-circuit occurs.
- live breaking and off load disconnection of lines at any time to make sure installations, machinery or devices in the surroundings are dead and can be worked on safely.
- fault detection on power distribution systems to improve the efficiency of both repairs and preventive maintenance.
- thermal protection to get optimal performances out of electronic components or to lower temperatures in bays or panels to improve their operation.
Fuse protection solutions to make your equipment more reliable
Cost, reliability, functionality and technical performance: these are the criteria that motivate the choice of an electrical protection solution. But industrial buyers are also influenced by other factors:
- the vital need to ensure the safety of personnel,
- risks related to production.
A safe electrical installation is designed to avoid any fault occurring and to limit impact to a minimum if any should arise.
Thanks to its ability to limit short-circuit currents by quickly melting down, the fuse is the best answer to industrial needs in terms of performances, reliability, ease of maintenance, availability and safety.
Assembly line
The widest range of solutions electrical protection on the mark et
Focused on the requirements of standards and customers for maximum reliability
To gain complete mastery of all the many requirements of standards, Ferraz
Shawmut is an active participant in the work of standardizing bodies like the IEC and UL.
Technical experts systematically take those requirements into account throughout design and the product life cycle. Our two test labs - in Newburyport in the USA and St Bonnet de Mure in
France - collaborate in the search for solutions to meet the severest conditions.
Extensive test resources are available there to check on the proper functioning and limits of all components.
All the Standards
International certifications and listings, your guarantee
That focus on the requirements of standards has resulted in international recognition for all Ferraz Shawmut products. Independent agencies have qualified the solutions we propose to UL/CSA and IEC standards. That means customers can rest easy whatever the application.
A
E L E C T R I C I T E
5
C
O N S TA N T I N N O V AT I O N
I N E V E RY F I E L D
" As not only a leader but a reference in our sector, we constantly seek out the best and most innovative practice for all our industrial and business development processes. "
6
Smart Spot Fuses
Innovative circuit protection solutions for state-of-the-art equipment
With a concern to always meet our customers' needs, Ferraz
Shawmut anticipates their expectations and closely monitors technological developments on the market at all times.
Two complementary organizations take part in this research and innovation policy:
- a multidisciplinary team of purchasers, technicians, marketing staff and local salespeople, with the goal of proposing appropriate solutions to emerging problems;
- a multinational team pulling together the know-how, standards and technologies to bring world-class products into being.
Commercial resources to aid in decision-making
'Select-A-Fuse/Power Electronics'
Program
In the field of electrical protection, Ferraz Shawmut has developed a wide range of software to compute solutions and provide technical assistance, and makes it available to designers, industries, engineers and inspection agencies:
- the SAF/ESI program to compute electrical installations and protection makes life easier for designers;
- the SAF/PE program provides expertise in power semi-conductor protection;
- the new-comer to the SAF series, SAF/XREF offers a huge database for fuse cross-referencing.
In addition, the Supplier One program helps streamline fuse inventories in factories to optimize maintenance of machinery and installations.
Elec 2002 Exhibition
High Power Test Lab - Newburyport
First class testing resources at our customers' disposal
Design, development, approval and daily inspection of the quality of all Ferraz Shawmut components are processed through essential electrical, mechanical and environmental tests.
Purchasers, technicians, designers, engineers, insurance agencies can all turn to Ferraz Shawmut's test laboratories to avoid the inconveniences of long lead-times for test dates. Our goal is to bring them the flexibility and expertise they need by providing world-class testing resources for a wide range of products and applications. The fact that Ferraz
Shawmut has two complementary test labs in the
United States and in France means we can do a.c. or d.c. tests and run them to UL/CSA or IEC standards.
7
Undisput ed exper tise thanks to the many contracts partners signed with our
Active partnerships with the world's leaders in electrotech
… and with university research labs
Ferraz Shawmut has taken on the challenge of closely tracking all the technological mutations in electrical protection in all its forms. We are in contact with all the key global players in electrotech and actively participate in international seminars, meetings, training sessions and conferences on the topic. And we also drive research on electrical protection through our partnerships with university laboratories.
N
E V E R V E RY F A R A W AY
8
" Our key aim in the business relationships we maintain with our customers is to be an attentive, reactive partner.
Our objective: closer contact for greater efficiency. "
Technical support staff for real-time counseling
A global team of experts is at every customer's service for personalized service: to confirm or seek out a solution, do a study, develop an original concept or customize a product.
A hot-line answers customers and distributors directly when they need additional information, product cross-references, literature, etc. Technical questions are sent on to and dealt with by specialists, bringing suitable answers as quickly as possible.
Local sales teams for a personalized touch
Although a global organization, Ferraz Shawmut guarantees its customers local service wherever they are around the world. Associates familiar with local requirements provide pertinent answers to customers' queries in the local language. Through sales reps in the field, 4500 points of sale with distributors, and the vast Carbone Lorraine sales network, Ferraz Shawmut can maintain close relations with our customers around the world to become a preferred partner.
Logistics hub
Saint-Bonnet-de-Mure
of sale through around the world
Global logistics for reactive, reliable service
The same determination to be close to you is the basis of our supply and delivery logistics. That reactiveness, the guarantee of customer satisfaction, owes its success to the creation of a global logistics system and good coordination of all those involved. So Ferraz
Shawmut can inform you quickly of the availability of high turn-over items. We also guarantee a fast response for other product references and a highly efficient break-down service. Finally, we offer our customers EDI to reduce the cost of purchasing and provide information on the status of orders.
Close collaboration with distributors to guarantee constant availability
Ferraz Shawmut collaborates fully with distributors, taking an active part in activities at the point of sale. The policy of involvement developed by Ferraz Shawmut takes concrete form in a number of ways: training for the distributor's sales force, presentation of products at the point of sale, help in promoting products, display units for impulse purchasing, appropriate packaging, and so on.
Above all, Ferraz Shawmut guarantees effective answers to all the problems distribution encounters: keeping products in stock, shipping them rapidly, keeping distributors informed on what's going on, etc.
Point-of-sale Display
9
P
O W E R M A R K E T S
10
" To guard our customers' electrical equipment and installations over the long term, we offer a full range of safe, reliable electrical and thermal protection solutions. "
Power markets
All our customers are concerned with power:
- power generation and distribution for power utilities and companies working in that sector,
- use of power for railways and industry, as direct users for companies with industrial facilities and the operators of transport systems, plus the manufacturers of their electrical equipment and installations.
Ferrz Shawmut's electrical and thermal protection solutions are the right choice for all of them, to:
Protect low voltage power distribution installations
Smart Spot fuses built to UL standard with blown fuse indicator
Lead-free, cadmium-free NH fuses built to DIN standard
Fuse-holders for NF standard cylindrical ferrule-style fuses
Finger Safe Power
Distribution Blocks
Protect medium voltage distribution systems and detect faults on lines
Oiltight fuses for immersion in MV/LV transformer tanks
Overhead line insulation fault indicator using earth current measurement
Directional fault indicator for overhead lines
DIN standard fuses for protection of MV lines
Protect the control and power electronics on electrical equipment
11
Fuses for semi-conductor protection in a power cubicle
Fuses for protection of extremely high power converters
Finned heat sinks for thermal protection of IGBTs
Disconnect and break high currents in processing industries and rail transport systems
Fuses to safeguard zinc oxide varistors from explosion
Very high current disconnector breaking visibly for busbars
Cubicle for traction systems with on-load d.c. switch
MV disconnector for pumping stations
Number for semi
1 for fus conduct protection es or
Provide bogie power supply and protection for rail transport systems
Current collector device with side contact disc
D.c. fuse box for protection of rolling stock power supply
Axial ground return unit mounted on a train bogie
www.ferrazshawmut.com
Ferraz Shawmut France
1 rue Jean Novel
69626 Villeurbanne Cedex
France
Phone 33 (0)4 72 22 66 11
Fax 33 (0)4 72 22 67 13
Ferraz Shawmut USA
374 Merrimac Street
Newburyport, MA 01950
USA
Phone 1 978 462-6662
Fax 1 978 465-6419
* Your assessment is very important for improving the work of artificial intelligence, which forms the content of this project