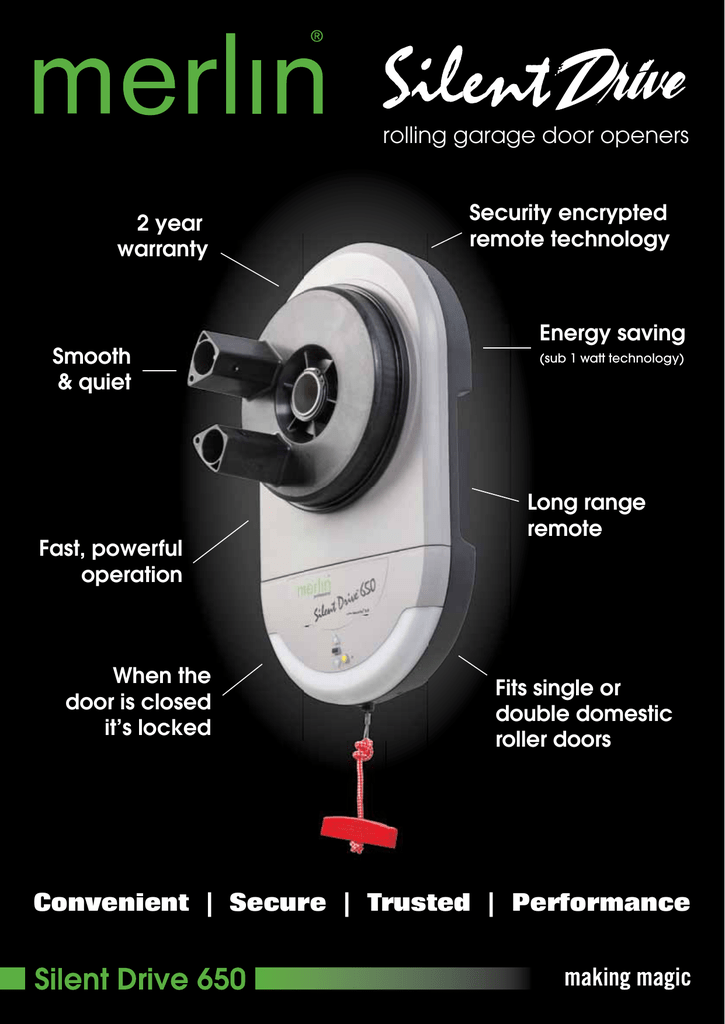 rolling garage door openers
2 year
warranty
Smooth
& quiet
Fast, powerful
operation
When the
door is closed
it's locked
Security encrypted
remote technology
Energy saving
(sub 1 watt technology)
Long range
remote
Fits single or
double domestic
roller doors
Convenient | Secure | Trusted | Performance
Silent Drive 650 Specifications
Power Unit
Input Voltage
240V AC, 50Hz
Motor Voltage
12V DC with overload protection
Standby Power
<1W
Pulling Force (newtons)
500N
Rated Door Area
16.5m2
Max Door weight
130kg spring balanced
Lighting
6 LEDs
Automatic operation
Features
Warranty
2 years 5,000 cycles
Travel Speed (2.3M Door)
13 Seconds up & down
Peak Noise (dB at 1M)
59
Operating Temp range (Degrees Celsius)
-30 to 50
Remotes
Radio Frequency
433.30 / 433.92 / 434.54MHz AM
Security
Security+ 2.0 encrypted rolling code technology with multiple frequencies
Number of Code Combinations
4.5 billion possible combinations
Memory Register
Up to 64 remotes
Operating Range (Open Field)
160m maximum
Installation
Drive System
Direct drive
Maximum Lifting Height
4.5m
Minimum Side Room
45mm Curtain to bracket left or right handed
Safety Devices
Safety Reversal System
Manual Release
Safety Beams (optional)
Optional Accessories
Visor/Wall Remote
Wireless Keypad
Experience the
convenience of having
a spare remote.
Leave your keys at
home with peace of
mind that your home
is secure.
Model E943M 3 Button
Model E940M 1 Button
Keyless entry via four
digit code access.
The Protector
SystemTM
Safety beam sensors
The best protection
for your family and
property.
Model C77
Model E840M
Who We Are
The Merlin brand is part of the Chamberlain Group, the world's largest manufacturer of automatic garage door openers and Australia's largest
manufacturer of commercial garage door openers. Our global experience and innovation has resulted in industry leading designs and some
of the most reliable and efficient products available in Australia and New Zealand.
We are determined to build our reputation as an industry leader by exceeding our customers' expectations and providing exceptional
products and services.
Dealer Details:
Chamberlain ANZ
Australia: T: 1800 638 234 F: 1800 888 121
New Zealand: T: 0800 653 667 F: 0800 653 663
E: sales@chamberlainanz.com
www.go-merlin.com
The terms Chamberlain, Merlin, Silent Drive and The Protector System are registered trademarks.
As Chamberlain's policy is one of continuous product improvement, changes to specifications and prices can be made without notification.
© 2012 The Chamberlain Group, Inc.

* Your assessment is very important for improving the work of artificial intelligence, which forms the content of this project