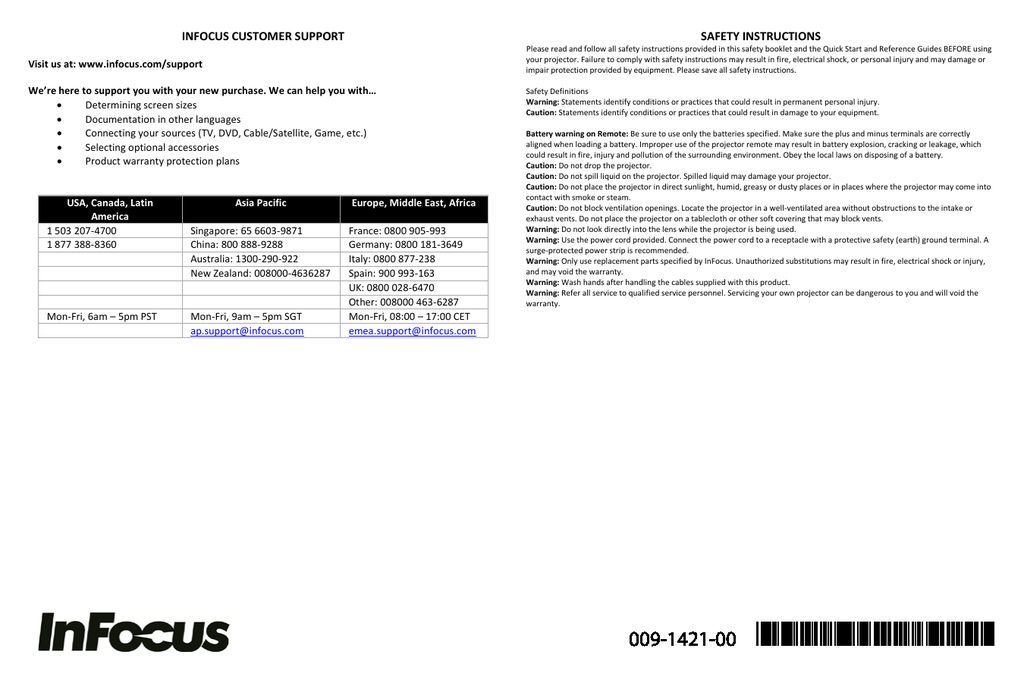 INFOCUS CUSTOMER SUPPORT
SAFETY INSTRUCTIONS
Please read and follow all safety instructions provided in this safety booklet and the Quick Start and Reference Guides BEFORE using
your projector. Failure to comply with safety instructions may result in fire, electrical shock, or personal injury and may damage or
impair protection provided by equipment. Please save all safety instructions.
Visit us at: www.infocus.com/support
We're here to support you with your new purchase. We can help you with…
•
Determining screen sizes
•
Documentation in other languages
•
Connecting your sources (TV, DVD, Cable/Satellite, Game, etc.)
•
Selecting optional accessories
•
Product warranty protection plans
USA, Canada, Latin
America
1 503 207-4700
1 877 388-8360
Mon-Fri, 6am – 5pm PST
Asia Pacific
Europe, Middle East, Africa
Singapore: 65 6603-9871
China: 800 888-9288
Australia: 1300-290-922
New Zealand: 008000-4636287
France: 0800 905-993
Germany: 0800 181-3649
Italy: 0800 877-238
Spain: 900 993-163
UK: 0800 028-6470
Other: 008000 463-6287
Mon-Fri, 08:00 – 17:00 CET
emea.support@infocus.com
Mon-Fri, 9am – 5pm SGT
ap.support@infocus.com
Safety Definitions
Warning: Statements identify conditions or practices that could result in permanent personal injury.
Caution: Statements identify conditions or practices that could result in damage to your equipment.
Battery warning on Remote: Be sure to use only the batteries specified. Make sure the plus and minus terminals are correctly
aligned when loading a battery. Improper use of the projector remote may result in battery explosion, cracking or leakage, which
could result in fire, injury and pollution of the surrounding environment. Obey the local laws on disposing of a battery.
Caution: Do not drop the projector.
Caution: Do not spill liquid on the projector. Spilled liquid may damage your projector.
Caution: Do not place the projector in direct sunlight, humid, greasy or dusty places or in places where the projector may come into
contact with smoke or steam.
Caution: Do not block ventilation openings. Locate the projector in a well-ventilated area without obstructions to the intake or
exhaust vents. Do not place the projector on a tablecloth or other soft covering that may block vents.
Warning: Do not look directly into the lens while the projector is being used.
Warning: Use the power cord provided. Connect the power cord to a receptacle with a protective safety (earth) ground terminal. A
surge-protected power strip is recommended.
Warning: Only use replacement parts specified by InFocus. Unauthorized substitutions may result in fire, electrical shock or injury,
and may void the warranty.
Warning: Wash hands after handling the cables supplied with this product.
Warning: Refer all service to qualified service personnel. Servicing your own projector can be dangerous to you and will void the
warranty.
LIMITED WARRANTY
Subject to the Limitations, Exclusions and Disclaimers hereof, InFocus Corporation ("InFocus") warrants that the Projector, Lamps
and Accessories (hereinafter collectively or individually referred to as "Product" as appropriate) will conform to InFocus'
specifications and be free from defects in material or workmanship for the respective Limited Warranty period provided below. If
the Product, while subject to this Limited Warranty, is defective in material or workmanship during the warranty period, then
InFocus, at its option, will REPAIR or REPLACE the Product. InFocus' sole obligation is to supply (or pay for) all labor necessary to
repair the Product found to be defective within the Limited Warranty period and to repair or replace defective parts with new parts
or, at the option of InFocus, serviceable used parts that are equivalent or superior to new parts performance, but shall not exceed
the return of the amount of the purchase price paid by the purchaser.
Limited Warranty Periods are as follows:
•
Projector Product Limited Warranty Period: One (1) year from date of proof of purchase.
•
Accessory Product Limited Warranty Period: Ninety (90) days from date of purchase.
WARRANTY LIMITATION AND EXCLUSION
THIS WARRANTY SETS FORTH INFOCUS' MAXIMUM LIABILITY FOR ITS PRODUCT. THIS WARRANTY EXTENDS ONLY TO PRODUCTS
PURCHASED FROM INFOCUS OR AN INFOCUS AUTHORIZED RESELLER.
InFocus shall have no further obligation under the foregoing Limited Warranty if the Product has been damaged due to abuse,
misuse, exposure to smoke, accident, service other than by InFocus or its authorized agents, or failure caused other than from
ordinary use or failure to properly use the Product in the application for which said Product was intended. In addition, failure of the
end-user to follow maintenance procedures as outlined in the Product's user guide will not be covered under this Warranty. Finally,
InFocus shall have no further obligation if InFocus Product was subjected to operating conditions outside of the range specified in
the user's guide or in this warranty. This warranty does not cover maintenance/repair/replacement of parts due to normal wear and
tear.
Remanufactured Products and Software Products are exempt from the foregoing Limited Warranty. Please refer to the appropriate
Remanufactured Product Limited Warranty or Software Product Limited Warranty for applicable Warranty information.
DISCLAIMER OF UNSTATED WARRANTIES
THE WARRANTY PRINTED ABOVE IS THE ONLY WARRANTY APPLICABLE TO THIS PRODUCT. ALL OTHER WARRANTIES, EXPRESS OR
IMPLIED, INCLUDING, BUT NOT LIMITED TO, THE IMPLIED WARRANTIES OF MERCHANTABILITY AND FITNESS FOR PARTICULAR
PURPOSE ARE DISCLAIMED. THERE ARE NO WARRANTIES THAT EXTEND BEYOND THE DESCRIPTION ON THE FACE HEREOF AND THE
FOREGOING WARRANTY SHALL NOT BE EXTENDED, ALTERED OR VARIED EXCEPT BY WRITTEN INSTRUMENT SIGNED BY INFOCUS.
SOME JURISDICTIONS DO NOT ALLOW LIMITATIONS ON HOW LONG AN IMPLIED WARRANTY MAY LAST, SO SUCH LIMITATIONS MAY
NOT APPLY TO YOU.
LIMITED WARRANTY PERIOD
The Limited Warranty periods hereof commence on the date of proof of purchase by the end-user customer. SOME JURISDICTIONS
MAY GRANT YOU CONSUMER RIGHTS WITH MINIMUM WARRANTY DURATION THAT DIFFER FROM THE DURATIONS PROVIDED
HEREIN, AND INFOCUS WILL HONOR ALL SUCH CONSUMER RIGHTS UPON PROOF OF PURCHASE IN THAT JURISDICTION. To Obtain
Warranty Service: During the Limited Warranty period, to exercise this Limited Warranty, the purchaser must first contact 1) InFocus
(Mailing address: InFocus Corporation, 13190 SW 68th Parkway, Suite 200, Portland, OR 97223-8368 USA; or via the web at
www.infocus.com/support), 2) a service facility authorized by InFocus or 3) the place of original purchase. For Warranty service, the
purchaser will pay to return or deliver the defective Product and will pay all freight, duty, taxes, VAT, fees, incidental clearance and
customs charges to ship the unit to an InFocus Service Center or to a service facility authorized by InFocus. When returning Product
to InFocus, a Return Material Authorization Number (RMA #) is required and must be clearly displayed on the outside of the shipping
carton or a similar package affording an equal degree of protection. InFocus or the service facility authorized by InFocus will return
the repaired/replaced Product freight prepaid to the purchaser.
LIMITATION OF LIABILITY
IT IS UNDERSTOOD AND AGREED THAT INFOCUS' LIABILITY SHALL NOT EXCEED THE RETURN OF THE AMOUNT OF THE PURCHASE
PRICE PAID BY PURCHASER. Where applicable national or state law prohibits the exclusion or limitation of liability, InFocus excludes
or limits its liability to the maximum extent permitted by national law. Limitation on Bringing Action - No action, regardless of form,
arising out of the agreement to purchase the Product may be brought by purchaser more than one year after the cause of action has
accrued. Governing Law - Any action, regardless of form, arising out of the agreement to purchase the Product is governed by the
laws of the state of Oregon, USA. Mandatory Arbitration - Any action, regardless of form, arising out of the agreement to purchase
the Product is subject to mandatory arbitration. THIS WARRANTY DOES NOT AFFECT YOUR LEGAL RIGHTS UNDER APPLICABLE
NATIONAL LAWS RELATING TO THE SALE OF CONSUMER PRODUCTS.
DECLARATION OF CONFORMITY
Manufacturer: InFocus Corporation, 13190 SW 68th Parkway, Suite 200, Portland, OR 97223-8368 USA
We declare under our sole responsibility that this projector conforms to the following directives and norms:
ErP Directive 2009/125/EC, EMC Directive 2004/108/EC, Low Voltage Directive 2006/95/EC, EMC: EN 55022, EN 55024, EN 61000-32, EN 61000-3-3, Safety: IEC 60950-1:2005; EN 60950-1:2006 +A11:2009.
Trademarks
Microsoft, PowerPoint, and Windows are trademarks or registered trademarks of Microsoft Corporation. Adobe and Acrobat are
trademarks or registered trademarks of Adobe Systems Incorporated. DLP® and the DLP logo are registered trademarks of Texas
Instruments and BrilliantColor™ is a trademark of Texas Instruments. InFocus, In Focus, and INFOCUS (stylized) are either registered
trademarks or trademarks of InFocus Corporation in the United States and other countries.
NOTE: This product is covered electrical and electronic equipment under the European Union's Waste from Electrical
and Electronic Equipment ("WEEE") Directive (2002/96/EC). The WEEE Directive requires that covered equipment be
collected and managed separately from typical household waste in all EU member states. Please follow the guidance of
your local environmental authority or ask the shop where you purchased the product for collection or recycling options.
FCC Warning
This device complies with part 15 of the FCC Rules. Operation is subject to the following two conditions: (1) This device may not
cause harmful interference, and (2) this device must accept any interference received, including interference that may cause
undesired operation.
Note: This equipment has been tested and found to comply with the limits for a Class B digital device, pursuant to part 15 of the FCC
Rules. These limits are designed to provide reasonable protection against harmful interference in a residential installation. This
equipment generates, uses and can radiate radio frequency energy and, if not installed and used in accordance with the instructions,
may cause harmful interference to radio communications. However, there is no guarantee that interference will not occur in a
particular installation. If this equipment does cause harmful interference to radio or television reception, which can be determined
by turning the equipment off and on, the user is encouraged to try to correct the interference by one or more of the following
measures:
— Reorient or relocate the receiving antenna.
— Increase the separation between the equipment and receiver.
— Connect the equipment into an outlet on a circuit different from that to which the receiver is connected.
— Consult the dealer or an experienced radio/TV technician for help.
Changes or modifications to this equipment that are not expressly approved by InFocus Corp. may void the user's authority to
operate the equipment.
Canada
This Class B digital apparatus complies with Canadian ICES-003.
Cet appareil numérique de la classe B est conforme à la norme NMB-003 du Canada.
Agency Approvals
This product meets international safety and emissions standards. For specific country or agency approvals, see product certification
label.
Input ratings: See certification label on product.
InFocus reserves the right to alter product offerings and specifications at any time without notice.