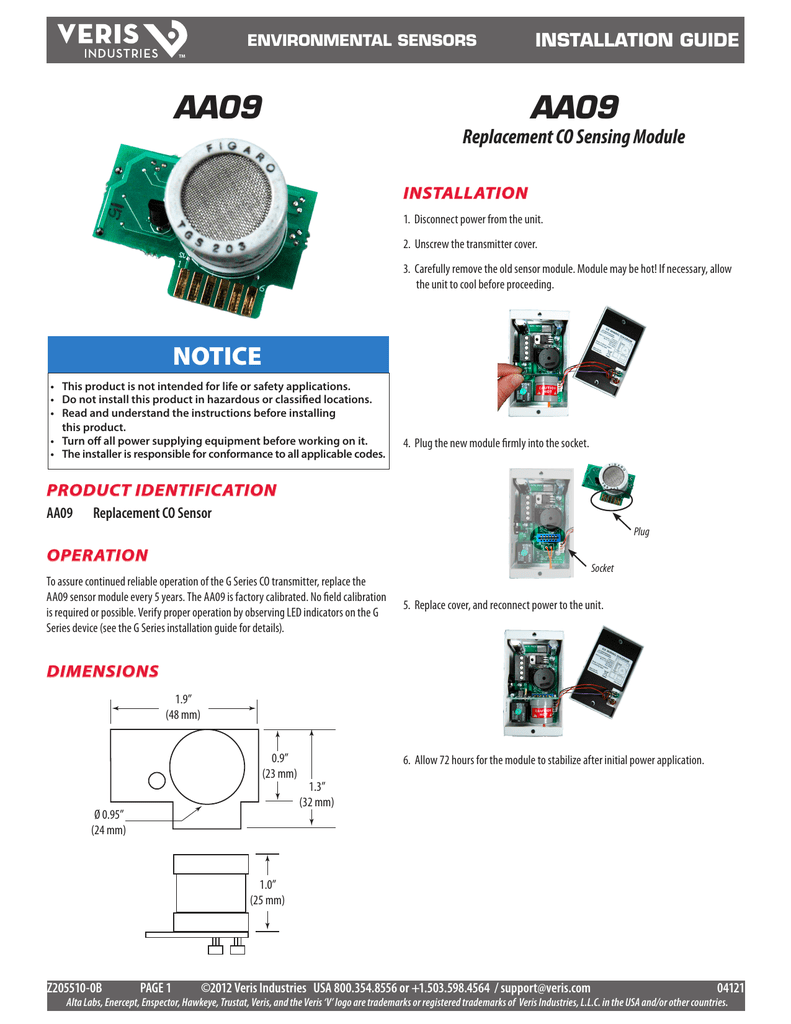 ENVIRONMENTAL SENSORS
INSTALLATION GUIDE
TM
AA09
AA09
Replacement CO Sensing Module
INSTALLATION
1. Disconnect power from the unit.
2. Unscrew the transmitter cover.
3. Carefully remove the old sensor module. Module may be hot! If necessary, allow
the unit to cool before proceeding.
NOTICE
• This product is not intended for life or safety applications.
• Do not install this product in hazardous or classified locations.
• Read and understand the instructions before installing
this product.
• Turn off all power supplying equipment before working on it.
• The installer is responsible for conformance to all applicable codes.
4. Plug the new module firmly into the socket.
PRODUCT IDENTIFICATION
AA09
Replacement CO Sensor
Plug
OPERATION
To assure continued reliable operation of the G Series CO transmitter, replace the
AA09 sensor module every 5 years. The AA09 is factory calibrated. No field calibration
is required or possible. Verify proper operation by observing LED indicators on the G
Series device (see the G Series installation guide for details).
Socket
5. Replace cover, and reconnect power to the unit.
DIMENSIONS
1.9"
(48 mm)
0.9"
(23 mm)
Ø 0.95"
(24 mm)
6. Allow 72 hours for the module to stabilize after initial power application.
1.3"
(32 mm)
1.0"
(25 mm)
Z205510-0B
PAGE 1
©2012 Veris Industries USA 800.354.8556 or +1.503.598.4564 / support@veris.com
04121
Alta Labs, Enercept, Enspector, Hawkeye, Trustat, Veris, and the Veris 'V' logo are trademarks or registered trademarks of Veris Industries, L.L.C. in the USA and/or other countries.

* Your assessment is very important for improving the work of artificial intelligence, which forms the content of this project