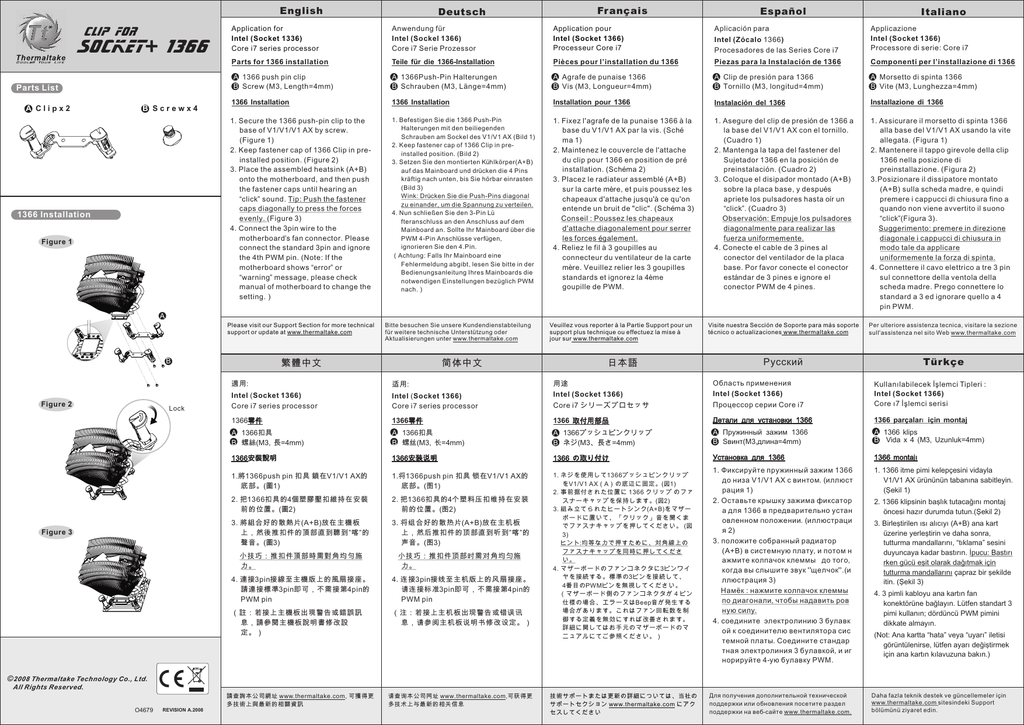 English
Clip for
Socket+ 1366
Parts List
A Clipx2
B Screwx4
1366 Installation
Figure 1
Deutsch
Français
Application for
Intel (Socket 1336)
Core i7 series processor
Anwendung für
Intel (Sockel 1366)
Core i7 Serie Prozessor
Application pour
Intel (Socket 1366)
Processeur Core i7
Parts for 1366 installation
Teile für die 1366-Installation
A 1366 push pin clip
B Screw (M3, Length=4mm)
A 1366Push-Pin Halterungen
B Schrauben (M3, Länge=4mm)
1366 Installation
1. Secure the 1366 push-pin clip to the
base of V1/V1/V1 AX by screw.
(Figure 1)
2. Keep fastener cap of 1366 Clip in preinstalled position. (Figure 2)
3. Place the assembled heatsink (A+B)
onto the motherboard, and then push
the fastener caps until hearing an
"click" sound. Tip: Push the fastener
caps diagonally to press the forces
evenly. (Figure 3)
4. Connect the 3pin wire to the
motherboard's fan connector. Please
connect the standard 3pin and ignore
the 4th PWM pin. (Note: If the
motherboard shows "error" or
"warning" message, please check
manual of motherboard to change the
setting.)
Español
Italiano
Intel (Zócalo 1366)
Procesadores de las Series Core i7
Applicazione
Intel (Socket 1366)
Processore di serie: Core i7
Pièces pour l'installation du 1366
Piezas para la Instalación de 1366
Componenti per l'installazione di 1366
A Agrafe de punaise 1366
B Vis (M3, Longueur=4mm)
A Clip de presión para 1366
B Tornillo (M3, longitud=4mm)
A Morsetto di spinta 1366
B Vite (M3, Lunghezza=4mm)
1366 Installation
Installation pour 1366
Instalación del 1366
Installazione di 1366
1. Befestigen Sie die 1366 Push-Pin
Halterungen mit den beiliegenden
Schrauben am Sockel des V1/V1 AX (Bild 1)
2. Keep fastener cap of 1366 Clip in preinstalled position. (Bild 2)
3. Setzen Sie den montierten Kühlkörper(A+B)
auf das Mainboard und drücken die 4 Pins
kräftig nach unten, bis Sie hörbar einrasten
(Bild 3)
Wink: Drücken Sie die Push-Pins diagonal
zu einander, um die Spannung zu verteilen.
4. Nun schließen Sie den 3-Pin Lü
fteranschluss an den Anschluss auf dem
Mainboard an. Sollte Ihr Mainboard über die
PWM 4-Pin Anschlüsse verfügen,
ignorieren Sie den 4.Pin.
(Achtung: Falls Ihr Mainboard eine
Fehlermeldung abgibt, lesen Sie bitte in der
Bedienungsanleitung Ihres Mainboards die
notwendigen Einstellungen bezüglich PWM
nach.)
1. Fixez l'agrafe de la punaise 1366 à la
base du V1/V1 AX par la vis. (Sché
ma 1)
2. Maintenez le couvercle de l'attache
du clip pour 1366 en position de pré
installation. (Schéma 2)
3. Placez le radiateur assemblé ( A+B )
sur la carte mère, et puis poussez les
chapeaux d'attache jusqu'à ce qu'on
entende un bruit de "clic". (Schéma 3)
Conseil : Poussez les chapeaux
d'attache diagonalement pour serrer
les forces également.
4. Reliez le fil à 3 goupilles au
connecteur du ventilateur de la carte
mère. Veuillez relier les 3 goupilles
standards et ignorez la 4ème
goupille de PWM.
1. Asegure del clip de presión de 1366 a
la base del V1/V1 AX con el tornillo.
(Cuadro 1)
2. Mantenga la tapa del fastener del
Sujetador 1366 en la posición de
preinstalación. (Cuadro 2)
3. Coloque el disipador montado ( A+B )
sobre la placa base, y después
apriete los pulsadores hasta oír un
"click". (Cuadro 3)
Observación: Empuje los pulsadores
diagonalmente para realizar las
fuerza uniformemente.
4. Conecte el cable de 3 pines al
conector del ventilador de la placa
base. Por favor conecte el conector
estándar de 3 pines e ignore el
conector PWM de 4 pines.
1. Assicurare il morsetto di spinta 1366
alla base del V1/V1 AX usando la vite
allegata. (Figura 1)
2. Mantenere il tappo girevole della clip
1366 nella posizione di
preinstallazione. (Figura 2)
3.Posizionare il dissipatore montato
( A+B ) sulla scheda madre, e quindi
premere i cappucci di chiusura fino a
quando non viene avvertito il suono
"click"(Figura 3).
Suggerimento: premere in direzione
diagonale i cappucci di chiusura in
modo tale da applicare
uniformemente la forza di spinta.
4. Connettere il cavo elettrico a tre 3 pin
sul connettore della ventola della
scheda madre. Prego connettere lo
standard a 3 ed ignorare quello a 4
pin PWM.
Aplicación para
A
Please visit our Support Section for more technical
support or update at www.thermaltake.com
B
Figure 2
Lock
Figure 3
Bitte besuchen Sie unsere Kundendienstabteilung
für weitere technische Unterstützung oder
Aktualisierungen unter www.thermaltake.com
简体中文
繁體中文
Veuillez vous reporter à la Partie Support pour un
support plus technique ou effectuez la mise à
jour sur www.thermaltake.com
Visite nuestra Sección de Soporte para más soporte
técnico o actualizaciones www.thermaltake.com
Per ulteriore assistenza tecnica, visitare la sezione
sull'assistenza nel sito Web www.thermaltake.com
日本語
Русский
Türkçe
適用:
适用:
Intel (Socket 1366)
Core i7 series processor
Intel (Socket 1366)
Core i7 series processor
用途
Intel (Socket 1366)
Область применения
Intel (Socket 1366)
Core i7 シリーズプロセッサ
Процессор серии Core i7
Kullanılabilecek İşlemci Tipleri :
Intel (Socket 1366)
Core ı7 İşlemci serisi
1366零件
1366零件
1366 取付用部品
Детали для установки 1366
1366 parçaları için montaj
A 1366扣具
B 螺絲(M3, 長=4mm)
A 1366扣具
B 螺丝(M3, 长=4mm)
A 1366プッシュピンクリップ
B ネジ(M3、長さ=4mm)
A Пружинный зажим 1366
B Sвинт(M3,длина=4mm)
A 1366 klips
B Vida x 4 (M3, Uzunluk=4mm)
1366安裝說明
1366安装说明
1366 の取り付け
Установка для 1366
1366 montajı
1. Фиксируйте пружинный зажим 1366
до низа V1/V1 AX с винтом. (иллюст
рация 1)
2. Оставьте крышку зажима фиксатор
а для 1366 в предварительно устан
овленном положении. (иллюстраци
я 2)
3. положите собранный радиатор
( A+B ) в системную плату, и потом н
ажмите колпачок клеммы до того,
когда вы слышите звук ''щелчок''.(и
ллюстрация 3)
Намёк : нажмите колпачок клеммы
по диагонали, чтобы надавить ров
ную силу.
4. соедините электролинию 3 булавк
ой к соединителю вентилятора сис
темной платы. Соедините стандар
тная электролиния 3 булавкой, и иг
норируйте 4-ую булавку PWM.
1. 1366 itme pimi kelepçesini vidayla
V1/V1 AX ürününün tabanına sabitleyin.
(Şekil 1)
1.將1366push pin 扣具 鎖在V1/V1 AX的
底部。(圖1)
1.将1366push pin 扣具 锁在V1/V1 AX的
底部。(图1)
2. 把1366扣具的4個塑膠壓扣維持在安裝
前的位置。(圖2)
2. 把1366扣具的4个塑料压扣维持在安装
前的位置。(图2)
3. 將組合好的散熱片( A+B )放在主機板
上,然後推扣件的頂部直到聽到"喀"的
聲音。(圖3)
3. 将组合好的散热片( A+B )放在主机板
上,然后推扣件的顶部直到听到"喀"的
声音。(图3)
小技巧:推扣件頂部時需對角均勻施
力。
小技巧:推扣件顶部时需对角均匀施
力。
4. 連接3pin接線至主機版上的風扇接座。
請連接標準3pin即可,不需接第4pin的
PWM pin
4. 连接3pin接线至主机版上的风扇接座。
请连接标准3pin即可,不需接第4pin的
PWM pin
(註:若接上主機板出現警告或錯誤訊
息,請參閱主機板說明書修改設
定。)
(注:若接上主机板出现警告或错误讯
息,请参阅主机板说明书修改设定。)
1. ネジを使用して1366プッシュピンクリップ
をV1/V1 AX(A)の底辺に固定。(図1)
2. 事前据付された位置に 1366 クリップ のファ
スナーキャップを保持します。(図2)
3. 組み立てられたヒートシンク( A+B )をマザー
ボードに置いて、「クリック」音を聞くま
でファスナキャップを押してください。 (図
3)
ヒント:均等な力で押すために、対角線上の
ファスナキャップを同時に押してくださ
い。
4. マザーボードのファンコネクタに3ピンワイ
ヤを接続する。標準の3ピンを接続して、
4番目のPWMピンを無視してください。
(マザーボード側のファンコネクタが4ピン
仕様の場合、エラー又はBeep音が発生する
場合があります。これはファン回転数を制
御する定義を無効にすれば改善されます。
詳細に関してはお手元のマザーボードのマ
ニュアルにてご参照ください。)
2. 1366 klipsinin başlık tutacağını montaj
öncesi hazır durumda tutun.(Şekil 2)
3. Birleştirilen ısı alıcıyı (A+B) ana kart
üzerine yerleştirin ve daha sonra,
tutturma mandallarını, "tıklama" sesini
duyuncaya kadar bastırın. İpucu: Bastırı
rken gücü eşit olarak dağıtmak için
tutturma mandallarını çapraz bir şekilde
itin. (Şekil 3)
4. 3 pimli kabloyu ana kartın fan
konektörüne bağlayın. Lütfen standart 3
pimi kullanın; dördüncü PWM pimini
dikkate almayın.
(Not: Ana kartta "hata" veya "uyarı" iletisi
görüntülenirse, lütfen ayarı değiştirmek
için ana kartın kılavuzuna bakın.)
© 2008 Thermaltake Technology Co., Ltd.
All Rights Reserved.
請查詢本公司網址 www.thermaltake.com, 可獲得更
多技術上與最新的相關資訊
O4679
REVISION A.2008
请查询本公司网址 www.thermaltake.com,可获得更
多技术上与最新的相关信息
技術サポートまたは更新の詳細については、当社の
サポートセクション www.thermaltake.com にアク
セスしてください
Для получения дополнительной технической
поддержки или обновления посетите раздел
поддержки на веб-сайте www.thermaltake.com.
Daha fazla teknik destek ve güncellemeler için
www.thermaltake.com sitesindeki Support
bölümünü ziyaret edin.

* Your assessment is very important for improving the work of artificial intelligence, which forms the content of this project