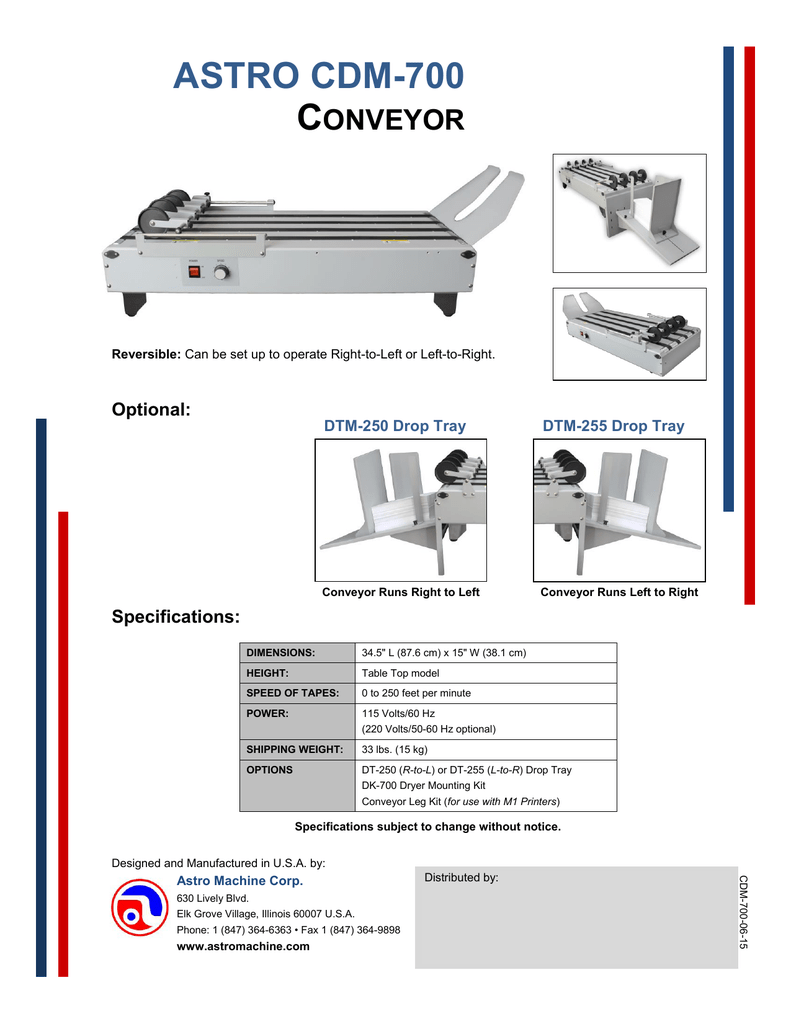 ASTRO CDM-700
CONVEYOR
Reversible: Can be set up to operate Right-to-Left or Left-to-Right.
Optional:
DTM-250 Drop Tray
DTM-255 Drop Tray
Conveyor Runs Right to Left
Conveyor Runs Left to Right
Specifications:
DIMENSIONS:
34.5" L (87.6 cm) x 15" W (38.1 cm)
HEIGHT:
Table Top model
SPEED OF TAPES:
0 to 250 feet per minute
POWER:
115 Volts/60 Hz
(220 Volts/50-60 Hz optional)
SHIPPING WEIGHT:
33 lbs. (15 kg)
OPTIONS
DT-250 (R-to-L) or DT-255 (L-to-R) Drop Tray
DK-700 Dryer Mounting Kit
Conveyor Leg Kit (for use with M1 Printers)
Specifications subject to change without notice.
Designed and Manufactured in U.S.A. by:
630 Lively Blvd.
Elk Grove Village, Illinois 60007 U.S.A.
Phone: 1 (847) 364-6363 • Fax 1 (847) 364-9898
www.astromachine.com
Distributed by:
CDM-700-06-15
Astro Machine Corp.

* Your assessment is very important for improving the work of artificial intelligence, which forms the content of this project