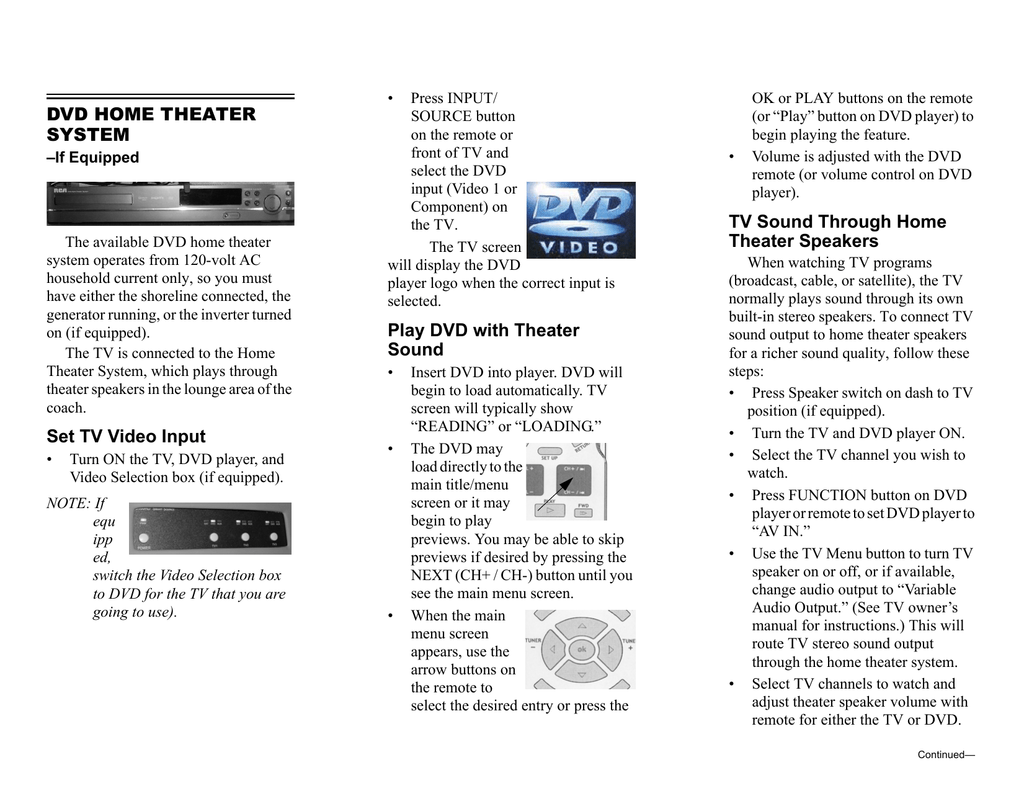 DVD HOME THEATER
SYSTEM
–If Equipped
The available DVD home theater
system operates from 120-volt AC
household current only, so you must
have either the shoreline connected, the
generator running, or the inverter turned
on (if equipped).
The TV is connected to the Home
Theater System, which plays through
theater speakers in the lounge area of the
coach.
Set TV Video Input
•
Turn ON the TV, DVD player, and
Video Selection box (if equipped).
NOTE: If
equ
ipp
ed,
switch the Video Selection box
to DVD for the TV that you are
going to use).
•
Press INPUT/
SOURCE button
on the remote or
front of TV and
select the DVD
input (Video 1 or
Component) on
the TV.
The TV screen
will display the DVD
player logo when the correct input is
selected.
Play DVD with Theater
Sound
•
•
•
Insert DVD into player. DVD will
begin to load automatically. TV
screen will typically show
"READING" or "LOADING."
The DVD may
load directly to the
main title/menu
screen or it may
begin to play
previews. You may be able to skip
previews if desired by pressing the
NEXT (CH+ / CH-) button until you
see the main menu screen.
When the main
menu screen
appears, use the
arrow buttons on
the remote to
select the desired entry or press the
•
OK or PLAY buttons on the remote
(or "Play" button on DVD player) to
begin playing the feature.
Volume is adjusted with the DVD
remote (or volume control on DVD
player).
TV Sound Through Home
Theater Speakers
When watching TV programs
(broadcast, cable, or satellite), the TV
normally plays sound through its own
built-in stereo speakers. To connect TV
sound output to home theater speakers
for a richer sound quality, follow these
steps:
• Press Speaker switch on dash to TV
position (if equipped).
• Turn the TV and DVD player ON.
• Select the TV channel you wish to
watch.
• Press FUNCTION button on DVD
player or remote to set DVD player to
"AV IN."
• Use the TV Menu button to turn TV
speaker on or off, or if available,
change audio output to "Variable
Audio Output." (See TV owner's
manual for instructions.) This will
route TV stereo sound output
through the home theater system.
• Select TV channels to watch and
adjust theater speaker volume with
remote for either the TV or DVD.
Continued—
Audio-Video System
Basic Operation
Guide
NOTE: Turn the volume level up
significantly on the DVD player
when using the home theater as
an amp for the TV through the
stereo system.
NOTE: See your InfoCase for specific
operating guides for audio and
video components.
Part No. 161501-10-010
Rev. 1003090831
Copyright 2009 Winnebago Industries, Inc.
All rights reserved.

* Your assessment is very important for improving the work of artificial intelligence, which forms the content of this project