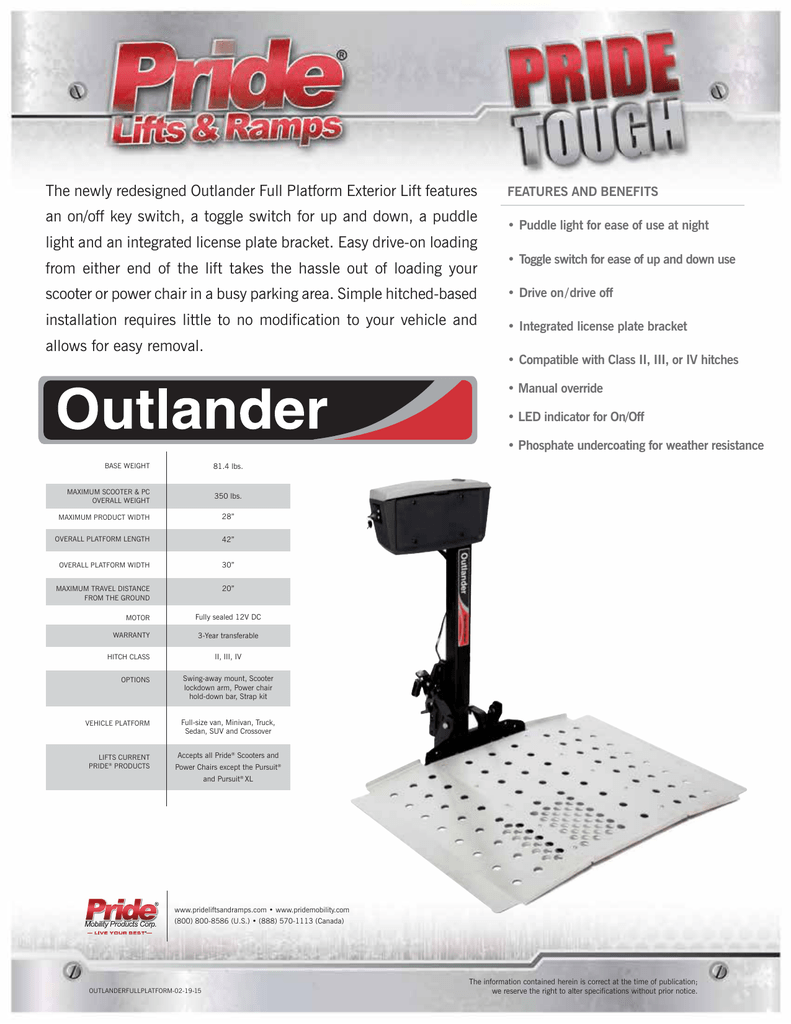 The newly redesigned Outlander Full Platform Exterior Lift features
an on/off key switch, a toggle switch for up and down, a puddle
light and an integrated license plate bracket. Easy drive-on loading
from either end of the lift takes the hassle out of loading your
FEATURES AND BENEFITS
•Puddle light for ease of use at night
•Toggle switch for ease of up and down use
scooter or power chair in a busy parking area. Simple hitched-based
•Drive on/drive off
installation requires little to no modification to your vehicle and
•Integrated license plate bracket
allows for easy removal.
•Compatible with Class II, III, or IV hitches
• Manual override
• LED indicator for On/Off
• Phosphate undercoating for weather resistance
BASE WEIGHT
81.4 lbs.
MAXIMUM SCOOTER & PC
OVERALL WEIGHT
350 lbs.
MAXIMUM PRODUCT WIDTH
28"
OVERALL PLATFORM LENGTH
42"
OVERALL PLATFORM WIDTH
30"
MAXIMUM TRAVEL DISTANCE
FROM THE GROUND
20"
MOTOR
WARRANTY
Fully sealed 12V DC
3-Year transferable
II, III, IV
HITCH CLASS
OPTIONS
Swing-away mount, Scooter
lockdown arm, Power chair
hold-down bar, Strap kit
VEHICLE PLATFORM
Full-size van, Minivan, Truck,
Sedan, SUV and Crossover
LIFTS CURRENT
PRIDE® PRODUCTS
Accepts all Pride® Scooters and
Power Chairs except the Pursuit®
and Pursuit® XL
www.prideliftsandramps.com • www.pridemobility.com
(800) 800-8586 (U.S.) • (888) 570-1113 (Canada)
OUTLANDERFULLPLATFORM-02-19-15
The information contained herein is correct at the time of publication;
we reserve the right to alter specifications without prior notice.

* Your assessment is very important for improving the work of artificial intelligence, which forms the content of this project