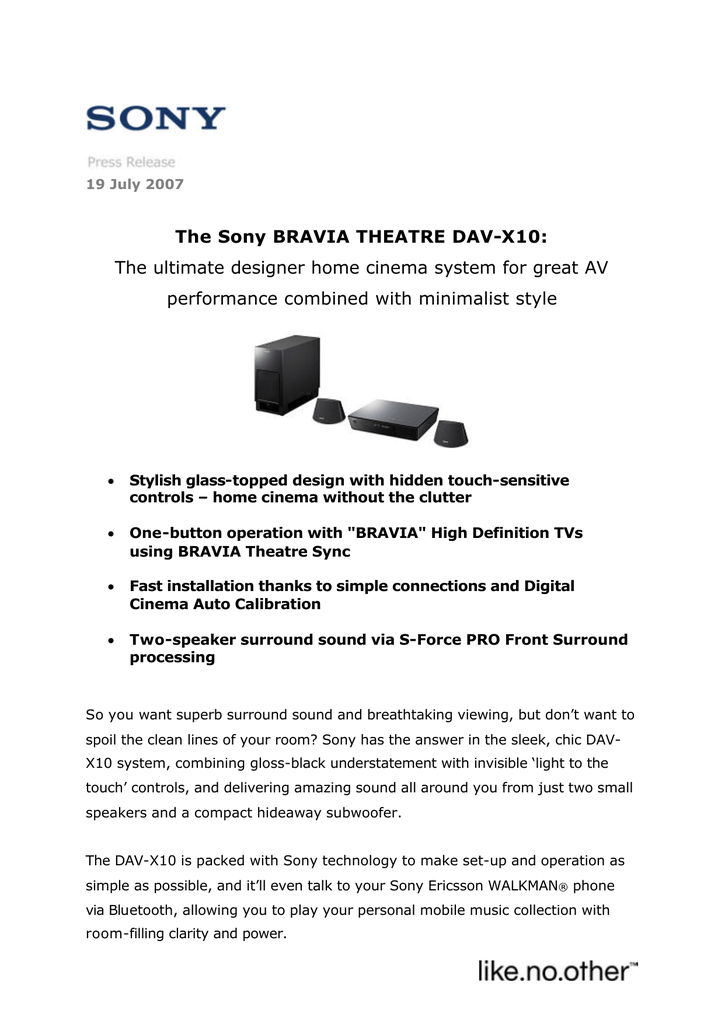 19 July 2007
The Sony BRAVIA THEATRE DAV-X10:
The ultimate designer home cinema system for great AV
performance combined with minimalist style
•
Stylish glass-topped design with hidden touch-sensitive
controls – home cinema without the clutter
•
One-button operation with "BRAVIA" High Definition TVs
using BRAVIA Theatre Sync
•
Fast installation thanks to simple connections and Digital
Cinema Auto Calibration
•
Two-speaker surround sound via S-Force PRO Front Surround
processing
So you want superb surround sound and breathtaking viewing, but don't want to
spoil the clean lines of your room? Sony has the answer in the sleek, chic DAVX10 system, combining gloss-black understatement with invisible 'light to the
touch' controls, and delivering amazing sound all around you from just two small
speakers and a compact hideaway subwoofer.
The DAV-X10 is packed with Sony technology to make set-up and operation as
simple as possible, and it'll even talk to your Sony Ericsson WALKMAN® phone
via Bluetooth, allowing you to play your personal mobile music collection with
room-filling clarity and power.
And if you think even the most stylish home theatre systems mean cables
snaking round the room to feed different speakers, the DAV-X10 has another
surprise in store: it delivers virtual surround sound from just two compact
speakers, thanks to Sony S-Force PRO Front Surround technology.
Cinema sound with style
Home cinema systems should deliver great sound without taking over the room,
but because the DAV-X10 is so desirable, it's likely to become a major talking
point. That's all to do with the sophisticated design of the main unit with its sleek
black contours and glass top panel containing hidden controls.
Touch the system and the control buttons light up, allowing you to operate the
system's functions; and when you've finished, they fade down again, leaving a
pure, uncomplicated design you'll be proud to put on show.
Add in the appeal of the small main speakers and subwoofer, plus the magic of
surround sound without needing speakers all around the room, and you have a
system for the truly design-conscious, without any compromise on performance.
Advanced communications via BRAVIA Theatre Sync and HDMI for
simpler operation – and better picture quality
Use the DAV-X10 with Sony "BRAVIA" High Definition screens, and its BRAVIA
Theatre Sync technology will give true one-button operation of your entire
system. Press play on the DAV-X10 remote control and the TV will switch on and
select the correct input; press off on the remote and the complete system will
shut down too.
It's all done via the HDMI cable linking the system with your Sony "BRAVIA" TV.
This connection also provides top-quality pictures via upscaling, providing superb
definition from standard DVD discs. With the DAV-X10 and a Sony "BRAVIA" High
Definition TV, you'll see – and hear – your DVD collection as never before.
Sony Digital Media Port (DMPORT) – the connection for WALKMAN music
phones, portable music players, and your computer
The DAV-X10 is also equipped with an input for the Sony DMPORT, a modular
connector to which a number of external interfaces can be attached to receive
your portable music or wireless signals. Supplied with the system is a DMPORT
adapter for wireless Bluetooth communications (the TDM-BT1), enabling the
system to receive music from various Bluetooth devices: now you can share your
personal music collection with all your friends and family via the DAV-X10.
The system also works with MP3 players such as the Sony Network WALKMAN
and even music stored on your VAIO computer can be streamed over a wireless
home network, thanks to a range of optional DMPORT adapters.
The system additionally has a Portable Audio Enhancer, which applies
sophisticated digital signal processing to expand the sound of compressed music
files.
Digital Cinema Auto Calibration – fast, perfect set-up at the push of a
button
The idea of a 'home cinema in a box system' is that it should be easy to buy, setup and use, and the DAV-X10 takes this convenience to new levels: one cable
connects it to the mains power and another to your TV, and after that it's just a
matter of a lead to each speaker and you're ready to play.
Next, plug in the supplied microphone, place it where you would normally sit and
at the push of a button, the system sets itself up. It's all done with Sony Digital
Cinema Auto Calibration, which checks the positions of the speakers in your
room and sets the optimum surround parameters for convincing music and
movies. That all happens in 30 seconds, and the whole process of setting up the
system can be done in under three minutes, leaving you to sit back and enjoy a
whole world of entertainment.
The Sony DAV-X10 is available from September.
ENDS
Sony DAV-X10 at a glance
•
Slim line gloss black control unit with glass top, which plays DVD+R/RW, DVD-R/RW,
SACD, Video CD, DivX and MP3
•
Touch-sensitive top-panel controls light up when used, then vanish again to maintain clean
lines
•
BRAVIA Theatre Sync for one-button operation of complete systems
•
Simple connections for three-minute set-up
•
Digital Cinema Auto Calibration for fast, perfect 'one-touch' system tuning in just 30
seconds
•
480W total power: 4x80W plus 2x80W for subwoofer, using efficient, high-quality 32-bit SMaster digital amp lification
•
Ultra-compact main speakers and hideaway subwoofer, with Sony S-Force PRO Front
Surround for multichannel surround without cable clutter
•
Video upscaler to 720p/1080i for top picture quality on high-definition TVs via HDMI
•
Analogue audio plus optical/coaxial digital inputs for external sources
•
30-preset FM/AM radio tuner
•
Dolby Digital/Pro-Logic II and DTS decoding
•
Sony Digital Media Port to connect to external sources. Bluetooth as standard, with
Network WALKMAN, iPod and home Wi-Fi network adapters available, plus Portable Audio
Enhancer to make the most of compressed music
About Sony:
Sony manufactures audio, video, communications and information technology products for the global consumer
and professional markets. With its music, pictures, game and online businesses, Sony is uniquely positioned to
be one of the world's leading digital entertainment brands. Sony recorded consolidated global annual sales of
EUR 55.83 billion (yen 8,296 billion) for the fiscal year ended March 31, 2007, b ased on an average market
exchange rate for the same period of yen 148.6 to the EUR. It employs approximately 163,000 people
worldwide.
In Europe, the Sony Group recorded consolidated annual sales of EUR 13.71 billion (yen 2,038 billion) for the
fiscal year ended March 31, 2007. Sony Europe, headquartered at the Sony Center am Potsdamer Platz in
Berlin, is responsible for the company's European electronics business and registered consolidated sales of EUR
9.12 billion for the same period.
For more information on Sony Europe, please visit http://www.sony-europe.com and http://www.sonyeurope.com/presscenter.
WALKMAN is a registered trademark of Sony Corporation.