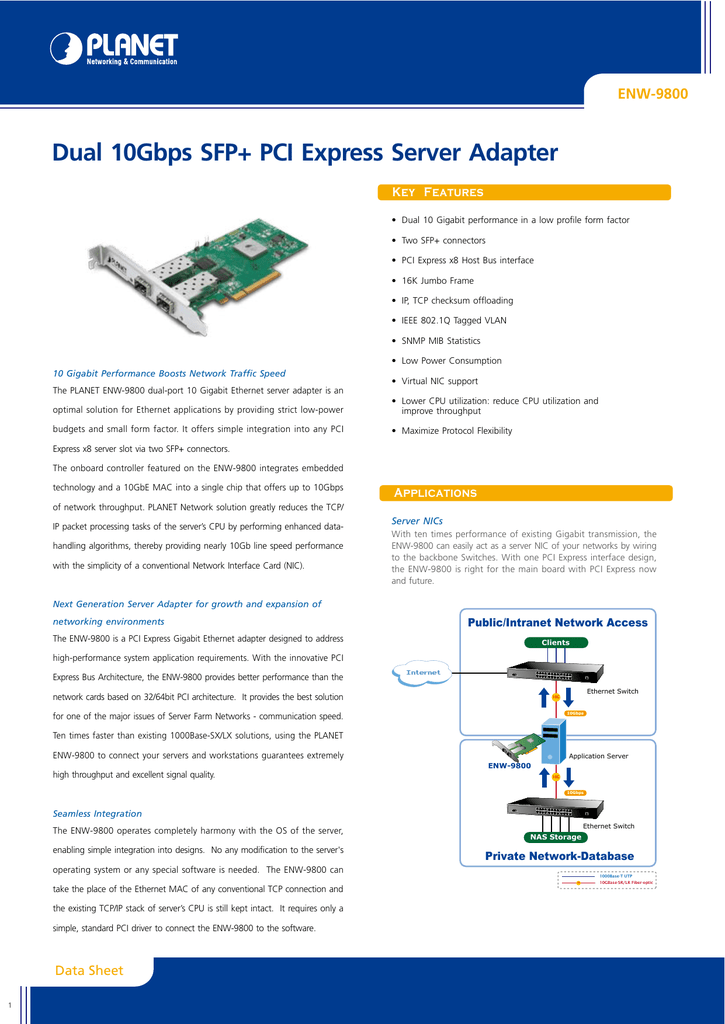 ENW-9800
Dual 10Gbps SFP+ PCI Express Server Adapter
Key Features
•• Dual 10 Gigabit performance in a low profile form factor
•• Two SFP+ connectors
•• PCI Express x8 Host Bus interface
•• 16K Jumbo Frame
•• IP, TCP checksum offloading
•• IEEE 802.1Q Tagged VLAN
•• SNMP MIB Statistics
•• Low Power Consumption
10 Gigabit Performance Boosts Network Traffic Speed
The PLANET ENW-9800 dual-port 10 Gigabit Ethernet server adapter is an
•• Virtual NIC support
optimal solution for Ethernet applications by providing strict low-power
•• Lower CPU utilization: reduce CPU utilization and
improve throughput
budgets and small form factor. It offers simple integration into any PCI
•• Maximize Protocol Flexibility
Express x8 server slot via two SFP+ connectors.
The onboard controller featured on the ENW-9800 integrates embedded
technology and a 10GbE MAC into a single chip that offers up to 10Gbps
Applications
of network throughput. PLANET Network solution greatly reduces the TCP/
IP packet processing tasks of the server's CPU by performing enhanced datahandling algorithms, thereby providing nearly 10Gb line speed performance
with the simplicity of a conventional Network Interface Card (NIC).
Server NICs
With ten times performance of existing Gigabit transmission, the
ENW-9800 can easily act as a server NIC of your networks by wiring
to the backbone Switches. With one PCI Express interface design,
the ENW-9800 is right for the main board with PCI Express now
and future.
Next Generation Server Adapter for growth and expansion of
Public/Intranet Network Access
networking environments
The ENW-9800 is a PCI Express Gigabit Ethernet adapter designed to address
Clients
high-performance system application requirements. With the innovative PCI
Express Bus Architecture, the ENW-9800 provides better performance than the
Internet
Ethernet Switch
network cards based on 32/64bit PCI architecture. It provides the best solution
10G
10Gbps
for one of the major issues of Server Farm Networks - communication speed.
Ten times faster than existing 1000Base-SX/LX solutions, using the PLANET
ENW-9800 to connect your servers and workstations guarantees extremely
high throughput and excellent signal quality.
Application Server
ENW-9800
10G
10Gbps
Seamless Integration
The ENW-9800 operates completely harmony with the OS of the server,
enabling simple integration into designs. No any modification to the server's
Ethernet Switch
NAS Storage
Private Network-Database
operating system or any special software is needed. The ENW-9800 can
take the place of the Ethernet MAC of any conventional TCP connection and
the existing TCP/IP stack of server's CPU is still kept intact. It requires only a
simple, standard PCI driver to connect the ENW-9800 to the software.
Data Sheet
1
1000Base-T UTP
10G
10GBase-SR/LR Fiber-optic
ENW-9800
Specification
Product
Dual 10Gbps SFP+ PCI Express Server Adapter
Model
Hardware Specification
ENW-9800
PCI Express Host Bus Interface, 8 lanes
PCI Express Rev 1.1a
2 SFP+ connectors (SFF-8431)
LRM, LR, SR
SFP+
3Mb internal memory
9K / 16KBytes
Link / Active per port
10W
147 x 63.5 mm (Low Profile)
Attachment Interface
Media Interface
Optical Module Options
Cabling Options
Memory
Jumbo Frame
LED Indicators
Typical Power Dissipation
Dimension ( W x D)
Advanced Function
•
•
•
•
•
•
•
•
•
•
•
•
•
•
•
•
•
•
Layer 2 Features
Performance Enhancements
NOS Support
Standards Conformance
Regulation Compliance
IEEE 802.3x flow control support
IEEE 802.1q VLAN support
Multicast
Microsoft Scalable Networking
Receive-side scaling (RSS)
Reduced host bus traffic
Optimization for multiple CPUs
IP acceleration
Widely used network protocol
IP, TCP and UDP checksum offloading
Large Send (up to 64 KB)
IPv4, IPv6
Windows Server 2003, Windows Server 2008
Windows XP, Windows Vista™
Linux 2.4, Linux 2.6, Linux 64-bit
VMware® ESX 3.5
Multiple queues management
Windows Management Interface (WMI)
FCC
IEEE
IEEE
IEEE
Standards Compliance
Part 15 Class A, CE
802.3ae
10Gb/s Ethernet
802.3x
Flow Control and Back pressure
802.1Q
VLAN Tagging
Environment
Temperature:
Relative Humidity:
Temperature:
Relative Humidity:
Operating
Storage
0 ~ 65 Degree C
5 ~ 95% (non-condensing)
-40 ~ 85 Degree C
5 ~ 95% (non-condensing)
Ordering Information
ENW-9800
Dual 10Gbps SFP+ PCI Express Server Adapter
Related Products
MTB-SR
MTB-LR
Data Sheet
2
SFP+ Port 10GBase-SR mini-GBIC Module (Multi-mode / 850nm / max. 300m)
SFP+ Port 10GBase-LR mini-GBIC module (Single mode / 1310nm / max. 10km)
PLANET Technology Corporation
11F, No. 96, Min Chuan Road, Hsin Tien, Taipei, Taiwan, R.O.C.
Tel: 886-2-2219-9518 Fax: 886-2-2219-9528
Email: sales@planet.com.tw www.planet.com.tw
VoIP Gateway: vip.planet.com.tw
06-09
C-EPW9800
PLANET reserves the right to change specifications without prior notice. All brand names and trademarks are property of
their respective owners. Copyright © 2009 PLANET Technology Corp. All rights reserved.

* Your assessment is very important for improving the work of artificial intelligence, which forms the content of this project