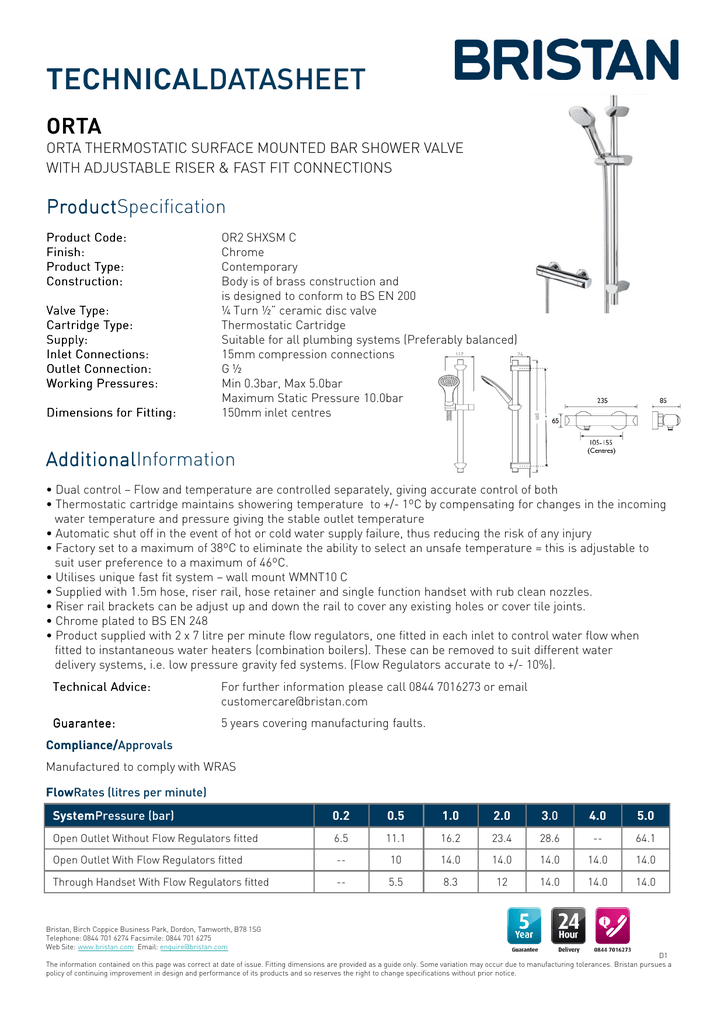 TECHNICALDATASHEET
TECHNICAL
ORTA
ORTA THERMOSTATIC SURFACE MOUNTED BAR SHOWER VALVE
WITH ADJUSTABLE RISER & FAST FIT CONNECTIONS
ProductSpecification
Product
Product Code:
Finish:
Product Type:
Construction:
Valve Type:
Cartridge Type:
Supply:
Inlet Connections:
Outlet Connection:
Working Pressures:
Dimensions for Fitting:
OR2 SHXSM C
Chrome
Contemporary
Body is of brass construction and
is designed to conform to BS EN 200
¼ Turn ½" ceramic disc valve
Thermostatic Cartridge
Suitable for all plumbing systems (Preferably balanced)
15mm compression connections
G½
Min 0.3bar, Max 5.0bar
Maximum Static Pressure 10.0bar
150mm inlet centres
AdditionalInformation
Additional
• Dual control – Flow and temperature are controlled separately, giving accurate control of both
• Thermostatic cartridge maintains showering temperature to +/- 1ºC by compensating for changes in the incoming
water temperature and pressure giving the stable outlet temperature
• Automatic shut off in the event of hot or cold water supply failure, thus reducing the risk of any injury
• Factory set to a maximum of 38ºC to eliminate the ability to select an unsafe temperature = this is adjustable to
suit user preference to a maximum of 46ºC.
• Utilises unique fast fit system – wall mount WMNT10 C
• Supplied with 1.5m hose, riser rail, hose retainer and single function handset with rub clean nozzles.
• Riser rail brackets can be adjust up and down the rail to cover any existing holes or cover tile joints.
• Chrome plated to BS EN 248
• Product supplied with 2 x 7 litre per minute flow regulators, one fitted in each inlet to control water flow when
fitted to instantaneous water heaters (combination boilers). These can be removed to suit different water
delivery systems, i.e. low pressure gravity fed systems. (Flow Regulators accurate to +/- 10%).
Technical Advice:
For further information please call 0844 7016273 or email
customercare@bristan.com
Guarantee:
5 years covering manufacturing faults.
Compliance/Approvals
Compliance/
Manufactured to comply with WRAS
FlowRates
(litres per minute)
Flow
SystemPressure
(bar)
System
0.2
0.5
1.0
2.0
3.0
4.0
5.0
Open Outlet Without Flow Regulators fitted
6.5
11.1
16.2
23.4
28.6
--
64.1
Open Outlet With Flow Regulators fitted
--
10
14.0
14.0
14.0
14.0
14.0
Through Handset With Flow Regulators fitted
--
5.5
8.3
12
14.0
14.0
14.0
Bristan, Birch Coppice Business Park, Dordon, Tamworth, B78 1SG
Telephone: 0844 701 6274 Facsimile: 0844 701 6275
Web Site: www.bristan.com Email: enquire@bristan.com
D1
The information contained on this page was correct at date of issue. Fitting dimensions are provided as a guide only. Some variation may occur due to manufacturing tolerances. Bristan pursues a
policy of continuing improvement in design and performance of its products and so reserves the right to change specifications without prior notice.

* Your assessment is very important for improving the work of artificial intelligence, which forms the content of this project