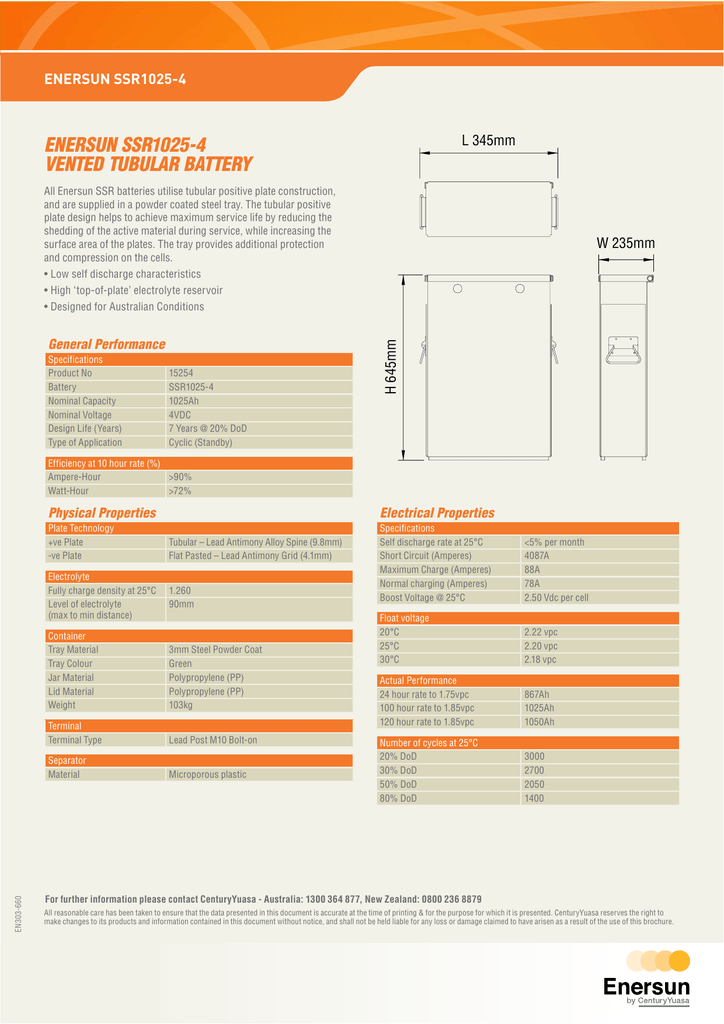 ;D;HIKDIIH'&(+#*
L 345mm
ENERSUN SSR1025-4
VENTED TUBULAR BATTERY
All Enersun SSR batteries utilise tubular positive plate construction,
and are supplied in a powder coated steel tray. The tubular positive
plate design helps to achieve maximum service life by reducing the
shedding of the active material during service, while increasing the
surface area of the plates. The tray provides additional protection
and compression on the cells.
t-PXTFMGEJTDIBSHFDIBSBDUFSJTUJDT
t)JHIAUPQPGQMBUFFMFDUSPMZUFSFTFSWPJS
t%FTJHOFEGPS"VTUSBMJBO$POEJUJPOT
Specifications
Product No
Battery
Nominal Capacity
Nominal Voltage
Design Life (Years)
Type of Application
15254
SSR1025-4
1025Ah
4VDC
7 Years @ 20% DoD
Cyclic (Standby)
H 645mm
General Performance
W 235mm
Efficiency at 10 hour rate (%)
Ampere-Hour
>90%
Watt-Hour
>72%
Physical Properties
Plate Technology
+ve Plate
-ve Plate
Electrolyte
Fully charge density at 25°C
Level of electrolyte
(max to min distance)
Tubular – Lead Antimony Alloy Spine (9.8mm)
Flat Pasted – Lead Antimony Grid (4.1mm)
1.260
90mm
Container
Tray Material
Tray Colour
Jar Material
Lid Material
Weight
3mm Steel Powder Coat
Green
Polypropylene (PP)
Polypropylene (PP)
103kg
Terminal
Terminal Type
Lead Post M10 Bolt-on
Separator
Material
EN303-660
Electrical Properties
Microporous plastic
Specifications
Self discharge rate at 25°C
Short Circuit (Amperes)
Maximum Charge (Amperes)
Normal charging (Amperes)
Boost Voltage @ 25°C
<5% per month
4087A
88A
78A
2.50 Vdc per cell
Float voltage
20°C
25°C
30°C
2.22 vpc
2.20 vpc
2.18 vpc
Actual Performance
24 hour rate to 1.75vpc
100 hour rate to 1.85vpc
120 hour rate to 1.85vpc
867Ah
1025Ah
1050Ah
Number of cycles at 25°C
20% DoD
30% DoD
50% DoD
80% DoD
3000
2700
2050
1400
For further information please contact CenturyYuasa - Australia: 1300 364 877, New Zealand: 0800 236 8879
All reasonable care has been taken to ensure that the data presented in this document is accurate at the time of printing & for the purpose for which it is presented. CenturyYuasa reserves the right to
make changes to its products and information contained in this document without notice, and shall not be held liable for any loss or damage claimed to have arisen as a result of the use of this brochure.

* Your assessment is very important for improving the work of artificial intelligence, which forms the content of this project