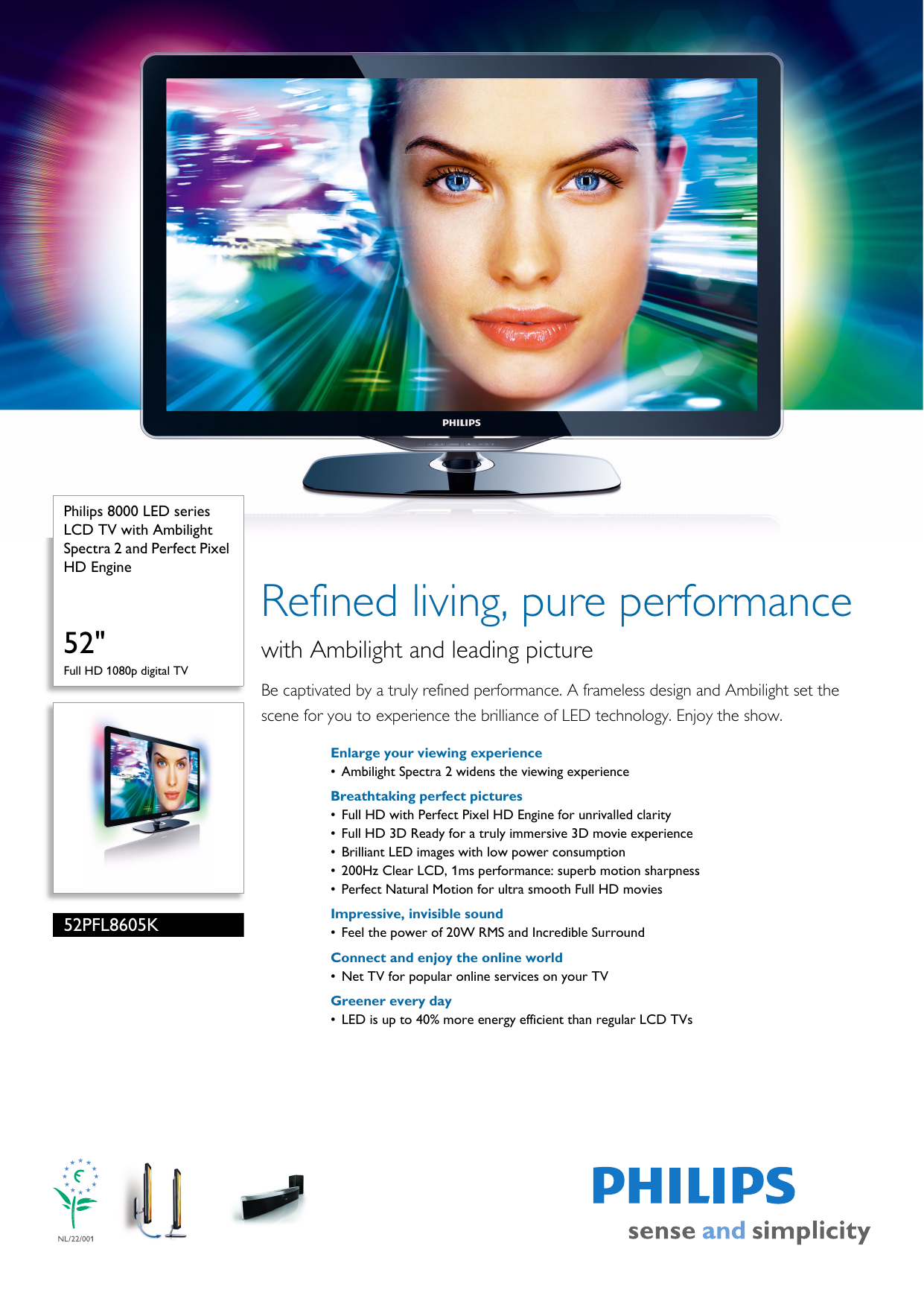 Philips 8000 LED series
LCD TV with Ambilight
Spectra 2 and Perfect Pixel
HD Engine
52"
Refined living, pure performance
with Ambilight and leading picture
Full HD 1080p digital TV
Be captivated by a truly refined performance. A frameless design and Ambilight set the
scene for you to experience the brilliance of LED technology. Enjoy the show.
Enlarge your viewing experience
• Ambilight Spectra 2 widens the viewing experience
Breathtaking perfect pictures
• Full HD with Perfect Pixel HD Engine for unrivalled clarity
• Full HD 3D Ready for a truly immersive 3D movie experience
• Brilliant LED images with low power consumption
• 200Hz Clear LCD, 1ms performance: superb motion sharpness
• Perfect Natural Motion for ultra smooth Full HD movies
52PFL8605K
Impressive, invisible sound
• Feel the power of 20W RMS and Incredible Surround
Connect and enjoy the online world
• Net TV for popular online services on your TV
Greener every day
• LED is up to 40% more energy efficient than regular LCD TVs
LCD TV with Ambilight Spectra 2 and Perfect Pixel HD Engine
52PFL8605K/02
52" Full HD 1080p digital TV
Highlights
Ambilight Spectra 2
Add a new dimension to your viewing
experience with Ambilight Spectra 2. This
patented Philips technology enlarges the
screen by projecting a glow of light, on the 2
sides of the TV, from the back of the screen
onto the surrounding wall. Ambilight adjusts
automatically the colour and brightness of the
light to match the picture, creating an
immersive viewing experience. The wall
adaptive function ensures that the color of the
light always matches the picture, no matter
what the color of your wall. With Ambilight
Spectra 2 movies truly come to life!
Perfect Pixel HD Engine
Experience unrivalled sharpness and clarity
with Perfect Pixel HD Engine. Each pixel of the
picture is enhanced to better match the
surrounding pixels, for a more natural picture.
The result is a unique combination of
sharpness, natural detail, vivid colors, superior
contrast and smooth natural motion whatever
you are watching. Clean and razor sharp
images result from artifact and noise detection
and reduction in all content sources - from
multimedia to standard TV. The Full HD
screen with 1920 x 1080p pixels produces
brilliant flicker-free progressive scan pictures
with superb brightness.
3D uses the latest generation of fast switching
displays for real life depth and realism in full
1080x1920 HD resolution. Premium 3D movie
releases on BluRay and upcoming 3D
broadcast offers a wide and high quality
content selection. Your TV is ready for the Full
HD 3D experience by adding a 3D compatible
BluRay player or HD receiver, and the
accessory 3D upgrade kit (Philips PTA02). For
family enjoyment with more than 2 viewers
add as many 3D glasses as you wish (extension
kit PTA03).
LED
LED lighting technology is the most advanced
available. In this TV it combines an eyecatching
minimalistic design with stunning image quality
and on top the lowest power consumption in
its category. An other environmental benefit is
that LED lighting technology does not contain
hazardous materials. With LED backlight you
can enjoy low power consumption, high
brightness, incredible contrast and sharpness
and vibrant colors.
2-in-1 Stand
This TV comes with a table
top stand that can also be
use to wall-mount your
television. There is no
need to buy additional
wall-mount brackets. The stand is also
designed to ensure that your TV is always
level when wall-mounted. A simple touch
of your hand will perfectly level the TV!
Net TV
Full HD 3D Ready
Be enthralled by 3D movies in your own living
room with the Full HD 3D ready TV. Active
gives you access to popular Net TV services
fitted for your TV screen. Additionally, with
the DLNA certified PC network you can watch
videos or access pictures stored on your
computer using your remote control.
Experience a rich selection of online services
with Net TV. Enjoy movies, pictures,
infotainment and other online content directly
on your TV whenever you like. Simply connect
your home theater directly to your home
network through the ethernet connection, and
navigate and select what you want to watch
with the remote control. The Philips menu
Matching home theatre experience
Intensify your cinematic viewing
experience further with the matching
Philips Soundbar (HTS9140). You now
only need one remote control to operate
both devices. Using Philips easylink via
HDMI connection, you are also ensured
that you have the best picture and sound
performance from the complete
combination. Enquire more about this
unique combination today!
52PFL8605K/02
LCD TV with Ambilight Spectra 2 and Perfect Pixel HD Engine
52" Full HD 1080p digital TV
Specifications
Picture/Display
Electronic Program Guide*
• Screen Format Adjustments: Autofill (no black
bars), Autozoom (original format, includes 4:3,
14:9, 21:9), Super Zoom, Movie expand 16:9,
Widescreen, unscaled (1080p dot by dot)
• Teletext: 1200 page Hypertext
• Firmware upgradeable: Firmware auto upgrade
wizard, Firmware upgradeable via USB, Online
firmware upgrade
• Multimedia: DLNA media Browser, Net TV
services, USB media browser
•
•
•
•
•
•
•
•
•
•
Peak Luminance ratio: 65 %
Aspect ratio: Widescreen
Brightness: 450 cd/m²
Dynamic screen contrast: 500000:1
Response time (typical): 1 (BEW) ms
Viewing angle: 176º (H) / 176º (V)
Diagonal screen size: 52 inch / 132 cm
Display: LCD Full HD, edge LED backlight
Panel resolution: 1920x1080p
Picture enhancement: Perfect Pixel HD Engine,
Perfect Natural Motion, Perfect Contrast, Perfect
Colors, Active Control + Light sensor, 2D/3D
noise reduction, 200Hz Clear LCD, Super
Resolution, 3D TV prepared*, 1 ms, 200 Hz
• Screen enhancement: Anti-Reflection coated
screen
• Color processing: 2250 trillion colors 17bit RGB
• 3D: 3D Ready
Multimedia Applications
Ambilight
• Ambilight Version: 2 sided
• Ambilight Features: Ambilight Spectra 2, Lounge
light mode in stand-by, 'Sunset' soft switch off, Wall
colour adaptive
• Dimming Function: Manual and via Light Sensor
• Ambilight light system: LED wide color
Supported Display Resolution
• Computer inputs: up to 1920x1080 @ 60Hz
• Video inputs: up to 1920x1080p, 24, 25, 30, 50, 60
Hz
Sound
• Output power (RMS): 2 x 10W, Invisible Sound
• Sound Enhancement: Auto Volume Leveller,
Dynamic Bass Enhancement, Incredible Surround,
Treble and Bass Control, Clear Sound
Convenience
• Ease of Installation: Channel installation wizard,
Network installation wizard, Settings assistant
wizard, Device connection wizard, Auto detect
Philips devices, 2-in-1 Wallmount Stand
• Ease of Use: Onscreen Usermanual, Touch control
buttons, Favorite program selection, Mozaïc
channel grid, One-stop experience button, Onestop Home button
• Electronic Program Guide: Now + Next EPG, 8day
Ethernet, Wi-Fi ready
Power
•
•
•
•
•
•
•
Off mode power consumption: < 0.01 W
Green label: ECO label certified
Presence of lead: Yes*
Ambient temperature: 5 °C to 35 °C
Mains power: 220 - 240V, 50/60Hz
Standby power consumption: <0.15 W
Power Saving Features: 0 Watt Power-off switch,
Light sensor, Eco mode, Picture mute (for radio),
Auto switch-off timer, Eco settings menu
Dimensions
• Picture Playback Formats: JPEG
• Music Playback Formats: MP3, WMA (v2 up to
v9.2), AAC
• Video Playback Formats: Codec support:, H264/
MPEG-4 AVC, MPEG-1, MPEG-2, MPEG-4,
WMV9/VC1, Containers: AVI, MKV
• Net TV: Included
•
•
•
•
•
•
Tuner/Reception/Transmission
Accessories
• Aerial Input: 75 ohm coaxial (IEC75)
• Video Playback: NTSC, SECAM, PAL
• DVB: DVB Terrestrial *, DVB-T MPEG4*, DVB-C
MPEG4*, DVB-S2 MPEG4 HD, MHEG, DVB-S
HD+ support (Astra)
• Tuner bands: Hyperband, S-Channel, UHF, VHF
Connectivity
•
•
•
•
•
•
•
•
•
•
•
•
•
•
Set dimensions (W x H x D): 1245 x 757 x 51 mm
Set dimensions with stand (H x D): 802 x 268 mm
Product weight: 33 kg
Product weight (+stand): 36 kg
Color cabinet: Seamless front glass
VESA wall mount compatible: 400 x 400 mm
• Included accessories: Power cord, Quick start
guide, Warranty certificate, Remote Control,
Batteries for remote control, Legal and safety
brochure, Net TV brochure
• Optional accessories: Wireless USB adaptor
(PTA01), 3D TV extention kit (PTA03), 3D TV
starter kit (PTA02)
•
Ext 1 Scart: Audio L/R, CVBS in, RGB
Ext 2 Scart: Audio L/R, CVBS in, RGB
Ext 3: YPbPr, Audio L/R in
VGA-in: PC input, D-sub 15
HDMI 1: HDMI v1.4 (Audio Return Ch.)
HDMI 2: HDMI v1.3
HDMI 3: HDMI v1.3
HDMI Side: HDMI v1.3
Front / Side connections: USB, Common Interface
Slot (CI-CI+), SD-card (Videostore)
Other connections: Headphone out, S/PDIF out
(coaxial), Ethernet-LAN RJ-45, 3D TV connector
HDMI features: Audio Return Channel, Instaport
fast HDMI switching
EasyLink (HDMI-CEC): One touch play, EasyLink,
Pixel Plus link, Remote control pass-through,
System audio control, System standby
PC network link: DLNA 1.5 certified
Summary: 4x HDMI, 1x USB, 2x SCART, 1x
BACK CONNECTORS
SIDE CONNECTORS
NETWORK
SATELLITE ANTENNA
VGA
DVI HDMI
AUDIO IN
SERVICE
UART
SD CARD
BOTTOM CONNECTORS
DIGITAL
AUDIO OUT
3
2
1
ARC
3D
OUT
ANTENNA
VGA
SIDE
Issue date 2010-08-26
© 2010 Koninklijke Philips Electronics N.V.
All Rights reserved.
Version: 6.1.6
Specifications are subject to change without notice.
Trademarks are the property of Koninklijke Philips
Electronics N.V. or their respective owners.
12 NC: 8670 000 59594
EAN: 87 12581 52296 4
www.philips.com
* 8 days EPG, service not available in all countries
* Typical on-mode power consumption measured according to
IEC62087 Ed 2.
* Net TV: Visit www.philips.com/tv to discover the services offering in
your country.
* Annual energy consumption is calculated using the typical power
consumption 4 hours per day, 365 days per year.
* The TV supports DVB reception for 'Free to air' broadcast. Specific
DVB operators may not be supported. An up to date list can be
found in the FAQ section of the Philips support website. For some
operators Conditional Access and subscripction are required.
Contact your operator for more information.
* This television contains lead only in certain parts or components
where no technology alternatives exist in accordance with existing
exemption clauses under the RoHS Directive.
* 3D TV requires Accessory PTA02 (Active shutter glasses and
transmitter, a 3D compatible source device, and 3D source material.