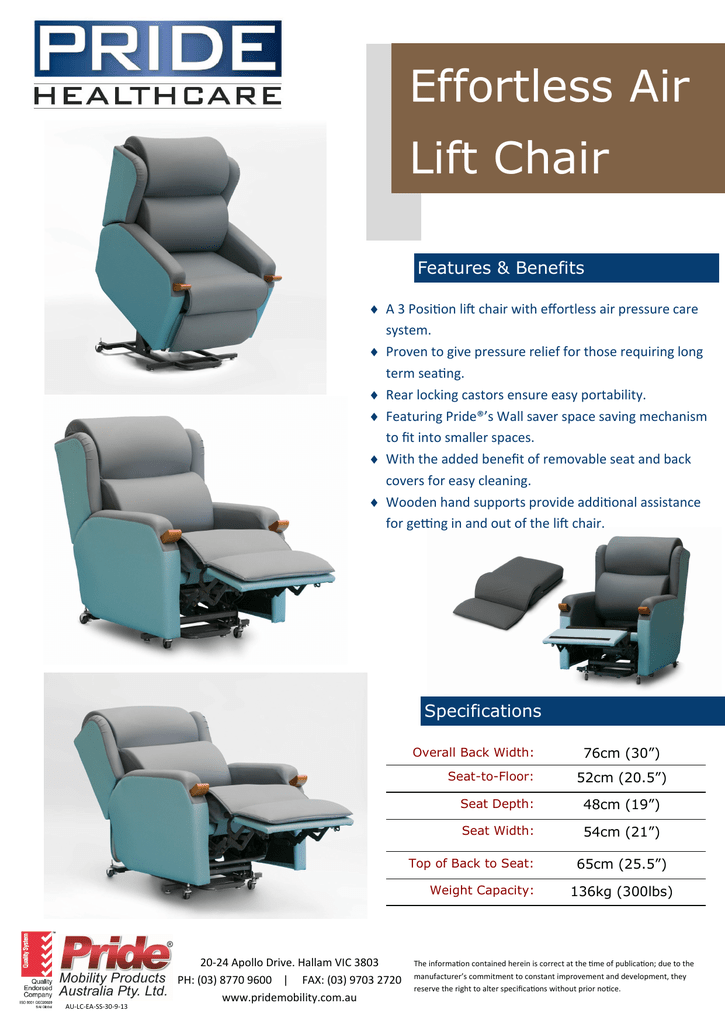 Effortless Air
Lift Chair
Features & Benefits
 A 3 Position lift chair with effortless air pressure care
system.
 Proven to give pressure relief for those requiring long
term seating.
 Rear locking castors ensure easy portability.
 Featuring Pride®'s Wall saver space saving mechanism
to fit into smaller spaces.
 With the added benefit of removable seat and back
covers for easy cleaning.
 Wooden hand supports provide additional assistance
for getting in and out of the lift chair.
Specifications
Overall Back Width:
Seat-to-Floor:
48cm (19")
Seat Width:
54cm (21")
Weight Capacity:
AU-LC-EA-SS-30-9-13
52cm (20.5")
Seat Depth:
Top of Back to Seat:
20-24 Apollo Drive. Hallam VIC 3803
PH: (03) 8770 9600 | FAX: (03) 9703 2720
www.pridemobility.com.au
76cm (30")
65cm (25.5")
136kg (300lbs)
The information contained herein is correct at the time of publication; due to the
manufacturer's commitment to constant improvement and development, they
reserve the right to alter specifications without prior notice.

* Your assessment is very important for improving the work of artificial intelligence, which forms the content of this project