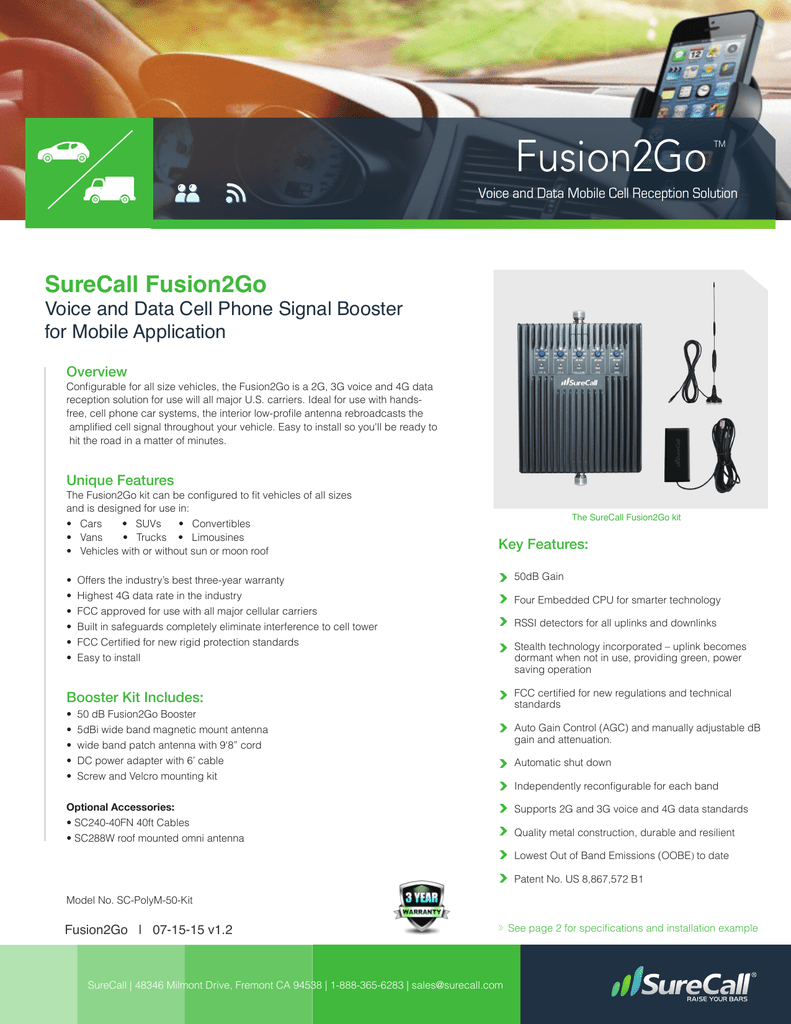 Fusion2Go
TM
Voice and Data Mobile Cell Reception Solution
SureCall Fusion2Go
Voice and Data Cell Phone Signal Booster
for Mobile Application
Overview
Configurable for all size vehicles, the Fusion2Go is a 2G, 3G voice and 4G data
reception solution for use will all major U.S. carriers. Ideal for use with handsfree, cell phone car systems, the interior low-profile antenna rebroadcasts the
amplified cell signal throughout your vehicle. Easy to install so you'll be ready to
hit the road in a matter of minutes.
Unique Features
The Fusion2Go kit can be configured to fit vehicles of all sizes
and is designed for use in:
• Cars
• SUVs
• Convertibles
• Vans
• Trucks • Limousines
• Vehicles with or without sun or moon roof
•
•
•
•
•
•
The SureCall Fusion2Go kit
Key Features:
50dB Gain
Offers the industry's best three-year warranty
Highest 4G data rate in the industry
FCC approved for use with all major cellular carriers
Built in safeguards completely eliminate interference to cell tower
FCC Certified for new rigid protection standards
Easy to install
Four Embedded CPU for smarter technology
RSSI detectors for all uplinks and downlinks
Stealth technology incorporated – uplink becomes
dormant when not in use, providing green, power
saving operation
FCC certified for new regulations and technical
standards
Booster Kit Includes:
•
•
•
•
•
50 dB Fusion2Go Booster
5dBi wide band magnetic mount antenna
wide band patch antenna with 9'8" cord
DC power adapter with 6' cable
Screw and Velcro mounting kit
Auto Gain Control (AGC) and manually adjustable dB
gain and attenuation.
Automatic shut down
Independently reconfigurable for each band
Optional Accessories:
• SC240-40FN 40ft Cables
• SC288W roof mounted omni antenna
Supports 2G and 3G voice and 4G data standards
Quality metal construction, durable and resilient
Lowest Out of Band Emissions (OOBE) to date
Patent No. US 8,867,572 B1
Model No. SC-PolyM-50-Kit
Fusion2Go | 07-15-15 v1.2
》See page 2 for specifications and installation example
SureCall | 48346 Milmont Drive, Fremont CA 94538 | 1-888-365-6283 | [email protected]
Fusion2Go
TM
2G-3G-4G Mobile Cell Reception Solution
Specification
Model No.
Fusion2Go
Uplink Frequency Range (MHz):
698-716 / 776 – 787 / 824-849 / 1850-1915 / 1710-1755
(G Block Included)
Downlink Frequency Range (MHz):
728-746 / 746 – 757 / 869-894 / 1930-1995 / 2110-2155
(G Block Included)
Supported Standards:
CDMA, WCDMA, GSM, EDGE, HSPA+, EVDO, LTE and all cellular standards
Input/Output Impedance:
50 ohm
Maximum Gain:
50 dB ( all bands )
Noise Figure:
5dB
VSWR:
≤2.0
DC Car Charger:
5-15V
Maximum Output Power:
1Watt EIRP
RF Connectors:
FME Male (both ends)
Power Consumption:
<25W
Dimensions:
9-1/4" x 6-3/8" x 1-3/8"
Weight:
3 lbs
FCC ID (USA):
RSNFUSION2GO
Specifications are subject to change. Specifications contained within apply only to products meeting the latest FCC Certification Guidelines of 2/20/2013.
Installation Example
Omni Antenna
Right Angle Antenna
Inside Antenna
Outside Antenna
Fusion2Go
Inside Antenna
Car Charger
Fusion2Go
This is a CONSUMER device.
BEFORE USE, you MUST REGISTER THIS DEVICE with your wireless provider and have your provider's consent. Most wireless providers consent to the use of signal boosters. Some providers
may not consent to the use of this device on their network. If you are unsure, contact your provider.You MUST operate this device with approved antennas and cables as specified by the manufacturer. Antennas MUST be installed at least 20 cm (8 inches) from any person.You MUST cease operating this device immediately if requested by the FCC or a licensed wireless service provider.
WARNING. E911 location information may not be provided or may be inaccurate for calls served by using this device.

* Your assessment is very important for improving the work of artificial intelligence, which forms the content of this project