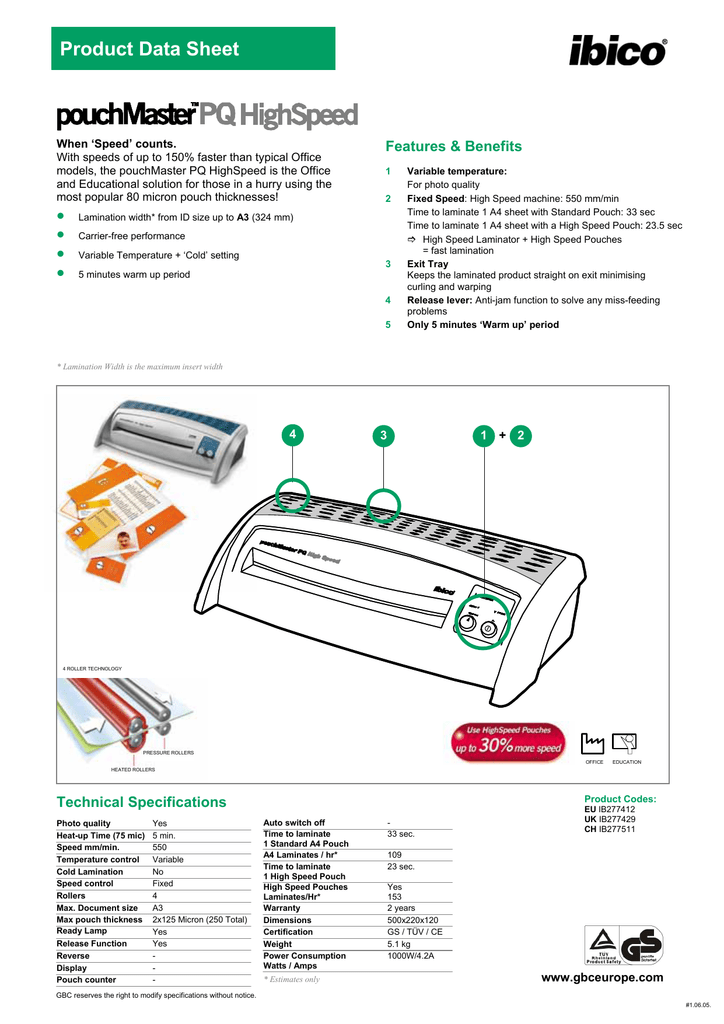 Product Data Sheet
Product Data Sheet
When 'Speed' counts.
With speeds of up to 150% faster than typical Office
models, the pouchMaster PQ HighSpeed is the Office
and Educational solution for those in a hurry using the
most popular 80 micron pouch thicknesses!
•
•
•
•
Features & Benefits
1
2
Lamination width* from ID size up to A3 (324 mm)
Carrier-free performance
Variable Temperature + 'Cold' setting
3
5 minutes warm up period
4
5
Variable temperature:
For photo quality
Fixed Speed: High Speed machine: 550 mm/min
Time to laminate 1 A4 sheet with Standard Pouch: 33 sec
Time to laminate 1 A4 sheet with a High Speed Pouch: 23.5 sec
@ High Speed Laminator + High Speed Pouches
= fast lamination
Exit Tray
Keeps the laminated product straight on exit minimising
curling and warping
Release lever: Anti-jam function to solve any miss-feeding
problems
Only 5 minutes 'Warm up' period
* Lamination Width is the maximum insert width
4
3
1 + 2
4 ROLLER TECHNOLOGY
PRESSURE ROLLERS
OFFICE
EDUCATION
HEATED ROLLERS
Product Codes:
Technical Specifications
Photo quality
Heat-up Time (75 mic)
Speed mm/min.
Temperature control
Cold Lamination
Speed control
Rollers
Max. Document size
Max pouch thickness
Ready Lamp
Release Function
Reverse
Display
Pouch counter
Yes
5 min.
550
Variable
No
Fixed
4
A3
2x125 Micron (250 Total)
Yes
Yes
-
Auto switch off
Time to laminate
1 Standard A4 Pouch
A4 Laminates / hr*
Time to laminate
1 High Speed Pouch
High Speed Pouches
Laminates/Hr*
Warranty
Dimensions
Certification
Weight
Power Consumption
Watts / Amps
* Estimates only
33 sec.
EU IB277412
UK IB277429
CH IB277511
109
23 sec.
Yes
153
2 years
500x220x120
GS / TÜV / CE
5.1 kg
1000W/4.2A
www.gbceurope.com
GBC reserves the right to modify specifications without notice.
#1.06.05.

* Your assessment is very important for improving the work of artificial intelligence, which forms the content of this project