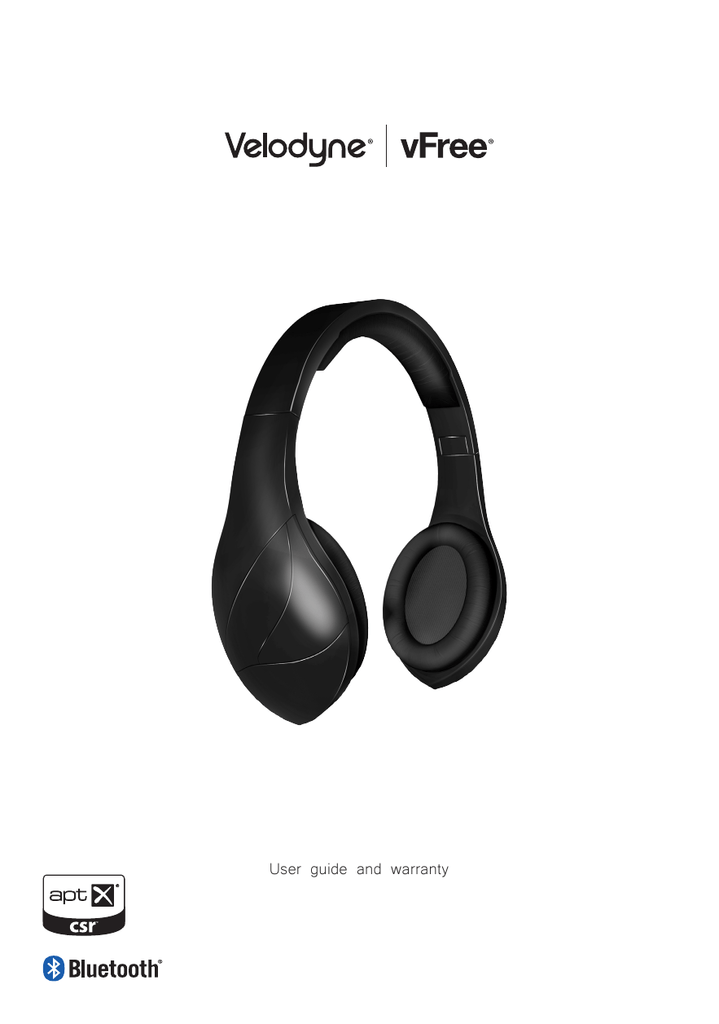 User guide and warranty
Box contents
•
•
•
•
•
vFree on-ear Bluetooth headphones
Micro USB charging cable
USB wall charger
3.5 mm (1/8") audio bypass cable
Carrying pouch
Safety ...............................................1
Specifications ....................................3
Controls ............................................4
Charging & pairing ............................5
LED indications .................................6
Warranty ...........................................7
Important Safety Instructions
vFree user's guide
1.
2.
3.
4.
5.
6.
7.
Read these instructions.
Keep these instructions.
Heed all warnings.
Follow all instructions.
Do not use this apparatus near water.
Clean only with a dry cloth.
Protect the power cord from being walked on or pinched particularly at plugs, convenience receptacles, and
the point where they exit from the apparatus.
8. Only use attachments/accessories specified by the manufacturer.
9. Unplug this apparatus during lightning storms or when unused for long periods of time.
10. Refer all servicing to qualified service personnel. Servicing is required when the apparatus has been
damaged in any way, such as when the power-supply cord or plug is damaged, liquid has been spilled
or objects have fallen into the apparatus, the apparatus has been exposed to rain or moisture, does not
operate normally, or has been dropped.
Warnings, safety & care
•
•
•
•
•
•
•
•
•
•
•
•
To reduce the risk of fire or electric shock, do not expose vFree headphones to rain or moisture, and do
not open or attempt to open any part of vFree headphones.
Keep out of reach of children. Small parts may be a choking hazard. This product is not intended for use
by children under the age of three.
Excessive sound pressure from earphones and headphones can cause hearing loss.
Attention should be drawn to the environmental aspects of battery disposal.
The integrated battery should not be exposed to excessive heat such as sunshine, fire, or the like.
Consult your physician or audiologist if you have problems hearing, excessive wax build-up or any
discomfort after use of vFree headphones.
In particularly dry air conditions, mild tingling may be felt on your ears. This is a result of static electricity
accumulated in the body and not a malfunction of vFree headphones. This effect can be minimized by
wearing clothes made from natural fibers.
vFree headphones are assembled in a facility where they could come in contact with chemicals covered by
California's Proposition 65.
If any dust or ear wax is inside the ear cup, you may experience a degradation of sound quality.
Remove vFree headphones if they cause any discomfort or pain.
Do not submerge or expose vFree headphones to water.
Protect your vFree headphones in the carrying pouch when not in use.
CAUTION: Danger of explosion if battery is incorrectly replaced. Replace only with the same or equivalent type.
Service should only be done by a VELODYNE factory authorized service representative.
Page 1 of 9
vFree user's guide
Please listen safely
For traffic safety, do not use vFree headphones while driving or cycling. Do not wear vFree headphones while
operating machinery. Adhere to local laws regarding the use of headphones.
Listening with vFree headphones at high volumes may affect your hearing, including causing permanent damage.
Ringing in your ears or other discomfort can indicate that the volume is too high.
Hearing health is critical to enjoyment and the quality of life. Protect your hearing by listening with your vFree
headphones in a responsible manner that protects your long term hearing health. Velodyne Acoustics, Inc. is not
responsible for hearing loss or damage resulting from the use of this product.
Sound
Noise Level (dB)
Effect
Normal breathing
10
Just audible
Whisper
30
Very quiet
Normal conversation
50-65
Comfortable hearing levels are under
60 dB
Vacuum cleaner, hair dryer
70
Intrusive; interferes with telephone
conversation
Average city traffic
80
Annoying; interferes with conversation;
constant exposure may cause damage
Lawnmower, food blender
85-90
85 dB is the level at which hearing
damage (8 hrs) begins
Garbage truck, cement mixer
100
No more than 15 minutes of
unprotected exposure recommended for
sounds between 90-100 dB
Stereos (over 100 watts), thunderclap 110-125
(near)
Regular exposure to sound over 100
dB of more than one minute risks
permanent hearing loss
Jet engines (near)
Threshold of pain begins around 125
dB
140
*Information obtained from http://www.nidcd.nih.gov/health/education/teachers/pages/common_sounds.aspx
Cleaning
Ear cups should be cleaned regularly for sanitary reasons and to prolong the life of your ear cups.
With a cloth or paper towel, thoroughly clean the ear cups.
Do not get the speakers or electronics inside of your
headphones wet. Liquids and heavy moisture can cause
damage to the electronics inside your headphones. Such
accidental damages are not covered under warranty.
Page 2 of 9
vFree user's guide
At a glance
Specifications
Driver size: 34 mm
Frequency response: 20 Hz - 20 kHz
Sensitivity: 98dB/1 kHz/1 mW
Impedance: 32 ohm
Frequency range: 2.4GHz - 2.4835GHz
Transmission range: up to 10 m (33')
Power: lithium-ion polymer battery, 3.7V/430mAh
(rechargeable)
Operating temperature: 0°C - 40°C
Supports Bluetooth v2.1 + EDR, A2DP v1.2, AVRCP v1.0,
HSP v1.2, HFP v1.6
Support codecs: SBC, AAC, apt-X
Headband
*Design and specifications are subject to change without notice
Size adjust
Hinges
Next
Power
Previous
Play
Ear cup
Page 3 of 9
vFree user's guide
Playback, volume, & phone controls
Left
Right
Important: Playback,
volume, and phone control
functionality varies by media
device. When using the
audio by-pass cable, control
playback, volume, & phone
controls by using the media
device controls.
LED battery status
Micro USB port
Wired audio input
Next
Power
/ pair
Volume +
Previous
Volume -
Play / pause /
answer
/ end call
Microphone
LED Indicator
Button functions
Button
Function
Power
Play
/ pair
/ pause
Long press (3 seconds) - power on
Long press while off (5 seconds)- pairing
Press and hold > 3 seconds - power off
/ answer
/ end call
Short press - play/pause
Short press (while calling) - answer/end call
Volume up (+)
Increase volume (max level indicated by beep sound)
Volume down (-)
Decrease volume
Next
Press once to go to next track
Press and hold to fast forward
Previous
Press once to go to previous track
Press and hold to rewind
Page 4 of 9
vFree user's guide
Charging headphones
Charging the vFree using the included USB wall charger is recommended for first time use in order to maximize
battery life. Low battery is indicated by the LED status indicator flashing red approximately every 10 seconds.
To begin charging, connect the USB cable (micro USB end) to the port at the bottom of the left ear cup.
Connect the other end of the USB cable to any charge capable USB port or a USB-style charger. Your vFree
headphones will begin charging, as represented by the red LED status indicator. Once charging is complete, the
LED status indicator will illuminate green.
Charge time
About 1.5 hours
Talk time
Up to 10 hours
Music playback time
Up to 10 hours
Standby time
Up to 100 hours
Pairing headphones
1. Make sure vFree and pairing device are within 1 meter of each other when pairing
2. Enable Bluetooth function on pairing device
3. Press and hold the power button on vFree until the LED flashes blue and red repeatedly
4. Search for Bluetooth devices on pairing device
5. Select Velodyne vFree from the "Devices Found" list on the pairing device (if you do not see Velodyne
vFree, repeat from step 1)
6. After successful pairing, the LED indicator will flash blue every 5 seconds
Bypass cable
When using the bypass cable, the audio signal is applied directly to the headphone speakers and all electronics
are bypassed. No function of the headphones will work when using the bypass cable other than simply playing
the audio signal.
Fold your headphones
vFree headphones can fold for easier storage. To fold, remove any cables attached to the headphone and push
each ear cup inward towards the inside of the band.
Reset functions
Paired device list reset
In off mode press and hold the power and volume
down (-) key. The LED indicator will flash fast
alternating red and blue.
Hardware reset (use if the headset malfunctions and
is unresponsive)
While charging the headset press both the power and
volume up (+) keys.
Page 5 of 9
vFree user's guide
LED indications
Power on
Power off
Clear / reset
Low battery
Bluetooth pairing mode
Incoming call / outgoing call
Standby (Bluetooth off)
Active call / standby
Standby / AAC
Standby / apt-X
LED Activity
Function
Fast flashing (blue) x 5
Power on
Fast flashing (red) x 5
Power off
Fast flashing (red/blue)
Pairing
Flashing (red) every 10 seconds
Low battery
Flashing (blue) x 2 every 5 seconds
Paired
Flashing (red) x 2 every 5 seconds
Standby (Bluetooth off)
Alternating (red/blue) flashing x 3
Clear setting / reset
Flashing (blue) x 2
A2DP active with SBC codec
Flashing (blue) x 3
A2DP active with AAC codec
Flashing (blue) x 4
A2DP active with apt-X codec
Fast flashing (blue)
Incoming / outgoing call
Fast flashing (blue) x 2
Active call
When charging (red)
Charging
When charging (green)
Full charge
Page 6 of 9
Limited warranty - U.S. and Canada only
vFree user's guide
VELODYNE ACOUSTICS, INC. ("Velodyne") warrants this product for a period of one year from the date of
purchase against defects in materials and workmanship subject to the following conditions:
1. This warranty is void if any repairs or service covered by the terms of this warranty are made to any
component of this product by anyone other than a VELODYNE factory authorized service representative.
2. VELODYNE is not responsible for damage caused by ordinary wear and tear, cosmetic damage, incorrect
connection, accidents, abuse, misuse, negligence, natural or personal disaster or unauthorized modification.
This includes exposure to heat, cold, sun, liquids, sand and contaminants.
3. This warranty is limited to products purchased from authorized VELODYNE dealers and finalized within
authorized dealer locations.
4. This warranty is void if this product is damaged due to a defect in the device to which it was connected,
such as a battery leak or electrical fault.
5. Proof of purchase is required. A proof of purchase is a receipt with the product and date of purchase listed
from an authorized dealer.
This warranty is non-transferable under any condition. This warranty is separate and distinct from VELODYNE's
subwoofer warranty.
Warranty outside the U.S. and Canada
The warranty of this product, if it is sold to a consumer outside of the United States or Canada, shall comply
with applicable law and shall be the sole responsibility of the distributor that supplied this product. To obtain any
applicable warranty service, please contact the dealer from which you purchased this product or the distributor
that supplied this product.
Page 7 of 9
To obtain service
vFree user's guide
Information regarding service may be obtained from the dealer from whom you purchased the unit, or by
contacting VELODYNE customer service. Warranty service must be performed by a VELODYNE factory authorized
service representative within the warranty period set forth above. If VELODYNE determines that the unit is
defective, VELODYNE will at VELODYNE's option, repair or replace the product at no charge if the product is
forwarded prepaid to a factory authorized service representative. Products forwarded to the factory authorized
service representative should be shipped securely and properly packaged, insured and postage prepaid.
Customer service contact information:
Technical support: 408-465-2851
Email: [email protected]
Product recycling
Producing vFree headphones required the extraction and use of natural resources, and they may contain
hazardous substances. Do not dispose of vFree headphones with your other household waste. Instead, take them
to a designated collection point for the recycling of electronic equipment. The separate collection and recycling of
your electronic waste equipment at the time of disposal will help to conserve natural resources and ensure that
it is recycled in a matter that protects human health and the environment. For information about where you can
drop off your waste equipment for recycling, contact your local city government or your household waste disposal
service.
Page 8 of 9
FCC Regulations
vFree user's guide
This device complies with Part 15 of FCC Rules. Operation is subject to the following two conditions: (1) This device may not cause harmful
interference, and (2) This device must accept any interference received, including interference that may cause undesired operation. Changes or
modification not expressly approved by the party responsible for compliance could void the user's authority to operate the equipment.
This equipment has been tested and found to comply with the limits for Class B digital device, pursuant to Part 15 of the FCC Rules. These
limits are designed to provide reasonable protection against harmful interference in a residential installation. This equipment generates, uses and
can radiate radio frequency energy and, if not installed and used in accordance with the instructions, may cause harmful interference to radio
communications. However, there is no guarantee that interference will not occur in a particular installation. If this equipment does cause harmful
interference to radio or television reception, which can be determined by turning the equipment off and on, the user is encouraged to try to
correct the interference by one or more of the following measures:
•
•
•
•
Reorient or relocate the receiving antenna.
Increase the separation between the equipment and receiver.
Connect the equipment into an outlet on a circuit different from that to which the receiver is connected.
Consult the dealer or an experienced radio/TV technician for help.
Europe - EU Declaration of Conformity
The equipment complies according to the Radio Equipment and Telecommunications Terminal Equipment
Directive 1999/5/EC.
This equipment meets the following conformance standards:
Safety
EN 60065/A 12:2011
Health
EN 62479:2010
EMC
EN
EN
EN
EN
Radio
EN 300 328 V1.7.1
301 489-1 V1.9.2
301 489-17 V2.1.1
55013:2001+A1:2003+A2:2006
55020:2007+A11:2011
Page 9 of 9
Register your vFree headphones
velodyne.com/warranty-registration
Follow Velodyne Acoustics, Inc.
velodyne.com
twitter.com/velodyneaudio
facebook.com/velodyne
thevelodyneblueroom.com
©2012 Velodyne Acoustics, Inc.
345 Digital Drive
Morgan Hill CA 95037
63-VFREE Rev A NOV12
© 2012 Velodyne Acoustics, Inc. All rights reserved. Velodyne and Velodyne logos are trademarked by Velodyne Acoustics, Inc. vFree is a trademark of Velodyne Acoustics, Inc. The Bluetooth word mark
and logos are registered trademarks owned by the Bluetooth SIG, Inc., and any use of such marks by Velodyne Acoustics, Inc. is under license. The aptX mark and the aptX logo are trademarks of CSR
plc or one of its group companies.