No category
Terms of Purchase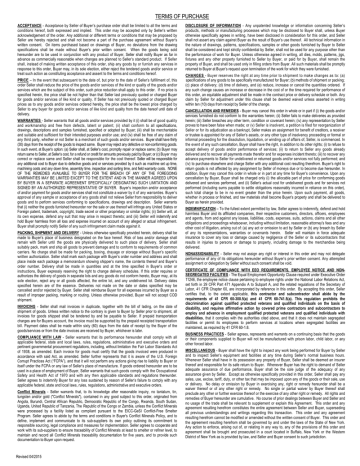 TERMS OF PURCHASE
ACCEPTANCE - Acceptance by Seller of Buyer's purchase order shall be limited to all the terms and
conditions hereof, both expressed and implied. This order may be accepted only by Seller's written
acknowledgement of the order. Any additional or different terms or conditions that may be proposed by
Seller are hereby rejected and shall not become a part of the purchase agreement without Buyer's
written consent. On items purchased based on drawings of Buyer, no deviations from the drawing
specifications shall be made without Buyer's prior written consent. When the goods being sold
hereunder are to be used in conjunction with any product of Buyer, Seller shall notify Buyer as far in
advance as commercially reasonable when changes are planned to Seller's standard product. If Seller
shall, instead of making written acceptance of this order, ship any goods by or furnish any services in
response to this order, Buyer may, in its sole election, either reject the tendered goods and/or service or
treat such action as constituting acceptance and assent to the terms and conditions hereof.
PRICE – In the event that subsequent to the date of, but prior to the date of Seller's fulfillment of, this
order Seller shall reduce the price of the goods and/or services of the kind or quality of the goods and/or
services which are the subject of this order, such price reduction shall apply to this order. If no price is
specified herein, the price shall be not higher than that Seller last previously quoted or charged Buyer
for goods and/or services of like kind or quality. If Seller has not previously quoted or charged Buyer
prices as to any goods and/or services ordered hereby, the price shall be the lowest price charged by
Seller to any buyer for goods and/or services of like kind and quality from the date hereof until date of
delivery.
WARRANTIES - Seller warrants that all goods and/or services provided by it (i) shall be of good quality
and workmanship and free from defects, latent or patent; (ii) shall conform to all specifications,
drawings, descriptions and samples furnished, specified or adopted by Buyer; (iii) shall be merchantable
and suitable and sufficient for their intended purposes and/or use; and (iv) shall be free of any claim of
any third party, whether or not Seller is a merchant of such goods and/or services. Buyer shall have thirty
(30) days from the receipt of the goods to inspect same. Buyer may reject any defective or non-conforming goods.
In such event, at Buyer's option: (a) Seller shall, at Seller's cost, promptly repair or replace same; (b) Buyer may
return same to Seller, at Seller's cost, for a refund or credit for amounts previously paid by Buyer; or (c) Buyer may
correct or replace same and Seller shall be responsible for the cost thereof. Seller will be responsible for
any additional cost to Buyer due to defective goods and or services provided by it such as machine set up time,
machining costs and any down time, assembly time, inspection and sorting time, and field warranty costs. NONE
OF THE REMEDIES AVAILABLE TO BUYER FOR THE BREACH OF ANY OF THE FOREGOING
WARRANTIES MAY BE LIMITED EXCEPT TO THE EXTENT AND IN THE MANNER AGREED UPON
BY BUYER IN A SEPARATE AGREEMENT SPECIFICALLY DESIGNATING SUCH LIMITATION AND
SIGNED BY AN AUTHORIZED REPRESENTATIVE OF BUYER. Buyer's inspection and/or acceptance
of and/or payment for goods and/or services shall not constitute a waiver by it of any warranties. Buyer's
approval of any sample or acceptance of any goods shall not relieve Seller from responsibility to deliver
goods and to perform services conforming to specifications, drawings and description. Seller warrants
that (i) neither the goods furnished hereunder nor the sale or use thereof will infringe any United States or
Foreign patent, trademark, copyright, trade secret or other proprietary or similar rights; (ii) Seller will, at
its own expense, defend any suit that may arise in respect thereto; and (iii) Seller will indemnify and
hold Buyer harmless from all loss and expense incurred on account of any alleged or actual infringement.
Buyer shall promptly notify Seller of any such infringement claim made against it.
PACKING, SHIPMENT AND DELIVERY - Unless otherwise specifically provided herein, delivery shall be
made to Buyer's place of business designated on the face hereof. Risk of loss and/or damage shall
remain with Seller until the goods are physically delivered to such place of delivery. Seller shall
suitably pack, mark and ship all goods to prevent damage and to conform to requirements of common
carriers. No charge shall be made for packing, boxing, drayage or storage without Buyer's specific
written authorization. Seller shall mark each package with Buyer's order number and address and shall
place inside each package a memorandum showing shipper's name, the contents thereof and Buyer's
order number. Delivery shall be made in quantities and at the time specified in Buyer's order or
instructions, Buyer expressly reserving the right to change delivery schedules. If this order requires or
authorizes the delivery of goods in separate lots and any goods do not conform hereto, Buyer may, at its
sole election, reject any or all goods affected, the entire lot, and any undelivered lot. Delivery dates
specified herein are of the essence. Deliveries not made on the date or dates specified may be
cancelled and/or rejected by Buyer. Seller shall reimburse Buyer for all expenses incurred by Buyer as a
result of improper packing, marking or routing. Unless otherwise provided, Buyer will not accept COD
shipment.
INVOICING - Seller shall mail invoices in duplicate, together with the bill of lading, on the date of
shipment of goods. Unless written notice to the contrary is given to Buyer by Seller prior to shipment, all
invoices for goods shipped shall be tendered by and be payable to Seller. If prepaid transportation
charges are for Buyers account, the invoice must be supported by the prepaid receipted transportation
bill. Payment dates shall be made within sixty (60) days from the date of receipt by the Buyer of the
goods/services or from the date invoices are received by Buyer, whichever is later.
COMPLIANCE WITH LAW - Seller warrants that its performance hereunder shall comply with all
applicable federal, state and local laws, rules, regulations, administrative and executive orders and
pertinent governmental procurement regulations, including, without limitation the Fair Labor Standards Act
of 1938, as amended. Each invoice for goods must certify that the goods invoiced were produced in
accordance with said Act, as amended. Seller further represents that it is aware of the U.S. Foreign
Corrupt Practices Act ("FCPA"), and that it will not perform any actions giving rise to liability to Buyer or
itself under the FCPA or any law of Seller's place of manufacture. If goods ordered hereunder are to be
used in a place of employment of Buyer, Seller warrants that such goods comply with the Occupational
Safety and Health Act of 1970 and with any then applicable standards and regulations thereunder.
Seller agrees to indemnify Buyer for any loss sustained by reason of Seller's failure to comply with any
applicable federal, state and local laws, rules, regulations, administrative and executive orders.
Conflict Minerals - Seller warrants that, to its knowledge after reasonable inquiry, no tantalum, tin,
tungsten and/or gold ("Conflict Minerals"), contained in any good subject to this order, originated from
Angola, Burundi, Central African Republic, Democratic Republic of the Congo, Rwanda, South Sudan,
Uganda, United Republic of Tanzania, The Republic of the Congo or Zambia, unless the Conflict Minerals
were processed by a facility listed as compliant pursuant to the EICC-GeSI Conflict-Free Smelter
Program. Seller agrees to abide by the terms and conditions in Buyer's Conflict Minerals Policy, and to
define, implement and communicate to its sub-suppliers its own policy outlining its commitment to
responsible sourcing, legal compliance and measures for implementation. Seller agrees to cooperate and
work with its sub-suppliers to ensure traceability of Conflict Minerals at least to smelter or refiner level, to
maintain and record all Conflict Minerals traceability documentation for five years, and to provide such
documentation to Buyer upon request.
Revised 04/2015
DISCLOSURE OF INFORMATION - Any unpatented knowledge or information concerning Seller's
products, methods or manufacturing processes which may be disclosed to Buyer shall, unless Buyer
otherwise specifically agrees in writing, have been disclosed in consideration for this order, and Seller
shall not assert any claim against Buyer as the result of Buyer's use thereof. All technical information in
the nature of drawings, patterns, specifications, samples or other goods furnished by Buyer to Seller
shall be considered and kept strictly confidential by Seller, shall not be used for any purpose other than
the performance of work for Buyer. Unless otherwise agreed in writing, all dies, molds, patterns, jigs,
fixtures and any other property furnished to Seller by Buyer, or paid for by Buyer, shall remain the
property of Buyer, and shall be used only in filling orders from Buyer. All such materials shall be promptly
returned to Buyer at Buyer's request upon termination of the work for which they were furnished.
CHANGES - Buyer reserves the right at any time prior to shipment to make changes as to: (a)
specifications of any goods to be specifically manufactured for Buyer; (b) methods of shipment or packing;
(c) place of delivery; (d) time of delivery, and (e) reduce, increase or cancel the quantities ordered. If
any such change causes an increase or decrease in the cost of or the time required for performance of
this order, an equitable adjustment shall be made in the contract price or delivery schedule or both. Any
claim by Seller for adjustment under this clause shall be deemed waived unless asserted in writing
within ten (10) days from receipt by Seller of the change.
CANCELLATION AND REMEDIES - Buyer may cancel this order in whole or in part if (i) the goods and/or
services furnished do not conform to the warranties herein; (ii) Seller fails to make deliveries as provided
herein; (iii) Seller breaches any other term, condition or covenant herein; (iv) any representation by Seller
proves to have been false when made; or (v) Seller is insolvent, a petition is filed for reorganization of
Seller or for its adjudication as a bankrupt, Seller makes an assignment for benefit of creditors, a receiver
or trustee is appointed for any of Seller's assets, or any other type of insolvency proceeding or formal or
informal proceeding for the dissolution, liquidation, or winding up of affairs of, Seller, is commenced. In
the event of any such cancellation, Buyer shall have the right, in addition to its other rights; (i) to refuse to
accept delivery of goods and/or performance of services; (ii) to return to Seller any goods already
delivered and to recover all payments made therefor and for expenses incident thereto; (iii) to recover any
advance payments to Seller for undelivered or returned goods and/or services not fully performed; and
(iv) to purchase elsewhere and charge Seller with any additional cost resulting therefrom. Buyer's right to
return goods is not affected by any assignment by Seller of moneys due or to become due hereunder. In
addition, Buyer may cancel this order in whole or in part at any time for Buyer's convenience. Upon any
cancellation by Buyer, Buyer shall be charged only (i) the allocable part of price for conforming goods
delivered and services performed, and (ii) Seller's actual cost for undelivered goods and for services not
performed (including sums payable to settle obligations reasonably incurred in reliance on this order),
such total charge to be in no event greater than the price herein. Upon such payment, all goods,
whether in process or finished, and raw materials shall become Buyer's property and shall be delivered to
Buyer as herein provided.
INDEMNIFICATION – To the fullest extent permitted by law, Seller agrees to indemnify, defend and hold
harmless Buyer and its affiliated companies, their respective customers, directors, officers, employees
and agents, from and against any losses, liabilities, costs, expenses, suits, actions, claims and all other
obligations and proceedings whatsoever, including without limitation, reasonable attorney's fees and any
other cost of litigation, arising out of: (a) any act or omission to act by Seller or (b) any breach by Seller
of any its representations, warranties or covenants herein. Seller will maintain in force adequate
insurance to cover any loss or damage caused by negligence of the Seller or its subcontractors that
results in injuries to persons or damage to property, including damage to the merchandise being
delivered.
NONASSIGNABILITY - Seller may not assign any right or interest in this order and may not delegate
performance of any of its obligations hereunder without Buyer's prior written consent. Any attempted
assignment or delegation by Seller without such consent shall be void.
CERTIFICATE OF COMPLIANCE WITH EEO REQUIREMENTS, EMPLOYEE NOTICE AND NONSEGREGATED FACILITIES - The Equal Employment Opportunity Clause required under Executive Order
11246, the employee notice clause pertaining to employee rights under the National Labor Relations Act,
set forth in 29 CFR Part 471 Appendix A to Subpart A, and the related regulations of the Secretary of
Labor, 41 CFR Chapter 60, are incorporated by reference in this order. By accepting this order, Seller
certifies that, to the extent applicable, this contractor and subcontractor shall abide by the
requirements of 41 CFR 60-300.5(a) and 41 CFR 60-741.5(a). This regulation prohibits the
discrimination against qualified protected veterans and qualified individuals on the basis of
disability, and requires affirmative action by covered prime contractors and subcontractors to
employ and advance in employment qualified protected veterans and qualified individuals with
disabilities, that it complies with the authorities cited above, and that it does not maintain segregated
facilities or permit its employees to perform services at locations where segregated facilities are
maintained, as required by 41 CFR 60-1.8.
BUSINESS PRACTICES - Seller agrees, represents and warrants on a continuing basis that the goods
or their components supplied to Buyer will not be manufactured with prison labor, child labor, or any
other forced labor.
MISCELLANEOUS - Buyer shall have the right to inspect any work being performed for Buyer by Seller
and to inspect Seller's equipment and facilities at any time during Seller's normal business hours.
Whenever Seller shall have in its possession any property of Buyer, Seller shall be deemed an insurer
thereof and responsible for its safe return to Buyer. Whenever Buyer has the right to demand of Seller
adequate assurance of due performance, Buyer shall be the sole judge of the adequacy of any
assurance given by Seller. Except as otherwise specifically provided in this order, Seller shall pay any
sales, use, excise, tariff, duty, or other tax that may be imposed upon any of the goods or their sale, use
or delivery. No delay or omission by Buyer in exercising any, right or remedy hereunder shall be a
waiver thereof or of any other right or remedy. No single or partial waiver by Buyer thereof shall
preclude any other or further exercise thereof or the exercise of any other right or remedy. All rights and
remedies of Buyer hereunder are cumulative. No course of prior dealings between Buyer and Seller and
no usage of the trade shall be relevant to supplement or explain this Agreement. This order and any
agreement resulting herefrom constitutes the entire agreement between Seller and Buyer, superseding
all previous understandings and writings regarding this transaction. This order and any agreement
resulting herefrom cannot be modified or amended without the written consent of Buyer. This order and
the agreement resulting herefrom shall be governed by and under the laws of the State of New York.
Any action to enforce, arising out of, or relating in any way to, any of the provisions of this order and
agreement shall be brought and prosecuted in a court located in Buffalo, New York or the Western
District of New York as is provided by law, and Seller and Buyer consent to such jurisdiction.

* Your assessment is very important for improving the work of artificial intelligence, which forms the content of this project