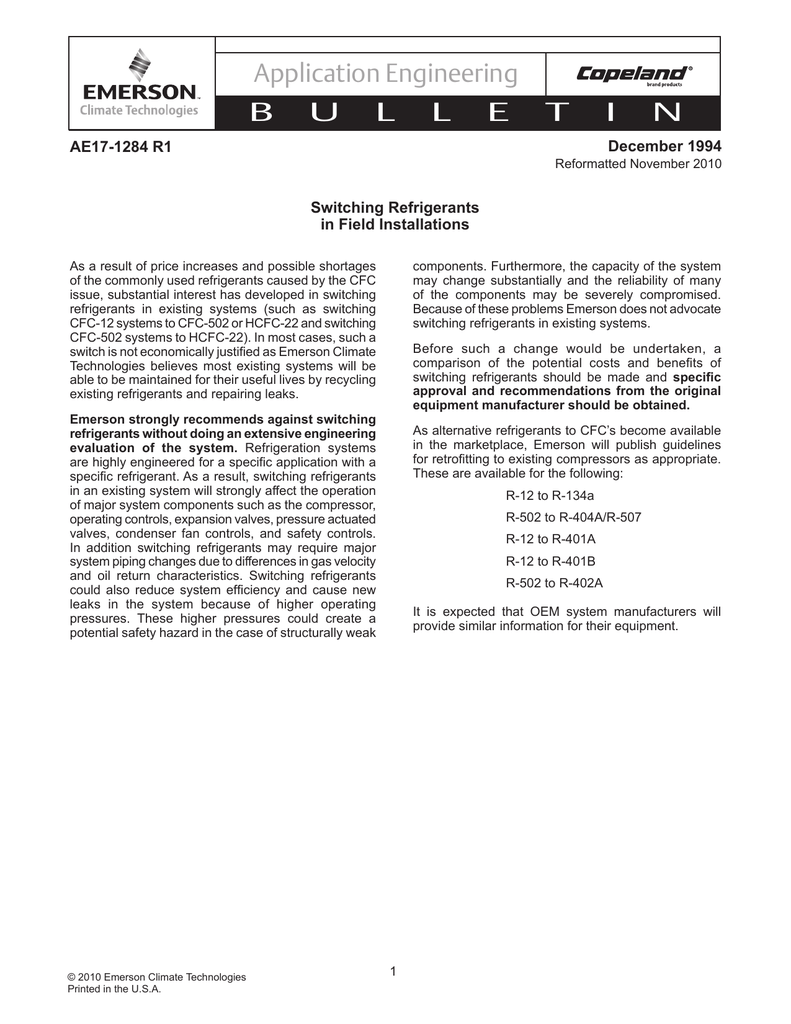 Application
Engineering
Application
Engineering
B
L LL E L T EI
BU U
N
T
I
N
AE
December 1994
AE17-1284 R1
Reformatted November 2010
Switching Refrigerants
in Field Installations
As a result of price increases and possible shortages
of the commonly used refrigerants caused by the CFC
issue, substantial interest has developed in switching
refrigerants in existing systems (such as switching
CFC-12 systems to CFC-502 or HCFC-22 and switching
CFC-502 systems to HCFC-22). In most cases, such a
switch is not economically justified as Emerson Climate
Technologies believes most existing systems will be
able to be maintained for their useful lives by recycling
existing refrigerants and repairing leaks.
components. Furthermore, the capacity of the system
may change substantially and the reliability of many
of the components may be severely compromised.
Because of these problems Emerson does not advocate
switching refrigerants in existing systems.
Before such a change would be undertaken, a
comparison of the potential costs and benefits of
switching refrigerants should be made and specific
approval and recommendations from the original
equipment manufacturer should be obtained.
Emerson strongly recommends against switching
refrigerants without doing an extensive engineering
evaluation of the system. Refrigeration systems
are highly engineered for a specific application with a
specific refrigerant. As a result, switching refrigerants
in an existing system will strongly affect the operation
of major system components such as the compressor,
operating controls, expansion valves, pressure actuated
valves, condenser fan controls, and safety controls.
In addition switching refrigerants may require major
system piping changes due to differences in gas velocity
and oil return characteristics. Switching refrigerants
could also reduce system efficiency and cause new
leaks in the system because of higher operating
pressures. These higher pressures could create a
potential safety hazard in the case of structurally weak
© 2010 Emerson Climate Technologies
Printed in the U.S.A.
As alternative refrigerants to CFC's become available
in the marketplace, Emerson will publish guidelines
for retrofitting to existing compressors as appropriate.
These are available for the following:
R-12 to R-134a
R-502 to R-404A/R-507
R-12 to R-401A
R-12 to R-401B
R-502 to R-402A
It is expected that OEM system manufacturers will
provide similar information for their equipment.
1
Application Engineering
B
U
L
L
E
T
I
N
ADDENDUM
The contents of this publication are presented for informational purposes only and are not to be construed as
warranties or guarantees, express or implied, regarding the products or services described herein or their use
or applicability. Emerson Climate Technologies, Inc. and/or its affiliates (collectively "Emerson"), as applicable,
reserve the right to modify the design or specifications of such products at any time without notice. Emerson
does not assume responsibility for the selection, use or maintenance of any product. Responsibility for proper
selection, use and maintenance of any Emerson product remains solely with the purchaser or end user.
CAUTION
POE must be handled carefully and the proper protective equipment (gloves, eye protection, etc.) must be
used when handling POE lubricant. POE must not come into contact with any surface or material that might
be harmed by POE, including without limitation, certain polymers (e.g. PVC/CPVC and polycarbonate).
© 2012 Emerson Climate Technologies, Inc.
Printed in the U.S.A.

* Your assessment is very important for improving the work of artificial intelligence, which forms the content of this project