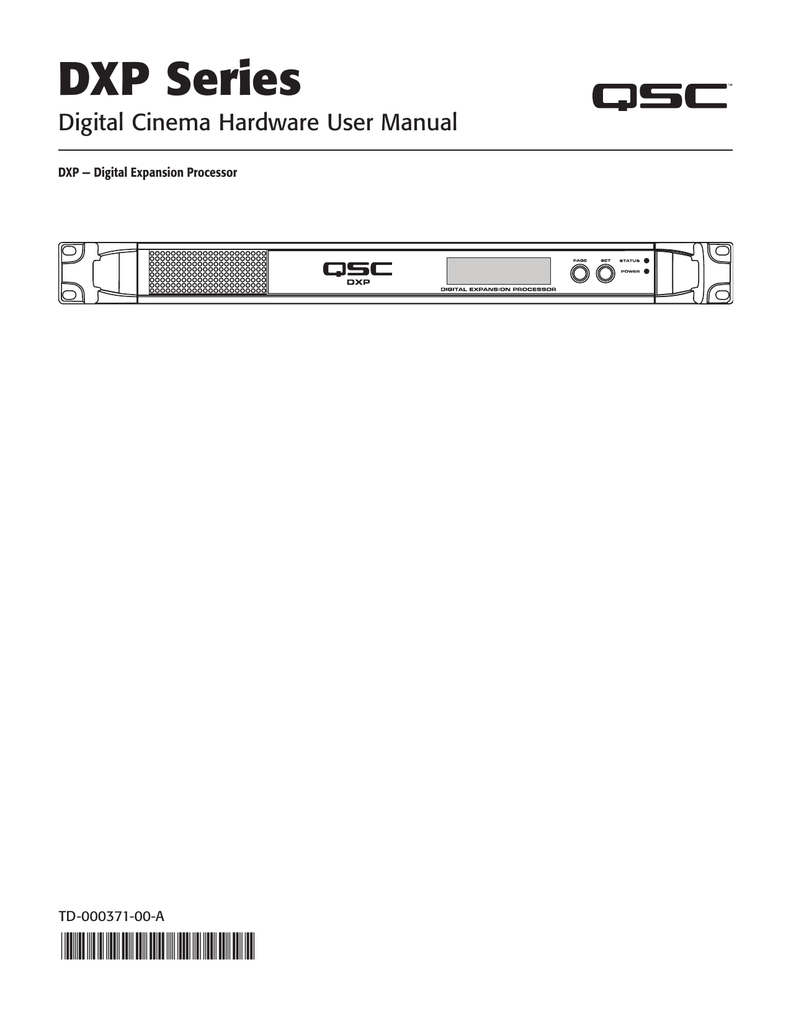 DXP Series
Digital Cinema Hardware User Manual
DXP — Digital Expansion Processor
TD-000371-00-A
*TD-000371-00*
EXPLANATION OF SYMBOLS
The term "WARNING!" indicates instructions regarding personal safety. If the instructions are not followed the result may be bodily injury or death.
The term "CAUTION!" indicates instructions regarding possible damage to physical equipment. If these instructions are not followed, it may result in
damage to the equipment that may not be covered under the warranty.
The term "IMPORTANT!" indicates instructions or information that are vital to the successful completion of the procedure.
The term "NOTE" is used to indicate additional useful information.
The intent of the lightning flash with arrowhead symbol in a triangle is to alert the user to the presence of un-insulated "dangerous"
voltage within the product's enclosure that may be of sufficient magnitude to constitute a risk of electric shock to humans.
The intent of the exclamation point within an equilateral triangle is to alert the user to the presence of important safety, and operating
and maintenance instructions in this manual.
IMPORTANT SAFETY INSTRUCTIONS
WARNING!: TO PREVENT FIRE OR ELECTRIC SHOCK, DO NOT EXPOSE THIS EQUIPMENT TO RAIN OR MOISTURE.
1. Maximum operating ambient temperature is 50°C (122°F).
2. Never restrict airflow through the device vents. Please insure that the side panel vents are unobstructed.
3. When installing equipment into a rack, distribute the units evenly. Otherwise, hazardous conditions could be created by an uneven
distribution of weight.
4. Connect the unit only to a properly rated supply circuit. The DXP is suitable for connection to 100-240VAC, 50-60Hz with no special
considerations other than the appropriate IEC power cord.
5. Reliable earthing (grounding) of rack-mounted equipment should be maintained.
FCC Statement
NOTE: This equipment has been tested and found to comply with the limits for a Class B digital device, pursuant to Part 15 of the
FCC Rules.
These limits are designed to provide reasonable protection against harmful interference in a residential installation. This equipment generates, uses
and can radiate radio frequency energy and, if not installed and used in accordance with the instructions, may cause harmful interference to radio
communications. However, there is no guarantee that interference will not occur in a particular installation. If this equipment does cause harmful
interference to radio or television reception, which can be determined by turning the equipment off and on, the user is encouraged to try to correct
the interference by one or more of the following measures:
• Reorient or relocate the receiving antenna.
• Increase the separation between the equipment and receiver.
• Connect the equipment into an outlet on a circuit different from that to which the receiver is connected.
• Consult the dealer or an experienced radio/TV technician for help.
TD-000371-00-A
2
Warranty (USA only; other countries, see your dealer or distributor)
QSC Audio Products 3 Year Limited Warranty
QSC Audio Products, LLC ("QSC") guarantees its products to be free from defective material and/or workmanship and will replace defective parts
and repair malfunctioning products under this warranty when the defect occurs under normal installation and use, provided the unit is returned to
our factory, one of our authorized service stations or an authorized QSC International Distributor via pre-paid transportation with a copy of proof
of purchase (i.e., sales receipt). This warranty provides that the examination of the return product must indicate, in our judgment, a manufacturing
defect. This warranty does not extend to any product which has been subjected to misuse, neglect, accident, improper installation, or where the
date code has been removed or defaced. QSC shall not be liable for incidental and/or consequential damages. This warranty gives you specific legal
rights. This limited warranty is freely transferable during the term of the warranty period. The warranty on QSC products is NOT VALID if the products
have been purchased from an unauthorized dealer/online e-tailer, or if the original factory serial number has been removed, defaced, or replaced in
any way. Damage to, or loss of any software or data residing on the product is not covered. When providing repair or replacement service, QSC will
use reasonable efforts to reinstall the product's original software configuration and subsequent update releases, but will not provide any recovery or
transfer of software or data contained on the serviced unit not originally included in the product.
Customers may have additional rights, which vary from state to state or from country to country. In the event that a provision of this limited warranty is
void, prohibited or superseded by local laws, the remaining provisions shall remain in effect.
The QSC limited warranty is valid for a period of three (3) years from date of purchase in the United States and many (but not all)
other countries.
For QSC warranty information in countries other than the United States, contact your authorized QSC international distributor. A list of QSC
International distributors is available at www.qscaudio.com.
To register your QSC product online, go to www.qscaudio.com and select "Product Registration". Other questions regarding this warranty can be
answered by calling, e-mailing or contacting your authorized QSC distributor.
Phone: 1-800-854-4079 within US and Canada, +1-714-754-6175 international, Email: [email protected], Website: www.qscaudio.com.
RoHS Statement
The DXP products are in compliance with European Directive 2002/95/EC – Restriction of Hazardous Substances (RoHS).
The DXP products are in compliance with "China RoHS" directives. The following chart is provided for product use in China and its territories:
DXP
有毒有害物质或元素
部件名称
(Part Name)
(Toxic or hazardous Substances and Elements )
铅
汞
镉
六价铬
多溴联苯
多溴二苯醚
(Pb)
(Hg)
(Cd)
(Cr(vi))
(PBB)
(PBDE)
X
O
O
O
O
O
X
O
O
O
O
O
电路板组件
(PCB Assemblies)
机壳装配件
(Chassis Assemblies)
O: 表明这些有毒或有害物质在部件使用的同类材料中的含量是在 SJ/T11363_2006极限的要求之下。
O: Indicates that this toxic or hazardous substance contained in all of the homogeneous materials for this part is below the limit requirement in SJ/
T11363-2006.
X: 表明这些有毒或有害物质在部件使用的同类材料中至少有一种而含量是在SJ/T11363_2006极限的要求之上。
X: Indicates that this toxic or hazardous substance contained in at least one of the homogeneous materials used for this part is above the limit
requirement in SJ/T11363-2006.
TD-000371-00-A
3
Introduction
The DXP adds new capabilities to the DCP line of Digital Cinema Processors, creating a powerful solution for today's networked D-Cinema audio
systems. From server to speakers, the DCP and DXP combine to offer a complete set of tools to facilitate all the signal processing, audio distribution,
monitoring and automation control services required in a modern D-Cinema sound system.
A single DXP provides all signal processing and monitoring functions for up to 12 DCA Amplifiers connected via DataPort connectors. The DXP also
offers relays and contact closure inputs to interface with automations and other theatre systems like masking, dimmers, and curtain, as well as a Mic/
Line input to facilitate connection of podium microphones in multi-use facilities.
The DCP and DXP communicate via CobraNet on a standard Ethernet infrastructure. Up to two DXP's may be connected to each DCP. The DXP
requires a DCP for operation.
The DXP provides advanced DSP presets for QSC's Digital Cinema Speakers (DCS), the DXP optimizes loudspeaker performance while simplifying
cinema sound system wiring and configuration. The DXP can provide crossovers for bi-amp, tri-amp or quad-amp operation or it can be used to power
full range systems like surround channels.
The use of standard Ethernet infrastructure allows the power amplifiers for the screen channels and subwoofers to be mounted near the speakers,
eliminating long and expensive speaker cables and conduit. The DataPort connection through the DXP allows the remote-mounted amps and speakers
to be fully monitored and controlled from the DCP.
The DCP/DXP combination is more than an audio processor. Whether designing a system for a single auditorium or designing a large multiplex, the
DCP and DXP together offer the flexibility in configuration, networking, audio distribution and advanced management services to get the job done.
Features
• The DXP accepts 16 Digital inputs via CobraNet. It supports crossover processing for up to 5 screen channels or up to 6 Auxiliary (point
source) channels.
• Analog Mic/Line Input
• Compatible with all existing QSC DCA amplifiers
• Dual internal power supplies seamless recovery in the event of a failure
• Continued development of software and firmware will add new capabilities via easy updates
Digital Signal Processing
The DXP digital signal processing capability outperforms traditional analog crossovers and equalizers for optimized speaker performance. Crossover
frequency, parametric equalization, polarity, delay and gain can be precisely adjusted for each speaker in your system. Active 2-way, 3-way and 4-way
crossovers are available. Advanced crossover presets for QSC DCS speakers speeds system set-up and ensures maximum performance. Full range
outputs for surround channels are also supported.
Less Wiring, Faster Setup
The DXP greatly simplifies system wiring and setup, significantly reducing installation time and labor cost. Input to the DXP is provided via standard
Ethernet hardware via CobraNet from the associated DCP. Digital audio is routed over the network from the DCP to the DXP. The use of QSC's HD-15
DataPort cables to connect the DCA amplifiers to the DXP speeds installation as all traditional XLR and barrier strip terminations are eliminated.
DCP and DXP processors simplify setup by using a menu-driven, PC-based software program for configuration. The program includes a speaker data
file that lists default parameters for popular cinema speaker models. Commonly used configurations can also be saved on a disk, or redistributed
across a network, allowing easy transfer of settings to the DXP. All configuration data may be saved to an SD memory card in the DCP, allowing easy
transfer of settings to a new (backup) DCP or DXP, should replacement ever be required.
Advanced Monitor and Control Functions
In addition to audio monitoring of amplifier inputs and outputs, the DXP includes QSC's exclusive "load fault" detection. The DXP monitors all
amplifier outputs and indicates opens and shorts in the speaker system, providing confirmation that all amplifier outputs are functioning properly. In
addition, the DXP detects all amplifier clipping and protect modes, and heat sink temperature. The DXP can also turn amps off and on, and control
external devices via the four relay outputs.
DCP Connect applications for iOS and Android mobile devices provide system control, fault reporting, and diagnosis, accessible through remote wi-fi
network access throughout a cinema multiplex.
TD-000371-00-A
4
DXP Front Panel Features
1
2
3
4 5
— Figure 1 —
Refer to the "Front Panel User Interface" on page 6 for details on using the PAGE and SET buttons.
1. LCD display
2. Page button — navigates through LCD pages and setting options
3. Set button — changes the parameters as accessed by the Page button
4. LED Power indicator — illuminates green when on
5. LED Status indicator –
a. Red = loss of audio, and loss of control connection
b. Green = audio and control connections are both good
c. Amber = either the audio or control connection is not working.
DXP Rear Panel Features
1
2
3
— Figure 2 —
1. Analog audio input – Mic/Line
2. DataPort interface for QSC amplifiers – supports up to 12 single port amplifiers
3. Relay outputs – mechanically decoupled control outputs (curtain, lighting control etc.)
4. Automation inputs – contact closure inputs (control presets, levels etc.)
5. 100 Mbps Ethernet ports – CobraNet™ audio network - Primary and Secondary (backup)
6. IEC inlet – AC mains power connector with cord lock
TD-000371-00-A
5
4
5
6
Front Panel User Interface
The majority of the configuration for the DXP is performed in the DCP. There a few things that can be changed using the DXP front panel, but the
primary purpose of the LCD and the Page and Set buttons is for status. The following is a breakdown of what you can do and see using the front panel
user interface. Press the PAGE button to move from page to page. Press the SET button to change to edit mode and to modify settings.
NOTE: The DXP ID must be set via the DXP front panel. This identifies the DXP to the DCP. When creating the configuration in DCP
Manager that includes this DXP, the same ID must be specified on the DXP configuration page (Aux/DXP tab in DCP Properties form). If
there is more than one DXP on the CobraNet network, each must have a unique ID.
Page
DXP State / Notes
LCD Display
Settings
1
Initial Boot
Connected and configured
QSC DXP
QSC DXP n (1 or 2)
Network name of connected DCP
Status Only
Press PAGE to move to next page.
2
Initial boot
ID:
nn OFFLINE
ID:
nn ONLINE
Press SET cursor moves under first digit of ID number
Press SET to cycle numbers 0-9 for the first digit
Press PAGE to move to second digit of ID number
Press SET to cycle numbers 0-9 for the second digit
Press Page cursor moves under Y of Save? Y:N
Press SET to save and restart the DXP, or
Press Page to move cursor to N
Press Set to exit edit mode without saving
Press PAGE to move to next page.
Connected and configured
3
N/A
SN xxxxxxxxxx (Serial Number)
Status only
FW: 0.00.0000 (Firmware Version) Press PAGE to move to next page.
4
N/A
Amp Power
ON OFF
Press SET cursor moves to ON
Press SET to turn the amps on.
Press PAGE to move the cursor to OFF
Press SET to put the amps in standby
Press PAGE to move to Exit
Press SET to exit edit mode
Press PAGE to move to next page, or press SET to start over.
5
N/A
+48 VDC phantom power
MIC POWER
OFF (ON)
Press SET to toggle between ON and OFF
Press PAGE to move to next page.
6
N/A
MIC SENSITIVITY
27 dBu
Press SET to cycle through the choices:
27 dBu
21 dBu
10 dBu
-16 dBu
Press PAGE to move to next page.
AUTO. INPUTS
CC1=0 CC2=0
Status only
Press PAGE to move to next page.
7
8
9
N/A
N/A
10
Connected and configured
No Connection
11
RELAY:
TD-000371-00-A
2
3
4
O
O
C
C
Contrast
1-8
CobraNet
POWER
— — indicates power supply
failure
1
Press SET to move cursor to Relay #1.
Press SET to toggle between O(pen) and C(lose)
Press PAGE to move to Relay #2.
Press SET to toggle between O(pen) and C(lose)
Continue in this manner. After setting Relay #4, Press PAGE to move to Ex.
Press SET to exit edit mode
Press PAGE to move to next page, or press SET to start over.
Press SET to toggle through the choices. 1 is high contrast, 8 is low contrast.
Press PAGE to move to next page.
TX
RX
OK
OK
——
——
A
B
OK
OK
——
——
Status only
Press PAGE to move to next page.
Status only
Press PAGE to move to first page.
6
Unpacking
Remove your DXP product from its carton and inspect it carefully. Make sure that the carton contents are complete and that there are no signs of
shipping damage. It is recommended that you keep the original packing materials for reuse in the rare event that service is required. If service is
required and the original packing material is not available, ensure that the unit is adequately protected for shipment (use a strong box of appropriate
size, sufficient packing/padding material to prevent load shifting or impact damage) or call QSC's Technical Services Group for replacement packing
material and a carton.
DXP Product Carton Contents
1. DXP
2. Hardware User Manual
3. IEC power cord and wire cord retainer
4. Euro style connector plug kit
Mounting
The DXP product is designed to be mounted in a standard 19" (480 mm) equipment rack and requires 1 vertical rack space (1 RU) (refer to IEC 60297
for additional rack dimensions and design details). Rack mounting provides the DXP with stability and a convenient means for dressing the cables
connecting to the product. Some rack systems also provide climate control and/or conditioned power.
Rack mount the DXP product by supporting it from underneath while aligning the four front panel mounting holes (in the rack ears) with the threaded
screw holes in the rack rails. Install all four mounting screws and washers and tighten securely. The DXP product comes with rear rack support ears.
Ensure that these rear mounting points are securely fastened to rear rack rails or rack side walls.
Configuring the DXP
DCP Manager™ is used to configure the DCP/DXP system. This includes configuring the device properties, the DSP objects, audio and control I/O
and Presets. The network communications properties and audio networking features can also be configured using DCP Manager™. Refer to the DCP
Hardware User Manual for instruction on the installation of DCP Manager, and the DCP Manager™ application Help Files for additional information on
product configuration, management and network connectivity.
NOTE: The DXP does not store any configuration information – configuration information is loaded from the DCP whenever a valid
control connection is established. Additionally, the DCP will perform any necessary firmware updates automatically when it connects to
the DXP.
Once the basic DCP/DXP operating configuration is defined and all of the connections are in place, it's time to power up the rest of the rack, complete
the DCP/DXP setup, tune the system and run through final check. Refer to additional information in this Hardware User Manual and in the software
Help Files for further setup and configuration details to complete this step.
Configuration and Networking Connections
AC Power Cord
Insert the molded receptacle of the AC power cord into the AC power inlet on the back of the DXP product. Plug
the AC line connector into an AC outlet. The power supply on the DXP product will accept from 100 to 240V, 50 to
60 Hz. If a different type of IEC power cord is required than that supplied with the product, consult QSC's Technical
Services Group.
— Figure 3 —
TD-000371-00-A
7
CobraNet Network
Connect one end of a data communications cable terminated with an RJ45 plug into the CobraNet™ Primary
receptacle on the rear panel of the DXP product. Ensure that the lock tab on the cable engages with the RJ45
receptacle on the rear panel DXP connector. For systems requiring redundant network connections, connect a
second data communications cable terminated with an RJ45 plug into the CobraNet™ Secondary receptacle on the
rear panel of the DXP product.
NOTE: Data communications cabling must be rated CAT-5 or better for all CobraNet™ connections.
— Figure 4 —
Automation Inputs
The automation inputs use a 2-terminal Euro style (a.k.a. Phoenix) receptacle. The Automation Inputs can be connected to relay contacts or a switch
and require a 2-terminal Euro style plug. The DXP rear panel label provides all necessary signal information. The negative terminal of each receptacle is
at chassis potential.
Relay Outputs
Four relay outputs are provided via two 3-terminal Euro style (a.k.a. Phoenix) receptacles. Relay contacts are floating
and rated for 30 VDC at 1A. Each output includes one common terminal, one normally open contact (NO), and one
normally closed (NC) contact. These terminals are labeled C, NO and NC, respectively on the DXP rear panel. When
the relay is not energized, the C terminal is connected to the NC contact and the NO contact is not connected. When
the relay is energized, the C terminal is connected to the NO contact and the NC contact is not connected.
NC
DataPorts
NO
QSC DataPorts on the DXP rear panel are intended to interface to QSC amplifiers with v1 DataPorts. These are the
all-capable DataPorts, which are included on DCA and PL3 series amplifiers. All DataPorts use the HD15 connector
format and connect to QSC amplifiers via data communications cables having male HD15 connectors on both
ends. These are commonly referred to as VGA cables. To connect a DataPort cable between a DXP DataPort and an
amplifier DataPort, attach the cable's male connectors to the HD15 ports and finger tighten the thumb screws on
the connectors.
NOTE: Although many off-the-shelf VGA cables may work with satisfactory results, the QSC DataPort
specification requires that all conductors be present and that all audio I/O conductors be shielded.
Therefore, only QSC supplied DataPort cables should be used. A variety of lengths are available
through QSC's Technical Services Group.
C
— Figure 5 —
— Figure 6 —
Mic/Line Input
A single Mic/Line Input is accessible on the DXP rear panel. This input can be used for mono non-sync sources or for
connecting a microphone for local paging or announcements into the auditorium or to support various corporate or live
events requiring a microphone. Phantom power may be enabled via DCP Manager™ configuration or via the DXP front panel
interface. The Mic/Line Input uses a standard 3-conductor XLR receptacle.
NOTE: The Mic/Line input uses standard XLR cables that are readily available through retailers specializing in
musical equipment, pro audio or home electronics.
— Figure 7 —
TD-000371-00-A
8
Specifications
Refer to the individual sections in this document for more information. Specifications are subject to change.
Parameter
Specification
Parameter
Specification
Audio Performance (DataPort Outputs)
Dimensions (H/W/D):
1.75" x 19" x 15"
Line voltage requirements
100 VAC – 240 VAC, 50/60 Hz
Dynamic range
(unweighted):
>107 dB
Accessories included
6 ft. UL/CSA line cord, Connector Kit
THD+N at +12 dBu input
level (per AES-17)
<.005 %
Frequency response
20 Hz to 20 kHz
D/A conversion
24-bit delta-sigma, 48 kHz
Front Panel Controls
LCD page forward
Momentary switch
Set parameter
Momentary switch
DSP Performance
Indicators
Filter topology
24-bit digital IIR
Power-on indicator
Green LED
Crossover filters
Linkwitz-Riley or Butterworth (6 - 48 dB/octave)
Status indicator
Tri-color LED (Red, Green, Amber)
Parametric EQ
Digital band-pass filter with ±20 dB of boost/
cut. Q is programmable in 1/10th octave steps
from 1/20th to 4 octaves
Menu-driven LCD
2 line x 16 character LCD
CD Horn EQ
Digital shelf filter with up to ±10 dB of cut/boost
programmable from 20 Hz to 20 kHz
All pass filter
2nd order all pass filter programmable from
20 Hz – 20 kHz
Rear Panel Connectors
Universal Mic/Line input
XLR — Mic (+ phantom power) or line level
Available sensitivity settings:
-16 dBu, 10 dBu, 21 dBu, 27 dBu
Band polarity
Normal, inverted
DataPort outputs
HD-15 (x12) — QSC amplifier interface
Band delay
Programmable in 21 µs steps from 0 ms to
10 ms
Automation inputs
2-pin Euro-style (x2)
Amplifier AC Control
All amps power on with DXP activation and can
be placed into standby via user interface
Relay outputs
3-pin Euro-style (x4) – max 30 VDC
CobraNet
RJ45 (x2) 100 Mbps primary/backup network
audio
Automation Inputs
Audio Performance (Mic/Line Input)
Input Type
TTL Compatible or Dry Contact Closure
Operating Mode
Connection to ground through a maximum
impedance of 1 k Ohm for closure detect
Relay outputs
A/D conversion
24-bit delta-sigma, 48 kHz
Dynamic range
(unweighted)
> 103 dB
Output type
Mechanical relay contacts
Input stage type
Active balanced
Compatible
Max 30 VDC output at 1 A. Can be wired as
NO or NC
Input impedance
Balanced: 6.81 k Ohms
Unbalanced: 13.6 k Ohms
Max analog input level
Audio network / Control connection to DCP
-16
10
21
27
dBu
0.123
2.25
8.70
17.35
Vrms
Protocol
CobraNet version 2 protocol
CMRR typical (max)
20 Hz – 20 kHz >60 dB (>50 dB)
Data rate
100 Mbps (Fast Ethernet)
THD+N at 2 dB below clip
(per AES-17)
<0.006%
Ports
1 Primary, 1 Backup (auto-failover)
Connection requirements
CAT-5 UTP cable or better (100 m maximum
length), direct connection to wired network
switch ports only, dedicated LAN or V-LAN
TD-000371-00-A
9
Mailing Address:
QSC Audio Products, LLC
1675 MacArthur Boulevard
Costa Mesa, CA 92626-1468 USA
Telephone Numbers:
Main Number: (714) 754-6175
Sales & Marketing: (714) 957-7100 or toll free (USA only) (800) 854-4079
Customer Service: (714) 957-7150 or toll free (USA only) (800) 772-2834
Facsimile Numbers:
Sales & Marketing FAX: (714) 754-6174
Customer Service FAX: (714) 754-6173
World Wide Web:
www.qsccinema.com
E-mail:
[email protected]
[email protected]
©2012 QSC Audio Products, LLC. All rights reserved. QSC, the QSC logo, QSControl.net, QSControl, DCP Manager, Digital Cinema Amplifier (DCA), Digital Cinema Processor
(DCP) and Intrinsic Correction are registered trademarks of QSC Audio Products, LLC in the U.S. Patent and Trademark office and other countries. CobraNet is a trademark of
Cirrus Logic. All other trademarks are the property of their respective owners. Patents may apply or be pending.