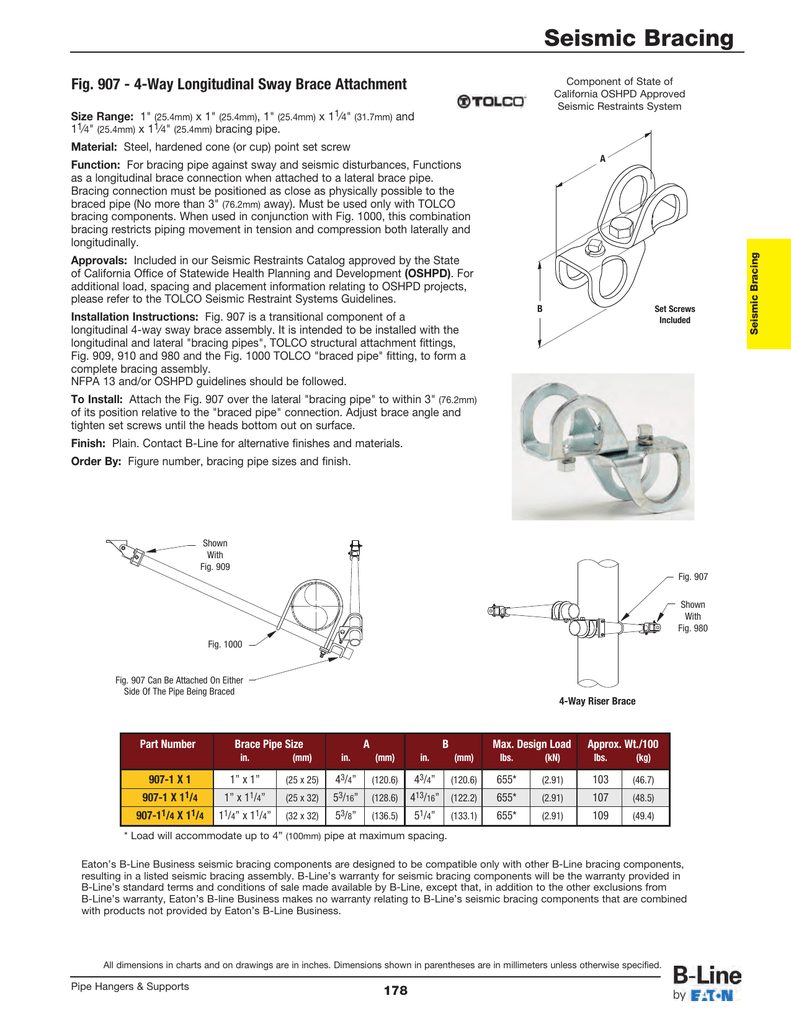 Seismic Bracing
Component of State of
California OSHPD Approved
Seismic Restraints System
Fig. 907 - 4-Way Longitudinal Sway Brace Attachment
Size Range: 1" (25.4mm) x 1" (25.4mm), 1" (25.4mm) x 11⁄4" (31.7mm) and
11⁄4" (25.4mm) x 11⁄4" (25.4mm) bracing pipe.
Material: Steel, hardened cone (or cup) point set screw
Approvals: Included in our Seismic Restraints Catalog approved by the State
of California Office of Statewide Health Planning and Development (OSHPD). For
additional load, spacing and placement information relating to OSHPD projects,
please refer to the TOLCO Seismic Restraint Systems Guidelines.
B
Installation Instructions: Fig. 907 is a transitional component of a
longitudinal 4-way sway brace assembly. It is intended to be installed with the
longitudinal and lateral "bracing pipes", TOLCO structural attachment fittings,
Fig. 909, 910 and 980 and the Fig. 1000 TOLCO "braced pipe" fitting, to form a
complete bracing assembly.
NFPA 13 and/or OSHPD guidelines should be followed.
Set Screws
Included
To Install: Attach the Fig. 907 over the lateral "bracing pipe" to within 3" (76.2mm)
of its position relative to the "braced pipe" connection. Adjust brace angle and
tighten set screws until the heads bottom out on surface.
Finish: Plain. Contact B-Line for alternative finishes and materials.
Order By: Figure number, bracing pipe sizes and finish.
Shown
With
Fig. 909
Fig. 907
Shown
With
Fig. 980
Fig. 1000
Fig. 907 Can Be Attached On Either
Side Of The Pipe Being Braced
4-Way Riser Brace
Part Number
Brace Pipe Size
in.
907-1 X 1
907-1 X
11/4
907-11/4 X 11/4
1" x 1"
1" x
11/4"
11/4" x 11/4"
A
(mm)
in.
(25 x 25)
43/4"
(25 x 32)
53/16"
(32 x 32)
53/8"
B
Max. Design Load
Approx. Wt./100
(mm)
in.
(mm)
lbs.
(kN)
lbs.
(kg)
(120.6)
43/4"
(120.6)
655*
(2.91)
103
(46.7)
(128.6)
413/16"
(122.2)
655*
(2.91)
107
(48.5)
(136.5)
51/4"
(133.1)
655*
(2.91)
109
(49.4)
* Load will accommodate up to 4" (100mm) pipe at maximum spacing.
Eaton's B-Line Business seismic bracing components are designed to be compatible only with other B-Line bracing components,
resulting in a listed seismic bracing assembly. B-Line's warranty for seismic bracing components will be the warranty provided in
B-Line's standard terms and conditions of sale made available by B-Line, except that, in addition to the other exclusions from
B-Line's warranty, Eaton's B-line Business makes no warranty relating to B-Line's seismic bracing components that are combined
with products not provided by Eaton's B-Line Business.
All dimensions in charts and on drawings are in inches. Dimensions shown in parentheses are in millimeters unless otherwise specified.
Pipe Hangers & Supports
178
Seismic Bracing
A
Function: For bracing pipe against sway and seismic disturbances, Functions
as a longitudinal brace connection when attached to a lateral brace pipe.
Bracing connection must be positioned as close as physically possible to the
braced pipe (No more than 3" (76.2mm) away). Must be used only with TOLCO
bracing components. When used in conjunction with Fig. 1000, this combination
bracing restricts piping movement in tension and compression both laterally and
longitudinally.

* Your assessment is very important for improving the work of artificial intelligence, which forms the content of this project