No category
March PTA Newsletter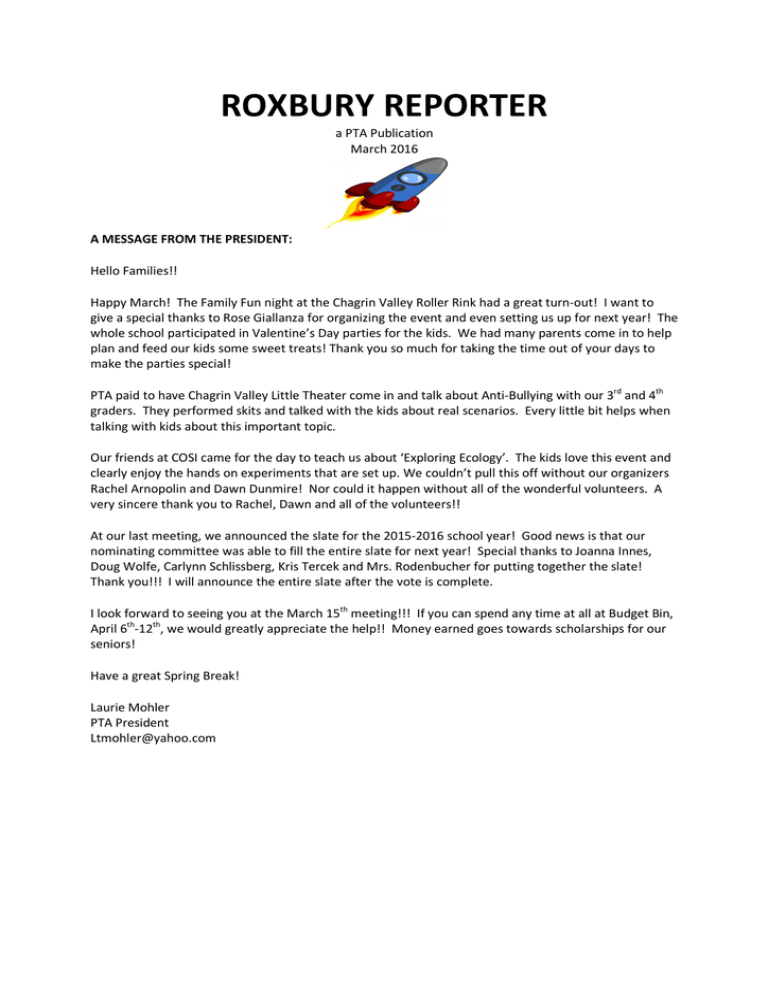 ROXBURY REPORTER
a PTA Publication
March 2016
A MESSAGE FROM THE PRESIDENT:
Hello Families!!
Happy March! The Family Fun night at the Chagrin Valley Roller Rink had a great turn-out! I want to give a special thanks to Rose Giallanza for organizing the event and even setting us up for next year! The whole school participated in Valentine's Day parties for the kids. We had many parents come in to help plan and feed our kids some sweet treats! Thank you so much for taking the time out of your days to make the parties special!
PTA paid to have Chagrin Valley Little Theater come in and talk about Anti-Bullying with our 3 rd
and 4 th graders. They performed skits and talked with the kids about real scenarios. Every little bit helps when talking with kids about this important topic.
Our friends at COSI came for the day to teach us about 'Exploring Ecology'. The kids love this event and clearly enjoy the hands on experiments that are set up. We couldn't pull this off without our organizers
Rachel Arnopolin and Dawn Dunmire! Nor could it happen without all of the wonderful volunteers. A very sincere thank you to Rachel, Dawn and all of the volunteers!!
At our last meeting, we announced the slate for the 2015-2016 school year! Good news is that our nominating committee was able to fill the entire slate for next year! Special thanks to Joanna Innes,
Doug Wolfe, Carlynn Schlissberg, Kris Tercek and Mrs. Rodenbucher for putting together the slate!
Thank you!!! I will announce the entire slate after the vote is complete.
I look forward to seeing you at the March 15 th
meeting!!! If you can spend any time at all at Budget Bin,
April 6 th
-12 th
, we would greatly appreciate the help!! Money earned goes towards scholarships for our seniors!
Have a great Spring Break!
Laurie Mohler
PTA President
ROXBURY REPORTER
a PTA Publication
March 2016
Save the date!
Friday April 15th 2016 5:00 to 10:00 pm
Roxbury annual Family Fun night
At Fun 'N' Stuff
661 Highland Rd E, Macedonia
Additional Information to follow after spring break
April BOGO Book Fair
We are looking for volunteers to help with the April BOGO Book Fair that goes along with our Art Show
April 19-21 and especially in the evening of April 21st from 6:30-8:00pm. If you are interested in helping, please contact Christa Bomeli at [email protected]
Box Tops Update
Thank you to all of you who submitted Box Tops for our February collection. We want to especially thank the parents who helped us count for this collection: Jennifer Kavanagh, Becky Utterback, Nicole
Rothstein, Joanna Innes and Minu John. We really appreciate your help! Please keep collecting your
Box Tops. Our final collection will be in May and will determine the winning class in each grade! Many grade levels are close so just about any class can win! Here are the current leaders in each grade level:
Kindergarten- Karns
1
2 st
Grade- Hogue (most collected in all grades!!) nd
Grade- Fingerhut
3
4 rd
Grade- Armentrout th
Grade- Ansberry
Thank you for supporting our school!
Orit Krivis and Amy Sordi
Roxbury PTA, Box Tops Coordinators
ROXBURY REPORTER
a PTA Publication
March 2016
Solon Council of PTAs
Arthur Road, Lewis, Parkside, Roxbury, Orchard, Middle and High Schools
SPRING 2016 BUDGET BIN
Consignment Day............Wed. April 6th.…..10 AM - 6 PM
Sale Days…………….………Thurs. April 7th.......10 AM - 8 PM
Fri. April 8th.......10 AM - 7 PM
Bonus Day 30% off…….....Sat. April 9th…....10 AM - 3 PM
Bonus Day 30% off………..Mon April 11th……10 AM - 2 PM
Bag Day……….……….…….Tues. April 12th…….9 AM - 11 AM
Sale items include New or Gently-used spring and summer clothing, shoes, toys, small household items, baby items, holiday items, craft items, books and videos, sports equipment and much more!
ROXBURY REPORTER
a PTA Publication
March 2016
Parkside Elementary School
Gymnasium
PARKSIDE ELEMENTARY
6845 S.O.M. Center Road
For info and consignment numbers
Leave a message at 440-349-7757 ext. 5192
New consignors must register no later than Monday, April 4th
www.freewebs.com/budgetbin
Consignors receive 50% of the profit from their sold items and 50% goes to the Lois Gazeley Scholarship Fund.
These scholarships are awarded to Solon High School Seniors
Budget Bin - Food Donation http://www.signupgenius.com/go/20f0c44adac22aafa7-budget2
Budget Bin - Shift Sign Ups
ROXBURY REPORTER
a PTA Publication
March 2016 www.SignUpGenius.com/go/20F0C44ADAC22AAFA7-spring
OPEN POSITION:
The Food Service Department is in need of substitutes in all Solon School cafeterias. The hours are short, usually two to 3 ½ hours per day and the pay is competitive. The work consists of helping to set up serving lines, serving meals to students, restocking supplies, and assisting with clean-up.
It's a great job for moms who want to be at home when the kids are there, but would like to work a few days a week with flexible scheduling. Applications can be done online. Go to the Solon Website and click on Job applications, online application. It's that easy!
Orchard Middle School
Do you have a fifth-grader coming to Orchard Middle School next year? Please consider heading up one of our PTA committees! Because our school is only two years, we often have turnover and are looking for new help and fresh ideas! We have openings with book fair, the food and toy drive, spirit wear, staff appreciation, welcome to school parties, and splash parties. Please email Danielle Rose at [email protected]
with any questions or any interest- THANKS!
Did you know there are 5 easy ways to earn money for our school? And all of them are a win win for you too!
ROXBURY REPORTER
a PTA Publication
March 2016
ROXBURY REPORTER
a PTA Publication
March 2016
Academic Standards Report
Student Achievement and Assessments
When news broke last week that Solon was one of only six school districts statewide and two in
Northeast Ohio that earned A's for achievement on the Ohio School Report Card, it should have come as no surprise to anyone in Solon (and especially anyone in this room who hears these academic standards reports).
The reasons behind Solon's #1 achievement ranking statewide – and the consistency of our students' high marks on the state report card year after year – is rooted in the best practices and aligned curriculum we talk about in each of these reports.
The student achievement results on the 2015 Ohio School Report Card were the reflection of students showing what they know – both in skills and core area content.
Ohio's Learning Standards are rigorous. They are designed to better prepare today's students for the future and focus on the content and skills (what students should know and be able to do)that students need to succeed. The standards include the most important concepts, issues and ideas as well as ways of communicating, reasoning and investigating within each subject area.
Classroom instruction K-12 in Solon continues to evolve to meet the increased rigor of the standards. In class, students engage in learning opportunities that focus on reasoning, critical thinking, analyzing and applying their knowledge, and providing evidence to support their ideas. All of these skills better prepare them for becoming independent critical thinkers.
Ohio's state assessments are aligned to the learning standards for the core content areas of
English/language arts, math, science and social studies. Additionally, Ohio has created new pathways to graduation beginning with the class of 2018 (this year's sophomore class). Current juniors and seniors follow the prior pathways to graduation and their "graduation test" requirements are the Ohio
Graduation Tests (reading, writing, math, science and social studies), which they took as 10 th
graders.
Solon students in the 10 th
grade and under are required to follow the new graduation pathways. In addition to the course requirements for a high school diploma, students must also take seven end-ofyear exams throughout their high school career:
•
English/language arts 9 and 10
•
Algebra 1 and geometry
•
Biology
•
U.S. history and U.S. government.
ROXBURY REPORTER
a PTA Publication
March 2016
In Solon, these new requirements already impact many of our Solon Middle School students because they are currently taking high school level courses such as algebra and honors geometry. Students in 7 th and 8 th
grade enrolled in these courses take the end-of-course exams required for graduation. A close look at the state report card just released shows how well those students did on those high-stakes tests, again demonstrating they are mastering the content and skills required in those courses.
Students in AP biology, U.S. history and U.S. government may use their AP test score as a substitute for the end-of-course exams in those classes.
Overall, Ohio's state assessments are more streamlined this year. Families are encouraged to check their school's assessment schedule for specific and times.
ROXBURY REPORTER
a PTA Publication
March 2016
Box tops
Giant Eagle
Not only can you earn FuelPerks, you can earn money for Roxbury!
Sign into gianteagle.com or create an account.
Register your Giant Eagle Advantage Card® online.
Visit the
My School Programs page and enter ID 2740 for Roxbury. You can also register to earn points for more than one school! Don't know your school code? Search for it by name, city or zip code.
You're done! Be sure to encourage your family and friends to register, too. It doesn't affect your
FuelPerks in any way!
Heinen's
If you have a Heinen's Preferred Card or Check Cashing Card, you can set up a Tasteful Rewards
Membership Free and earn money for Roxbury. Go to http://www.heinensrewards.com/register.aspx to Register. As a member of Heinen's Tasteful Rewards™ Program, when you shop at Heinen's you can help area schools through Heinen's school donation program. Up to 1% of your qualified purchases during September to April can be donated annually by Heinen's to a local school of your choice. The
Teaming Up for Education Program is a Tasteful Rewards™ membership benefit and enrollment with your email address is required.
Members of the Tasteful Rewards Program are required to RE-SELECT their school every year.
To select a school you have three choices:
Simply log into your account at www.heinensrewards.com with your registered email address and password, Click on "My profile" at the top of the page, scroll down to the bottom of the page. select Roxbury as your school and save changes
Select Roxbury as your school of choice at any Heinen's Store Location
Customer service booth
Call our Customer Relations department at 1-855-475-2300 Ext 2337
Target RedCard –
Target is on track to give $1 billion for education by the end of 2015. Talk about extra credit! Use the
Credit or Debit REDcard, and Target will donate 1% of your Credit or Debit REDcard purchases made at
Target and Target.com to help the eligible K-12 school of your choice. If you already have a Target
REDcard, go here to add Roxbury as your preferred school: https://wwwsecure.target.com/redcard/tcoe/home
Use School ID 84077 for Roxbury
AmazonSmile
ROXBURY REPORTER
a PTA Publication
March 2016
Amazon donates 0.5% of the price of your eligible AmazonSmile purchases to the charitable organization of your choice. AmazonSmile is the same Amazon you know. Same products, same prices, same service.
Support your charitable organization by starting your shopping at smile.amazon.com.
Go to smile.amazon.com
Under "pick your own charitable organization" type in: PTA Ohio Congress Roxbury Elementary
Next time you need to order from Amazon, start at smile.amazon.com instead
Membership
Please support Roxbury!
Membership is only $6.00 per family and this supports all that we do at school.
Pictures
Have you been to Roxbury Field Trips? Parties? Events?
Did you take pictures?
Please forward them to
You can also join our Facebook Page for lots of great information.
You may request to join: https://www.facebook.com/groups/RoxburyPTASolon/
We are in need of a lot of volunteers, so please email [email protected] if you can help in any way
ROXBURY REPORTER
a PTA Publication
March 2016
PTA CONTACTS
President
Laurie Mohler
Vice President
Liz Roberto
2nd Vice President
Janet Elliott
349-1962
216-513-8001 [email protected]
349-6220 [email protected] [email protected]
Recording Secretary
Susan Keough 781-4171
Corresponding Secretary
Sherry Parker 248-4545 [email protected]
Treasurer
Katy Miozzi
Newsletter Editor
Kristen Cione
216-973-7617 [email protected]
513-550-3255 [email protected]
Classroom Coordinator
Emily Gallagher
Membership
Elena Psepolschi 503-3488 [email protected] [email protected]
* Your assessment is very important for improving the work of artificial intelligence, which forms the content of this project