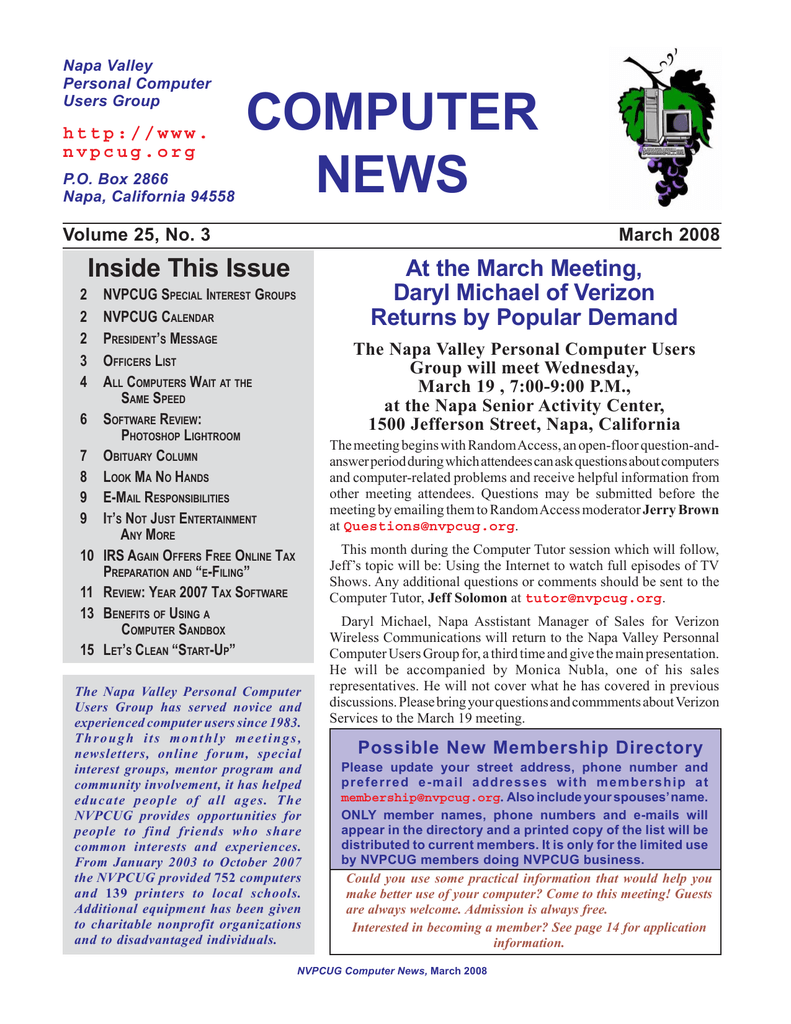 Napa Valley
Personal Computer
Users Group
http://www.
nvpcug.org
P.O. Box 2866
Napa, California 94558
COMPUTER
NEWS
Volume 25, No. 3
March 2008
Inside This Issue
2
2
2
3
4
6
7
8
9
9
10
11
13
15
At the March Meeting,
Daryl Michael of Verizon
Returns by Popular Demand
NVPCUG SPECIAL INTEREST GROUPS
NVPCUG CALENDAR
PRESIDENT'S MESSAGE
OFFICERS LIST
ALL COMPUTERS WAIT AT THE
SAME SPEED
SOFTWARE REVIEW:
PHOTOSHOP LIGHTROOM
OBITUARY COLUMN
LOOK MA NO HANDS
E-MAIL RESPONSIBILITIES
IT'S NOT JUST ENTERTAINMENT
ANY MORE
IRS AGAIN OFFERS FREE ONLINE TAX
PREPARATION AND "E-FILING"
REVIEW: YEAR 2007 TAX SOFTWARE
BENEFITS OF USING A
COMPUTER SANDBOX
LET'S CLEAN "START-UP"
The Napa Valley Personal Computer Users
Group will meet Wednesday,
March 19 , 7:00-9:00 P.M.,
at the Napa Senior Activity Center,
1500 Jefferson Street, Napa, California
The meeting begins with Random Access, an open-floor question-andanswer period during which attendees can ask questions about computers
and computer-related problems and receive helpful information from
other meeting attendees. Questions may be submitted before the
meeting by emailing them to Random Access moderator Jerry Brown
at [email protected]
This month during the Computer Tutor session which will follow,
Jeff's topic will be: Using the Internet to watch full episodes of TV
Shows. Any additional questions or comments should be sent to the
Computer Tutor, Jeff Solomon at [email protected]
The Napa Valley Personal Computer
Users Group has served novice and
experienced computer users since 1983.
Through its monthly meetings,
newsletters, online forum, special
interest groups, mentor program and
community involvement, it has helped
educate people of all ages. The
NVPCUG provides opportunities for
people to find friends who share
common interests and experiences.
From January 2003 to October 2007
the NVPCUG provided 752 computers
and 139 printers to local schools.
Additional equipment has been given
to charitable nonprofit organizations
and to disadvantaged individuals.
Daryl Michael, Napa Asstistant Manager of Sales for Verizon
Wireless Communications will return to the Napa Valley Personnal
Computer Users Group for, a third time and give the main presentation.
He will be accompanied by Monica Nubla, one of his sales
representatives. He will not cover what he has covered in previous
discussions. Please bring your questions and commments about Verizon
Services to the March 19 meeting.
Possible New Membership Directory
Please update your street address, phone number and
preferred e-mail addresses with membership at
[email protected] Also include your spouses' name.
ONLY member names, phone numbers and e-mails will
appear in the directory and a printed copy of the list will be
distributed to current members. It is only for the limited use
by NVPCUG members doing NVPCUG business.
Could you use some practical information that would help you
make better use of your computer? Come to this meeting! Guests
are always welcome. Admission is always free.
Interested in becoming a member? See page 14 for application
information.
NVPCUG Computer News, March 2008
NVPCUG
Special
Interest
Groups
President's Message
In SIG meetings you can learn about
a subject in greater detail than is
feasible at NVPCUG general
meetings. SIG meetings are open to
everyone. M e e t i n g t i m e s a n d
locations occasionally change, so
for current meeting information, see
our Web site, www.nvpcug.org, or
contact the SIG leaders.
Investors SIG
Meets: Monthly, second Monday
5:30 to 7:30 p.m
Jerry Brown's home,
23 Skipping Rock Way, Napa
Leader: Jerry Brown
(707) 254-9607
[email protected]
Digital Photography SIG
Meets: Monthly, second Wednesday
7:00 to 8:30 p.m
Piner's Nursing Home,
Conference Room
1800 Pueblo Ave., Napa
Leader: Susy Ball
(707) 337-3998
[email protected]
Macintosh SIG
Meets: Monthly, second Thursday
6:30 - 8:30 p.m.
Napa Senior Activity Center
1500 Jefferson St., Napa
Leader: Ron Rogers
(707) 226-5352
ronrogersnapamug
@gmail.com
By Ron Dack, president, http://www.nvpcug.org/,
[email protected]
Goodness how time flies by. Here it is March already and I'm still waiting for
winter to get here. OK, so we had a little rain and a few cold days that a winter
does not make.
We are working hard to connect with some interesting presenters and will be
trying to include more Apple related content. I attended the Mac SIG in
February and met several people that would be valuable assets to our group.
Remember we are the Napa Valley Personal Computer Users Group and we
don't just represent PC users. If you have any ideas for presentations let Susy
Ball know what they are. You can e-mail her at [email protected]
To resolve our budget problems and necessary expenses I have been
considering a fee for non-members to attend our meetings. For the General
meeting it would be $250 and that would entitle the non-member to one raffle
ticket for the drawing at the end of the meeting. Each member would be given
a ticket for free. If the non-member joined the group at that meeting the fee
would be credited to their dues.
The time to replace our projector will soon be upon us. We still have too
many members wanting a printed copy of the Computer News. In days gone
by we would have had a used computer sale to make up the difference but we
don't have that option now so other cuts or sources of income will have to
be found by the Board of Directors. That is unless one or more of you have
ideas how to and are willing to take on the responsibility of raising money
for the group? If you have ideas and want to volunteer contact me at
[email protected]
I am certainly not looking forward to a year of dealing with budget and
expense issues.
At the February meeting I mentioned that I don't do a full system virus scan
very often. Upon checking my McAfee settings on my computer I find that a
full virus scan is done once a week so I stand corrected. I don't spend much time
on strange websites and I know the NVPCUG site is virus free so I don't worry
much about it.
All my e-mails and incoming files are virus scanned by Postini, Norton, and
McAfee before they get to my machine so if they miss a virus I guess I will have
to deal with it.
See you at the meeting on March 19th
NVPCUG General Meetings
Held the third Wednesday of each month, 7:00 to 9:00 p.m.
Napa Senior Activity Center, 1500 Jefferson Street, Napa
Take care,
Ron
NVPCUG Calendar
Mar 19
Apr 2
Apr 9
Apr 10
Apr 14
Apr 19
May 7
May 8
May 12
May 14
May 21
7:00-9:00 p.m.
7:00-9:00 p.m.
7:00-8:30 p.m.
6:30-8:30 p.m.
5:30-7:30 p.m.
7:00-9:00 p.m.
7:00-9:00 p.m.
6:30-8:30 p.m.
5:30-7:30 p.m.
7:00-8:30 p.m.
7:00-9:00 p.m.
NVPCUG General Meeting, Napa Senior Activity Center, 1500 Jefferson Street, Napa
Board of Directors meeting, Piner's Nursing Home, 1800 Pueblo Ave., Napa
Digital Photography SIG meeting, Piner's Nursing Home, 1800 Pueblo Ave., Napa
Macintosh SIG meeting, Napa Senior Activity Center, 1500 Jefferson St., Napa
Investors SIG meeting, Jerry Brown's home, 23 Skipping Rock Way, Napa
NVPCUG General Meeting, Napa Senior Activity Center, 1500 Jefferson Street, Napa
Board of Directors meeting, Piner's Nursing Home, 1800 Pueblo Ave., Napa
Macintosh SIG meeting, Napa Senior Activity Center, 1500 Jefferson St., Napa
Investors SIG meeting, Jerry Brown's home, 23 Skipping Rock Way, Napa
Digital Photography SIG meeting, Piner's Nursing Home, 1800 Pueblo Ave., Napa
NVPCUG General Meeting, Napa Senior Activity Center, 1500 Jefferson Street, Napa
NVPCUG Computer News, March 2008, Page 2
Napa Valley Personal Computer
Users Group Contact Information
Officers for 2008
Board of Directors
President
Vice President
Secretary
Treasurer
Other Directors:
Director
Ron Dack
unlisted
[email protected]
Dick Peterson
738-1812
[email protected]
Marcia Waddell 252-2060
[email protected]
Roy Wagner
253-2721
[email protected]
Susy Ball, Ron Dack, Jim Gray, Dick Peterson, Bob Simmerman,
Kathy Slavens, Dean Unruh, Marcia Waddell, and Roy Wagner.
Jim Gray
255-6789
[email protected]
Appointed Officers
Computer Tutor Coordinator
Jeff Solomon
553-2114
[email protected]
Facility Arrangements Coordinator
Dianne Prior
252-1506
[email protected]
Greeter Coordinator
Kathy Slavens
251-9193
[email protected]
Greeter Coordinator
Bob Simmerman 259-6113
[email protected]
Librarian
Dean Unruh
226-9164
[email protected]
Membership Director
Bob Simmerman 259-6113
[email protected]
Newsletter Circulator
Jim Hearn
224-2540
[email protected]
Newsletter Editor
Susy Ball
337-3998
[email protected]
Product Review CoCoordinator
Susy Ball
337-3998
[email protected]
Product Review CoCoordinator
Marcia Waddell
252-2060
[email protected]
Programs Director
Susy Ball
337-3998
[email protected]
Publicity Director
Ron Dack
unlisted
[email protected]
Random Access Moderator
Jerry Brown
254-9607
[email protected]
Special Projects Director
VOLUNTEER NEEDED
[email protected]
Webmaster
Ron Dack
unlisted
Sales Coordinator
VOLUNTEER NEEDED
[email protected]
[email protected]
• All telephone numbers are in Area Code 707.
NVPCUG Computer News, March 2008, Page 3
NVPCUG
Computer News
Computer News (ISS
0897-5744) is
published monthly by
the Napa Valley
Personal Computer
Users Group, Inc.
(NVPCUG), P.O. Box
2866, Napa, CA
94558-0286.
Subscriptions: $30 for
one year (12 issues).
Editor: Susy Ball,
[email protected]
The material in
Computer News is
intended for
noncommercial
purposes and may not
be reproduced without
prior written permission,
except that permission
for reproducing articles,
with authors properly
credited, is granted to
other computer user
groups for their internal,
nonprofit use only. The
information in this
newsletter is believed
to be correct. However,
the NVPCUG can
assume neither
responsibility for errors
or omissions nor liability
for any damages
resulting from the use
or misuse of any
information.
The NVPCUG is an IRC
501(c)(3) tax-exempt
nonprofit educational
organization (EIN 680069663) and is a
member of the
Association of Personal
Computer User Groups
(APCUG), an
international
organization. Donations
to the NVPCUG are
tax-deductible as
charitable contributions
to the extent allowed by
law. Copyright © 2007
by NVPCUG.
All Computers Wait at the Same Speed
By Vinny La Bash, Member of the Sarasota Personal Computer Users Group, Inc., Florida,
Obtained from APCUG with the author's permission for publication by APCUG member groups
I first heard that phrase about ten years ago at a geek
conference in Seattle. A decade ago is earlier than the Stone
Age in computer years. It was probably meant to make fun
of the propeller heads that couldn't live without the fasted
CPU on their motherboard. The geeks' concern with
processing speed seemed ridiculous to those who
understood that computers spend very little of their time
processing information. They spend it waiting for us to tell
them to do something. You would certainly find your life
very boring if you had to spend 99% of your time waiting
for other people to act before you could do anything.
What are we talking about? We're talking about keeping
your system properly tuned so that you don't have to wait
while it tries to do its job. It's no secret that Vista has had
performance problems. Microsoft has promised that their
upcoming service pack should resolve most if not all
performance issues. We've heard similar kinds of promises
from Redmond before, but this time they say they really
mean it. In fairness, not every performance issue can be
laid at Microsoft's doorstep, but it's always fun to blame
them because they're such an easy target.
Vista puts great demands on your CPU due to Aero and
other assorted graphical gizmos built into the product.
They should have named it the Eye Candy OS. Responding
to the user community, Microsoft also added security
features and additional functions that were not present in
XP. When you ask your CPU to do more, you're adding
overhead. This means you need more CPU power or you
live with a slower system. If Vista performance has been
less than stellar, the good news is that you can do
something about it other than buying a new computer.
Here are some of the things you can do to make Vista
more appealing from a performance standpoint.
You're probably tired of hearing this one. It's like
mother telling you to eat your vegetables. You know she's
right, but you don't want to hear it. ADD MORE
MEMORY. Vista is hungrier for RAM than any of its
predecessors, and with memory
as cheap as it is,
it doesn't make
sense to keep it
on a starvation
diet. XP runs
great on one gigabyte of RAM. Vista
should have two gigabytes as a minimum, and you won't
go wrong by installing even four gigabytes.
Even with enough physical memory, Vista can still act
like a tired old dog if you have a lightweight video card.
Go into the Performance Information and Tools utility in
Control Panel, and check out your video card with the
Windows Experience Index. You need a video card that's
certified for Vista Premium and supports Direct X 10.
Use the money you save on RAM to buy a good video
card. Don't try to do this one on the cheap.
A real help to good performance is bringing
your power settings to the High Performance option.
Do this from
the Power
Options utility
in Control
Panel. The
default setting
is Balanced
which is OK
for XP but
not
Vista.
The High
Performance
The PCI Express slot on the motherboard is
setting gives used specifically for video cards. If you
you full access want to future-proof your graphics
needs,purchase a motherboard
t o a l l t h e processing
that provides a PCI-Express slot and get a
P o w e r i n video card that utilizes
PCI-E. Graphic from Smart Computing.com
the CPU.
Turn off the sidebar. While this feature is visually
appealing, it has few socially redeeming traits. Turning
off this feature can sometimes result in significantly
faster startups and shutdowns. Disable
the sidebar by
right-clicking it.
Select Properties,
and remove the
checkmark in the
box that starts the
sidebar when Vista
wakes up.
Fine tune your
indexing options.
The sidebar is visible on the right.
Vista has a great
Graphic from SmartComputing.com
search feature, but
it's totally dependent on indexing the files and programs
on your hard drive. It's a mixed blessing. You have a
fantastic search capability when you index all locations,
but you take a performance hit. By indexing fewer areas,
performance will improve, but your search feature will
be less robust.
Vista won't let you turn off indexing completely, but
you can disable indexing for locations that may not be
important to you. Do this from the Performance
Information and Tools utility in Control Panel.
Here's another "eat your veggies" type tip. Empty the
NVPCUG Computer News, March 2008, Page 4
Recycle Bin
and adjust it
so it doesn't
take up more
than 2% of
your hard
drive. Right
click on the
Recycle Bin,
Indication
s e l e c t
of Low
index
Properties,
and make the necessary adjustments in the dialog box.
Don't forget to defrag your disk once in a while, and
empty the Recycle Bin before you defrag, not after.
Open My Computer from the Desktop. Right click on
the C: drive, select Properties and check how much
space you have left on your hard drive. If you're
approaching 90% or more, you need to take non-essential
files and move them to another location. Vista needs free
disk space to perform certain housekeeping functions,
and if it has to hunt around for room or use virtual
memory, your performance hit could be enormous.
Keep your device drivers up-to-date. Device drivers
were designed to ensure that programs or hardware
Power Options window under control panel.
peripherals could "talk" to the system without problems
and do their jobs properly. Newer drivers can improve
3D performance, fix bugs and other graphical glitches in
games and video programs. Device drivers can avoid
memory conflicts and prevent programs from squabbling
over resources. Newer device drivers can support
innovative features within applications, and ensure
compatibility among different programs.
These are only some of the things you can do to
improve Vista performance. Removing unnecessary
startup programs, preventing spyware and virus
infections, and updating old software are additional
steps you can take. If your system is frequently hanging
up or crashing after doing everything you can do to
improve performance, then it's time to consider
reformatting your hard drive and reinstalling everything,
but that's another article.
"
This article has been provided to APCUG by the author solely
for publication by APCUG member groups. All other uses
require the permission of the author (see e-mail address above).
All graphics complements of SmartComputing.com.
Organize Your Music Files
Put all of your music files in one place so you can easily get
to your songs to transfer them to your MP3 player. You can
let your player software do this for you—-iTunes, WMP,
RealPlayer, and others all offer to do so—-or you can be
more selective and do it yourself. If you put your files in
the My Music folder in Windows XP, you can keep prying
eyes and ears away from them by creating a password for
yourself via Control Panel's User Accounts applet.
Cool Components
Heat is the primary enemy of nearly all A/V equipment.
Components give off heat and need vents to properly
dissipate the heat. If they can't, the equipment may
fail—just as your computer would fail if it didn't have
fans running continuously to keep temperatures down.
Many pieces of A/V gear provide adjustable feet for
stacking. Use these feet to help circulate air above and
below units. Leave at least 4 to 6 inches between your
components and the wall behind them for similar
reasons. Some units vent heat in the back, and insulated
walls will store this heat and radiate it right back.
Two Great Speakers Beat Six
Mediocre Ones
We all want the full surround-sound experience, but if you
have to make a financial choice between buying a lowpriced full 5.1 surround sound setup or a single pair of
high-quality stereo speakers for the same price, in practically
every case the high-quality pair will give you better sound.
Read the dynamic range specs for each of the speakers in
both systems and pay attention to the amount of power that
goes to each speaker (not just the entire system). Distortion
ratings also matter, especially if you're using your TV
instead of an external amplifier to power the speakers.
Listen to all the choices, by all means, but listen to crisp,
clear, full, undistorted sound to guide your decision.
iTunes' Playlists
Apple's iTunes software contains a neat feature called
Smart Playlists. In essence, it turns iTunes into a disc
jockey, drawing its material from your downloaded music
files. Choose the New Smart Playlist feature from the file
menu and select the criteria by which you want iTunes to
make its selections. You can have the program search for
songs by specific artists, genres, number of times played
(you might want it to find some songs you haven't listened
to very much, for instance), or even sound quality. You can
further set the number of songs, minutes, or megabytes to
keep your playlists manageable. Finally, click the Live
Updating box to have iTunes continually change the
Playlist as you add new songs to your folders.
Reprinted with permission from Smart Computing. Visit
www.SmartComputing.com/Groups to learn what
Smart Computing can do for you and your user group!
NVPCUG Computer News, March 2008, Page 5
Software Review
Photoshop Lightroom:
By Tom Ekvall, newsletter editor and "Creative Imaging" columnist, Northeast Wisconsin
PCUG, http://webpages.charter.net/newpcug/, [email protected]
Obtained from APCUG with the author's permission for non-destructive manner, so that .jpg images do not diminish
publication by APCUG member groups.
in quality over time as editing changes are made. I like the
way Lightroom lays out the photo editing tools on the
workspace so that everything is at hand. Edits can be
undone in the future and new changes made without
having to create separate files for each change. Information
is stored in a separate file associated with the image. The
information is there in a Managed Photos folder whether
you import the images into Lightroom's library or leave
them in the original location.
Lightroom in fact is a cataloger of your photos, with the
user having the choice where to store the images. It will
even recognize pictures on removable drives or external
hard drives as part of the catalog, something most browsers
will not do. I chose to store my pictures in their original
location for now.
When you start up Lightroom, you will notice a sleek,
black interface with photos in the workspace depicted
as slides.
Do you like to shoot plenty of pictures with your
digital camera?
If you are like me, storing and organizing them is always a
chore so that you can find the right picture when you need it.
Enter Adobe Photoshop Lightroom – the new kid on the
block for handling your digital workflow. Designed
specifically for professional photographers, Lightroom is
equally fantastic and impressive for any photo enthusiast.
Lightroom is not designed to replace Adobe Photoshop
or Photoshop Elements. However, it is the perfect
complement to the programs, and for some who do not
care for doing layers, may become the only product they
The concept behind Lightroom is to provide a simplified
need for digital imaging tasks.
workflow
setup from shoot to finish with five modules
While Photoshop is designed as a general-purposed tool
identified
on the top right hand section of the screen:
to handle a variety of creative digital imaging tasks,
Lightroom has only one focus — providing photographers Library, Develop, Slideshow, Print, and Web. Each module
with an effective, streamlined way to manage their photos, has a set of panels with pre-set information on the right
process them, and deliver a final product whether a print hand side, task information on the left hand side, photo
displays in the center and a filmstrip on the bottom of
or web gallery.
The product incorporates photos being reviewed. The filmstrip shows all in a
many features I enjoy in particular folder, not just those opened up.
The Library is where photos are imported and cataloged
Photoshop CS3, such as the
with
the ability to add keyword information, rate the photo
state of the art black and
on
importance,
and even mark it for rejection before a final
white adjustment techniques
deletion.
It
also
includes Quick Develop controls that let
and being able to edit JPEG
you
make
simple
edits with push button controls rather
and TIFF files in a nonthan sliders. Photos can be viewed in tandem to facilitate
destructive manner.
In fact, everything you do selecting, comparing, and ranking (stars and colors) photos
in Lightroom is handled in a for later processing.
NVPCUG Computer News, March 2008, Page 6
The Develop module is where you do the non-destructive
processing of photos including those in the .raw format.
Whether you are in the library looking at a set of photos
or in the Develop module, a histogram of the picture
selected is always visible. This helps in evaluating which
picture to keep or edit for printing.
The Slideshow provides a way to review photos or show
them to someone else in an interesting format with the
film strip of all the photos still showing on the bottom part
of the screen.
The Print module provides all the choices for printing
while the Web provides a tool for enabling the pictures to
be viewed on the web either in html or in flash formats.
I love the way Lightroom is laid out on the screen as you
can see from the accompanying image. Everything is so
simple to use and user-friendly.
I also love the Color Adjustment sliders that adjust both
the primary and secondary color ranges (all eight colors)
with regard to the hue, saturation and luminance (HSL)
characteristics of the image as well as the tonal controls
including a new Tone Curve feature. Both allow you to
make adjustments directly in the targeted photo.
Lightroom can probably handle most of my imageediting needs. However, there is still definitely a place
for Photoshop CS3 for those things which Lightroom
cannot do.
What Lightroom cannot do is apply layers, masks, and
selective editing to a photo nor will it allow you to do
compositing and montages. It is not a "fix it" program
when extensive retouching is necessary, nor does it have
filters and brushes to create artistic effects, something I
love to do. .Lightroom also does not work with video,
which is no big deal to me.
Lightroom does provide for exporting the photo to
Photoshop, Photoshop Elements or other image editing
programs so that further work can be done to the photo.
Lightroom sells through Adobe (www.adobe.com)
for $299. A 30-day fully functional tryout version is
available for downloading from their web site.
Final thoughts
This is definitely a must-have program for those who want
to manage their photos and process them in a nondestructive manner. To me what sets this apart from other
organizers/digital asset management programs is the quality
and depth of the photo-editing tools. It is obvious the
program draws upon the experience of Adobe staff in
developing image-editing products such as Photoshop,
Bridge, and Camera Raw.
The system requirements include Microsoft Vista or
Windows XP, 768 MB of RAM (1 GB recommended)
and a Pentium 4 processor. I installed the software on an
Acer laptop running Vista with Pentium 4 dual-core
processors (1.60 GHz speed), and 2 GB of RAM. No
installation problems.
There are a number of books out on the market to help
you learn more about the software. The one I use is
Photoshop Lightroom for Digital Photographers Only by
Ron Sheppard. I like it for its simplicity in presenting
information in an easy-to-understand format. There are a
number of other great books out there.
"
This article has been provided to APCUG by the author solely
for publication by APCUG member groups. All other uses
require the permission of the author (see e-mail address above).
Obituary Column
Robert Eads
On the afternoon of February 22, 2008, Robert
Charles Eads, Jr. passed away suddenly at his
home in Clovis, CA, with his faithful Great
Dane by his side. He is a former member and
the adult son of member Linda Collison.
His memorial services were held on Saturday,
March 8, in Fresno, CA.
Additional information can be found on the
obituaries pages of the Napa Register for
March 8 , 2008.
Carl Ogan
Carl Ogan, passed away at Piner's Nursing
Home on February 26, 2008, at the age of 90.
He was the brother-in-law of Ray McCann.
Carl was an active member of the Napa Valley
Personal Computer Users Group since
1995 until his infirmities prevented his
participation. Ray helped take care of Carl
during the last several years.
Additional information can be found on the
obituaries pages of the Napa Register dated
March 4, 2008.
NVPCUG Computer News, March 2008, Page 7
Look Ma No Hands
By Bruce Jacobs, Phoenix PCUG newsletter editor, www.phoenixpcug.org, [email protected]
Obtained from APCUG with the author's permission for say and then recomposing it later. Some of this may be
publication by APCUG member groups.
my fault. I find that I can type up an article by hand and
This article was not typed. maintain enough control so that in the end I have
I d i c t a t e d i t u s i n g t h e something coherent. When I just speak out what I want
speech recognition feature in it does not always make sense. I spend way too much
time revising it.
Windows Vista Ultimate.
O n e o f t h e disadvantages is that you need to spend
I have been using this
feature on and off for certain a little bit of time training the voice recognition system.
applications for a while and The system works best when you are running a very
it has its good points and its simple application such as WordPad or Notepad. It can
even be used to some extent in Microsoft Word. However
bad points.
The intent of the software when using an application such as PowerPoint, the
is to allow the user to speak program spends so much time trying to figure out what
words into the computer and possible commands you might be wanting to perform
for the computer to recognize those words, understand and not enough time actually realizing that you are
that some of them are commands, and also understand trying to enter words.
Another problem is
that some of them are input to programs. In other words,
homonyms. These are
when I say the words "please save me", the computer
words that sound the
must decide whether to add the words to the document
same but they have
I am editing as if I had typed them, or add the word
different meanings in
"please" to the document, and then bring up the save
English except for the
dialog box to save the document with the name "me".
possibility of some
The program that is attempting to do this has two
contextual clues.
major hurdles to conquer. It has to recognize the spoken
There is no way for
words correctly. This is helped by the training exercises.
the speech recognition
But it has its limitations.
software
to
know
whether
I
want
"2", "two", "to", or
It must also understand "in context" which of those
"too."
During
setup
the
program
asks
you if they can look
words are commands and which of those words are to be
at
the
contents
of
documents
on
your
hard drive to help
part of my document. As time goes on, you learn to
you
determine
what
word
you
used
most
often and in
pause before speaking a command. So in the above
what
context.
This
does
help
it
guess
which
homonym
example of "please save me", I would say the words
altogether relatively quickly in order to enter them in you want.
The final problem I wish to discuss is the editing
my document. If I wanted to add the word "please" to
features.
Whenever I create a text document I will want
my document then save the document, I would speak the
word "please", then pause for a few seconds, then save to fix mistakes. There are some commands in the
the word " save." This would bring up the save dialog software that will help fix mistakes, but they are limited
and clumsy. Some of them will even (in theory) help
box and I could continue as if it was a command.
As far as the good points prevent mistakes by the voice recognition software in
are concerned: If I'm working future. All that being said, I find that editing documents
off printed list or when I know using the voice recognition software is very frustrating.
for sure what I want to say I always resort to using the arrow keys and the mouse
clearly, it can be a much faster to navigate through the document.
Vista speech recognition is a helpful tool when
way of inputting text than for
transcribing
printed text or when words have been spoken
me to type it. Some of that is
into
a
tape
recorder.
However for initial composition of
due to my typing speed being
documents
or
editing
I
do not find it useful. I do not believe
somwhat slow. I am a faster
typist then most hunt and peck folks, but I would never that I could ever learn to use it as a complete 100%
be able to keep a job as a secretary. It is also much better substitute for the keyboard and mouse. I would not consider
it a replacement if I was disabled.
"
at spelling than I am.
If I don't know what I'm going to say in advance the This article has been provided to APCUG by the author solely
program does not facilitate me speaking what I want to for publication by APCUG member groups. All other uses
require the permission of the author (see e-mail address above).
NVPCUG Computer News, March 2008, Page 8
It's Not Just Entertainment Any More
By Gene Komaromi, a member of the Computer Club of Green Valley, Arizona, http://
gvcc.apcug.org/, [email protected]
Obtained from APCUG with the author's permission for
publication by APCUG member groups.
In the past, we've commonly thought of
computer games, especially those
played on game machine platforms,
as pure entertainment. Times have
changed and many games have
become educational as well as physical training
devices.
Learning has become fun for both kids and adults. Here's
some information that will keep you ahead of the digital
gaming curve.
DS - Handheld Games for Senior Citizens Nintendo has
a hot selling hand held video game machine called the "DS"
for "Double Screen." The device opens with two visible
screens, one is a display screen and the other is a "Touch
Screen" which serves as the controller interface. The DS has
a series of games designed with "older" users in mind. They
are Brain Age, Big Brain Academy and Flash Focus.
All three have been recommended by AARP, and Brain
Age has been shown to improve mental performance in
independent tests. Brain Age and Big Brain Academy have
a series of games, practice exercises and tests that are
designed to improve and evaluate cognitive skills, and
best of all "they're fun." They chart and graph improvement
and will keep records for several individuals.
Have you ever had a problem with that vision test on your
driver's license exam? Then Flash Focus
was made for you. It too has games and
exercises, but instead of improving your
brain they improve your eyes.
Wii Want to Play
The hottest new gaming console is the Wii, another product
from Nintendo that has games designed for the older kids,
real older kids. The game controller is a little motion
sensitive device that straps on the user's wrist. Participants
interact with the game by moving their arms.
In the Detroit area, aerobic classes and movies have been
replaced by Wii in many senior citizen centers. "Bowling"
seems to be one of the most popular games. I've played it,
and yes, it's exactly like the real thing. The motion of your
arm, as you approach a virtual bowling alley, allows you to
curve the ball and add some spin. Wii bowling leagues are
springing up all over the country. Nintendo is about to
release an exercise program for the Wii that uses a floor pad
"
as a controller.
This article has been provided to APCUG by the author solely
for publication by APCUG member groups. All other uses
require the permission of the author (see e-mail address above).
E-Mail Responsibilities
By Bob Schwartz, a member of HAL-PC, Texas, www.hal-pc.org, [email protected]
Obtained from APCUG with the author's permission for snoops tapping your connection. There are innumerable
publication by APCUG member groups.
ways by which your "private" traffic can go public.
So, the BOTTOM LINE is: compose your messages
E-mail is a very valuable method of almost instant
communication. However, many people operate with care, check the addressees listed, and review the
under an illusion that it is private. It is not. Once message before pressing the "SEND" key.
Oh, by the way: do not think that once sent and "deleted",
sent, it is effectively broadcast to the world. So one
should NEVER send anything that they might that the file is gone from your computer. When you
regret. Once it is sent, it is now in other people's "delete" a file, this DOES NOT ERASE THE FILE. All
hands. The recipient may or may not care as much about this does is change the first letter of the file name in the
directory. The file, in all its glory, remains untouched on
controlling your e-mails distribution as you do.
Just suppose you send something clever about someone the hard drive, which is why it is so easy to recover it.
you know to a friend or acquaintance and they bring it up Technology has provided a variety of means to recover and
on the screen. Then, they take a break and go to coffee, reconstitute "deleted" files.
To conclude, e-mail is a tremendously valuable means
leaving it on the screen. Another person passes by, snoops,
of
almost instant communication. Just make sure that you
and sees the e-mail. They also think it is clever, and make
use
it carefully, thoughtfully and wisely.
a copy of it and send it to someone they know, etc.
Or, the employer records all e-mail traffic passing within Bob Schwartz is a HAL-PC member, retired EE, 14 patents,
their company, which they have every right to do, since the technical writer, active in civic affairs: President, Brays
equipment is theirs.
Bayou Association; Vice President, Marilyn Estates Civic
Worse yet, some people send messages that they believe Association; Correspondence Secretary with the Willow
are benign and strictly business, yet some self-anointed Waterhole Greenspace Conservancy.
"god" thinks otherwise.
Yet even sneakier are viruses that can unknowingly, by This article has been provided to APCUG by the author solely
you, forward your e-mails elsewhere; or, police and other for publication by APCUG member groups. All other uses
require the permission of the author (see e-mail address above).
NVPCUG Computer News, March 2008, Page 9
IRS Again Offers Free Online Tax
Preparation and "e-Filing"
By Ira Wilsker, APCUG Director; Columnist, The Examiner, Beaumont, TX; radio and Talk
Show Host, [email protected]
Obtained from APCUG with the author's permission for partnership called the "File Free
publication by APCUG member groups.
Alliance, LLC" where the IRS
contracted with several tax preparation
WEBSITES:
companies to offer free online tax
preparation and filing. The Free File
http://www.irs.gov
Alliance evolved from a "President's
http://www.irs.gov/efile/article/
Management Agenda", which created
0,,id=118986,00.html - Free File
a series of 24 "e-government"
page
initiatives designed to improve government to citizen
http://www.irs.gov/efile/article/
electronic capabilities. Originally, the program was limited
0,,id=118992,00.html – Free File
to 60% of taxpayers, but the 2005 contract expanded the
Instructions
eligibility to 70% of taxpayers. The current agreement
http://www.irs.gov/efile/article/
between the IRS and the preparation companies expires in
0,,id=118993,00.html October, 2009. The income eligibility ceiling, currently at
Information
an AGI of $54,000, is adjusted annually such that 70% of
http://www.irs.gov/app/freeFile/jsp/ taxpayers will remain eligible. Members of the Free File
index.jsp - List of participating Alliance must conform to strict IRS established security
Companies
and privacy requirements which insure the sanctity of the
http://www.irs.gov/pub/irs-efile/
free filing service.
free_file_agreement.pdf - Free
According to the IRS, there are several advantages and
File Alliance Agreement
reasons for using the free tax services provided. The IRS
http://www.irs.gov/espanol/article/
claims that users can get their refunds in as little as 10 days,
if they opt for direct deposit. Unlike commercial tax
0,,id=163297,00.html - Free File
preparation offices, the online services are available 24/7,
in Spanish
Whether we like it or not, April 15 is fast approaching. It and taxes can be completed and filed at any time of the day
does not matter if we are due a refund, or owe Uncle Sam prior to April 15. The IRS also claims that the service is
a bundle of money, we still must complete our income tax environmentally friendly, in that it saves mountains of
forms and file them appropriately with the IRS. This is a paper. Users of the free online services will benefit through
task that very few enjoy, and many more do not relish. the automatic checks for accuracy, and will receive a
While preparing our tax returns becomes more complex confirmation within 48 hours that the return was received
and time consuming, the IRS has once again contracted by the IRS.
Users of the free filing service must start at the IRS
with a number of tax services to prepare our taxes online
for free, if we are eligible. According to the IRS, the goal website, IRS.gov, and initially access the free tax services
of the free file program is to enable 70% of taxpayers (97 through the IRS website. Many of the companies that are
million people, according to the IRS) to take advantage of a part of the Free File Alliance also offer paid commercial
the free online service; for calendar year 2007 (taxes due tax preparation services, and the only way to get the
April 15, 2008), the calculated ceiling on eligibility for the service for free is to initialize the process through the IRS
free service is an adjusted gross income (AGI) of $54,000. website. The list of participating companies, 19 of them,
In addition to preparing federal tax returns for those includes such well known companies as H&R Block, and
eligible, the providers will also "e-file" (electronically software companies such as TurboTax. It is the
file) the returns at no charge to the taxpayer. It should be responsibility of the user to verify his eligibility both for
noted that the IRS does not charge for receiving e-filed the program (up to $54,000 AGI), and for the Free Alliance
returns, but does not currently accept e-filed returns directly partner selected, as many of the partners have additional
from individuals without first going through a third party eligibility requirements for the free service. The user can
service, for which a fee may be charged. There is no e-file either browse the list of individual companies
fee for taxes prepared by the free preparers who participate (w w w . i r s . g o v / a p p / f r e e F i l e / j s p /
in the IRS free file program.
index.jsp), or can use the button "Guide Me To A
Company"
to narrow down the choices of free tax preparers.
The free filing service was created in 2002, and renewed
Several
of
the
companies, such as H&R Block's "TaxCut
again in 2005, when the IRS created a public – private
NVPCUG Computer News, March 2008, Page 10
Free File", "Tax$imple Deluxe Version", and "eSmart Tax
by Liberty Tax Service" are available to anyone with an
AGI of less than $54,000, and who are also aged 50 or less.
"TaxSlayer Free Returns" is available to anyone aged 25
to 68, or active military who meet the income requirements.
"TurboTax Freedom Edition" is free to anyone with an
AGI of less than $30,000, or active duty military with an
AGI of up to $54,000. "Complete Tax" will do any age
with an AGI of $12,000 to $54,000, while "Free TaxAct"
will do anyone aged 19 to 54 who has an eligible AGI.
Other free preparers have different eligibility requirements,
including several that will prepare taxes for people for any
age, but have geographic restrictions, in that they only
prepare taxes for residents of specific states. Some of the
preparers, such as "Online Tax Pros" specify that they also
prepare taxes in Spanish. While not a requirement covered
in the agreement with the IRS, many of the preparers listed
will also prepare and file state income tax returns for
residents of states that have a state income tax (Texas does
not have a state income tax). While a few will prepare state
income taxes for free, most have a nominal charge to
prepare and e-file state taxes.
Once the taxes are prepared and completed online
through one of the free providers, the returns are
electronically checked for accuracy, and then e-filed
directly with the IRS. The preparer will receive an electronic
confirmation from the IRS that the return was received,
and forward that confirmation to the taxpayer, typically
within 48 hours of filing. If the taxpayer is due a federal
refund, and selects direct deposit, the refund is deposited
to the taxpayer's specified account in as little as 10 days.
The IRS is to be commended for coordinating this
service, available to nearly 100 million taxpayers. One
improvement to the service that I would like to see is to
allow those of us who prepare our taxes ourselves with
commercial software, to be able to upload our returns
directly to the IRS without having to go through a third
party. That would be a great service to the millions of us
who choose not to use, or who are not eligible for, the free
filing programs, but would like the convenience of e-filing
without sending our personal and private information to a
third party.
For the eligible 70% of taxpayers who can utilize the
free service, there are few good reasons not to use the
"
service. The price can not be beat.
This article has been provided to APCUG by the author solely
for publication by APCUG member groups. All other uses
require the permission of the author (see e-mail address above).
Review
Year 2007 Tax Software
By Milton G. Gugenheim, Jr., a member of HAL-PC, Texas, and an AARP Tax Aide Instructor
and Local Coordinator for over 12 years, www.hal-pc.org, [email protected]
Obtained from APCUG with the author's permission for internet connection is required to obtain updates as the
publication by APCUG member groups.
software is released in December, before the IRS has
completed all the forms, etc.
Personal Software
Even if you think that you need the skills of an
Most of us seem to put the dreaded tax experienced CPA in the preparation of your return, either
chore off until the last moment and of these programs will help you to become better organized
then find ourselves faced with and possibly keep accountant fees to a minimum.
incomprehensible IRS forms, shoeboxes
I found the following software tax packages for the 2007
of receipts, check registers, antacids and
tax year: TurboTax Basic, TurboTax Deluxe, TurboTax
headache pills. The return must be filed by Tuesday,
Premier, TaxCUT, TaxCUT Deluxe, and
April 15, 2008 (you can file an extension to delay
TaxCUT Premier, for Windows 98, 2000, ME,
filing until August 15, 2008. But payment,
XP. Vista and MacPowerPC processor. Most
without P&I, is due April 15, 2008 – the IRS
of the local office supply stores and other
is nice, but not that nice!)
retail and software outlets stock the software.
Fortunately help is on the way in the form
There are free tax preparation programs
of a couple of good tax preparation programs
on the web. Go to a search engine and enter
from Intuit – TurboTax, H&R Block –
"free federal income tax programs".
TaxCUT and 2nd Story's TaxACT. This
TaxACT is a good free program. The program
review covers the two most popular programs.
is easy to use and includes forms most tax
In addition to well-crafted interfaces and good
payers require. A paid version is also available for
online help, both TaxCUT and TurboTax include more complex returns.
Microsoft's Internet Explorer Web browser for seamless
integration with the World Wide Web for updating. An
Tax Software Review cont. on page 12
NVPCUG Computer News, March 2008, Page 11
Tax Software Review cont. from page 11
Features
TurboTax Basic is the basic package needed to file all
individual returns including professional or sole proprietor,
and includes Internet Explorer on the CD. TurboTax
Deluxe includes all the features of TurboTax Basic and
one free e-file (after rebate). Plus extra help for deductions
– the deduction finder (library resources,
tax planner, on-screen references and
IRS publications, video advice and a
financial planner). TurboTax Premier
includes all the feature of TurboTax
Deluxe plus help for investments,
complex taxes, Schedule C business and
Rental Property.
TaxCUT Deluxe is almost identical to
TurboTax including Internet Explorer 6
on the CD. TaxCUT Deluxe includes all
the features of TurboTax Deluxe, tax
tips, on-screen IRS instructions and
publications. All the programs will import
financial data from most popular financial
programs, and include details on
preparing a return, reviewing a return,
electronic filing (e-file) via a second party, planning for
next year, plus help locations.
Installation
All packages were easy to install following the given
directions. TurboTax Basic requires 175 MB of disc space
without the installation of Explorer. TaxCUT Deluxe
requires 170 MB of disc space without the installation of
Explorer
Manual
Both TurboTax and TaxCUT include an
on-screen user guide with typical screens
of the described function. All the usual
files, edit, forms, tools and help are in the
tool bar. TaxACT has almost as much onscreen help.
General Overview
All of the packages have an easy step-bystep program to walk the taxpayer through
the various steps required to do a return.
The experienced taxpayer may prefer the
forms method after completing a basic
information page. The taxpayer selects
the form and fills in the required
information. Some have supplemental sheets for recording
information, which is then transferred to the form. Help is
available from any screen. All programs import from
Quicken and Microsoft Money.
Details
The latest tax changes are incorporated in the packages (at
the time of release). Each package allows the taxpayer to
enter data on various forms after completing the basic
information sheet. The return is then saved. Be sure to give
the file a name if more than one return will be prepared
using the same program. The programs
may be used whether you are the organized
type or the shoe box type. The shoebox
type should organize the various types of
entries first.
Printing
TurboTax and TaxCUT allow you to print
an IRS return or select a form or schedule
to be printed. The current computer printer
setup does not have to be changed. Check
to be sure you have the latest updates prior
to printing the return for filing. Print a
return for filing and a return for your
records. The record return will contain
detail sheets. I have no experience using
these programs to e-file.
Summary
The Basic package of TurboTax or Deluxe of TaxCUT is
more than adequate for most users. The upgrade packages
are great for users who like the "bells and whistles" that
include lots of helpful literature, suggestions, etc. The
street price for the basic packages is around $20, TurboTax
Deluxe, and TaxCUT Premier is about $40 Each company
has an extensive business program for about $70 +. A new
program is required for the each tax year. TurboTax and
TaxCUT sites, each sell the programs and it will cost more
than the local stores.
Helpful Hints: I suggest the return be
prepared in all caps since this is preferred
by the IRS. All returns are mathematically
corrected based on the input data. Most of
programs have promotion tie-ins, such as
a money program, anti-virus, etc. Read
carefully the conditions before buying
the program.
TurboTax, for more info goes to:
www.turbotax.com/support.
Block TaxCUT. For more info go to:
www.taxcust.comand for TaxACT
"
go to: www.taxact.com.
This article has been provided to APCUG
by the author solely for publication by APCUG member
groups. All other uses require the permission of the author
(see e-mail address above).
NVPCUG Computer News, March 2008, Page 12
Benefits of Using a Computer Sandbox
By Gene Barlow, User Group Relations, Copyrighted January 2008, www.ugr.com,
[email protected]
A computer Sandbox is newer technology that is not very computer. Other users may change your computer to
well known, but, it can be quite useful in many situations. match the way they like to use computers. For example,
By using a Sandbox utility, you can place your computer many of us have grandkids that come to visit and want to
in a protected state where you can try some rather risky play on our computer. They may download games they
things on your computer and not have your computer like, change your wallpaper and default font sizes. They
damaged in the trials. Once you place your computer into may pick up viruses in the process of getting your computer
Sandbox mode, you can safely run anything on your changed to their needs. When they leave, your computer
computer, knowing that all changes to your hard drive will no longer is the same as it was before they arrived. It may
not be permanently made to your computer. While in take you days to get it working again like you want it to.
Sandbox mode, your computer runs as if all changes to the With a Sandbox, you can place the computer in Sandbox
hard drive were actually made to your system. But, at the mode before they arrive and then let them play on your
end of using the Sandbox, you can throw away these computer to their hearts content. When they leave, you
changes, putting your computer back exactly the way it simply exit the Sandbox and throw away all changes that
was before entering the Sandbox.
they made to your computer. It is instantly back the way it
Let's take a look at some real life situations to better was before they started to use it.
understand the benefits of using a Sandbox utility.
Computer Labs and Classrooms
Installing New Software
Everyone knows that when you install a new software
product on your computer, parts of the product are
placed all over your computer's hard drive. Entries are
made to the Windows Registry, special supporting files
are place in certain directories of the operating system,
and other shortcut and setting files are scattered in
various places on your hard drive. These are in addition
to the main folder that is installed on your hard drive
with the software programs. Most software will
uninstall easily, but often pieces of the product are left
behind on your hard drive. These leftover pieces of
orphaned software can build up and slow down your
computer. Some software products include hidden
viruses or other bad programs as you install them. The
end result is that installing new software on your
computer can be a risky thing to do.
Using a Sandbox to install and test new software is a
much better approach. With a Sandbox, you put your
computer in Sandbox mode before you downloaded and
installed the new software. Since the Sandbox lets you use
the newly installed software just as if it had been
permanently installed on your computer, you can run the
new software to try it out and see if you like it. You can also
run virus utilities to see if the installation gave you a virus
you were not expecting. If you find viruses on your
computer or just decide you do not like the newly installed
software, you can get out of the Sandbox and throw away
all traces of that software product and any hidden virus
that came with it.
Letting Others Use Your Computer
User groups that have computer labs or classrooms have
a similar situation. The classroom computers are setup
carefully by the instructors before the class begins. Once
the students have used the computer throughout the day,
the computers are different and modified from what they
were in the beginning of the day. This may cause problems
for the students that follow them, so the instructors will
often restore the computer's hard drives to put them back
to normal. With a Sandbox, this long restore process is not
needed. Instead, put the computers in Sandbox mode at the
beginning of the day before the students arrive. Then at the
end of the day, exit the Sandbox and throw away all hard
drive changes made by the students. The computers are
quickly returned to their normal state as you exit the
Sandbox.
Browsing the Internet
Much of the Spyware that you pick up on your computer
comes from simply browsing the internet. Some web sites
are designed so that simply passing your cursor over a part
of the screen is enough to activate a download of Spyware
to your computer. Not only that, but your privacy is at risk
when you browse the Internet. Windows automatically
saves all of the places you browse to and all of the screens
you see on the Internet. Browsing the Internet in a Sandbox
is a much better approach. Place your computer in Sandbox
mode before you start to browse the internet. Then browse
all of the sites you want to. When you are done browsing
the internet, exit out of the Sandbox and throw away all
Spyware and traces of web sites you may have visited.
We offer three excellent Sandbox products that you
may want to use on your computer. Let's look at each of
Another reason to use a Sandbox is to let others use your
NVPCUG Computer News, March 2008, Page 13
Sandbox cont. on page 15
Fr om Copies t o Full Co l or Printing
we 're your
sou r ce for all your printed needs .
Also come see us for your Pr omo tional Items !
947 Lincoln Avenue
Napa, CA 94559-5066
3148 Jefferson Street • Napa, California 94558
707/257-6260 • fax 707/257-8741
[email protected]
http://napa.minutemanpress.com
(707) 299-1000
www.napanet.net • [email protected]
Napa Valley Personal Computer Users Group
Offering Financial Services
throughout the Napa Valley;
with offices in American
Canyon, Calistoga,
Napa, St. Helena
and Yountville
800-869-3557
www.wellsfargo.com
Thank
You !
The Napa Valley Personal
Computer Users Group is
grateful for the support
provided by the afore
mentioned companies
Receive your
newsletter
online and save
the NVPCUG the
expense of mailing
your newsletter.
Contact Dianne Prior at
[email protected] and
request to receive your
newsletter online.
(Each persons newsletter that
is printed costs the group over
$24 annually.)
For more information about the
NVPCUG, visit our Web site:
http://www.nvpcug.org
Membership Application/Renewal *
‡ New
‡ Renewal
‡ Information Update
Please Print
Full Name: _________________ Nickname: _______________________
Street/PO Box: ________________________________________________
City: __________________ State: ______ ZIP Code: ________ - ______
Phone (check preferred):‡ Home: ( ______ ) _______ - _______________
‡ Work: ( ______ ) _______ - _______________
E-mail (check preferred):‡ Home: __________________________________
‡ Work: __________________________________
Ocupation/Profession ____________________________ Retired? ______
Do you want to be added to the following NVPCUG e-mail lists?
News and announcements:
‡Yes ‡ No
General discussion of computer-related topics:‡Yes
‡
No
If you do not want your preferred phone number and/or e-mail address
published in the NVPCUG Directory, which is for the exclusive use of
NVPCUG members, check the appropriate box(es):
‡ Do not list phone number
‡ Do not list e-mail address
Family members whom you want to sponsor as Associate Members:
(Associate Members have the same membership rights as their sponsors,
except for receiving newsletters)
Full Name
E-mail Address
__________________________
______________________________
__________________________
______________________________
Annual Dues:
‡ $30
Regular Member - an individual who is not a full-time student
‡ $20
Student Member - a full-time student who is not eligible for Associate
membership.
‡ $10
Associate Member - a family member of a Regular or Student
member. Associate memberships run concurrently with sponsors'
memberships.
Make check payable to:
Napa Valley Personal Computer Users Group
Mail application/renewal to:
Napa Valley Personal Computer Users Group
Attn.: Membership Director, P.O. Box 2866
Napa, CA 94558-0286.
The NVPCUG is an accredited IRC 501(c)(3) nonprofit organization. Your dues
payment may be tax-deductible as a charitable contribution.
* To request a Corporate Membership Application / Renewal form, e-mail:
[email protected]
Revised 4-23-07
NVPCUG Computer News, March 2008, Page 14
Sandbox cont. from page 13
these briefly to help you decide which one would best
meet your needs.
StorageCraft ShadowSurfer
The smallest and least expensive Sandbox we offer is
ShadowSurfer by StorageCraft Software. This product is
the quickest product to install and the easiest product to
use of all of our Sandbox products. With ShadowSurfer,
all changes to your hard drive are always thrown away
when you exit the Sandbox, which is what you want in
most cases anyway. This excellent product runs on Win2000
and WinXP systems and is available from us at the discount
price of just $20. This is an excellent beginning Sandbox
product for most home users.
Acronis True Image 11 Home
Try&Decide
The next step up in ability
and price is a feature that
Acronis has added to their
new True Image 11 Home
backup utility. This feature is
called Try&Decide and it is a
Sandbox feature built into
this award winning backup
utility. Try&Decide requires
that you create and use the
Acronis SecureZone on your
hard drive to contain the
temporary changes to your hard drive. When you exit
the Sandbox with this product, you can choose to keep
all changes to your hard drive or throw them all away.
This excellent product runs on Win2000, WinXP, and
WinVista operating systems and is available from us
at the discount price of just $29 for a download or $33
on a CD. This is a very good Sandbox feature that
comes with an outstanding backup utility.
StorageCraft ShadowUser Pro
The most advanced Sandbox utility we offer is ShadowUser
Pro by StorageCraft Software. This is a professional-level
Sandbox product that has many options and features to it.
With this product, you can password protect the controls
of the Sandbox, so that nobody can disable the Sandbox
unless they know the password. Perhaps the biggest
differences between this product and the other two Sandbox
products is that you can pick and choose what files to
throw away and what files to keep as you exit the Sandbox.
This top of the line Sandbox product runs on Win2000 and
WinXP operating systems and is available from us at the
discount price of $47. This is the product you should use
if you are running a public computer workstation that
needs tight controls.
A Sandbox offers you a new way to protect your computer
from damage from the software you install or access on the
internet. It also keeps your hard drive safe from damage
caused by others using your computer. The selection of
Sandbox products we offer lets you pick and choose which
one is right for your needs. To order your Sandbox
product, go to www.ugr.com and find the Sandbox
product you are interested in. Then click on the Buy Now
button on that product page to place your order using our
secure web shopping cart. As you complete your order
indicate the order code of UGNL0108 to qualify for these
excellent discount prices. If you have questions about this
new technology or about any of these products send an
email to [email protected] and I will try to help you.
Gene Barlow
User Group Relations
PO Box 911600
St George, UT 84791-1600
This is one of a series of monthly technical articles that I
distribute to those that have subscribed to this newsletter.
Watch for them and learn more about your computer and its
hard drive. You are receiving this newsletter because you
subscribed to it or have purchase products from us. To
subscribe to this newsletter, send me an e-mail
([email protected]). User group newsletter editors may print
this article in their monthly newsletter as long as the article
is printed in its entirety and not cut or edited. Please send me
a copy of the newsletter containing the article so that I can
see what groups are running the articles.
Let's Clean "Start-Up"
By Bob Elgines, Editor, Colorado River Computer Club, AZRCC Editor, www.crccaz.com/,
[email protected]
Obtained from APCUG with the author's permission for
publication by APCUG member groups
Does your computer boot-up or run slow? Maybe there are
too many programs running in the back ground. Let us do
the following check first.
• Hold your CTRL & ALT buttons and press the
DELETE button.
•
•
Click on the PERFORMANCE tab, is your CPU
Usage running more than 10% or is your Physical
Memory being in total use?
Go to START then RUN, type in "msconfig"
which stands for Microsoft System
NVPCUG Computer News, March 2008, Page 15
"Start Up" continued on page 16
"Start Up" continued from page 15
•
•
Configuration. In Windows VISTA you can find
RUN in the ACCESSORY folder under
PROGRAMS.
The System Configuration Utility windows will
come up.
appear, then hold down left mouse button and
move it to the right. This information tells you
where it is located and in some cases which
program is using it. Uncheck those in question,
you can put them back in later if you need too.
Do not uncheck you Antivirus or Spyware
programs.
Next go to the tab on top labeled SERVICES,
this show all of the programs running now. You
do not what to uncheck those labeled Microsoft
under the MANUFACTURER column, so to start
off, lets put a check mark in the box below
labeled "Hide all Microsoft Services".
The SERVICES tab will lookvery similar to the START UP
tab.
•
Your Startup Configurations tab will look comparable
to this one.
•
First go to the upper right tab labeled STARTUP,
here you will see the list of items that load during
startup. Of course some you want, some you
don't. In the first column labeled STARTUP
ITEM gives a very rough idea to what it is
referenced too, but the second column labeled
COMMAND, is much more useful. Too read it
better, widen the column out by holding your
mouse symbol over the vertical line located
before the next column label. A double arrow will
Napa Valley Personal Computer Users Group
P.O. Box 2866
Napa, California 94558-0286
Address Services Requested
Now while you are reviewing the other programs
running in the background note the forth column
labeled STATUS. If it says STOPPED, then don't
worry about it. We just want to stop the strange
ones that are RUNNING. You can uncheck those
that you are not familiar with, here again you
may bring them back in later.
• After un-checking all those items under tabs
STARTUP & SERVICES, then click on APPLY
and CLOSE.
• The System Configuration Utility will now ask
you to RESTART (or Boot) your computer.
After restarting a window will come up stating System
Configuration Utility has been changed, be sure to put a
check mark in the bottom left (labeled "Don't show this
message or launch …..") before clicking OK.
If you improved your operation of your computer, you
can put back in the items one at a time until you find the
program that was slowing you down.
"
This article has been provided to APCUG by the author
solely for publication by APCUG member groups. All
other uses require the permission of the author (see
e-mail address above).