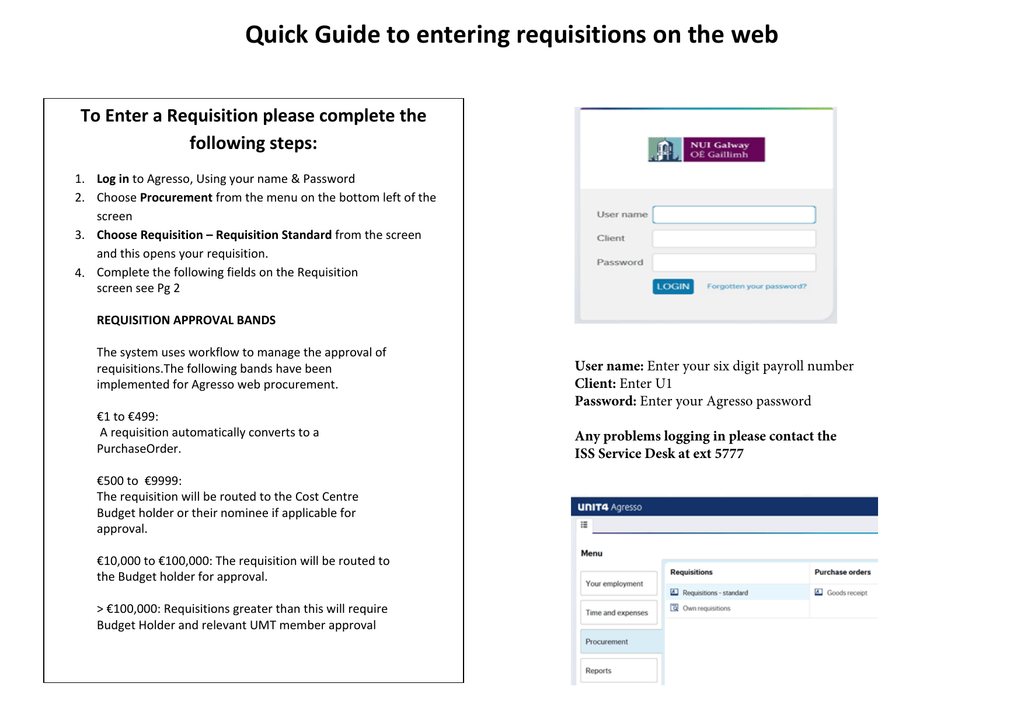 Quick Guide to entering requisitions on the web
To Enter a Requisition please complete the
following steps:
1. Log in to Agresso, Using your name & Password
2. Choose Procurement from the menu on the bottom left of the
screen
3. Choose Requisition – Requisition Standard from the screen
and this opens your requisition.
4. Complete the following fields on the Requisition
screen see Pg 2
REQUISITION APPROVAL BANDS
The system uses workflow to manage the approval of
requisitions.The following bands have been
implemented for Agresso web procurement.
€1 to €499:
A requisition automatically converts to a
PurchaseOrder.
€500 to €9999:
The requisition will be routed to the Cost Centre
Budget holder or their nominee if applicable for
approval.
€10,000 to €100,000: The requisition will be routed to
the Budget holder for approval.
> €100,000: Requisitions greater than this will require
Budget Holder and relevant UMT member approval
User name: Enter your six digit payroll number
Client: Enter U1
Password: Enter your Agresso password
Any problems logging in please contact the
ISS Service Desk at ext 5777
To Enter a Requisition please
complete the following steps:
* needs to be completed
- Supplier Name- Type or use
the Search Facility
- Requisition Details - Choose
the product you wish to
order e.g. Stationary.
- Description - Type over the
text with the product
information e.g. Headed
paper.
- Quantity and Price - Enter
no and price(not including
VAT)
- Product Text- Enter text
relevant to the order e.g.
quote ref no.
-GL Analysis- this indicates
the cost centre to be charged
and the VAT code to be used.
(info on VAT codes available
on our FAQs)
- Click on Save
Notes ******
If the supplier you wish to purchase goods from is
not available on Agresso you will need to complete
a Supplier set up form. See the Procurement web
page.
What happens next?
Once saved the approver where applicable will
receive an e-mail informing them they have a
requisition to approve.
The University has implemented the facility to
have all Purchase Orders raised by way of a 'web
requisition' which, assuming budget availability,
generates a PO for sending to the supplier.
The approver must log in to Agresso to approve/
reject the requisition. Once fully approved the
system will generate an electronic Purchase Order
(PO) and will e-mail it to the requisitioner.
Requisitioners must email the PO to
the supplier.
The supplier will issue an invoice once the goods/
services have been sent/provided to NUIG. A
Goods Received Note (see FAQs on how to do
this) must be completed once the goods/services
have been received.
Accounts payable will process the invoice
provided the PO and GRN match the invoice
received.
NUI Galway pays its suppliers by EFT
(electronic funds transfer) directly into
supplier bank accounts fortnightly .

* Your assessment is very important for improving the work of artificial intelligence, which forms the content of this project