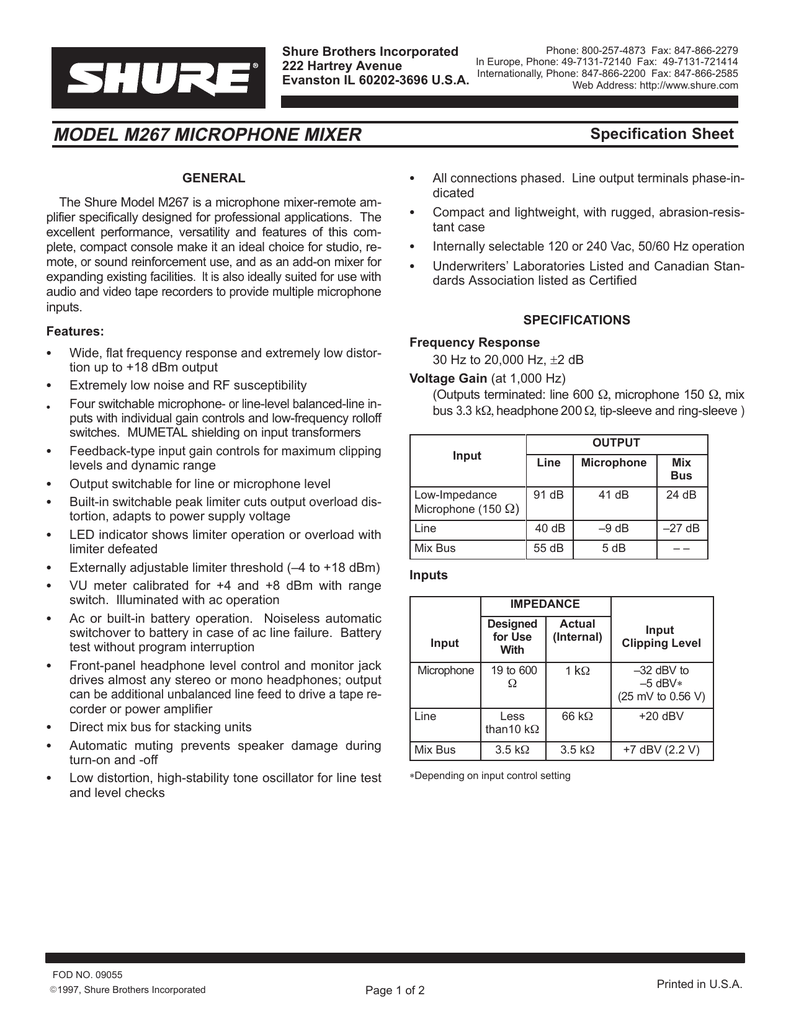 Shure Brothers Incorporated
222 Hartrey Avenue
Evanston IL 60202-3696 U.S.A.
Phone: 800-257-4873 Fax: 847-866-2279
In Europe, Phone: 49-7131-72140 Fax: 49-7131-721414
Internationally, Phone: 847-866-2200 Fax: 847-866-2585
Web Address: http://www.shure.com
MODEL M267 MICROPHONE MIXER
Specification Sheet
GENERAL
The Shure Model M267 is a microphone mixer-remote amplifier specifically designed for professional applications. The
excellent performance, versatility and features of this complete, compact console make it an ideal choice for studio, remote, or sound reinforcement use, and as an add-on mixer for
expanding existing facilities. It is also ideally suited for use with
audio and video tape recorders to provide multiple microphone
inputs.
Wide, flat frequency response and extremely low distortion up to +18 dBm output
Extremely low noise and RF susceptibility
Four switchable microphone- or line-level balanced-line inputs with individual gain controls and low-frequency rolloff
switches. MUMETAL shielding on input transformers
Feedback-type input gain controls for maximum clipping
levels and dynamic range
Output switchable for line or microphone level
Built-in switchable peak limiter cuts output overload distortion, adapts to power supply voltage
LED indicator shows limiter operation or overload with
limiter defeated
Externally adjustable limiter threshold (–4 to +18 dBm)
VU meter calibrated for +4 and +8 dBm with range
switch. Illuminated with ac operation
Ac or built-in battery operation. Noiseless automatic
switchover to battery in case of ac line failure. Battery
test without program interruption
Front-panel headphone level control and monitor jack
drives almost any stereo or mono headphones; output
can be additional unbalanced line feed to drive a tape recorder or power amplifier
Direct mix bus for stacking units
Automatic muting prevents speaker damage during
turn-on and -off
Low distortion, high-stability tone oscillator for line test
and level checks
FOD NO. 09055
1997, Shure Brothers Incorporated
All connections phased. Line output terminals phase-indicated
Compact and lightweight, with rugged, abrasion-resistant case
Internally selectable 120 or 240 Vac, 50/60 Hz operation
Underwriters' Laboratories Listed and Canadian Standards Association listed as Certified
SPECIFICATIONS
Features:
Frequency Response
30 Hz to 20,000 Hz, ±2 dB
Voltage Gain (at 1,000 Hz)
(Outputs terminated: line 600 microphone 150 mix
bus 3.3 k headphone 200 , tip-sleeve and ring-sleeve )
OUTPUT
Inp t
Input
Line
Microphone
Mix
Bus
91 dB
41 dB
24 dB
Line
40 dB
–9 dB
–27 dB
Mix Bus
55 dB
5 dB
––
Low-Impedance
Microphone (150 )
Inputs
IMPEDANCE
Input
Microphone
Line
Mix Bus
Designed
for Use
With
Actual
(Internal)
19 to 600
1 k
–32 dBV to
–5 dBV∗
(25 mV to 0.56 V)
Less
than10 k
66 k
+20 dBV
3.5 k
3.5 k
+7 dBV (2.2 V)
Input
Clipping Level
∗Depending on input control setting
Page 1 of 2
Printed in U.S.A.
MODEL M267 MICROPHONE MIXER
Outputs
Peak Indicator
Lights 6 dB below clipping or at onset of limiter action
IMPEDANCE
Designed for
Use With
Actual
(Internal)
Output
Clipping Level
Any low impedance microphone
input
0.5 W
–34 dB
(20 mV)
Mix Bus
3.5 kW
3.5 kW
–8 dBV
(400 mV)
Headphones
8 - 2000 W
200 W
recommended
400 W to
3 kW∗∗
+10 dBV
(3.3 V)
600 W
150 W
+18 dBm
(6.2 V)
Output
Microphone
Specification Sheet
Line
Headphone Output Clipping Level
3.16V (+10 dBV) into 200 W
Tone Oscillator
1,000 Hz, 1.5% or less THD
Phantom Power
30 Vdc open-circuit, 3.3 kW series resistance, input
switches in MIC position only
Operating Voltage
Ac Operation: 120 or 240 volts ±10%, 50/60 Hz, 9.5W,
internally switchable[
∗∗Depending on level control setting
Noise
Dc Operation: 27 volts nominal at 15 mA typical no-signal, 18 mA typical at 0 VU (+4 dBm) output with headphone load; 21.5 volts minimum
Equivalent Input Hum and Noise: –126 dBV (low impedance microphone, 150 W - 20-20,000 Hz) into a 600
W load at full gain
Output Noise: –75 dBV (master control fully counterclockwise), –53 dBV (master fully clockwise), (input controls down, 300-20,000 Hz)
Battery life: approximately 20 hours with alkaline batteries at +4 dBm output in continuous use; three 9-volt
batteries, type NEDA 1604A (Duracell MN1604 recommended)
Output Hum and Noise: –70 dBV (master control down),
–51 dBV (master control up) (input controls down,
20-20,000 Hz)
[ Supplied wired for 120 Vac operation (See Service section for 240
Vac operation)
Distortion
Temperature Range
Operating: –18o to 57o C (0o to 135o F)
Storage: –29o to 71oC (–20o to 160o F)
0.35% or less THD from 30 to 20,000 Hz at +15 dBm output; 0.5% or less IM distortion up to +15 dBm output level
Dimensions
Common Mode Rejection
65 dB minimum with input of –20 dBV at 100 Hz
See Figure 1
Control Interaction
229 mm
(9 in.)
309 mm
(12 5/32 in.)
Less than 1 dB with any control combination
68.8mm
(2 23/32 in.)
Overload and Shorting Protection
Shorting the outputs, even for prolonged periods, will cause
no damage; microphone inputs will not be damaged by signals up to 3 volts
Lo-Cut Filters
6.3 mm
(1/4 in. )
FIGURE 1
Weight
6 dB/octave rolloff at 150 Hz
Net:
Limiter
Threshold: +15 dBm (line output level; adjustable
from –4 to +18 dBm)
Attack Time:
Packaged: 3.2 kg (7 lb 2 oz)
Certifications
3 msec typical
Listed by Underwriters' Laboratories, Inc., and listed by
Canadian Standards Association as Certified
Recovery Time: 500 msec typical
FOD NO. 09055
E1997, Shure Brothers Incorporated
2.3 kg (5 lb 2 oz)
Page 2 of 2
Printed in U.S.A.