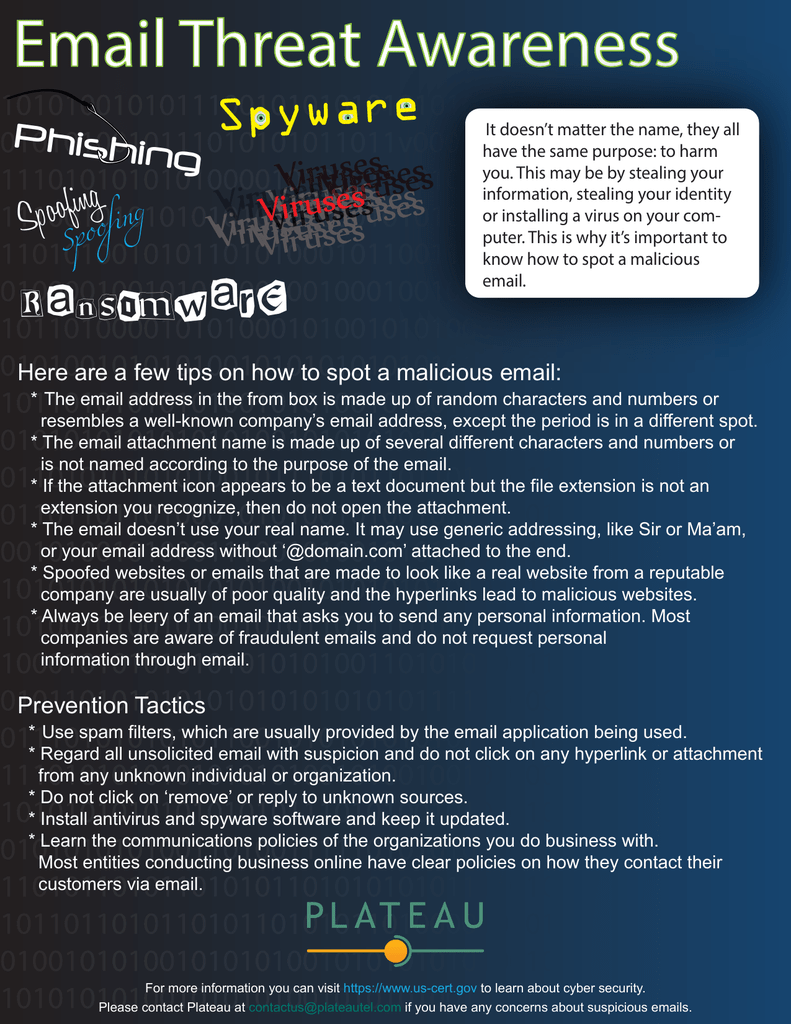 Email Threat Awareness
ware
y
p
S
Phishin
g
s
e
s
u
s
s
r
e
e
i
s
s
V
u
u
s
r
r
e
i
i
s
V
V
u
s
s
r
i
e
e
s
s
V
g
uV
usussiesrerseusussseess
rrV
r
e
i
i
n
s
i
V
f
u
u
r
r
o
i
i
i
g
o
V
V
V
u
s
p
r
n
S Spfi
uuVsisreireuussVseeiss
VViirrV
Vi
Ransomware
It doesn't matter the name, they all
have the same purpose: to harm
you. This may be by stealing your
information, stealing your identity
or installing a virus on your computer. This is why it's important to
know how to spot a malicious
email.
Here are a few tips on how to spot a malicious email:
* The email address in the from box is made up of random characters and numbers or
resembles a well-known company's email address, except the period is in a different spot.
* The email attachment name is made up of several different characters and numbers or
is not named according to the purpose of the email.
* If the attachment icon appears to be a text document but the file extension is not an
extension you recognize, then do not open the attachment.
* The email doesn't use your real name. It may use generic addressing, like Sir or Ma'am,
or your email address without '@domain.com' attached to the end.
* Spoofed websites or emails that are made to look like a real website from a reputable
company are usually of poor quality and the hyperlinks lead to malicious websites.
* Always be leery of an email that asks you to send any personal information. Most
companies are aware of fraudulent emails and do not request personal
information through email.
Prevention Tactics
* Use spam filters, which are usually provided by the email application being used.
* Regard all unsolicited email with suspicion and do not click on any hyperlink or attachment
from any unknown individual or organization.
* Do not click on 'remove' or reply to unknown sources.
* Install antivirus and spyware software and keep it updated.
* Learn the communications policies of the organizations you do business with.
Most entities conducting business online have clear policies on how they contact their
customers via email.
For more information you can visit https://www.us-cert.gov to learn about cyber security.
Please contact Plateau at [email protected] if you have any concerns about suspicious emails.

* Your assessment is very important for improving the work of artificial intelligence, which forms the content of this project