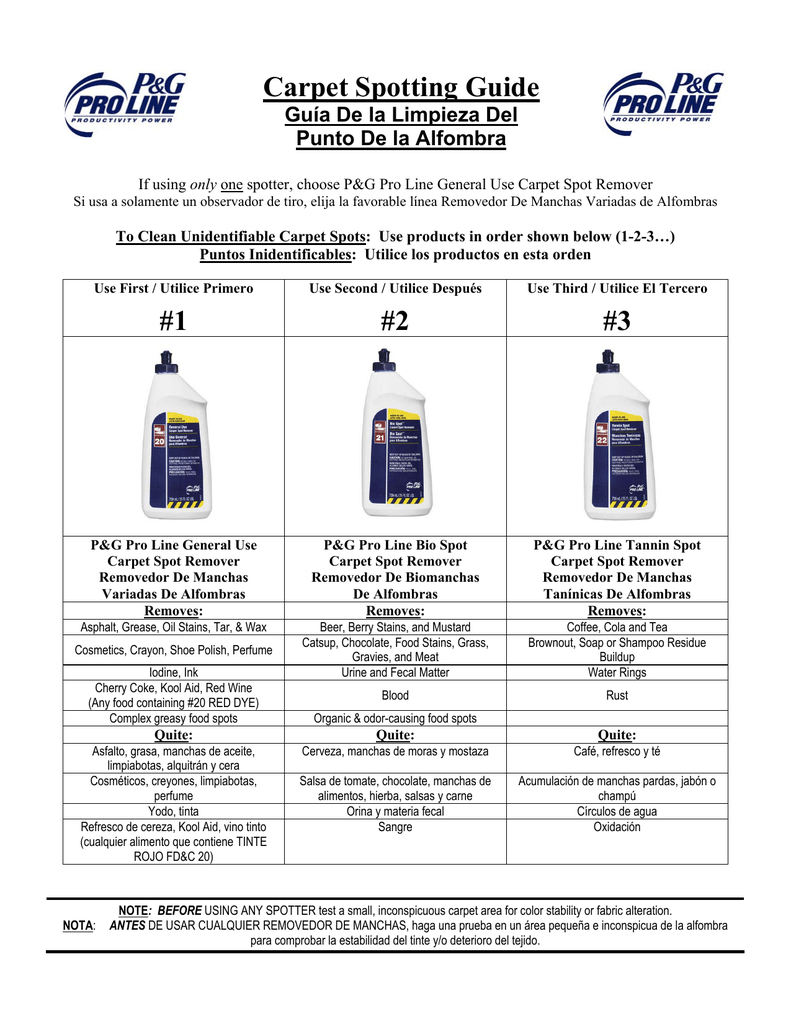 Carpet Spotting Guide
Guía De la Limpieza Del
Punto De la Alfombra
If using only one spotter, choose P&G Pro Line General Use Carpet Spot Remover
Si usa a solamente un observador de tiro, elija la favorable línea Removedor De Manchas Variadas de Alfombras
To Clean Unidentifiable Carpet Spots: Use products in order shown below (1-2-3…)
Puntos Inidentificables: Utilice los productos en esta orden
Use First / Utilice Primero
Use Second / Utilice Después
Use Third / Utilice El Tercero
#1
#2
#3
P&G Pro Line General Use
Carpet Spot Remover
Removedor De Manchas
Variadas De Alfombras
Removes:
P&G Pro Line Bio Spot
Carpet Spot Remover
Removedor De Biomanchas
De Alfombras
Removes:
P&G Pro Line Tannin Spot
Carpet Spot Remover
Removedor De Manchas
Tanínicas De Alfombras
Removes:
Asphalt, Grease, Oil Stains, Tar, & Wax
Beer, Berry Stains, and Mustard
Catsup, Chocolate, Food Stains, Grass,
Gravies, and Meat
Urine and Fecal Matter
Coffee, Cola and Tea
Brownout, Soap or Shampoo Residue
Buildup
Water Rings
Blood
Rust
Cosmetics, Crayon, Shoe Polish, Perfume
Iodine, Ink
Cherry Coke, Kool Aid, Red Wine
(Any food containing #20 RED DYE)
Complex greasy food spots
Organic & odor-causing food spots
Quite:
Quite:
Quite:
Asfalto, grasa, manchas de aceite,
limpiabotas, alquitrán y cera
Cosméticos, creyones, limpiabotas,
perfume
Yodo, tinta
Refresco de cereza, Kool Aid, vino tinto
(cualquier alimento que contiene TINTE
ROJO FD&C 20)
Cerveza, manchas de moras y mostaza
Café, refresco y té
Salsa de tomate, chocolate, manchas de
alimentos, hierba, salsas y carne
Orina y materia fecal
Sangre
Acumulación de manchas pardas, jabón o
champú
Círculos de agua
Oxidación
NOTA:
NOTE: BEFORE USING ANY SPOTTER test a small, inconspicuous carpet area for color stability or fabric alteration.
ANTES DE USAR CUALQUIER REMOVEDOR DE MANCHAS, haga una prueba en un área pequeña e inconspicua de la alfombra
para comprobar la estabilidad del tinte y/o deterioro del tejido.
Carpet Spotting Procedures
Procedimientos De Limpieza Del
Punto De la Alfombra
Spot Removal / Retiro Del Punto
•
•
Remove solids from spot.
Quite los sólidos de punto.
•
Apply a small amount of spotter to spot around outer
perimeter of spot, then fill in center. Let stand for a at
least 5 minutes.
Aplique a cantidad pequeña de observador de tiro al
punto alrededor del perímetro externo del punto,
después complete el centro. Deje el soporte para por
lo menos 5 minutos.
•
•
•
Water Æ
Agua Æ
Agitate spot with blunt end of carpet brush, directing
strokes from outside edge in.
Agite el punto con el extremo embotado del cepillo de la
alfombra, dirigiendo movimientos del borde exterior
adentro.
•
•
Blot with clean, white damp cloth.
Mancha blanca /negra con el paño húmedo limpio,
blanco.
•
Apply a light water rinse and blot with clean, dry white
cloth.
Aplique una aclaración de la agua ligera y borre con el
paño blanco limpio, seco.
•
•
•
If spot is not entirely removed, repeat above procedure.
Si el punto no se quita enteramente, repita sobre
procedimiento.
•
To remove a spot that has penetrated deep into the
carpet pile: Place clean, dry white cloth over treated
area. Place weighted object over cloth and let stand
overnight.
Para quitar un punto que ha penetrado profundamente en
la pila de la alfombra: Ponga área tratada el excedente
blanco limpio del paño, seco. Ponga el objeto cargado
sobre el paño y deje el soporte durante la noche.
Repeat / Repetición
•
•
•
Allow to dry, then vacuum clean.
Permita para secarse, después limpie limpio con la
aspiradora.