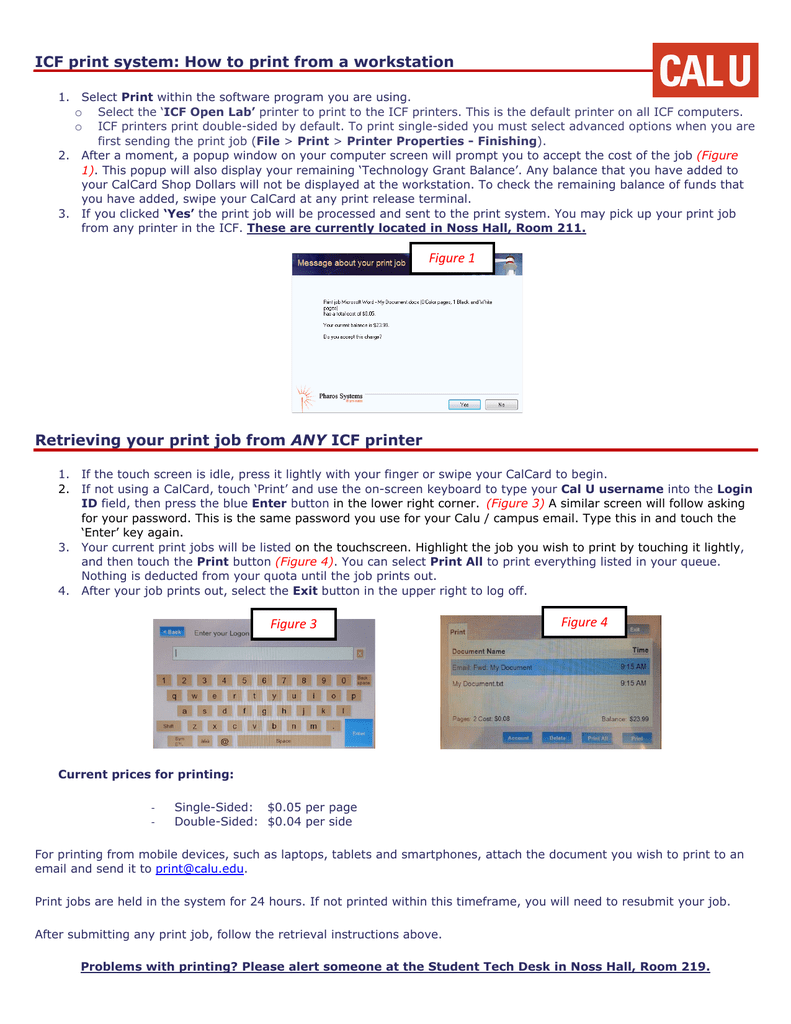 ICF print system: How to print from a workstation
1. Select Print within the software program you are using.
o Select the 'ICF Open Lab' printer to print to the ICF printers. This is the default printer on all ICF computers.
o ICF printers print double-sided by default. To print single-sided you must select advanced options when you are
first sending the print job (File > Print > Printer Properties - Finishing).
2. After a moment, a popup window on your computer screen will prompt you to accept the cost of the job (Figure
1). This popup will also display your remaining 'Technology Grant Balance'. Any balance that you have added to
your CalCard Shop Dollars will not be displayed at the workstation. To check the remaining balance of funds that
you have added, swipe your CalCard at any print release terminal.
3. If you clicked 'Yes' the print job will be processed and sent to the print system. You may pick up your print job
from any printer in the ICF. These are currently located in Noss Hall, Room 211.
Figure 1
Retrieving your print job from ANY ICF printer
1. If the touch screen is idle, press it lightly with your finger or swipe your CalCard to begin.
2. If not using a CalCard, touch 'Print' and use the on-screen keyboard to type your Cal U username into the Login
ID field, then press the blue Enter button in the lower right corner. (Figure 3) A similar screen will follow asking
for your password. This is the same password you use for your Calu / campus email. Type this in and touch the
'Enter' key again.
3. Your current print jobs will be listed on the touchscreen. Highlight the job you wish to print by touching it lightly,
and then touch the Print button (Figure 4). You can select Print All to print everything listed in your queue.
Nothing is deducted from your quota until the job prints out.
4. After your job prints out, select the Exit button in the upper right to log off.
Figure 3
Figure 4
Current prices for printing:
-
Single-Sided: $0.05 per page
Double-Sided: $0.04 per side
For printing from mobile devices, such as laptops, tablets and smartphones, attach the document you wish to print to an
email and send it to [email protected]
Print jobs are held in the system for 24 hours. If not printed within this timeframe, you will need to resubmit your job.
After submitting any print job, follow the retrieval instructions above.
Problems with printing? Please alert someone at the Student Tech Desk in Noss Hall, Room 219.

* Your assessment is very important for improving the work of artificial intelligence, which forms the content of this project