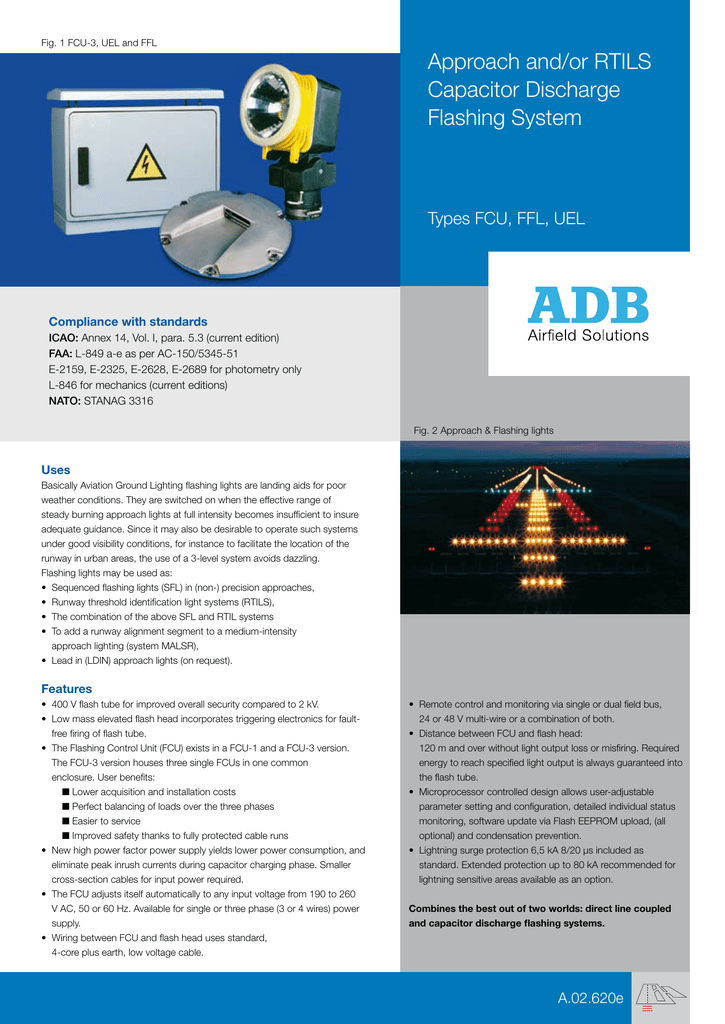 Fig. 1 FCU-3, UEL and FFL
Approach and/or RTILS
Capacitor Discharge
Flashing System
Types FCU, FFL, UEL
Compliance with standards
ICAO: Annex 14, Vol. I, para. 5.3 (current edition)
FAA: L-849 a-e as per AC-150/5345-51
E-2159, E-2325, E-2628, E-2689 for photometry only
L-846 for mechanics (current editions)
NATO: STANAG 3316
Fig. 2 Approach & Flashing lights
Uses
Basically Aviation Ground Lighting flashing lights are landing aids for poor
weather conditions. They are switched on when the ­effective range of
steady burning approach lights at full intensity becomes insufficient to insure
adequate guidance. Since it may also be desirable to operate such systems
under good visibility conditions, for instance to facilitate the location of the
runway in urban areas, the use of a 3-level system avoids dazzling.
Flashing lights may be used as:
• Sequenced flashing lights (SFL) in (non-) precision approaches,
• Runway threshold identification light systems (RTILS),
• The combination of the above SFL and RTIL systems
• To add a runway alignment segment to a medium-intensity
approach lighting (system MALSR),
• Lead in (LDIN) approach lights (on request).
Features
• 400 V flash tube for improved overall security compared to 2 kV.
• Low mass elevated flash head incorporates triggering electronics for faultfree firing of flash tube.
• The Flashing Control Unit (FCU) exists in a FCU-1 and a FCU-3 ­version.
The FCU-3 version houses three single FCUs in one common enclosure. User benefits:
■ Lower acquisition and installation costs
■ Perfect balancing of loads over the three phases
■ Easier to service
■ Improved safety thanks to fully protected cable runs
• New high power factor power supply yields lower power consumption, and
eliminate peak inrush currents during capacitor charging phase. Smaller
cross-section cables for input power required.
• The FCU adjusts itself automatically to any input voltage from 190 to 260
V AC, 50 or 60 Hz. Available for single or three phase (3 or 4 wires) power
supply.
• Wiring between FCU and flash head uses standard,
4-core plus earth, low voltage cable.
• Remote control and monitoring via single or dual field bus,
24 or 48 V multi-wire or a combination of both.
• Distance between FCU and flash head:
120 m and over without light output loss or misfiring. Required
energy to reach specified light output is always guaranteed into
the flash tube.
• Microprocessor controlled design allows user-adjustable
­parameter setting and configuration, detailed individual status
monitoring, software update via Flash EEPROM upload, (all
optional) and condensation prevention.
• Lightning surge protection 6,5 kA 8/20 µs included as
standard. Extended protection up to 80 kA recommended for
lightning sensitive areas available as an option.
Combines the best out of two worlds: direct line coupled
and capacitor discharge flashing systems.
A.02.620e
General description
The ADB low voltage capacitor discharge flash light system consists of up
to 32 flashing lights with individual control units. The fixtures are available as
elevated and inset unidirectional applications.
All Flasher Control Units are electrically identical. They can be supplied as
pole mounted cabinets for each individual flashing head or – recommended
– as 3-in-1 units to control three flashing lights from one cabinet only. In the
latter case, the cabinets are mounted on a pedestal, offering the advantage
of a most easy access for installation or servicing even as a complete
mechanical protection of the in- and outgoing cables.
Thanks to the built-in compensation for the cable length, the
FCU-3 cabinets can be placed outside the obstacle limitation area.
Electrical equipment description
The flashing control units are designed for the supply of 400 V DC flash
tubes. The flash energy required for each of the 3 individually adjustable
levels is stored in a capacitor.
The trigger electronics are located in the flashing light.
Any cabinet in the system can be designated as the Local Master Controller
(LMC) by adding a Master PCB. The LMC assures the synchronization
between the cabinets, incorporates the master for the local bus, and serves
as interface between the flashing system and the control system.
Via a standard PC and a dedicated "dongle"* (optional), most of the
parameters as well as the system configuration can be optimized to the
on-site conditions.
The electrical connections between the substation and the FCUs and
between each light fixture and its control cabinet use standard low voltage
cabling. The latter connection can be up to 120 m without loss of light
output.
Remote control is realized via multiwire, single or double field bus or
any combination thereof. All cabinets are equipped with microprocessor
controlled anti-condensation heating.
9
2
1
4
*Details on application
Electrical supply
The system is powered either from a three-phase (3 or 4 wire) or a singlephase power system, providing a voltage between phases of 190 to 260 V
50/60 Hz.
In case FCU-3 control cabinets are used, the load balancing over the three
phases is almost automatic.
As soon as power is applied, the wiring arrangement allows the anticondensation heater(s) to operate, even while the Flashing Light system is
switched off.
6
5
7
Fig. 3 FCU-3
Fig. 4 FCU-1
9
2
4
5
6
7
Construction
Control cabinets (FCU-3 & FCU-1) (Fig. 3 & Fig. 4)
1. Sun protection
2. Cabinet
3. Pedestal for FCU-3 (not shown)
4. Flashing electronics (EMC only shown once)
5. Master PCB
6. Space for additional surge protection (optional)
7. Terminal block
8. Heater resistance(s) (not shown)
9. Micro switch
10. Mains fuses (not shown)
Elevated lights (Fig. 5)
1. Lens/reflector seal
2. Lens
3. Reflector
4. Removable front housing, containing all optical components
5. Gasket
6. Low voltage flash lamp with trigger transfo
7. Main housing with slip fitter, UV resistant plastic,
containing trigger control circuit
8. Elevation adjustment screws
9. Bracing clamp with screw
6
1
2
3
4
5 7
8
9
Fig. 5 Exploded view UEL
Fig. 6 Exploded view FFL
1
2
3
4
5
6
7
8
9
10
11
12
13
14
Inset flashing lights (Fig. 6)
1. High tensile screws
2. Aluminium alloy cover
3. "O"-ring gasket between cover and inner cover
4. Prism gasket
5. Prism
6. Flat seal
7. Prism clamp
8. Flashing lamp
9. Lamp holder
10. Trigger PCB
11. Aluminium alloy inner cover
12. "O"-ring gasket between light fitting and base
13. Cable assembly with molded 5-pole plug
14. Pressure release screw
Configuration and parametering
Depending on the chosen remote control system, both the configuration
and a vast number of available command parameters and status signals
may be monitored and in case the one disposes over a "dongle" adapted to
the customers' needs or whishes.
30 m
THRESHOLD
: Approach light
30 m
300 m
900 m
Fig. 7 CAT. II/III
: Flashing light
: Approach light
21 m
Each flashing unit can be configured in hardware mode by means of
dipswitches, indicating the position of the control unit in the system, and in
the software mode.
The software configuration overrules the hardware configurations and
allows adapting the system irrespective of the hardware address given to
the FCU (dongle required).
: Flashing light
THRESHOLD
THRESHOLDD
The flashing system may be used in any approach lighting configuration
using up to 32 unidirectional flashing lights:
– to supplement steady burning, CAT. I, II or III ICAO approach
systems (Fig. 7)
– to complete reduced steady burning patterns in FAA ASFL,
SSALR (Fig. 8) or MALSR systems
– as runway threshold identification (RTILS or REILS) lights
(Fig. 9) all or not in combination with sequenced flashing lights
60 m
60 m
300 m
300 m (5 lights)
480 m (8 lights)
420 m
720 or 900 m
Adjustment
Fig. 8 SSALR (FAA)
* : with PAPI = 22.5 m
10 m *
For an easy aiming of the UEL approach flashing lights, the
same device as developed for the steady burning approach lights can be
used. The device, available as an electronic and as a simple mechanical
unit, can be used for lights installed on frangible approach masts as well as
for ground mounted or conduit mounted lights.
or 12 m for FAA execution
10 m*
THRESHOLD
Flashing light
Fig. 9 RTILS (ICAO) or REILS (FAA)
Fig. 10 Typical installation of the FCU-3 with three flashing lights
Threshold light
Installation
dia 318
dia 304.5
155-160
18
19
Flashing control units (Fig. 10 & Fig. 14)
Preferably the control units are installed outside the safety area. If installed
inside, the installation needs to be frangible. In order to limit the effect of the
jet blast, it is recommended to install the cabinets with their largest vertical
surface parallel to the approach axis.
Flashing lights (Fig. 11 to 14)
The inset light can be mounted on an ADB 12˝ shallow base with 100 mm
Ø central hole (Fig. 11), on a FAA L868-B deep base
(Fig. 12), by means of a 12˝ to 16˝ adaptor ring on a deep
FAA LB-4 base (Fig. 13). Bases need to be ordered separately. When
installing the control units outside the safety area, the elevated flashing
lights can be installed like any other steady burning approach light.
dia 330
Fig. 11 FFL Dimensions in mm
In case of pole-mounted, 1-in-1control cabinet in the approach, the
elevated light can be installed on top of the pole supporting the individual
control cabinet. In the latter case, all exposed cables need to be suitably
protected.
(See Fig. 14 for typical installation).
Options
• Additional surge protection:
The standard control electronics are protected by MOV's against over
voltages up to 6.5 kA 8/20 µs. An optional protection for surges up to
80 kA 8/20 µs is recommended for any lightning sensitive area.
• 230 V Mains socket outlet:
FCU boxes can be supplied with built-in socket outlet to ease servicing
activities in the field and at night.
Fig. 12 FFL mounted on L-868b
FFL
Fig. 13 FFL mounted on a LB4
Adaptor ring
Fig. 14 Typical installation of FCU-1 cabinet
Technical data
20
Lamp specification
Xenon discharge lamp 60J-400V-3.600.000 flash min.
18
Electrical data
Supply voltages (1 ph or 3 ph):
Power consumption per FCU:
Over voltage / Lightning
protection by means of
14
16
190 to 260 V 50/60 Hz
300 VA max
12
MOV 6.5 kA 8/20 µs
(or optionally:
80 kA 8/20 µs surge arrestors)
8
UEL
(elevated)
FFL
(inset)
4
0
-20
IP 45
IP 67
IP 44
IP 44
Intensity
level
Min.
effective
intensity
(cd)
-15
-10
-5
Fig. 15 Photometric curve elevated flashing light UEL-1-120
Photometric performances
Fig
6
2
Mechanical data
Degree of protection
Light fixture UEL, elevated:
Inset light type FFL:
3-in-1 cabinet:
1-in-1 cabinet:
Fitting
type
10
20
Beam spread
Horizon
Vert.
18
16
14
15
Low
Medium
High
150
800
8000
+/-15°
16
Low
Medium
High
150
500
5000
+/-15°
10°
12
10
+2 to 12°
8
6
4
Packaging data
Type
FCU-3
FCU-1
UEL with
lamp
FFL
2
Weight (kg)
Net
Gross
Individual packing
Dimensions (mm)
47
66
905 x 410 x 820
18,5
37,5
905 x 410 x 820
(packed per 2)
1,8
2,05
290 x 160 x 190
7,5
7,8
305 x 305 x 125
Fig. 17 Dimensions UEL in mm (see leaflet A.02.630)
0
-20
-15
-10
Fig. 16 Photometric curve inset flashing light FFL
Fig. 18 FCU-3 Dimensions in mm
-5
Ordering code
4000 Cd
Flashing control unit FCU:
Number of lights to control per unit:
1 light unit 1
3 light units 3
Surge protection:
Standard protection
S
80 kA protection
E
Mains socket outlet Without
0
With
1
Bottom plate
Plain
0
With cable entries
1
8000 Cd
8000 Cd
0
5
10
15
20
2500 Cd
Local master controller (LMC):
Remote control:
Field bus (J-bus)
No
0
Single J-bus
1
Dual J-bus
2
Multi-wire
No
0
24 V DC
1
48 V DC
2
FCU-3-S-1-1-0B000
1LMC - 1- 1-xxxx
5000 Cd
5000 Cd
10
15
20
73
5
1103
235
543
0
415
Fig. 19 FCU-1 Dimensions in mm
Elevated light fitting:
Complete with trigger electronics and
low voltage flashing lamp
1UE9C2Y00000
Inset light fitting:
Complete light with trigger electronics and
low voltage flashing lamp, without base
FFL9C0000000
Accessories
12" shallow base for FFL inset flashing light,
including
– M10 fixing screw kit
– core cable with factory moulded 5-pole receptacle
with:
– 100 mm dia bottom hole
MSBB59010003
– side entry via PG
MSBB5A010003
(contact factory for special requirements)
Adaptor ring for mounting of FFL inset
flashing light on LB4 base, with metric fixing
hardware
– for 18 mm protrusion MARD50000003
– for 1/2 inch protrusion
MARE50000003
(contact factory for special requirements)
5-pole receptacle for connection to supply
cable
4072.03.960
Dongle for on site reconfiguration
1444.00.010
Aiming tool for elevated light with
– clinometer using electronic sensors
1570.05.400
– clinometer using spirit level1570.05.410
Shallow base installation jig 1411.19.260
sighting telescope for shallow base
installation jig
1411.19.251
Mounting accessories for FCU-1 cabinet
(mounting pole & flange)
1440.20.200
Bottom plate with prefab cable entries for
FCU-1 cabinet
4072.01.530
Junction box for FCU-1 cabinet
1440.20.100
Suggested specification
The light fixtures shall incorporate the triggering
circuitry and a safety switch, de-energizing its
control unit when the light fitting is not perfectly
closed. The light shall be equipped with a low
voltage Xenon discharge lamp rated 3.600.000
flashes or 1000 hrs minimum at 1 flash per sec.
The elevated light shall be low volume and low
mass, with a max. weight of 1.8 kg, mounted in
a frangible way. The 400 V lamp shall have the
same housing as the steady burning elevated
approach light (see catalogue leaflet A02.630).
The inset flashing lights shall produce a light
output in compliance with FAA spec E-2628b
and E-2689a. The aluminium alloy fitting shall be
equipped with a mechanically fastened userreplaceable prism, without making use of sealing
compounds. The light shall suit for mounting on
a 12` shallow base with a depth of 150 mm max.
or, using an adaptor/flangering, on a standard
FAA 12˝ to 16˝ deep base.
Between the control unit and its flashing light
fixture, a standard 5-core low voltage cable shall
be used.
Registered Office:
ADB
Airfield Solutions
Leuvensesteenweg 585
B-1930 Zaventem
Belgium
Phone: +32 (2) 7221711
Fax: +32 (2) 7221764
[email protected]
www.adb-air.com
© ADB
all rights reserved
order number DOCA02620V2
subject to modifications
www.comith.be
The RTIL or sequenced flashing approach light
system shall consist of low voltage, condenser
discharge flashing units.
The systems shall be in full compliance with ICAO
Annex 14, FAA L-849 the photometry to E-2159,
E-2325, E-2628. E-2689 and Stanag 3316.
Each of the flashing units shall consist of a
control unit and an elevated or inset light
providing a most similar light output, independent
of the distance between the light and the control
unit.
The control electronics shall operate properly at
any input voltage ranging between 190 and 260
V from a single or three phase (3 or 4 wires) 50 or
60 Hz network, without any need for adjustment
taps.
The flashing system shall use a lamp rated 400 V
max. and shall not make use of any high voltage
components, except for the triggering function.
The control unit shall compensate for various
lengths of the cable between the light and the
control unit; there will be no reduction of the light
output for a length up to 100 meters.
The flashing sequence shall be controlled by a
coded signal emitted by one of the control units
designated as "master" for the system and acting
as the local bus master and the interface card to
the airfield lighting control system. Any control
unit of the system shall be able to be used as
"master".
The communication between the ATC tower and
the flashing system shall be realized either via
a multi-wire cable, one or two dedicated local
buses or a combination of these and shall permit
a complete status monitoring and remote control
of each individual control unit (over a local bus).
The flashing system will be on-site reconfigurable to the conditions prevailing ­on-site
by means of standard laptop PC and a "dongle".