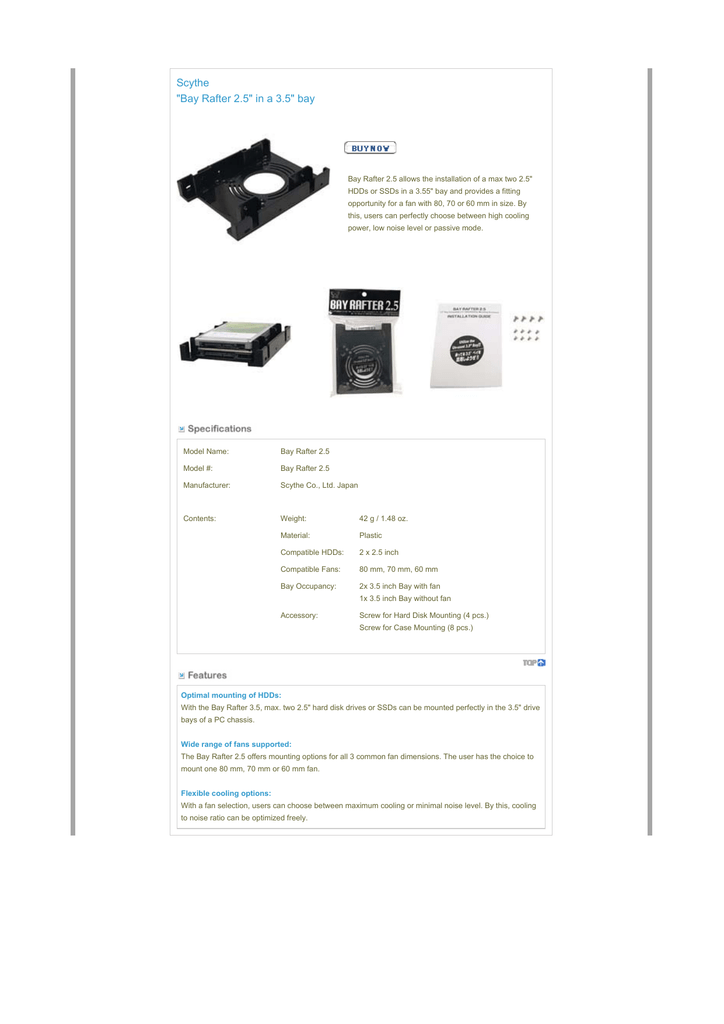 Scythe
"Bay Rafter 2.5" in a 3.5" bay
Bay Rafter 2.5 allows the installation of a max two 2.5"
HDDs or SSDs in a 3.55" bay and provides a fitting
opportunity for a fan with 80, 70 or 60 mm in size. By
this, users can perfectly choose between high cooling
power, low noise level or passive mode.
Model Name:
Bay Rafter 2.5
Model #:
Bay Rafter 2.5
Manufacturer:
Scythe Co., Ltd. Japan
Contents:
Weight:
42 g / 1.48 oz.
Material:
Plastic
Compatible HDDs:
2 x 2.5 inch
Compatible Fans:
80 mm, 70 mm, 60 mm
Bay Occupancy:
2x 3.5 inch Bay with fan
1x 3.5 inch Bay without fan
Accessory:
Screw for Hard Disk Mounting (4 pcs.)
Screw for Case Mounting (8 pcs.)
Optimal mounting of HDDs:
With the Bay Rafter 3.5, max. two 2.5" hard disk drives or SSDs can be mounted perfectly in the 3.5" drive
bays of a PC chassis.
Wide range of fans supported:
The Bay Rafter 2.5 offers mounting options for all 3 common fan dimensions. The user has the choice to
mount one 80 mm, 70 mm or 60 mm fan.
Flexible cooling options:
With a fan selection, users can choose between maximum cooling or minimal noise level. By this, cooling
to noise ratio can be optimized freely.

* Your assessment is very important for improving the work of artificial intelligence, which forms the content of this project