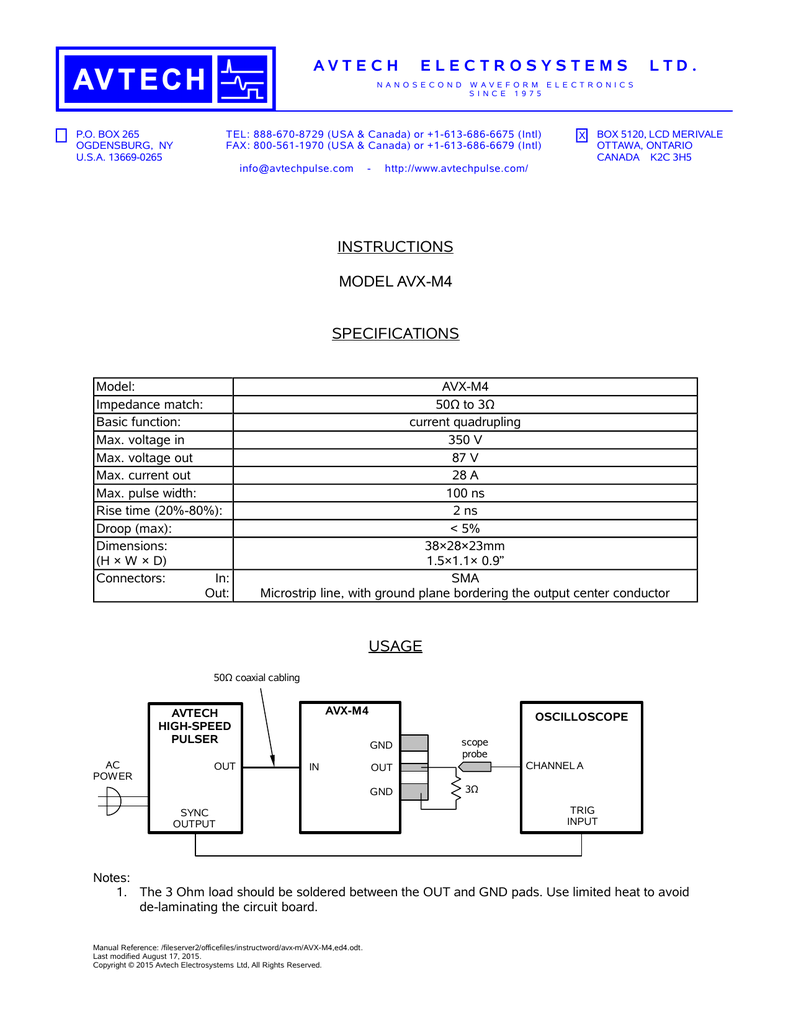 AVT E C H
ELECTROSYSTEMS
N A N O S E C O N D
P.O. BOX 265
OGDENSBURG, NY
U.S.A. 13669-0265
W AVE F O R M E L E CT RO NIC S
S I N C E 1 9 7 5
TEL: 888-670-8729 (USA & Canada) or +1-613-686-6675 (Intl)
FAX: 800-561-1970 (USA & Canada) or +1-613-686-6679 (Intl)
[email protected]
-
LTD.
X
http://www.avtechpulse.com/
BOX 5120, LCD MERIVALE
OTTAWA, ONTARIO
CANADA K2C 3H5
INSTRUCTIONS
MODEL AVX-M4
SPECIFICATIONS
Model:
Impedance match:
Basic function:
Max. voltage in
Max. voltage out
Max. current out
Max. pulse width:
Rise time (20%-80%):
Droop (max):
Dimensions:
(H × W × D)
Connectors:
In:
Out:
AVX-M4
50Ω to 3Ω
current quadrupling
350 V
87 V
28 A
100 ns
2 ns
< 5%
38×28×23mm
1.5×1.1× 0.9"
SMA
Microstrip line, with ground plane bordering the output center conductor
USAGE
50Ω coaxial cabling
AVX-M4
AVTECH
HIGH-SPEED
PULSER
AC
POWER
OUT
OSCILLOSCOPE
GND
IN
CHANNEL A
OUT
GND
SYNC
OUTPUT
scope
probe
3Ω
TRIG
INPUT
Notes:
1. The 3 Ohm load should be soldered between the OUT and GND pads. Use limited heat to avoid
de-laminating the circuit board.
Manual Reference: /fileserver2/officefiles/instructword/avx-m/AVX-M4,ed4.odt.
Last modified August 17, 2015.
Copyright © 2015 Avtech Electrosystems Ltd, All Rights Reserved.

* Your assessment is very important for improving the work of artificial intelligence, which forms the content of this project