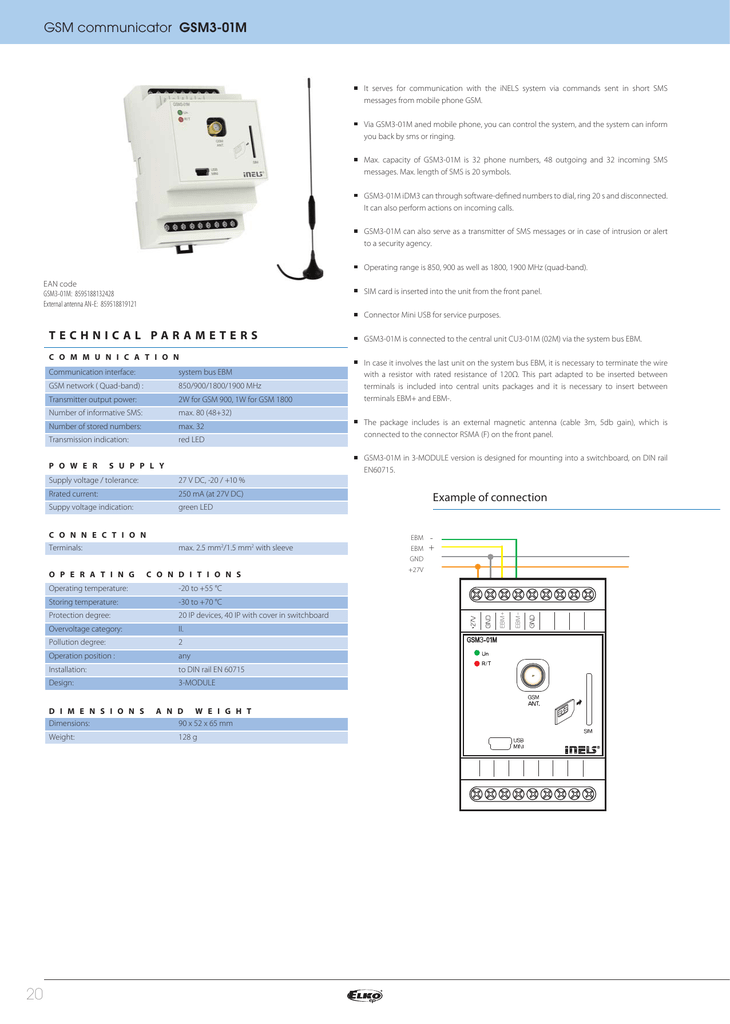 GSM communicator GSM3-01M
It serves for communication with the iNELS system via commands sent in short SMS
messages from mobile phone GSM.
Via GSM3-01M aned mobile phone, you can control the system, and the system can inform
you back by sms or ringing.
Max. capacity of GSM3-01M is 32 phone numbers, 48 outgoing and 32 incoming SMS
messages. Max. length of SMS is 20 symbols.
GSM3-01M iDM3 can through software-defined numbers to dial, ring 20 s and disconnected.
It can also perform actions on incoming calls.
GSM3-01M can also serve as a transmitter of SMS messages or in case of intrusion or alert
to a security agency.
Operating range is 850, 900 as well as 1800, 1900 MHz (quad-band).
EAN code
GSM3-01M: 8595188132428
External antenna AN-E: 859518819121
SIM card is inserted into the unit from the front panel.
Connector Mini USB for service purposes.
TECHNICAL PARAMETERS
C O M M U N I C A T I O N
Communication interface:
system bus EBM
GSM network ( Quad-band) :
850/900/1800/1900 MHz
Transmitter output power:
2W for GSM 900, 1W for GSM 1800
Number of informative SMS:
max. 80 (48+32)
Number of stored numbers:
max. 32
Transmission indication:
red LED
27 V DC, -20 / +10 %
Rrated current:
250 mA (at 27V DC)
Suppy voltage indication:
green LED
C O N N E C T I O N
C O N D I T I O N S
-20 to +55 °C
Storing temperature:
-30 to +70 °C
Protection degree:
20 IP devices, 40 IP with cover in switchboard
Overvoltage category:
II.
Pollution degree:
2
Operation position :
any
Installation:
to DIN rail EN 60715
Design:
3-MODULE
Weight:
A N D W E I G H T
90 x 52 x 65 mm
128 g
EBM
EBM
GND
+27V
+
3
+
-
Operating temperature:
D I M E N S I O N S
Dimensions:
20
max. 2.5 mm2/1.5 mm2 with sleeve
Example of connection
EBM
Supply voltage / tolerance:
O P E R A T I N G
The package includes is an external magnetic antenna (cable 3m, 5db gain), which is
connected to the connector RSMA (F) on the front panel.
GSM3-01M in 3-MODULE version is designed for mounting into a switchboard, on DIN rail
EN60715.
S U P P L Y
Terminals:
In case it involves the last unit on the system bus EBM, it is necessary to terminate the wire
with a resistor with rated resistance of 120Ω. This part adapted to be inserted between
terminals is included into central units packages and it is necessary to insert between
terminals EBM+ and EBM-.
EBM
P O W E R
GSM3-01M is connected to the central unit CU3-01M (02M) via the system bus EBM.

* Your assessment is very important for improving the work of artificial intelligence, which forms the content of this project