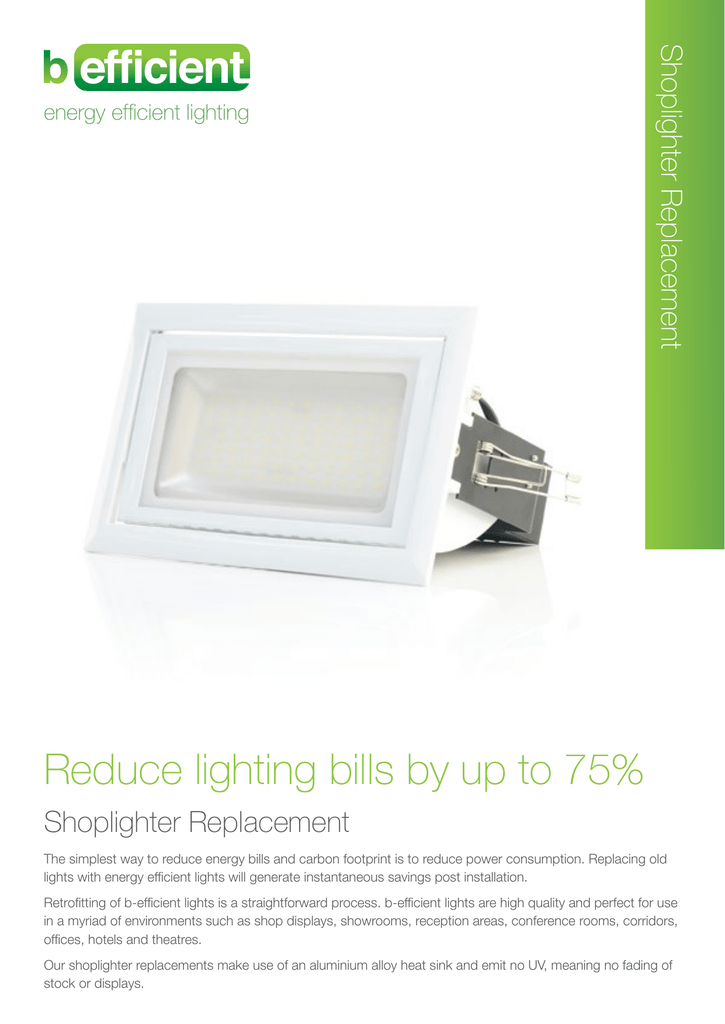 Shoplighter Replacement
energy efficient lighting
Reduce lighting bills by up to 75%
Shoplighter Replacement
The simplest way to reduce energy bills and carbon footprint is to reduce power consumption. Replacing old
lights with energy efficient lights will generate instantaneous savings post installation.
Retrofitting of b-efficient lights is a straightforward process. b-efficient lights are high quality and perfect for use
in a myriad of environments such as shop displays, showrooms, reception areas, conference rooms, corridors,
offices, hotels and theatres.
Our shoplighter replacements make use of an aluminium alloy heat sink and emit no UV, meaning no fading of
stock or displays.
benefits
•
Replaces traditional 70W-150W metal halide
shoplights
•
Simple to retrofit with no extra rewiring needed
•
Instantaneous savings post installation
Emits no UV, meaning no fading of stock or
displays
•
Combat rising energy costs
•
Reduce maintenance costs
•
Eligible for environmental certificates in
NSW and VIC
•
•
Average life expectancy of light is 40,000 hours
•
High quality Samsung and Bridgelux LED chips
•
High quality LED driver
•
Aluminium alloy heat sink design allows for
cooler operating temperatures
•
Meets all Australian and New Zealand safety
and EMC requirements
•
Locally serviced 2 year warranty
Specifications
28W
38W
48W
Input Voltage
220 / 240V AC
220 / 240V AC
85 / 265V AC
Power Factor
0.95 +/- 1%
0.95 +/- 1%
0.90 + 1%
Power Consumption
26W +/- 5%
36W +/- 5%
48W + 5%
Dimensions
240 x 145 x 103
240 x 145 x 103
240 x 145 x 103
Cut out: 227 x 130mm
Cut out: 227 x 130mm
Cut out: 227 x 130mm
Average Life Expectancy
40,000 hours
40,000 hours
40,000 hours
Luminous Flux
2250 lumens
3500 lumens
4300 lumens
Light Efficiency
90 Lumens/W +/- 5%
90 Lumens/W +/- 5%
90 Lumens/W + 10%
Beam Angle
90 / 120 degrees
90 / 120 degrees
90 / 120 degrees
Colour
4250K/5500K
4250K/5500K
4250K/5500K
CRI
>80
>75
>85
Warranty
2 years
2 years
2 years
Shoplighter Replacement
features
Disclaimer
While we make every effort to ensure that the material in this brochure is accurate and up-to-date when published, changes do occur beyond our control. b-efficient is in no way responsible for these but
reserve the right to make changes without notice. We take no responsibility for any outcomes or losses to you or your business that you believe may have occurred as a result of the information you read
in this brochure as you retain the responsibility for making your own business judgments. Our goods come with guarantees that cannot be excluded under the Australian Consumer Law. You are entitled
to a replacement or refund for a major failure and for compensation for any other reasonably foreseeable loss or damage. You are also entitled to have the goods repaired or replaced if the goods fail to
be of acceptable quality and the failure does not amount to a major failure. For full warranty terms, conditions and details of how to lodge a claim please refer to our warranty certificate information on
the b-efficient web site at www.b-efficient.com.au or contact the b-efficient Warranty Department at Suite 2.01, Platinum Building, 4 Ilya Avenue Erina NSW 2250 or by email to [email protected]
au. NSW Energy Savings Certificates (ESCs) and Victorian Energy Efficiency Certificates (VEECs) may only be created for compliant installations conducted in NSW and VIC only. The creation of ESCs/
VEECs is subject to compliance with the Rules and terms of accreditation. For Urban Group Energy to create ESCs/VEECs, and for any form of discount to be applied, the person/entity responsible for
the electricity bill must nominate Urban Group Energy or a third party approved to create VEECs as the "energy saver" and transfer rights relating to the creation of ESCs/VEECs to Urban Group Energy.
Please note that individual Products are not 'approved' by IPART, the energy saving activity is accredited and is subject to the Rules and terms of accreditation. NSW Energy Saving Scheme, RESA
b-efficient Commercial Lighting (GHGR01669A).

* Your assessment is very important for improving the work of artificial intelligence, which forms the content of this project